The idea of further improving TVs by creating a hybrid of OLED and LCD technologies was first announced by Samsung almost 10 years ago. Indeed, the almost 'infinite' contrast of OLED panels with perfect blacks due to the lack of backlit, and the bright, accurate colors and ultra-wide color gamut of quantum dot (QD) technology, promised a radical advance in image quality.
QD-OLED TVs
Of course, the marketing prospects of TVs with this technology caused well-founded skepticism due to their supposed high cost. However, the reality turned out to be quite acceptable.
Last year, Sony and Samsung introduced the first models with a hybrid QD-OLED panel from Samsung Display. It has an additional stack of blue OLED material for backlight of red and green quantum dots.
Their price and image quality are quite comparable with OLED Evo panels and LCD TVs with QD technology and miniLED backlight.
This year, the new segment has expanded to five series with the second generation. Today it includes:
– Sony A95K (2022) and A95L (2023);
– Samsung S95B (2022) and S95C/S90C (2023).
Prices (last year's models):
– Sony A95K – 65″ – $ 2,600 (US) / £ 3,000 (UK) / € 3,000 (Eu), and 55″ – $ 2,300 / £ 2,200 / € 2,200;
– Samsung S95B – 65″ – $ 1,500 (US) / £ 1,500 (UK) / € 1,830 (Eu), and 55″ – £ 1,190 / € 1,280.
Honestly, Sony is significantly more expensive, but offers the best colors and sound.
For comparison, the prices of OLED Evo and LCD QD miniLED (in particular, Samsung Neo series, all prices for 65″ models):
– LG OLED Evo C3 (2023) – $ 2,600;
– LG OLED Evo G2 (2022) – $ 2,000;
– Samsung Neo QN90B/QN95B with miniLED and QD (2022) – $ 1,500 / $ 2,300;
– Samsung Neo QN90C and QN95C with miniLED and QD (2023) – $ 2,800 (QN90C).
Probably five series can hardly be positioned as a full-fledged segment yet. But the great price-quality ratio promises them superb marketing prospects. In turn, marketing success will be a great incentive for the development of this technology.
Samsung OLED 4K 2023
This year Samsung has expanded its TV lineup with QD-OLED panel. For reference, the company positions them as OLED 4K TVs, and series includes 55″, 65″ and 77″ models. The launch price of 77″ S95C is ~$ 4,500 (around £ 4,200 / AU$ 6,600).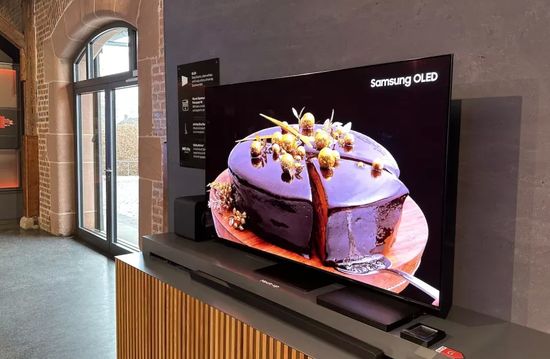 In fact, Samsung's QD-OLED panel lineup will contain three series this year, includingI the flagship S95C, its a chiper S90C alternative, and last year's S95B, which tops many current top lists.
Prices
S95B (2022, launch price):
– 55″ – € 2,200 / £ 2,400 / $ 2,200 / AU$ 3,500;
– 65″ – € 3,000 / £ 3,300 / $ 3,000 / AU$ 4,500.
S90C (2023):
– 55″ ~€ 2,000 / £ 1,760 / $ 2,125 / AU$ 3,115;
– 65″ ~€ 2,800 / £ 2,470 / $ 2,955 / AU$ 4,395;
– 77″ ~€ 4,000 / £ 3,530 / $ 4,220 / AU$ 6,270.
S95C (2023):
– 55″ ~€ 2,500 / £ 2,200 / $ 2,655 / AU$ 3,885;
– 65″ ~€ 3,300 / £ 2,900 / $ 3,485 / AU$ 5,175;
– 77″ ~€ 4,800 / £ 4,235 / $ 4,500 / AU$ 7,525.
Model has 4x HDMI 2.1 ports, including one eARC (Enhanced Audio Return Channel) to transmit lossless digital audio to the soundbar.
For gaming, new S95C supports:
– 4K@120Hz (144Hz refresh rates for PC);
– VRR, FreeSync Premium Pro and ALLM;
– built-in Xbox Cloud Gaming and GeForce Now apps for cloud gaming.
Of course, new series uses superb Samsung Quantum Neural Processor. It upscales pictures to 4K with AI-based algorithms, providing scene-by-scene video processing with the addition of dynamic HDR10+ tone mapping. Unfortunately, the South Korean giant still ignores Dolby Vision in supported HDR set.
Samsung S95C vs S90C vs S95B
Samsung S95C vs S90C
Both models have 4x HDM1 2.1 ports with 4K@144Hz and VRR support, and come with Solar Cell remote and ATSC 3.0 tuner 4K broadcasts for receiving NextGen digital TV broadcasts in the US. In addition, they support 4K streaming for Nvidia GeForce Now and Xbox cloud gaming.
Main differences (S95C vs S90C):
– S95C comes with the Samsung One Connect Box vs traditional integrated connectors;
– 4.2.2ch speaker system vs 2.2.2ch setup with top-firing driver;
– uniform thickness ~1cm vs LaserSlim design (few mm for almost entire surface of its chassis);
– 'Object Tracking Sound+' vs 'Object Tracking Sound Lite' system (positioning the sounds);
– 'Quantum HDR OLED Plus' vs 'Quantum HDR OLED' (according to the company, Quantum HDR OLED+ is ~30% brighter due to advanced brightness algorithm).
Samsung S95C vs S95B
Unlike the 60W 2.2.2ch configuration in last year's S95B, new series uses a 70W 4.2.2ch speaker system. Of course, it offers Dolby Atmos, Object Tracking Sound Plus (acoustic stage of built-in speakers), and Q Symphony 3.0 (compatibility of built-in speakers with a Samsung soundbars).
As known, Sony for the first time abandoned the ultra thin A95L design. Company uses increased internal volume for additional heatsink (increased brightness due to heat dissipation), and Acoustic Surface system actuators (sound generation due to screen surface vibration). But the South Korean giant has remained true to the trend of recent years. Samsung S95C comes with popular external 'One Connect' box ('no cables') and has ultra slim 'Infinity One' design (uniform thickness ~1cm).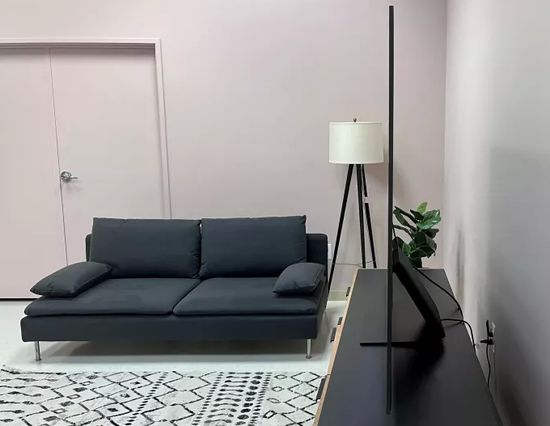 Brightness
Traditionally, Samsung has paid a lot of attention to brightness. This series uses an innovative brightness-boosting Quantum HDR OLED Plus feature. It provides precise pixel-level brightness control with AI deep learning. According to Samsung USA, the S95C is brighter vs last year's S95B by ~30%.
Moreover, the second-gen QD-OLED hybrid panel from Samsung Display can reach a maximum brightness of 2,100 nits. But, of course, this value does not require developers to achieve max brightness at the expense of, for example, operating life, color accuracy or optimal panel temperature balance. Indeed, measuring with various test patterns show 1,400 nits on 10% window in Filmmaker mode, and no more than 1,600 nits with other methods. Perhaps Samsung chose to limit the full power of blue OLED pixels. Last year's S95B delivers just over 1,000 nits peak brightness. This is more than adequate for viewing HDR content on disk or from streaming services.
For comparison, the peak brightness of LG G2 OLED is ~950 nits in Cinema/Filmmaker modes. But this year, the S95C will have to compete in brightness with MLA-boosted OLED TVs, including the LG G3, Panasonic MZ2000 and Philips OLED908. As known, LG Display has already successfully applied Micro Lens Array (MLA) technology to gaming OLED panels. Essentially, microlens arrays are one- or two-dimensional arrays (lenslets) with steps of only a few hundred micrometers. In fact, this technology enhances the OLED screen brightness and viewing angle by using the principle of convex lenses.
Typically for OLED technology, the S95C demonstrated great color space coverage that reaches 99% / 75% for DCI-P3 / BT.2020 standards, respectively.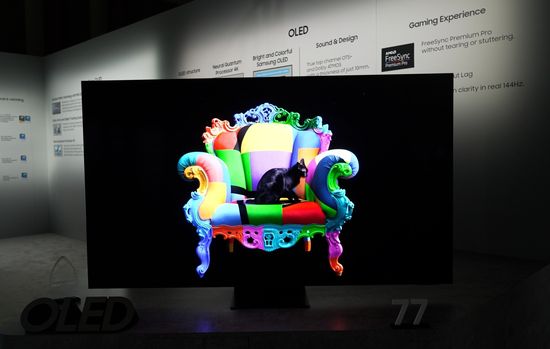 Together, wide color gamut, deep blacks and clean white provide superb image quality.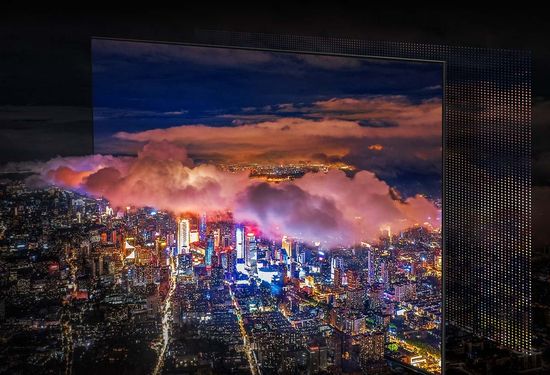 Key Features
With the exception of some Health options, the Tizen-based Smart Hub interface has not changed. It provides access to major video streaming services (Amazon Prime Video, Apple TV+, Disney+ and Netflix) and supports Apple AirPlay 2 for streaming via iPhone / iPad / Mac.
Additionally, a long-range microphone provides hands-free interface control with the Amazon Alexa and Samsung Bixby voice assistants (no Google Assistant). Interface screen is also a location for console-free playback for Amazon Luna, Xbox, Utomik, Nvidia GeForce Now, etc.
Unfortunately Samsung Smart TV retains some cons including:
– placement of some popular settings in the sub-menu;
– no input button on remote (only in TV's main menu);
– time delay up to a minute when devices are connected for the first time due to scanning and optimization.
The S95C offers new picture settings called static and dynamic tone mapping for HDR content. As known, tone mapping is designed for light and color appear on a screen. That being said, static settings use fixed values and preserves the original image authenticity.. The dynamic settings expand the picture dynamic range, changing these values in real time during video processing. As a result, they makes the picture brighter and more colorful.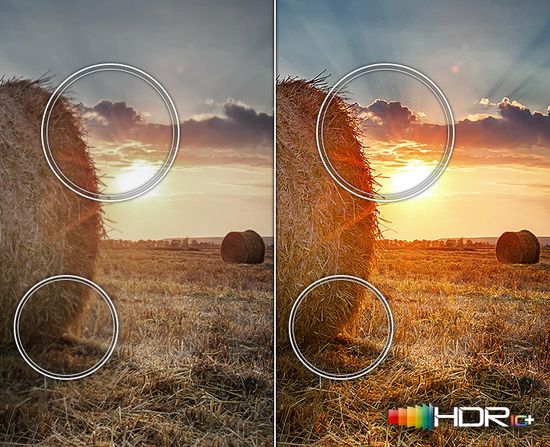 As with the Sony A95L, QD-OLED panel in Samsung S95C provides unprecedented viewing angles.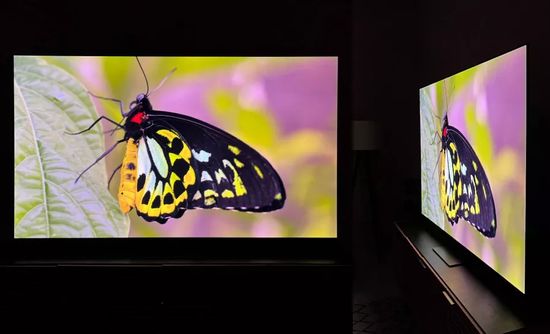 In addition, the hybrid QD-OLED panel provides an unprecedented contrast ratio, greatly reducing the brightness importance. Indeed, ambient light compensation is one of its main tasks. But the great contrast ratio drastically increases the perceived panel brightness, delivering superb image quality even with sunlight in the room.
Finally, superb ~9ms Input lag in Game mode completes an incomplete list of S95B pros.
Conclusion
Pros
– very bright and vibrant colors for an OLED panel;
– OLED-similar shadow depth and detail;
– superb out-of-box color accuracy;
– up to 9ms input lag;
– ultra slim design;
– One Connect box;
– cheaper S90C series;
– AirPlay 2 support;
– Amazon Alexa and Samsung Bixby voice assistants.
Cons
– too expensive;
– only three sizes;
– no Google Assistant support;
– no Dolby Vision HDR;
– Samsung account required to download apps;
– not ideal Smart TV adjustments.
Today, many experts are listing last year's Samsung S95B as one of the best TVs. The new S95C claims to repeat this success.
In fairness, even incomplete list of its competitors is very impressive and formidable:
– new Sony A95L with a similar QD-OLED panel;
– new Samsung Neo QN90C and QN95C with miniLED and QD;
– new TCL QM8 with miniLED and QD;
– new Hisense ULED and XU8K series with miniLED and QD.
Of course, the results of their rivalry will greatly depend on their value for money. But they will be available for analysis closer to the summer after their launch prices correct. In any case, the formation of a new segment of TVs with a hybrid QD-OLED panel can be considered successfully completed.
This video compares QD-OLED technology with a traditional OLED panel.