Despite the absence of Sony TVs at CES 2023, hardly any of the competitors were hoping for a Sony vacation. In the spring, the Japanese giant introduced new models in Weybridge, England:
– X90L series with Full Area local diming, including 98-inches Sony XR-98X90L (improved X90K series;
– X95L with miniLED backlit;
– A80L OLED – improved version of last year's A80K OLED with W-OLED panel.
But, of course, the new QD-OLED A95L is the focus of the lineup 2023. It's a significant brighter vs last year's A95K with a similar hybrid QD-OLED panel from Samsung Display. In addition, it has new XR Clear Image technology and significantly expanded gaming options.
Of course, the idea of combining the wide color gamut, high brightness and color accuracy of quantum dot (QD) technology with 'infinite' contrast due to perfect black of OLED panels has long attracted industry leaders. As a result, a few years ago, Samsung announced the development of a new hybrid QD-OLED technology. Last year the Japanese and South Korean giants introduced the Sony A95K and Samsung S95B with a hybrid QD-OLED panel from Samsung Display. Today we can confidently state the success of the developers.
In fact, QD-OLED hybrid technology uses a stack of blue OLED material for backlight of red and green quantum dots.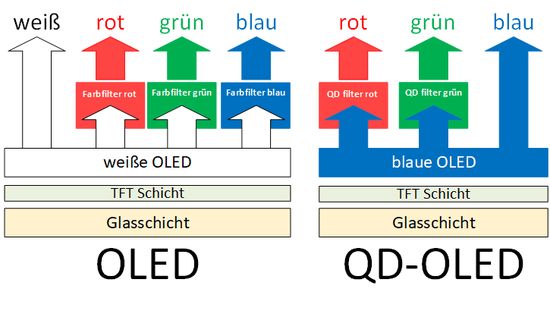 The pixel of this matrix contains the blue subpixel of the original blue OLED material (perfect contrast with deep blacks), and green and red subpixels, which are generated using a 'quantum dot' filter (superb colors).
QD-OLED TVs
The new technology has taken its rightful place in the market, successfully competing with LCD models with innovative mini LED backlit, and OLED Evo panels with increased brightness.
Models:
– Sony A95K (2022) and A95L (2023);
– Samsung S95B (2022) and S95C/S90C (2023).
Of course, five series can hardly be positioned as a full-fledged segment yet, but the great price-quality ratio promises them superb marketing prospects.
Last year's Sony A95K is significantly more expensive vs Samsung S95B:
– Sony A95K – 65″ – $ 2,600 (US) / £ 3,000 (UK) / € 3,000 (Eu), and 55″ – $ 2,300 / £ 2,200 / € 2,200;
– Samsung S95B – 65″ – $ 1,500 (US) / £ 1,500 (UK) / € 1,830 (Eu), and 55″ – $ 2,000 / £ 1,190 / € 1,280.
But, in fairness, however, the TV of the Japanese giant offers the best colors and sound.
In addition, both companies use a fairly complex regional pricing strategy. For example, in the US the price difference for 55-inch models is only $300. But in the UK and Europe it is much higher.
This year, the South Korean giant presents Samsung S95C/S90C TVs with QD-OLED panel. The 77-inch S95C is already available in the US. Its launch price reaches $ 4,500 (~ £ 4,200 or A$ 6,600), which seems too expensive.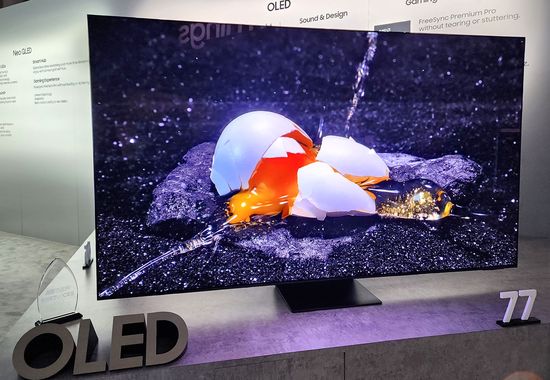 But according to preliminary data, the launch price of the 55/65-inches models will be only $1,500 / $1,800, respectively.
The second-gen Sony A95L QD-OLE will be available in 3 sizes:
– US – Sony XR-77/65/55A95L;
– Europe – Sony XR-77/65/55A95L EU.
Considering the prices of last year's models and the price of the 77-inch Samsung S95C, the A95L is unlikely to be cheap. However, according to rumors, Sony promised a 'pleasant surprise'.
Sony A95L vs Sony A95K
Last year's A95K uses adjustable large platform stand.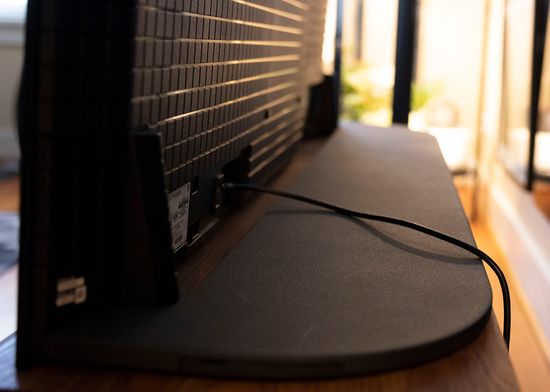 Depending on the installation, it provides a snug fit TV to the wall or becomes invisible, placed behind panel. Unfortunately, its large weight and dimensions are not very convenient for shipping and setting.
The new A95L comes with Sony's three-way stand, which has three positions, including:
– 'Standard' – legs at the ends;
– 'Narrow' – legs are offset to the center;
– 'Soundbar' – TV is raised to accommodate the soundbar.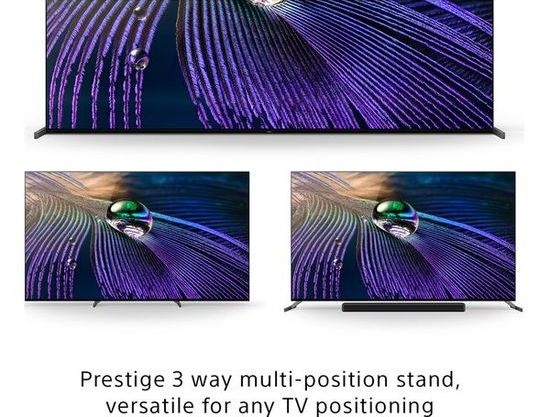 The TV has a very thin black bezel around the perimeter. Sony calls this design 'Immersive Edge'. Contrary to the trend of recent years, Sony has eschewed an ultra-slim design, using the extra internal volume to accommodate an advanced heatsink. As a result, it allowed developers to increase the panel brightness by dissipating heat more efficiently. In addition, the additional internal volume allowed the company to accommodate actuator-based sound system. As known, Sony flagships have been using the Acoustic Surface system instead of built-in speakers for several years now. It generates sound by vibrating the screen using actuators on the back of the TV, greatly enhancing its quality.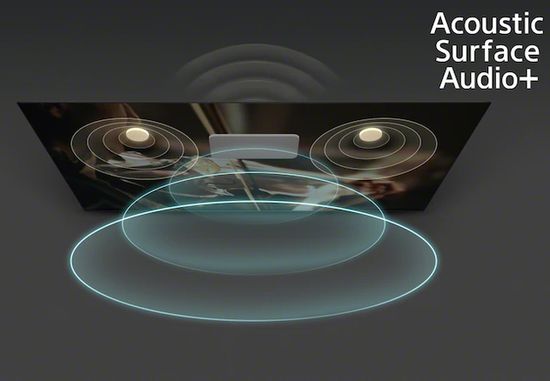 The A95L has a 2.2-channel audio system with two actuators and two regular woofers that add bass. In addition to Acoustic Surface Audio+, the flagship uses traditional Sony's audio technologies, including:
– Acoustic Center Sync for connecting to Sony soundbars (audio / video synchronization);
– 360 Spatial Sound mapping processing – creates virtual speakers for more immersive sound.
In addition, the A95L exhibited very wide viewing angles, highlighting the advantage of QD-OLED panels vs. regular OLED TVs.
Key Features
According to the Sony, new A95L with QD-OLED panel can provide 'up to 200% peak brightness increase from the A95K from 2022'. Of course, increase in peak brightness up to 3000 nits causes quite reasonable skepticism. Probably, the company means the ability of the panel to work 2 times brighter by using additional heat diffusion sheet. Moreover, an increase in brightness is possible due to effectively control by using dedicated thermal analysis.
The company lists the Cognitive Processor XR as the A95K processor. Many other sources contain the newest MediaTek Pentonic 1000 4-core ARM Cortex-A73 chipset (2.0GHz) with 4K@120Hz and Dolby Vision IQ support.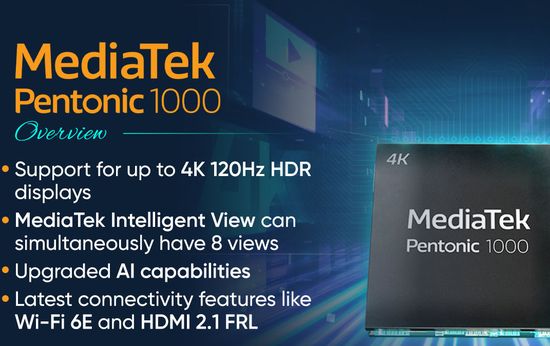 New XR Clear Image adaptive technology optimizes source video content for 4K-upscaling. In fact, TV takes into account the content's native resolution (even after scaling it, for example, in a Blu-ray player), encoding parameters and the bit rate to make better use of Adaptive Noise Reduction and Adaptive Super Resolution. Theoretically, XR Clear Image will further reduce noise and/or blur.
Of course, the A95L also uses XR Triluminos Max, XR OLED Motion processing, and improved XR OLED Contrast Pro.
To demonstrate the claimed peak brightness, Sony compared the playback of video clips (landscapes and architecture) in Vivid mode by pre-production A95L with the last year's Sony A95K and Samsung's S95B. In this environment, the new Sony has demonstrated a significant increase in brightness. But, of course, Vivid mode does not claim to be cinematically authentic due to the color temp in blue offset.
The A95L showed high brightness, color accuracy and picture detail, superb color balance, wide color gamut and black depth. As a result, TV creates an almost 3D illusion. To be fair, the new 77-inch Samsung S95C vs S95B is also ~ 32% brighter.
Gaming
For gamers, A95L offers:
– support for 4K@120Hz and Dolby Vision gaming.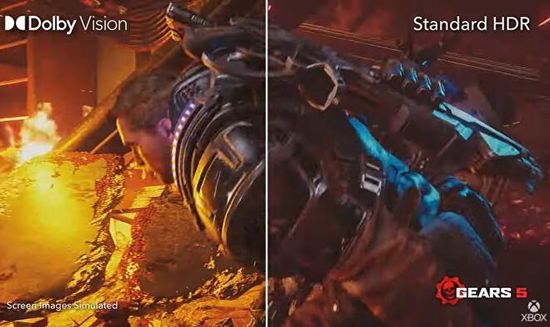 – VRR (variable refresh rate – adaptive sync) and ALLM (auto low latency mode) options;
– dedicated game menu – quick and easy access to some game-specific features (motion blur reduction, black equaliser, crosshair to the center of the screen, etc).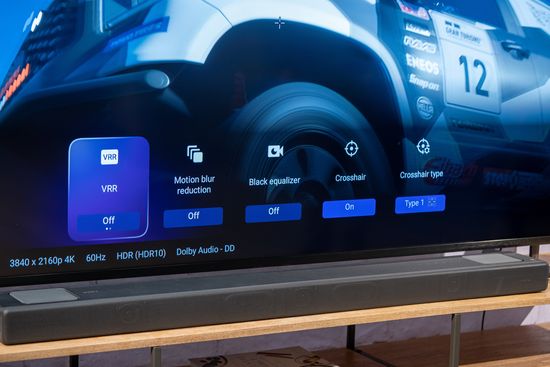 In addition, it allows the gamer to reduce the image size by transforming it into a smaller window on the screen. This option is useful, for example, in eSports. It reduces reaction time by reducing the area of control for the eyes. The window size can be reduced in the range from 100% to 30%.
The A95L also supports Multi View which splits the screen into two windows.
Of course, the new model is 'Perfect for PlayStation 5'. When a signal is detected at the PS5 input, the TV will automatically optimize the settings.
Like the A95K, A95L comes with the Bravia CAM webcam with some smart options, including adjustment of picture brightness (depending on ambient light) and audio balance. It clips to the TV's top edge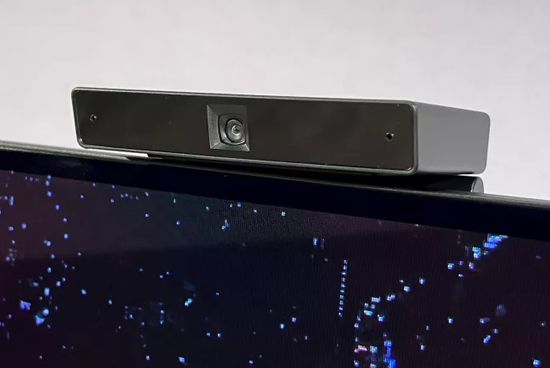 In addition, the camera is used for video calling, automatic power saving and video chats on Google Meet.
All new Sony TVs run the Google TV operating system.
Conclusion
Pros
– superb image quality with high brightness, OLED-simular black depth, wide color gamut, etc;
– Google TV + Google Assistant;
– 4K@120Hz, Game Menu, VRR / ALLM, Dolby Vision gaming and reducing image size in games;
– new XR Clear Image adaptive function to optimize 4K upscaling;
– comfortable three-position stand;
– newest MediaTek Pentonic 1000 chipset.
Information about the processor used is inconsistent. For reference, flagship MediaTek Pentonic 1000 SoC with integrated MEMC, 8-screen Intelligent View and powerful AI processor is designed for 4K@120Hz HDR displays and up to 4K@144Hz VRR for gaming. It supports the latest Dolby Vision / Dolby Atmos standards, integrated voice assistant and VRR for gaming. Fully integrated MediaTek AI (APU) supports:
– AI-Super Resolution 2.0 with detail reconstruction;
– AI-Picture Quality Scene Recognition 2.0;
– AI-Picture Quality Object Recognition 3.0 with depth and richer PQ enhancement;
– Fast Wi-Fi 6 Connectivity;
– HDMI 2.1 FRL(Fixed Rate Link) mode at 48Gbps.
Cons
– expected high price;
– only 2x HDMI 2.1 sockets;
– 77″, 65″ and 55″ models only.
Certainly, value for money will be one of the main factors in the marketing prospects of the Sony A95L. But the superb picture and sound quality guarantees it a place among the best TVs of 2023. Nevertheless, the list of main competitors is impressive and formidable:
– LG OLED G3/C3 (OLED Evo panel);
– Samsung S90C/S95C (gybrid panel) and Neo QN90C/QN95C (miniLED backlit + QD);
– Hisense ULED X (miniLED backlit + QD);
– TCL QM8 (HighBright Ultra panel).
This video shows the new Sony BRAVIA XR QD-OLED A90L 4K HDR TV.