Pros
– superb milk foam (higher temperature and ideal consistency with double foaming);
– simultaneous preparation of 2 milk-based coffee drinks due to combined milk/coffee dispensers in single module of Latteperfection system;
– 250 g / 1.5 liters capacity of the hopper coffee bean and water tank at ultra narrow design 20 cm;
– low-noise grinding;
– high quality espresso;
– easy cleaning with removable brew group;
– 'Italian Preparation Process' (espresso + milk on top).
Cons
– milk / coffee ratio is not adjustable (only 1:1);
– comes without an additional milk container;
– no 'espresso' button;
– no ground coffee bypass;
– some basic settings require a manual;
– no recipe programming;
– control via Melitta Companion app is not supported (only user manual);
– many plastic.
Melitta Group is an international concern with offices in Europe, North and South America, Japan and headquartered in Minden, North Rhine-Westphalia (Germany). Melitta brand is one of the oldest in the coffee industry.
The history of the company began in 2008, when Melitta Benz, a 35-year-old housewife from Dresden, invented and patented the first paper coffee filter. Since then, the company has steadily expanded its business with coffee makers and coffee machines, home accessories, etc. At different times, the Melitta product range even included fruit juices, porcelain and cigars.
Since 1962, company has been offering ground coffee in vacuum packaging. Today Melitta is one of the largest European coffee producers.
Melitta USA, headquartered in Clearwater, Florida, is part of the Melitta Group. Unfortunately, it does not sell coffee machines limiting itself to Melitta coffee filters, coffee, and non electric coffee systems. The coffee roasting plant is located in Cherry Hill, New Jersey.
Melitta range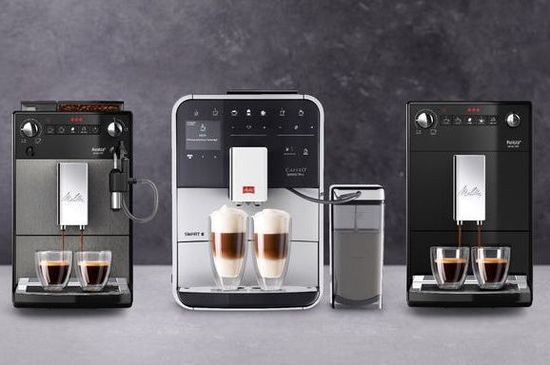 In Europe, the Melitta coffee machines range covers the entire mid-budget segment (€ 390 – € 1,340 or £ 350 – £ 800 in UK). But prices in the UK vary slightly. The list of available series and models includes:
– Solo / Solo & Milk / Solo & Perfect Milk – € 390 / € 450 / € 520 (strangely, in the UK, all Solo models cost £ 350);
– Purista (without frother) – € 460 / £ 425;
– Avanza (manual cappuccinatore) – € 640 / £ 525;
– Passione / Passione OT (matte black / silver) – € 740 / € 770;
– Latte Select (two coffee bean bins, today's most popular model) – € 850 / £ 700 / $ 1,000);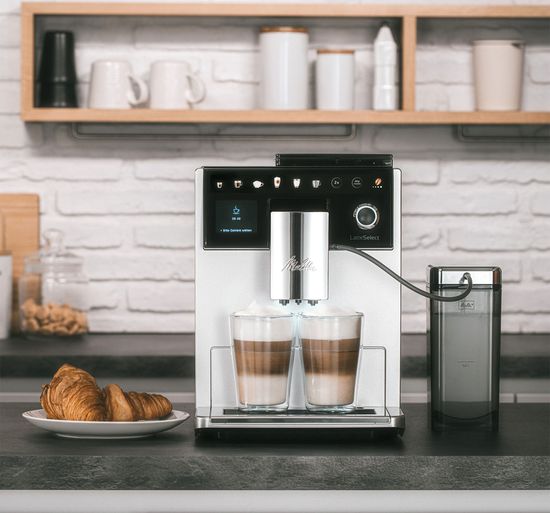 – Latticia OT (LATTEperfection and milk / coffee dispensers in one module) – € 600 / £ 400 – £ 450;
– CI / CI Touch (One-Touch Venturi-System and two coffee bean bins) – € 830 (£ 500) / € 870 (£ 650);
– Barista T Smart / Barista TS Smart – € 1,150 (£ 725) / € 1,340 / £ 800;
– Varianza CSP – € 1,150.
However, thanks to the company's flexible pricing strategy, prices fluctuate significantly. For example, the Avanza 600 series costs only £ 339, while the Latticia OT ranges from £ 400 – £ 450 (amazon.co.uk).
The 'OT' in the name is an acronym for 'One Touch', Smart models support smartphone control.
Melitta Latticia OT 600
Unlike other series, new Melitta Latticia can be positioned as a pioneer of entry-level coffee machines with premium milk system. This segment has long offered a wide range of great espresso-focused coffee machines, including DeLonghi Magnifica Start, Philips 2200, etc. But the compact Latticia OT is focused on high-quality milk-based coffee drinks. 'Premium milk-system at the price of an entry-level model' slogan is quite adequate to its concept. Latteperfection milk system built in:
– makes superb milk foam with a higher temperature and ideal consistency due to double milk frothing;
– combination of milk/coffee dispensers in one module ensures simultaneous preparation of two milk-based drinks.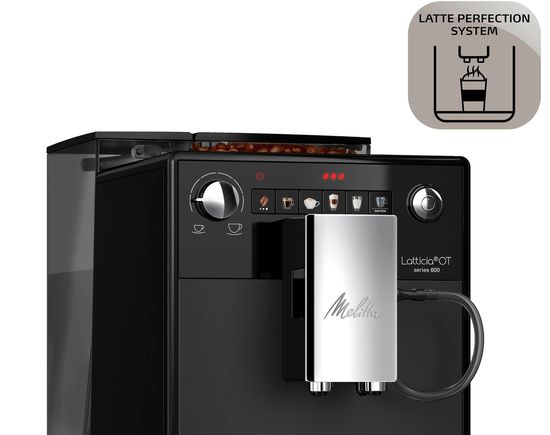 Nevertheless, Melitta Latticia is relatively cheap due to the lack of a TFT display, which, unfortunately, limits the settings. In particular, the coffee machine prepares milk-based drinks with an unregulated ratio of ingredients, which is always 1:1.
Latticia OT 600 colors:
– Melitta Caffeo F 300-100 (F30 / 0-100) – black;
– Melitta Caffeo F 300-101 (F30 / 0-101) – black with a silver front panel.
Its platform is identical to the Melitta Avanza. In turn, it's a Solo version with an increased capacity of a water tank up to 1.5 liters and a coffee bean hopper up to 250 grams. With the exception of frother and the multivalve, these series use identical components including:
– steel conical coffee grinder with 5 grinding degrees (very quiet, noise up to 67dB);
– removable brewing unit with a capacity of 15-16 grams of ground coffee. Unfortunately, its design is not interchangeable with the Barista / Varianza / Passione models;
– Sysko pump 15 bar;
– one 1450 W thermal block;
– settings – grinding/ coffee strength/quantity (stepless) and water hardness/ brewing temperature/automatic shutdown via service button.
Settings and controls
The max grind setting is optimum In most cases. It's installed with a lever next to the brew group behind the service cover on the side.
Volume settings for cappuccino, coffee and espresso:
– espresso – dial in the leftmost position ('0' level) ~ 40 ml;
– coffee – dial / 2.5 ~ 120 ml;
– cappuccino – dial / 4 – total ~ 200 ml (drink taste is close to Flat Whit).
But the coffee machine does not remember these settings. The control dial is located on the left side of the control panel and adjusts from 40 to 240 ml.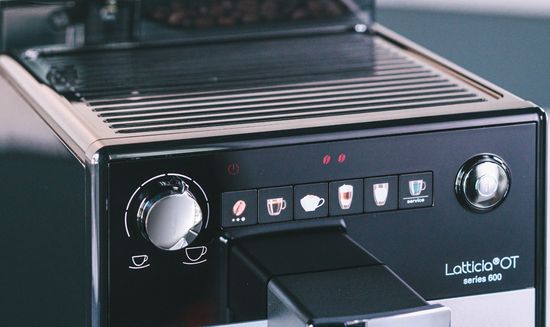 Unfortunately, it's not very convenient, for example, for lovers of ristretto, the volume of which is 20-30 ml.
The non-adjustable coffee/milk ratio in Melitta Latticia OT 600 is 1:1. For example, the lowest setting on the dial corresponds to '40ml espresso + 40ml milk', while the middle setting is '120ml lungo + 120ml milk'. With a little tolerance, the first drink can be classified as an 'espresso macchiato'.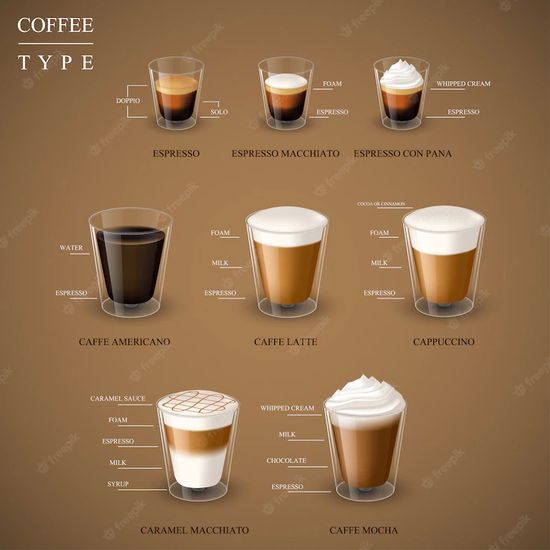 The making latte macchiato gives questionable results. But with the initial skills of a barista, coffee lovers can empirically choose the best option. For example, the combination of milk foam at level 4 with double dispensing (pressing while holding the button) and espresso ('0' level) gives a perfectly acceptable result. But, of course, the promised 'One Touch' is irrelevant in this case.
Key Features
Latticia is an improved Avanza version.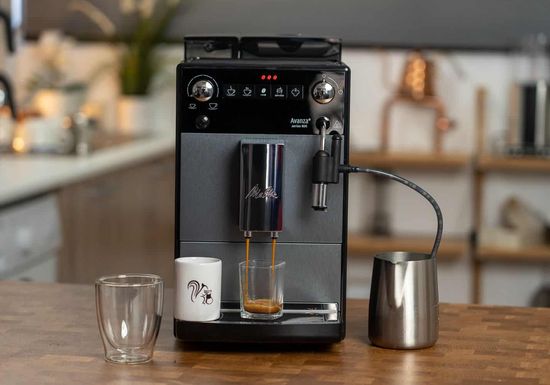 List of main differences between Latticia vs Avanza:
– milk system – Latteperfection vs manual milk frother;
– drinks – 7 vs 2;
– 'One Touch' – Yes vs No.
Features and Specs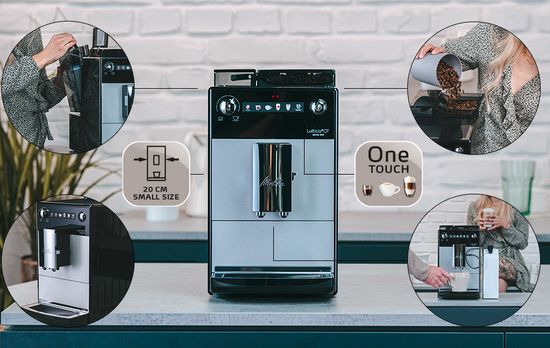 – integrated Latteperfection milk system froths the milk twice to improve consistency and increase crema temperature;
– milk/coffee dispensers combined in one module can simultaneously prepare two milk-based coffee drinks;
– Cafee Creme, Cappuccino and Latte macchiato in one touch (with preset coffee/milk ratio);
– capacious removable water tank (1.5 l) and bean container (250 g);
– width of only 20 cm;
– silent grinder (67 – 74dB);
– adjustable brewing temperature – 85°C/90°C/95°C;
– three settings of coffee strength and five grind settings;
– continuously variable quantity adjustment with dial (common for coffee and milk in a ratio of 1:1);
– height-adjustable spout for cups up to 135 mm high;
– adjustable extraction duration with new pump control system (Aromatic Coffee Enjoyment);
– 'Italian Preperation Process' (classic ingredients sequence);
– anti-scratch drip tray with plastic insert;
– cleaning the milk circuit only requires a vessel with clean water for milk hose and running the Quick & Clean program;
– automatic cleaning and descaling program with a message on the display;
– water filter compatibility (for example, Melitta Pro Aqua water filter costs ~ € 15).
Conclusions
Given the lack of ingredients proportion settings, Melitta Latticia OT 600 can be positioned as a semi-automatic model without TFT-display. This segment includes, for example, the cheaper Nivona NICR 520/525. Nivona NICR 6 series costs ~ € 500 and offers pre-wet adjustment, a display with intuitive menus and prompts, and a classic americano program. Moreover, Melitta Latticia OT and Nivona NICR use the same platform and are assembled in the same plant.
But superb milk foam due to double frothing, and the simultaneous preparation of two milk-based coffee drinks are a serious bonus in Latticia favor. In addition, its default presets are quite adequate for most coffee lovers. However, the picky coffee machine owner can use 2 cycles without 'One Touch' to prepare a drink according to their preferences.
Finaly, the ultra narrow design of 20cm is a real plus in a small kitchen, and parents with a small child will appreciate the grinder quiet operation.
In general, the developers were able to create an inexpensive compact coffee machine with a premium milk system, but with limited customization options. It can be an ideal choice for lovers of popular milk-based coffee drinks without passion for exotic recipes.
This video shows Melitta Latticia OT witn innovative Latteperfection milk system.