Nivona Apparate GmbH, Nuremberg, Germany was founded in 2005 by engineers Peter Wildner, Thomas Meier and Hans Errmann. Today the company produces coffee machines on the lines of Eugster Frismag AG factories in Switzerland (7,8,9 and 10 series) and Portugal (5,6 and 7 series).
In fact, eminent Swiss company Eugster/Frismag is Nivona's OEM (original equipment manufacturer) supplier. For reference, it also actively cooperates with Jura, Bosch and Melitta. In fact, Eugster/Frismag and Saeco (Saeco, Philips and Gaggia) are today the world's leading manufacturers of automatic coffee machines. But DeLonghi espresso coffee machines are made in Italy, China, and the USA without their participation.
Unlike competitors, Nivona sells its products exclusively in specialized stores through qualified sales consultants. Of course, this system has significant pros, but, unfortunately, it significantly limits the brand popularity. As a result, with a great price-quality ratio, their popularity is significantly lower compared to, for example, the Italian DeLonghi or the Swiss Jura.
Nivona coffee machines
Nivona line includes 5, 6, 7, 8, 9 and 10 series. The list of their differences includes price, design and functionality, which in turn depends on the technologies used.
5 series
– aromatica system (15 bar pump);
– pro-spumatore for cappuccino;
– removable brewing unit;
– dialogue display.
6 series
– built-in Bluetooth module for Nivona app.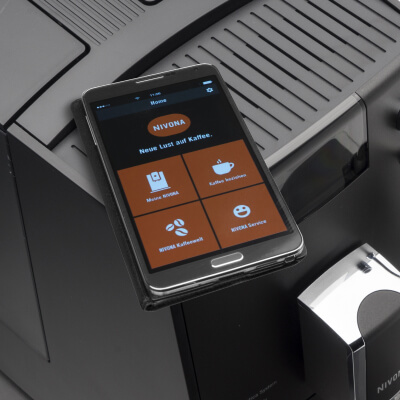 – pro-spumatore;
– сleaning, descaling and rinsing with one click;
– cup holder with heating.
7 series
– profile with 5 individual stored recipes;
– additional soundproofing of the coffee grinder;
– automatic control of the water level and coffee beans;
– ECO mode.
8 series
– TFT display with Big Picture Mode.
– new DUOplus spumatore for two cappuccinos at the same time.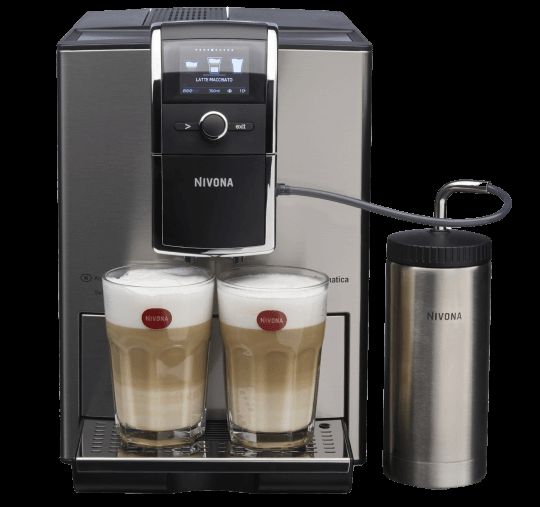 – stainless steel front panel with chrome inserts;
– real-time adjustment of coffee strength, milk foam height and extraction.
9 series
– additional soundproofing of the coffee grinder;
– 'Barista' mode for new coffee varieties with Aroma Pre-Select (recommendations from Nivona app);
– built-in Bluetooth module;
– new DUOplus spumatore.
10 series
– built-in Bluetooth module;
– ECO mode;
– increased water tank capacity;
– very stylish design.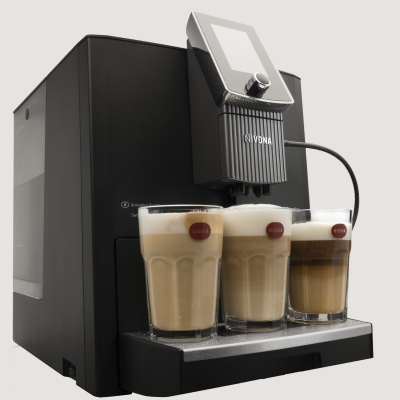 In addition, Nivona models use the Aroma Balance System, which the company calls 'Barista in a Box'. It supports three aroma profiles, each providing the optimum balance of flavor and aroma for a single bean variety. In turn, this task is solved by choosing the optimal balance between grinding, pressure in the brewing chamber and pump settings. As a result, the offered 'Dynamic', 'Constant' and 'Intense' profiles have different ratios of aromas, bitterness and coffee acidity.
NICR 550 vs NICR 520 vs Jura A1
In fact, new entry-level Nivona NICR 550 / 560 ( matte black / white)replaces the discontinued 520 model. Probably, the slogan 'max usability without any extra features at an affordable price' most accurately characterizes Nivona coffee machines, and the NICR 550 is no exception. The unprecedentedly simple menu absolutely does not require any barista skills.
Key differences (550 vs 520):
– grinder is much quieter – 64 vs 73 dB;
– weight reduction by 2 kg with the same dimensions;
– faster descaling – the company has reduced the descaling duration (decalcification) from 30 minutes to 12 minutes;
– unlike 520/525/530 models with 'two-stage' start, new coffee machines got rid of the annoying rinsing confirmation at power on;
– color display.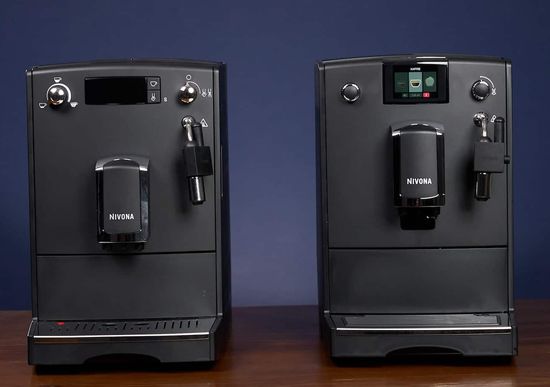 It provides:
– complete statistics on drinks;
– current status and forecast for maintenance and cleaning;
– automatic shutdown setting from 10 minutes to 16 hours.
Like the previous 520/525/530, the Nivona NICR 550/560 offers three settings for temperature, strength and grinding. Unfortunately, prewetting duration adjustment is still not available. As in previous models, it's 1 sec.
Compared to other brands, the functionality of the Nivona NICR 550 is close to the Jura A1. The list of differences includes (Nivona NICR 550 vs Jura A1):
– grinding – 3 levels vs stepless;
– controls – dials / buttons / color display vs touch display;
– coffee strength – 3 vs 2 levels;
– coffee temperature setting – 3 vs no;
– programs 'one click' – coffee, espresso vs coffee, espresso, ristretto;
– 2 cup function – yes (coffee only) vs no;
– brewing unit design – removable vs no.
But offering the best value for money, it's cheaper vs eminent Swiss competitor.
Main specs
The front design is similar to the 6 series.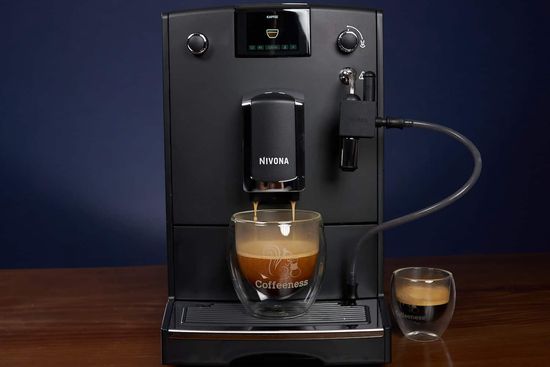 In addition to a much more informative color display, the new model offers the improved recipe settings management system that is used in the 7 series.
Platform:
– color TFT-display;
– cone stainless steel Rögelein grinder 043 with three settings (2 & 3 grind settings change flavor and density and are ideal for very fresh beans);
– 15 bar water pump Sysko SPX.H100;
– 1450 W thermoblock;
– removable brewing unit with a capacity of up to 15-16 g of ground coffee;
– compact dimensions – 34.0 x 24.0 x 46.0 cm or 13.4 x 9.45 x 18.1 inches;
– three settings for temperature and coffee strength;
– manual cappuccinatore;
– simultaneous preparation of 2 cups (black coffee);
– water container and coffee bean hopper capacity – 2.2 l and 250 g;
– coffee grounds container for 10-12 servings;
– height adjustable coffee dispenser for glasses up to 5.5 in or 14 cm high;
– 2 programs with 'one-click';
– dials and touch screen controls;
– user profiles;
– hot milk & water.
The three grinding, three temperatures and three portions of ground coffee correspond to 27 options into cup.
Programs
– espresso (default 40 ml, medium coffee strength and temperature) – adjustment range 20 – 240 ml in 10 ml increments;
– coffee (the same mode, known as lungo, 120 ml) – 20 – 240 ml, 10 ml. Moreover, the 20 ml setting allows the user to prepare ristretto;
– milk foam – (150 ml) – 40 – 240 ml, in 10 ml increments;
– hot water – (150 ml) – 50 – 500 ml, 25 ml.
Major improvements
All operations have fully understandable icons, sometimes with animation. For example, an animated hand turning the desired switch corresponds to opening a steam faucet. As a result, even older people without skills in digital technology easily learn to control a coffee machine. It's probably one of the best on-screen instructions on the market, eliminating the need for paper user's manual even at first.
Settings and editing them are also amazingly simple and convenient. For example, editing any recipe (espresso, coffee, milk foam and hot water) requires only pressing and holding the left dial for a couple of seconds on the desired recipe. As a result, the coffee machine switches to its setting mode. Probably, recognition of the pressing duration can hardly be positioned as an innovation. But this simple solution greatly expanded the settings with a minimum number of controls.
For the perfectionists, the developers have increased the brewing temperature, substantially reducing one of the main problems of the previous 520/525/530 models. The company solved this problem by editing the program without changing the design of the thermoblock or cappuccinatore. As a result, the espresso temperature increased by ~4°C and the milk foam temperature increased by +7°C. In turn, a cappuccino temperature in the cup exceeded 61°C.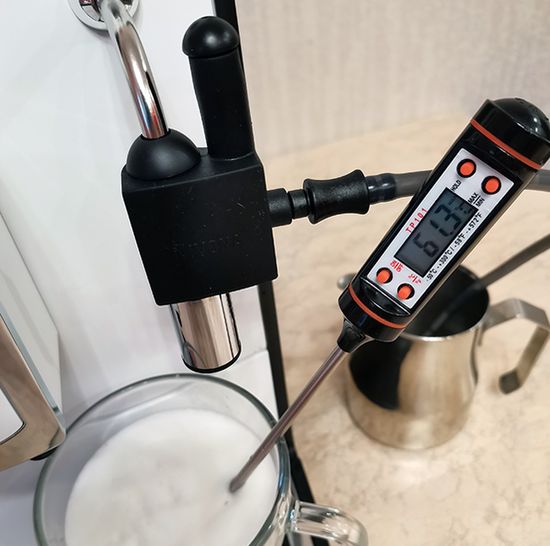 But in fairness, the temperature of a classic cappuccino varies in the range of 65-70°C.
The cup holder above the drip tray has also changed. It's similar to the 6th and 7th series models and has a plastic insert with longitudinal ribs. It drastically reduces cup chatter due to vibration during grinder operation. In addition, a special hole provides convenient parking for the cappuccinatore hose.
Coffee milk recipes
The coffee machine uses great 'manual spumatore', which makes a homogeneous fine milk foam of almost perfect consistency.
Of course, it does not fully correspond to the positioning of the model as a fully automatic espresso coffee machine. But many people prefer to experiment on their own with milk foam in a cup.
The semi-automatic cappuccino preparation algorithm includes manual addition of milk foam. But the milk is frothed using a steam cappuccinatore, which the company calls a 'manual spumatore'.
The location of the coffee and milk dispensers requires displacement of the cup between them. Therefore, coffee and foam are prepared separately. Accordingly, the model does not offer 'cappuccino' or 'latte' programs. The user prepares them based on personal preferences, adding coffee and milk to the cup in a certain order and in the selected proportions:
– classic cappuccino – espresso (no more than 40 ml) + milk foam on top;
– three-layer latte macchiato – foamed milk + pause ~ 20 seconds + placing a cup under the coffee dispenser and adding espresso + foamed milk.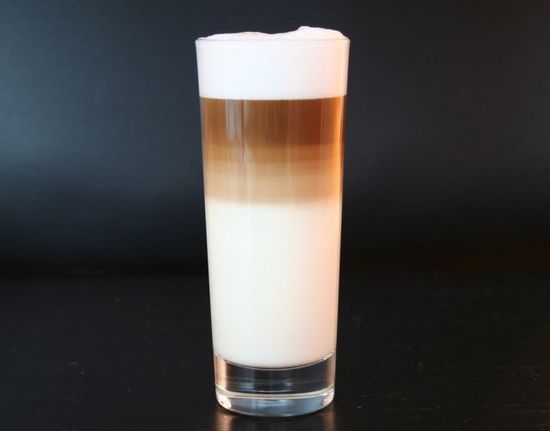 A cappuccinatore quick rinse program can be considered an added bonus. As known, any coffee machine requires washing the cappuccinatore after using it. Otherwise, milk protein and fat dry up in the channels. In the future, their cleaning is much more difficult. 520/525/530 models do not control this aspect. The maintenance menu in the Nivona NICR 560/550 displays a separate item with this requirement and convenient animated tips.
Conclusions
In general, the company introduced improved 5, 6, and 7 series, including:
– Nivona NICR 550/560;
Pros
– unprecedented usability;
– high taste qualities of drinks;
– simple and convenient care;
– premium reliability;
– great value for money.
Cons
– insufficient brand popularity due to sale only in specialized stores.
Probably, the simplicity brought to the absolute with a great result can be considered the one of the key features of Nivona coffee machines. Their unprecedentedly simple menu with great on-screen instructions eliminates the need for paper manual even for people without barista skills.
Of course, the legendary DeLonghi Magnifica S ECAM 22.110 significantly distorts the marketing situation in this segment. As known, this model of the Italian giant has been successfully competing in the market since 2014. This model with similar features and specifications sells for less than € 300, offering superb value for money.
But compared to new models from other brands, the Nivona NICR550 has very good marketing prospects. Its price is just over € 400, the functionality and specs are very close to the new DeLonghi Magnifica Start series. Curiously, this new entry-level series replaces the Magnifica S ECAM 22.110. Accordingly, the Magnifica Start is destined to compete with the Magnifica S until it's discontinued.
This video shows the new Nivona NICR 550 NICR 550/560 CafeRomatica.