A few years ago, consumers embraced the Blackview Max 1 ultra-thin projector phone with great enthusiasm. The reaction of the companies was quite predictable. Wireless Mobi Solutions introduced Moviphone already at CES 2018. However, despite a vigorous start, the development of this area quickly slowed down, and then completely stopped due to poor value for money. Indeed, they offered very modest specs of hybrid phone – projector for ~$ 600. The same money allowed the buyer to choose more expensive models when buying devices separately. As a result, the in-phone combo projector is currently only implemented as additional Moto Insta-Share Projector Mod for the Motorola Moto Z.
Pocket ultra-thin projectors
To be fair, Samsung and Nokia announced Samsung Galaxy Beam 3 (2021) and Nokia Projector Phone 5G in 2021, but no follow-up.
Curiously, the demand for ultra-thin pocket projectors has continued. Of course, companies adequately respond to market conditions by expanding this range. Today, a partial list of the most popular models includes:
– Formovie P1 – $ 400 / $ 280 (launch price / current price on the company's website).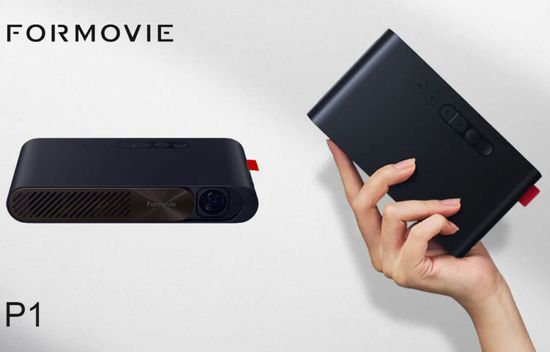 – Wemax Go – $ 300 (March 2022).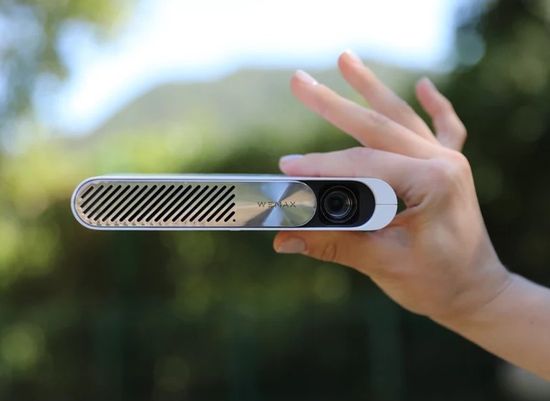 – Yaber Pico T1 – $ 290 (launch price, CES 2023).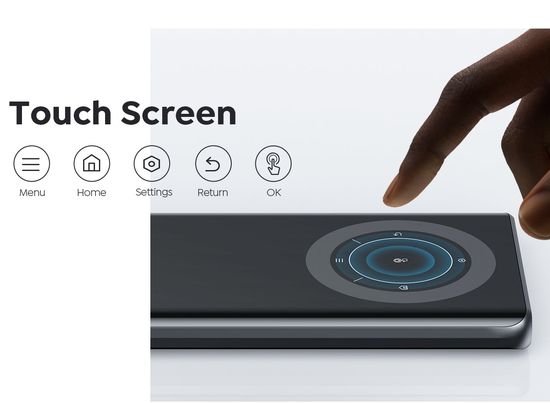 Of course, Formovie, Wemax and Yaber projectors are lesser known compared to, for example, Epson, Sony, Hisense, Optoma or BenQ brands. But commercial youth does not affect the quality of their products. In addition, they have some trump cards in their bosoms.
For example, Formovie is the brand belong to Fengmi, who is the sub-company of Appotronics. In fact, Xiaomi Formovie is a joint venture between Xiaomi and Appotronics. Chinese giant Xiaomi needs no introduction. Appotronics develops and manufactures the most promising ALPD laser engines. It really claims to be an innovative leader in this segment with excellent prospects.
WEMAX company is also the sub-company of Appotronicsis. Today it's the biggest provider of ALPD laser projectors in US.
Founded in 2018, Yaber is a Shenzhen, China-based company that specializes in low-cost entertainment projectors. About eminent companions nothing is known. But in a few years, it has introduced about 10 models priced from $ 200 to $ 300 that compete successfully in the market.
Formovie P1 vs Wemax Go vs Yaber Pico T1
Specs
– brightness (ANSI Lm) – 800 vs 300 vs 110;
– resolution – all qHD (960 x 540);
– contrast (full on/off) – 600:1 vs 500:1 vs 350:1;
– display type – all DLP x 1;
– color processing – all 8-bit;
– light engine – Laser Phosphor (ALPD) vs Laser Phosphor (ALPD) vs RGB LED.
ALDP technology expands color gamut and increases the colors brightness. For example, Wemax GO covers 102% Rec. 709 color space.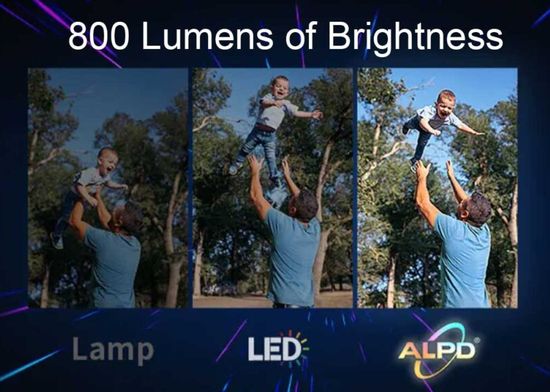 – lens – all fixed focal length, manual focus;
– Throw Distance – (1.1 – 2.7m) vs (0.4 – 2.7m) vs (0.3 – 2.7m);
– Image Size – (40-100″) vs (15-100″) vs (10-100″);
– Throw Ratio – 1.20:1 vs 1.26:1 vs 1.20:1;
– Digital Keystone – Vertical vs Vertical vs Horizontal & Vertical;
– thickness ~ 2 cm / 0,8″ vs 2 cm / 0,8″ vs 1,31 cm / 0,52″;
– weight ~ 300 g / 0.7 lbs vs 300 g / 0.7 lbs vs 150 g / 0.33 lbs;
– speakers (mono) – 0.8W vs 0.8W vs 1.5W.
Formovie P1 and Wemax GO use the same light engine, have almost identical thickness and weight, and offer similar specs. Before the correction of Formovie P1 launch price, the difference of $100 ($ 400 vs $ 300) was quite adequate to the superiority of its brightness (800 vs 300 ANSI Lm) and contrast (600:1 vs 500:1). But at the same prices, these factors become decisive.
Yaber Pico T1 is significantly thinner and lighter, has more powerful onboard speakers, and originally cheaper. These factors partially compensate for its significant more modest brightness and contrast.
Yaber Pico T1
Pros
– extremely light and slim;
– Wi-Fi + Bluetooth;
– battery bank + cables + magnetic tripod + carrying case included.
Cons
– too low brightness;
– no built-in battery;
– incompatibility with a standard tripod.
Additionally, the company offers a $ 549 Smart OS version with built-in apps.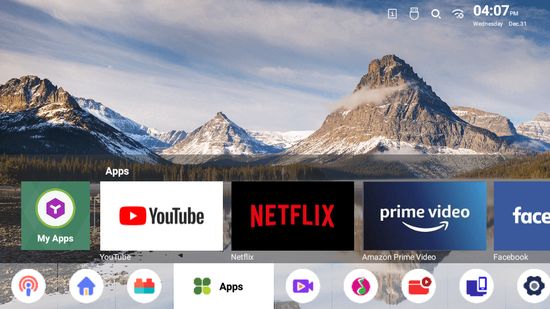 But it's available only on the Yaber website. Regular version provides multiple projection connection methods.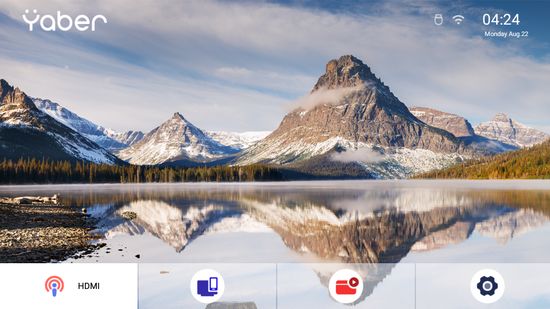 Pico T1 can receive 1080p content but plays it at 540p native resolution.
The lens provides up to 100″@6.6ft. But given the low brightness, the image will be dull and faded even without ambient light. More acceptable image quality is actually achieved with a screen size of up to 50″.
To reduce the projector size, developers use a battery bank instead of the traditional built-in battery. However, its size is approximately equal to the projector. It connects with a USB Type C cable and provides viewing one movie.
Of course, the audio quality from 1.5W mono onboard speakers is unlikely to be acceptable to music lovers. The audio often stutters or drops out at the peaks due to the underpowered amplifier. However, Bluetooth allows the projector to use an external Bluetooth speaker with better sound quality.
The Pico T1 supports wired / wireless projection, and screen mirroring for smartphones / tablets / PC. Mini-HDMI and USB-C connections work great with Blu-ray discs, Netflix, Amazon Prime Video, HBO Max, and PC. The Wireless ScreenCast option also works, but the connection time is too long.
The EShare option does not support Netflix or HBO Max due to resolution, but is compatible with YouTube via phone. Moreover, selecting in EShare app TV Mirror instead of Screen Share enables Yaber with phone control.
Performance
Yaber Pico T1 uses one color mode without a name. The projector does not have color correction. But color accuracy, white balance and color temperature are more than adequate 'out of the box'. Slightly shifted to magenta, the color is ideal for displaying skin tones. Its brightness uniformity almost reaches 90%.
Text testing demonstrates optimal clarity for 60-inches diagonal and below. Next, text pixelization begins to appear. It reaches a significant level for image size ~ 80″.
Of course, low brightness significantly limits the projection size due to the reduction in image quality in ambient light. In diffuse daylight, image quality is acceptable for projection sizes from 20″ to 50″, depending on the content. For example, projector plays normally content with bright colors and without dark scenes even on a screen up to 50″. In the evening, this problem is significantly reduced. Its black level performance provides quite acceptable image quality even on a 90″ screen.
The Pico T1 is clearly not a gaming projector. Its input lag exceeds 100ms for 1080p@60fps signal, which is good enough for casual games only.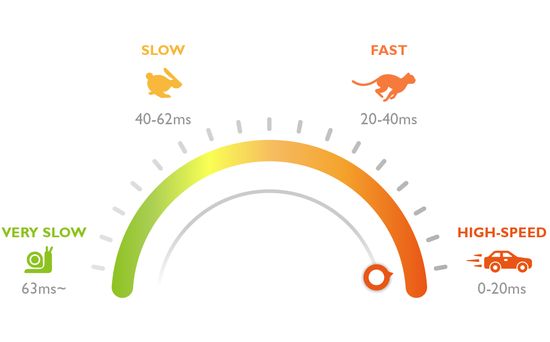 Traditionally for miniature models, Yaber Pico T1 has very low fan noise. It slightly exceeds 30 dbA, which corresponds to whisper.
Conclusion
The segment of portable projectors with LED and ALPD-based (Advanced Laser Phosphor Display) laser light sources continues to develop successfully. This year it has expanded with the superb Anker Nebula Capsule 3, Formovie V10, ASUS ZenBeam Latte L2, XGIMI Mogo 2 Pro, etc. In addition, despite the lack of companies' interest in projector-phones, consumers continue to respond enthusiastically to simular proposals. In particular, the popularity of ultra-thin pocket projectors remains high despite their rather modest specs.
Today the list of 'thinnest' models includes:
– Wemax Go – $ 300 (March 2022);
– Formovie P1 – $ 400 / $ 280 (launch price / current price on the company's website);
– Yaber Pico T1 – $ 290 (launch price, CES 2023).
Considering the correction of Formovie P1 launch price, its pros vs Wemax Go in terms of brightness and contrast becomes a decisive bonus. The Yaber Pico T1 falls even further behind on these specs, actually offering more modest image quality for the same price. But its minimum size and weight are a significant bonus in the ultra-thin pocket projector segment. Indeed, it's unlikely that image quality is the important factor on a journey under the stars or backyard barbecues. In addition, the correction of launch prices for Wemax Go and Yaber Pico T1 could also change the situation. But today the Formovie P1 offers the best value for money. The Yaber Pico T1 is the slimmest and lightest.
This video introduces the slimmest pocket Yaber Pico T1 projector.