Nivona Apparate GmbH, Nuremberg, Germany was established in 2005 by engineers Peter Wildner, Thomas Meier and Hans Errmann. Before that, they worked in this industry for a long time. Due to their experience, the new company quickly gained popularity in the consumer market.
Today, the well-known Swiss company Eugster/Frismag is the OEM supplier of Nivona (Original Equipment Manufacturer). The Nivona lineup includes 8,9 and 10 (NICR 1030 only) series, which are manufactured on the Eugster Frismag AG factories in Switzerland, and 5,6,7 series, whose assembly plant is located in Portugal. For reference, Eugster/Frismag also actively cooperates with Jura, Bosch and Melitta. In fact, Eugster/Frismag and Saeco (Saeco, Philips and Gaggia) are today the world's leading manufacturers of automatic coffee machines. To be fair, DeLonghi coffee machines are made in Italy, China, and the USA without their participation.
The company sells its coffee machines only in specialized stores with qualified sales assistants. Of course, this strategy simplifies the model selection, but, unfortunately, significantly limits their popularity. As a result, despite the excellent quality, they are less popular compared to DeLonghi, Jura, Philips, etc. However, a large number of Nivona brand fans in Europe provides the company with good marketing prospects.
The NICR 970 was first presented at the IFA 2020 virtual exhibition. Today premium 9 series includes:
– Nivona NICR 960 (~ € 1,390) – completely black coffee machine;
– NICR 965 (~ € 1,400) – black with white front and top panels;
– NICR 970 (~ € 1,450) – black with silver front and top panels in brushed metal look.
Traditionally for the flagship, 9 series offers a premium design with luxury display.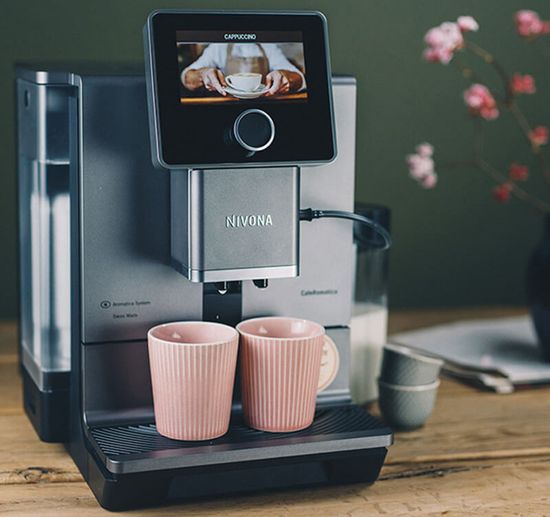 Platform
The platform is almost identical to the 7 series and includes:
– huge 5-inches TFT display.
The easy-to-read intuitive interface of the display features detailed tips and unprecedented animations. For example, the rising sun during the heating process looks amazing.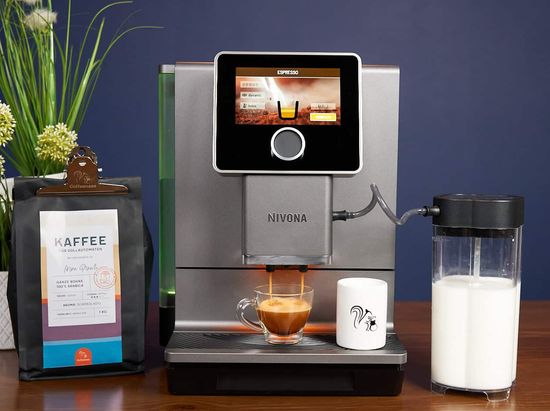 But, most importantly, one large screen without dials, options in the submenu, etc radically simplifies the settings;
– steel conical Rögelein grinder 043.
But the grinder of 9 series is quieter and offers 5 grinding steps vs 3 (the adjustment lever is located behind the right panel);
– 15 bar Sysko SPX.H100 pump.
Unlike other series, it works quieter due to the pulsation damper;
– 1465 W flow thermoblock;
– removable brewing unit (up to 15-16 grams of ground coffee);
– 270 gram grain hopper;
– 2.2 liter water tank.
The unique water tank with customizable lighting is one of the key features. Stylish backlight provides convenient visualization of the water level. In addition, it offers 8 colors and can cycle through the 'disco' mode, creating a colorful show atmosphere.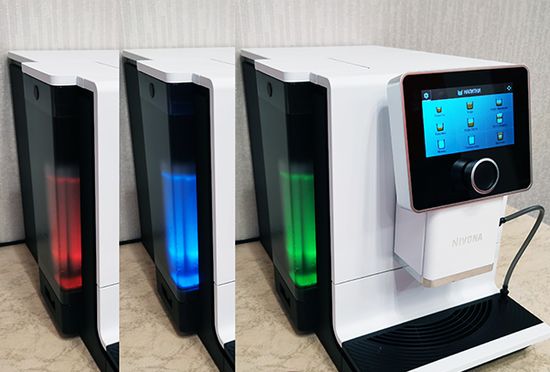 – coffee grounds container for 10-12 servings;
– the sensors of ground coffee bypass, the beans in the hopper and the drip tray;
– Aroma Balance System;
– temperature control with the Milk Control system;
– Spumatore Duo milk system (simultaneous preparation of two milk-based drinks).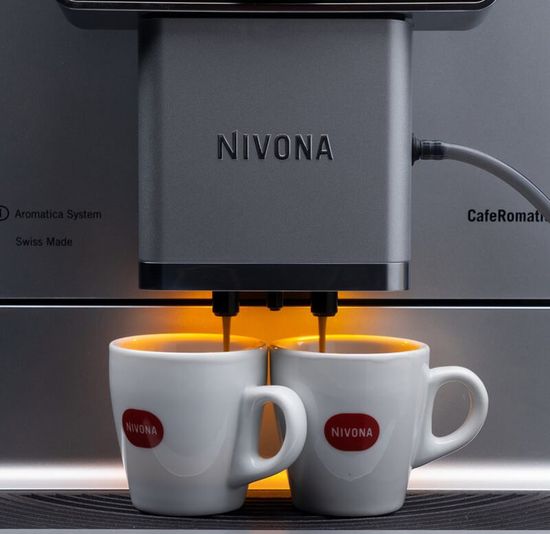 The model comes with a 1 liter NIMC 1000 plastic milk jug. In addition, the outlet tube of the cappuccinatore ensures the milk supply from any container, including the tetra-pak.
Milk temperature and Nivona App
Starting with Series 7, the Latte Macchiato and Milk programs in all Nivona models support a separate adjustment of the milk / milk foam volume with milliliter accuracy. In the Cappuccino and Latte programs, the machine always dispenses only froth or warm milk, respectively. Series 9 works the same way. But unlike cheaper models, it also offers milk and milk foam temperature settings. For comparison, today only the much more expensive Jura Z10 offers a similar option.
The developers have implemented this function using a stepper motor, which is located above the cappuccinatore in a single dispenser module. It rotates a special plastic nozzle with normalized holes, adjusting the flow of milk through the cappuccinatore. The four settings differ by ~1°C, offering adjustments of up to 5°C. Thus, the frothed milk temperature varies from 54°C to 58°C.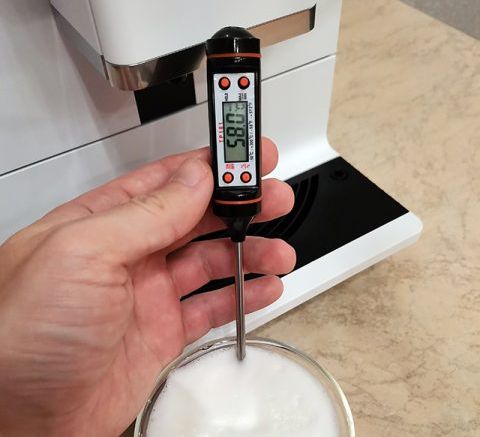 In addition, the 9 series has a setting for order of adding ingredients to a cup in Cappuccino and Latte programs.
Almost all modern premium coffee machines offer smart functionality via a smartphone using the app. But until recently, many smart-options were often a tribute to fashion and were intended mainly for progressives. However, this situation is rapidly changing. Today, many brands offer really simple, useful and convenient apps, and Nivona App is no exception. It's compatible with Android and iOS via Bluetooth.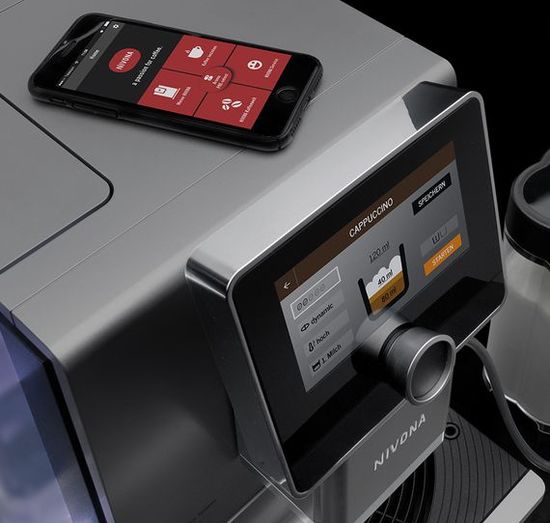 In addition to traditional service functions, Nivona App offers:
– auto-off up to 16 hours (remote start of a pre-selected program);
– separate programming the coffee, milk and milk foam temperature (from the control panel – setting only the overall temperature);
– Flying picture – screen wallpaper.
Programs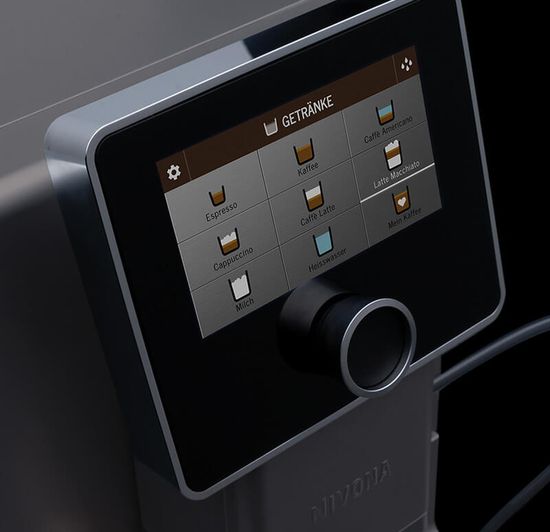 – espresso;
– coffee (lungo);
– Americano (espresso + water);
– cappuccino (adjustable order of milk and coffee);
– latte (adjustable order of milk and coffee);
– latte macchiato (separate settings for the coffee / milk / milk foam volume);
– milk (separate settings for milk / milk foam volume);
– hot water;
– additional 'My coffee' submenu for 9 recipes with own settings.
Settings:
– coffee strength (5 settings);
– temperature (4 settings);
– prewetting mode (3 levels);
– volume of coffee / milk / milk foam;
– number of cups (1 or 2);
– the sequence of feeding into the cup in the cappuccino and latte programs.
The adjusting range for volume of ingredients is approximately the same for all programs. For example, it varies from 20 to 240 ml for coffee. In addition, the coffee machine has several limitations. In particular, the drink volume cannot exceed 360 ml. For example, in the latte macchiato program, the milk volume cannot exceed 160 ml at 100 ml of coffee and 100 ml of milk foam (360 ml-100 ml-100 ml).
Conclusions
Within a few years, the company introduced improved versions in all series, including:
– NICR 550 and 560 CafeRomatica;
– Nivona NICR CafeRomatica 79x.
Of course, the flagship 9 series is no exception. NICR 960, 965 and 970 have been successfully competing in the market for several years. Apart from the lack of a user profile, this series has almost no cons. Huge bright 5-inches TFT display, milk and milk foam temperature settings, customizable RGD lighting for water tank, 'Cappuccino Connoisseur' (adjustable order of milk and coffee), Flying picture, and quiet pump with pulsation damper are premium.
But to be fair, the 7 Series models under € 900 offer the best value for money. However, the assessment of the premium components of any flagship always depends on individual preferences. Perhaps many will find the flagship bonuses of the 9 Series quite sufficient for the ~€ 500 price difference.
This video introduces Nivona 9 Series coffee machines.