Probably, projectors can rightfully be positioned as one of the most dynamically developing segments of consumer electronics. In less than 10 years, the companies have implemented several successful innovative concepts, including pocket (pico) portable mini models and ultra short throw (UST) laser projectors.
The development of ultra compact projectors has been made possible by the new generation of SSL (Solid State Light Source)-based light engines. They use conventional or laser LEDs with an additional optical cavity. This list includes:
– LED projectors, including more powerful 4LED light engines with additional pump LEDs. They are reliable and cheap, but their brightness is limited;
– laser-phosphor models with ALPD 3.0 (Advanced Laser Phosphor Display) light engine. They provide higher brightness at a relatively affordable price;
– triple-laser ALPD 4.0-based projectors. RGB light generator is more expensive, but it provides a wider color gamut, covering more than 107% of BT.2020 color space.
Pocket projectors
Unlike lamps, SSL models do not get very hot. Therefore, they do not require a powerful noisy fan for cooling and a large internal volume for efficient heat dissipation. This aspect opened the way for companies to develop pocket projectors. In just a few years, manufacturers have filled the market with a large number of ultra compact models. Moreover, in 2018, the companies introduced the first hybrid smartphones with a built-in projector. The consumer market enthusiastically accepted this innovation. As a result, in 2020 the list of projector-phones already included Blackview MAX 1, Voga-V2, Moviphone, Movi, Neffos, etc. Moreover, in 2021 Samsung and Nokia announced Galaxy Beam 3 (2021) and Nokia Projector Phone 5G.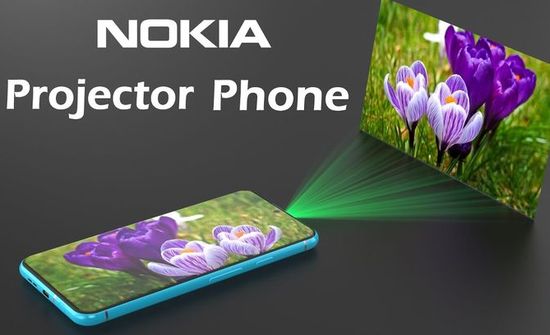 Unfortunately, they have not been implemented yet. But in general, this direction is unlikely to have good marketing prospects due to the low price-quality ratio. Priced at ~$ 600, the hybrids offer very modest budget specs. For a similar price, a consumer can buy a mid-budget phone and mini projector.
Unlike hybrid projector-phones, the segment of pocket models is developing successfully. In fairness, their form factor is not well suited for the pocket. In particular, this year only Yaber Pico T1 fully complies with this classification. Most portable models, including Nebula Capsule 3, Formovie Fengmi V10, ASUS ZenBeam Latte L2 and XGMI MoGo Pro 2, have a cylindrical form factor. But their size and weight could well be classified as mini- or portable.
UST 4K laser projectrors
Ultra short throw (UST) laser projectors are another successful direction in projector development. As known, traditional mid-focal projectors form an image of 100″ from a distance of several meters. Unfortunately, their placement in the center of the room creates a problem of wires on the floor. In fact, a complex ceiling mount is the only way to solve it. UST are placed near the wall.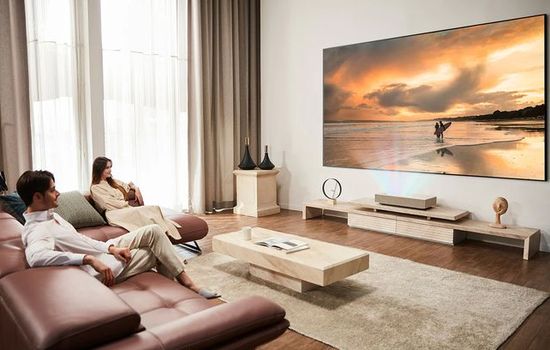 This aspect has become a significant bonus in their favor as an alternative to TVs. What's more, screen mirroring/streaming technologies, efficient ALR (Ambient Light Rejection) and CLR (Ceiling Light Rejecting) screens and 4K support have eliminated the problem of content for projector, reduced dimming requirements, and improved image quality by increasing its resolution.
Of course, companies have offered 4K projectors before, but they were very expensive. Pixel shift-based XPR (Xpanded Pixel Resolution) technology in DLP DMD (Digital Micromirror Device) chipsets from Texas Instrument solved this problem. Simplified, 2 million micromirrors of a relatively cheap 1080p XPR-chipset displays 8 million pixels.
Its operation principle is very elegant. The DLP 1080p chipset divides 8 million pixels of 4K content into four parts of 2 million pixels each. It then sequentially plays 4 separate 1080p frames diagonally shifted by half a pixel from each other.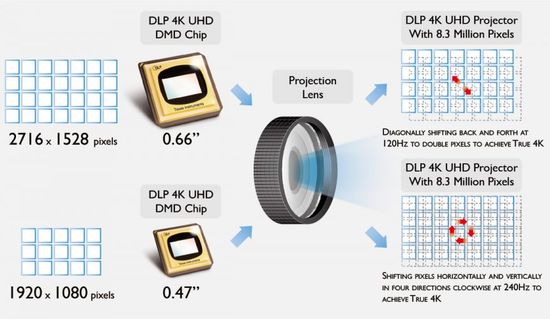 But vision perceives them as one clearer picture, ignoring the micro-delay due to high frequency. For pixel shift, the projector uses the lens tilt using 4 electromagnets of the XPR module.
These factors have dramatically increased the popularity of UST laser 4K projectors. A partial list of new models includes:
–BenQ V5000i – $ 3,500;
–Epson EB-810E – $ 3,300;
– CHiQ B8U and B7U – $ 3,120 and up to $ 2,000;
–Hisense PL1 – € 2,085.
New Optoma ptojectors
Of course, the marketing successes of portable and UST models have not stopped the development of traditional mid-focal projectors. They also use improved SSL light sourses, support 4K with pixel shift, etc, offering improved image quality and enhanced functionality at a minimal price increase. On June 14 at the InfoComm show in Orlando, Florida, a multinational Optoma corporation, unveiled new mid-focal and short-throw models, including:
– Optoma ML1080/ML1080ST projectors ~ $ 1,000 / $ 1,150 (1080p; 3,000,000:1 dynamic contrast ratio; 1,200 ANSI Lumens brightness + wide BT2020 color gamut with RGB triple laser light engine).
As the name suggests, optics is their only difference. Specifically, the ML1080 produces a 60″-100″ (152 cm – 254 cm) image diagonally from 1.6m – 2.7m at 1.20:1 Throw Ratio (100″@2.7m). At the same screen size, the Throw Distance of ML1080ST is 1.0m – 1.7m at 0.78:1 Throw Ratio (100″@ 1.7m).
Both models have innovative Time-of-Flight (ToF) technology for fast and accurate auto-focus and auto-keystone adjustment. In addition, they have manual four-corner geometric correction.
Today they are the world's most compact triple-laser projectors with 6.18 x 2.68 x 5.31-inch (16 x 7 x 13 cm) and weighing just 2.2 pounds (1kg).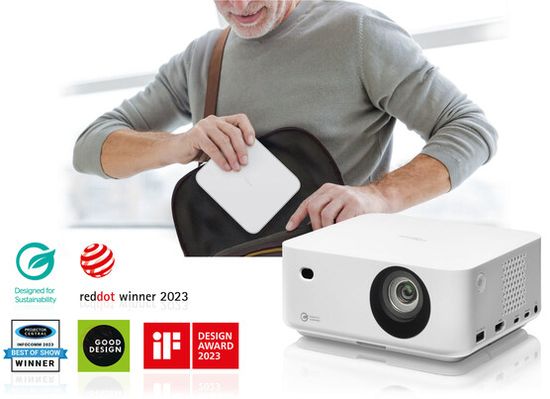 Built-in smart functions include Creative Cast (simulcast of images, documents and screens from four devices on the same network), and Signage mode or Portrait projection (projector rotation 90°, instant slideshow for images and video).
Finally, they are compatible with power bank batteries (PD 3.0) due to the power via USB-C connection.
Unfortunately, they do not support 3D;
– very bright Optoma HZ40HDR, GT2000HDR and GT2100HDR (4,000 / 3,500 / 4,200 ANSI Lumens) with 1080p resolution, Full HD 3D support and Laser Phosphor light engine priced at ~ $ 1,300 / $ 1,300 / $ 1,550, respectively.
Optoma HZ40HDR vs GT2000HDR vs GT2100HDR
All models have Game mode, 2x HDMI inputs, Blackboard Mode (color optimization) and similar design.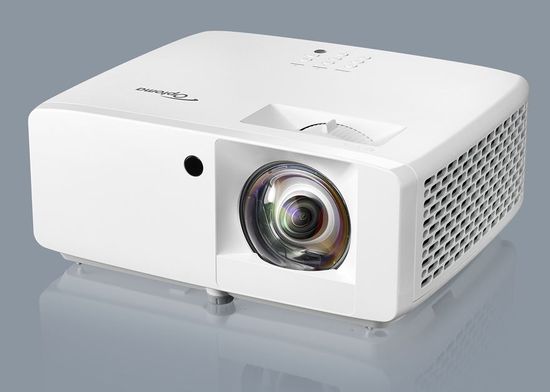 Unlike the ML1080 with 3W mono speaker, these models have a 15W mono internal speaker.
HZ40 and GT2100 support 200,000:1 dynamic contrast ratio vs 300,000:1 of GT2000. HZ40 is HDR compatible, GT2000/2100 support HDR and HLG. In addition, they offer geometric correction. Finally, GT2100 has Crestron RoomView option (manage and control multiple projectors remotely from a PC).
All models belong to the DuraCore series, the light source of which offers a unique dust resistant design independently IP5X or IP6X certified.
Optoma GT2000/2100HDR models support ±30° vertical Keystone Correction, HZ40HDR offers ±30° horizontal/vertical.
All projectors superb for gaming, offering low input lag:
– 4ms for 1080p@ 240Hz;
– 16ms for 4K/1080p@60Hz;
– 8ms for 1080p@120Hz.
In fact, the optics are their most significant difference. Models provide (HZ40HDR vs GT2000HDR vs GT2100HDR):
– Image Size – (20″- 300″) vs (30″ – 300″) vs (35″ – 290″);
– Throw Distance – (0.7 – 9.8m, 100″@3.45m) vs (0.3 – 3.3m, 100″@1.1m) vs (0.4 – 3.2m, 100″@1.1m);
– Throw Ratio – (1.48:1 – 1.62:1) vs 0.50:1 vs 0.50:1.
Optoma has successfully confirmed its status as one of the industry leaders by introducing several superb models with high brightness. In comparison, current UST laser 4K models priced at $ 2,000 or more deliver light outputs of 2,000 to 3,000 ANSI Lumens. New models cover the entire mid-budget segment of Home Theater 1080p projectors. Moreover, along with mid-focal projectors, the company offers their short-throw versions. Of course, the 100″@(1-2)m of ML1080ST and GT2000HDR / GT2100HDR does not solve the problem of wires on the floor without a ceiling mount. But short throw distance greatly expands the choice of its placement.
Conclusion
All new mid-budget Optoma models rightfully claim to be among the bestsellers in their class. The world's most compact triple-laser Optoma ML1080 projector offers a wide BT.2020 color gamut at ~$1,000 for mid-focal and $1,150 for short-throw version.
The Optoma HZ40HDR, GT2000HDR and GT2100HDR deliver unprecedented brightness for laser-phosphor ALPD 3.0-based light engines, ranging from 3,500 to 4,200 ANSI Lumens. In principle, it's sufficient for acceptable image quality even in diffuse daylight without additional room darkening. 3D support will please the fans of this format. The short throw distance of GT2000HDR and GT2100HDR is their added bonus.
The low input lag of all models is ideal for games. An unique dust resistant design in light sources of DuraCore series extends their lifespan to 30,000 hours. The company confirms this aspect by independent IP5X / IP6X certification.
Probably, Full HD (1080p) resolution does not quite correspond to the modern premium segment. But it's quite adequate for the price segment under $ 1,500.
However, the company also offers Optoma CinemaX D2 laser UST 4K projector with 3,000 ANSI Lumens brightness. Its current price starts at $ 1,700.
This video shows a demo of Optoma projectors at ISE 2023.