Increasing the TV screen size is one of the main directions of their improvement. This is due to several objective reasons.
As known, image quality mainly depends on brightness, contrast, resolution and color gamut. The peak brightness of OLED Evo panels already exceeds 1,000 nits, delivering superb HDR performance. Brighter LDC and the latest hybrid QD-OLED panels deliver over 1,500 nits. But cable and satellite TV offers only SDR content, which is due to the limited bandwidth of networks. Indeed, the HDR file size is approximately an order of magnitude larger vs its SDR equivalent, playback of which in high quality requires only 400-500 nits.
As known, OLED panels provide 'infinite' contrast due to perfect blacks. Until recently, they were positioned as ultra premium with a corresponding price. But over the past few years, the leader of this direction LG has radically reduced their cost. As a result, even the latest 65-inch flagship LG OLED G3 and C3 are only $ 3,000 and $ 2,000, respectively.
Presented at CES 2021 miniLED backlight has radically improved the efficiency of local dimming technology in LCD TVs. In fact, it uses miniaturized LEDs, increasing the number of local dimming zones to hundreds and even thousands.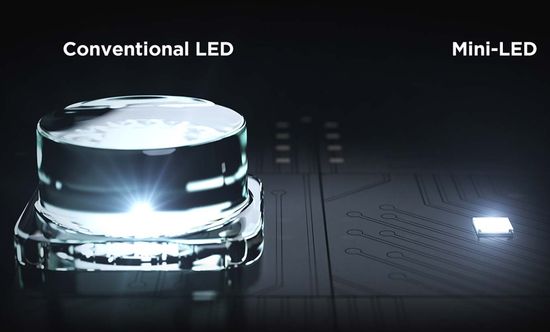 In turn, their huge number significantly increased the accuracy of adjusting the backlight intensity depending on the frame content. As a result, Samsung Neo QN90A miniLED contrast reached an unprecedented 26,000:1, which is close to the 'infinite' contrast of OLED technology.
Resolution and color gamut
For several years now, 4K has been the norm even in the budget segment, and industry leaders annually present new 8K TVs. Unfortunately, the limited 8K-content range significantly reduces their consumer value. In fact, they only offer AI 8K upscaling, enhancing the clarity of 4K content playback. But the high price significantly worsens their value for money, limiting the further development of this direction.
Of course, color gamut also directly affects the picture colorfulness. But this problem has been successfully solved with the help of quantum dot (QD) technology, which radically improved the quality of white for backlight. Its elegance causes almost aesthetic pleasure.
As known, only the sun provides perfect white. Without hesitation, the developers created an analogue of a small sun in LCD LED TVs. In February 2011, Samsung introduced the first 4-inch QLED display.
The technology works as follows. An array of blue LEDs directs a light stream onto a film with sputtered microparticles, the size of which corresponds to the red and green wavelengths. Part of the blue passes through the film. The other part is absorbed by microparticles and, depending on the size, is re-emitted by them with the frequency of red and green. Then, the partially passed blue is combined with the re-emitted red and green to generate high quality white.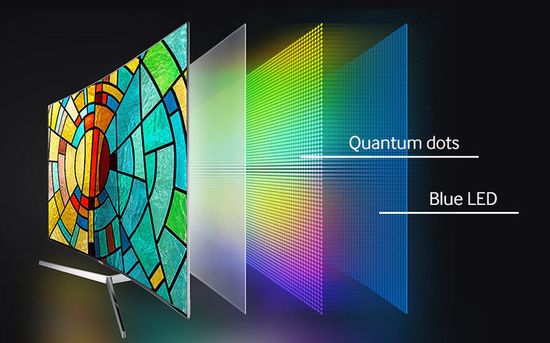 In turn, improved backlight quality has expanded the color gamut and improved color accuracy.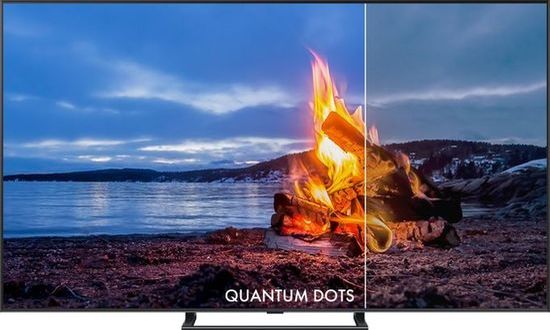 Today, industry leaders use this technology under various names, including Samsung QLED, Sony Triluminos, LG NanoCell, Hisense ULED, etc.
TV vs UST projector
Thus, improving consumer qualities by enlarging the screen remains one of the most promising areas. Moreover, this factor has an additional aspect. The rapid development of the ultra-short throw (UST) projectors has eliminated one of the main cons of traditional mid-focal models. As known, their placement in the room center creates a problem of wires on the floor, which can only be solved with the ceiling mount. The UST projector is placed near a wall without this problem.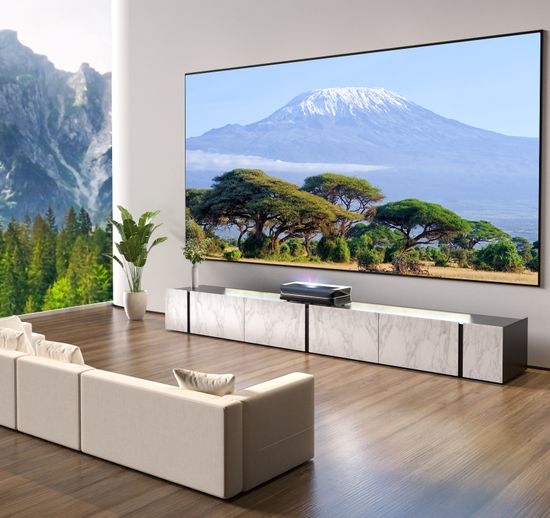 Moreover, LED / laser-based solid-state light engines, XPR technology, screen mirroring and streaming have extended their color gamut, provided support for 4K resolution with inexpensive 1080p chipsets and eliminate the problem of content. As a result, at a price between $ 2,000 and $ 3,500, modern UST laser 4K projectors offer reasonably high quality and image size up to 150″ diagonally. Therefore, consumers are increasingly choosing a projector, and TV manufacturers are forced to take this factor into account.
Of course, companies have previously offered huge models, but their prices are clearly not designed for mass demand. For example, the relatively cheap 100″ Sony XR100X92 BRAVIA XR (2021) today costs ~$ 10,000, the 98″ Samsung Neo QN90A (2021) is offered for ~$ 15,000, the price of 97″ LG OLED G2 (2022) reaches £ 25,000 / $ 25,000 / AU$ 40,000.
Therefore, 98-inch TCL 98R754 4K with announced launch price 'only' $ 8,000 became one of the last year's sensations. After adjusting the launch price, it costs only $ 5,000, being the cheapest 100″ TV. But, of course, competitors also do not waste time in vain. This year, Samsung introduced the 98-inch 98Q80C, which has a launch price of just $ 6,600 (~AU$ 10,000) in Australia or $ 7,000 on the company's website.
TCL 98R754
TCL pays great attention to the development of huge TVs and even created 'XL Collection' in 2021. Last year's TCL 98R754 costs only $ 5,000 today and is the cheapest huge QLED TV. Despite the affordable price, the specs and functionality of the model correspond to the top level.
Main specs:
– FullView edge-to-edge glass design.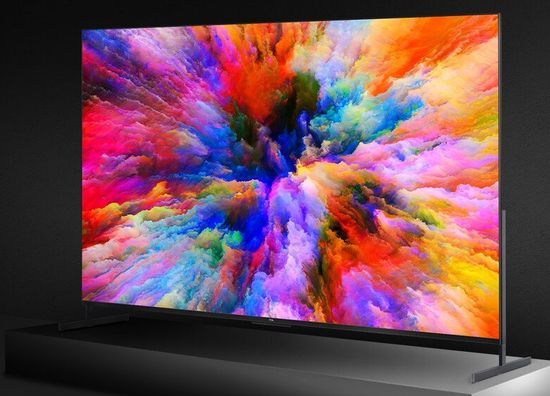 – 4K (3,840 x 2,160) HDR picture quality;
– VA (QLED) panel with sustained peak brightness up to 550 nits;
– 15,000:1 contrast ratio with local dimming (ANSI Checker Board).
Model uses Direct LED (Full-Array Dimming) with Contrast Control Zone technology (192 zones).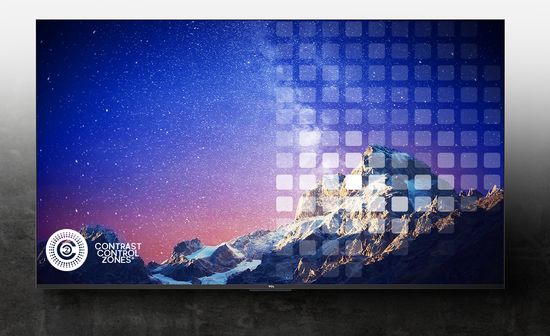 – Wide Color with QLED technology (color depth – 10 bits / 8 bits + FRS);
– HDR – Dolby Vision, HDR10, HDR10+, HLG;
– HDR Pro Pack (Dolby Vision);
– Google TV or version with Roku smart platform;
– Netflix, Hulu, Amazon Instant Video, YouTube;
– Chromecast built-in;
– integrated Google Assistant + support of Alexa and Hey Google hands-free voice control;
– Dolby Atmos for immersive surround sound;
– Onkyo 2.1 speaker system – 15W x 2 speakers + 20W subwoofer;
– AiPQ engine-based AI video/sound processing;
– Game Studio Pro (software component to game optimization), Variable Refresh Rate (VRR) and Auto Game Mode or ALLM (Auto Low Latency Mode);
– digital TV tuner;
– live TV pause from antenna up to 30 minutes;
– Closed Caption + Parental Control (V-Chip) + Accessible Menu System (CVAA) + Sleep Timer;
– WiFi 6 & Ethernet port;
– Natural Motion 480 and TrueCut from Pixelworks;
– 4 HDMI inputs, including eARC.
TCL 98R754 has a European TCL 98C735 version which is priced at ~ € 3,900 – € 4,200.
Samsung 98Q80C
Traditionally for a launch period, launch prices vary significantly and are:
– $ 7,000 – company's website;
– $ 6,600 (~AU$ 10,000) in Australia;
– PLN 30,000 (~ € 6,700 or $ 7,500) in Europe.
Like the TCL 98R754, the Samsung 98Q80C uses a 4K (3,840 x 2,160) VA (QLED) matrix with 10-bit color depth and local dimming with Direct Full Array.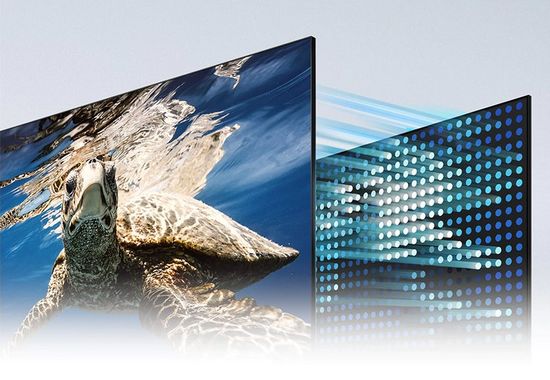 Unfortunately, the number of local dimming zones is unknown. But efficient algorithms provide ghost-free playback of even very small bright objects against a dark background.
98Q80C has SuperSlim design.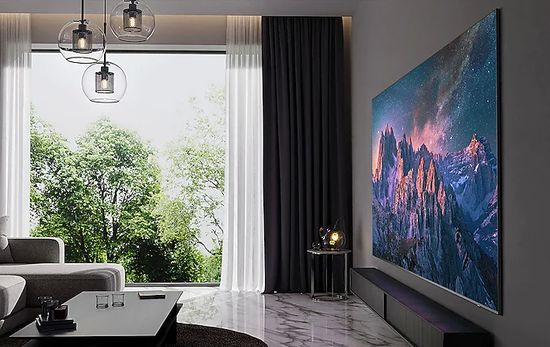 Used technologies:
– Quantum 4K Neural Processor AI and 20 neural networks provide 4K AI Upscaling and AI video processing (Depth Enhancement + Sharpness + Noice Reduction).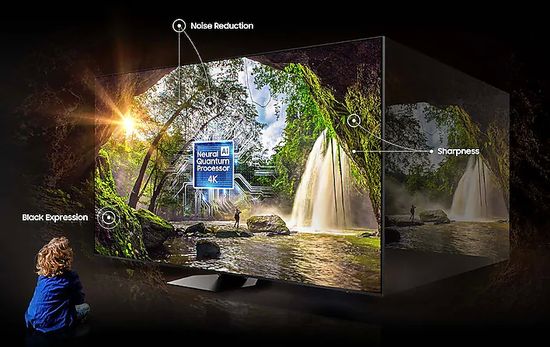 – Quantum HDR+ (Quantum HDR 12x, contrast) + PANTONE Validated (color accuracy) + EyeComfort Mode (auto brightness correction) + wide color gamut.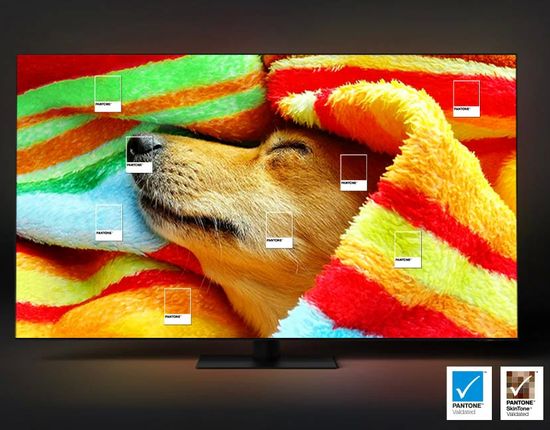 – Wide Viewing Angle;
– audio – Sound Adaptive+, Dolby Atmos (surround sound), Active Voice Amplifier (AVA analyzes ambient room sound to enhance clarity), Object Tracking Audio (OTS Lite tracking sounds from moving objects on the screen to form virtual sound effects), Q-Symphony 3.0 (perfect sync with Samsung soundbar);
– Gaming – Motion Xcelerator Turbo+ (4K@120Hz), FreeSync Premium Pro (tear free, stutter free, low latency HDR gaming) and 4 HDMI 2.1 ports with 4K@120Hz support;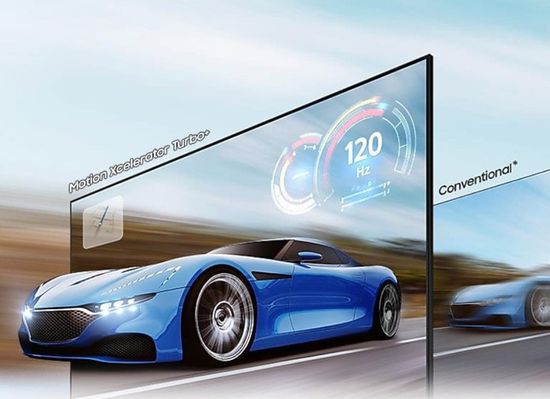 – Filmmaker Mode (FMM);
– Smart – Smart Hub (content search optimization), SmartThings, NFT Universe.
As known, non-fungible tokens (NFTs) are cryptographic assets on a blockchain with unique identification codes and metadata. They represent ownership of a specific asset, including artwork, music, or even tweets and are intended for virtual business.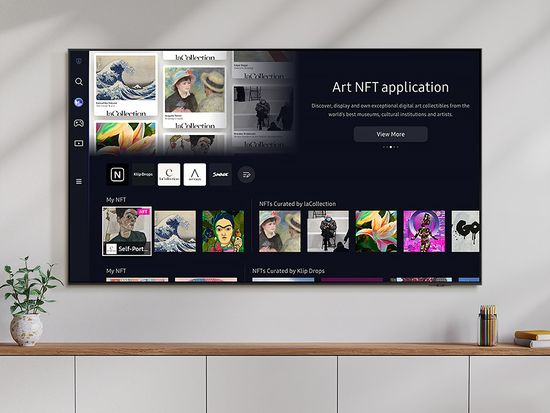 Key Features
The 98Q80C covers 90% of DCI-P3 color space, which is enough for high HDR performance when playing 4K HDR content.
Traditionally for Samsung, model boasts superb brightness, reaching 1,150 nits (cd/m²) in HDR and over 600 nits in SDR, delivering high quality even in a sunny room.
A 40W 2.2ch audio system is enough for traditional models. But a cinematic impression on a huge screen requires a soundbar with a subwoofer. However, Q-Symphony 3.0 is ideal for this purpose.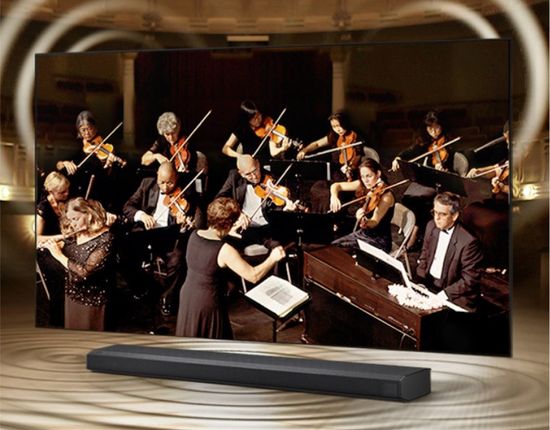 As known, last year Samsung slightly improved Tizen. In particular, the updated version is faster, offering an ambient mode, full screen menu instead of the quick access bar, etc.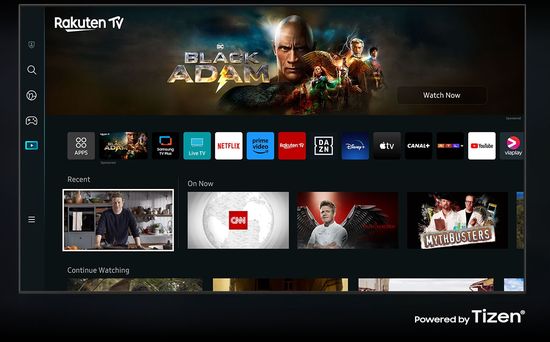 Samsung Gaming Hub provides fast access to some popular cloud-gaming services, including Amazon's Luna, Xbox and others.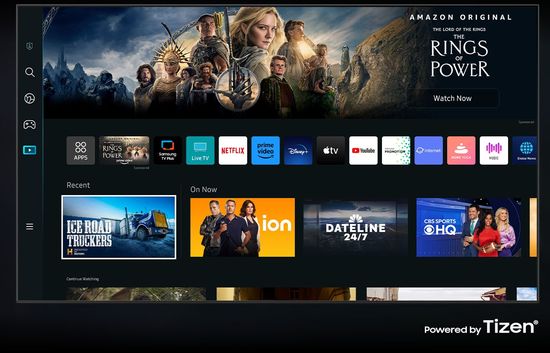 The model comes with a remote control without replaceable batteries. It supports advanced Smart TV features and is charged with USB-C or sunlight via the back panel.
For games model offers Game Motion Plus picture processing and Game Bar 3.0 with fast access to on-screen game settings.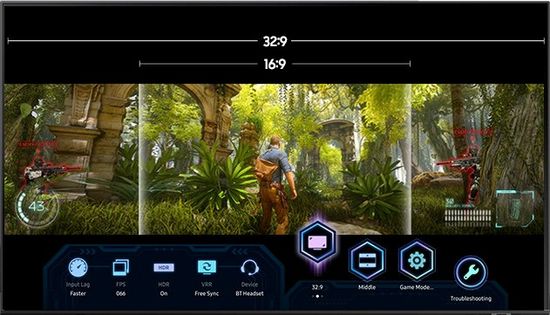 In addition, it supports 4K@120Hz gaming from consoles or PCs via 4x HDMI 2.1 inputs, superwide 32:9 aspect ratio, Auto Low Latency Mode (ALLM), and variable refresh rate (VRR). In Game Mode for 1080p, the lag time does not exceed 10 ms.
With a Samsung Galaxy S phone, TV supports auto-calibration of color and brightness to the ambient lighting. It only requires scanning an on-screen QR code and following the step-by-step on-screen guide. Of course, its accuracy is inferior to traditional calibration, but it's acceptable for non-perfectionists.
In general, the Q80C follows the new Samsung S95B / S90C / S95C with hybrid QD-OLED panel, and the 2021 Neo QLED series with miniLED backlight.
Conclusion
In general, the models offer almost identical value for money. The TCL 98R754 is cheaper (~$ 5,000 vs $ 7,000), offers more promising Google TV smart-platform, Dolby Vision support, 50W audio system with 20W subwoofer, and excellent 15,000:1 contrast with Contrast Control Zone technology (192 zones). In turn, Samsung 98Q80C is brighter, has advanced gaming capability, remote with sunlight charging, Smart Hub, SmartThings, NFT Universe, and a wide range of additional Samsung's audio features.
Today, TCL 98R754 seems preferable, but the traditional launch price correction may tip the balance in favor of 98Q80C.
Huge TVs may expand this year with fantastic 97-inch LG Signature OLED M3. It comes with Zero Connect box which wirelessly sends video and audio signals to 97-inch self-lit OLED screen. Approximate price of 97″ version can reach $ 13,000. In addition, TCL is also promising to introduce a 100-inch miniLED QM8 that can cost up to $ 10,000.
But of course, huge TVs will have to compete with superb UST 4K laser projectors. The list of new models includes:
–BenQ V5000i – $ 3,500;
–Philips Screeneo U5 – $ 3,500;
–Visionair-e Platinum Vision 3000 – $ 3,750;
– LG HU715Q – $ 3,000;
– Epson EB-810E – $ 3,300;
– Epson EpiqVision Ultra LS800 – $ 3,120;
– CHiQ B8U and B7U – $ 3,120 and up to $ 2,000;
–Formovie Theater – $ 3,000;
–Optoma CinemaX D2 – $ 2,700;
–Hisense PX1-PRO – $ 2,700;
–Hisense PL1 – € 2,085.
This video introduces TCL XL Collection.