The JmGO brand is less well known in the US and European markets than, for example, Epson, Sony, Hisense, BenQ, Optoma or ViewSonic projectors. But it's very popular in Asia. China's Shenzhen Holatek has been designing, manufacturing and selling JmGO projectors for over 10 years. Today its lineup includes S, O, G, J, P, N, U, etc series.
This year, the company introduced the N1 series, including the JmGO N1, N1 Pro and N1 Ultra models. All projectors use ALPD 4.0-based triple-laser RGB light engine. As known, ALPD 4.0 (Advanced Laser Phosphor Display) provides an wide color gamut that covers more than 110% of BT.2020 color space.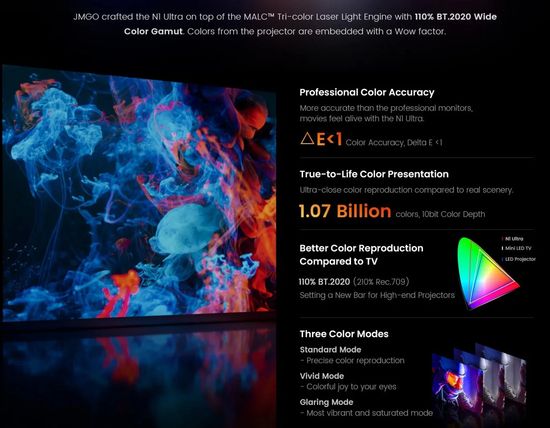 The flagship JmGO N1 Ultra supports 4K resolution, delivers 4,000 ANSI Lumens and costs $ 2,300. Some sellers list 2200 CVIA lumens.
The N1 / N1 Pro support Full HD (1080p) resolution, provide 1,200 and 3,200 ANSI Lumens brightness, and cost ~$ 1,000 and $ 1,700. All models support Full HD 3D and have 1,600:1 contrast ratio.
Of course, brightness at 4,000 ANSI Lumens or 2,200 CVIA Lumens needs some explanation. Unlike a TV, when using a projector, we perceive the light flux re-reflected from the screen. Therefore, even expensive bright projectors rarely deliver more than a few hundred nits of screen brightness. In comparison, the brightness of even budget modern TVs usually exceeds 500 nits.
In turn, brightness affects HDR performance and compensates for ambient light. Simply put, even diffused daylight makes the image dull and faded. But high image brightness or room darkening effectively solves this problem. Darkening the living room is quite troublesome. Therefore, companies actively use brightness for marketing purposes. As a result, a curious situation has developed in the market.
ANSI / LED / ISO Lumens and Lux
In an effort to maximize the focus of consumers' attention on the pros, companies are actively using their own methodologies and units of measurement.
For example, Epson's 3LCD projectors work without color loss due to the lack of a color wheel, providing identical Color Light Output (CLO) and white brightness. Therefore, the company additionally indicates CLO.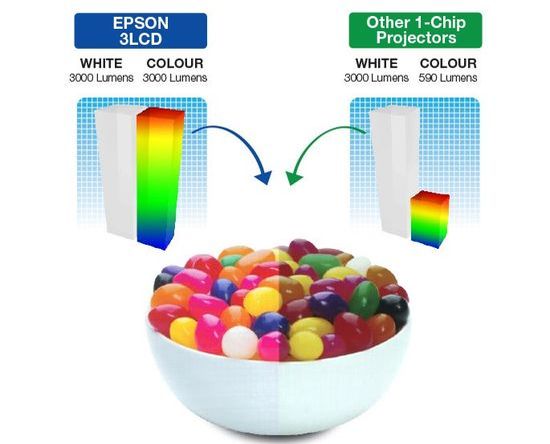 Some manufacturers indicate the projector brightness in Lux, which characterizes the illumination of 1 m² on the screen. In particular, 1 Lm provides 1 Lux on a 1 m² screen.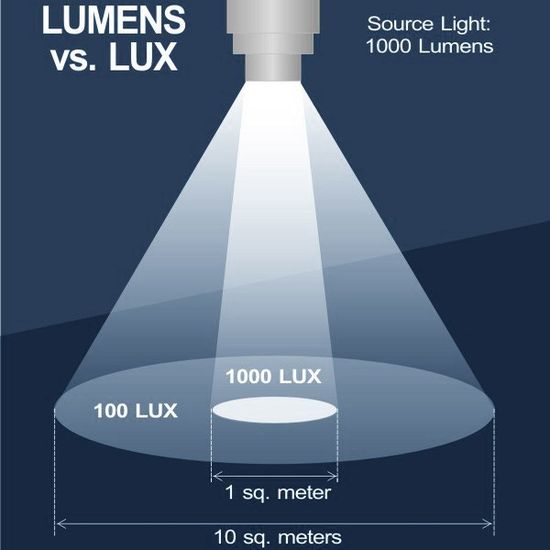 But 1 Lm = 1 Lux for a 57-inch diagonal or 3.2 Lux for a 100-inch diagonal. Strictly speaking, even a low power projector can easily deliver 5000 or more Lux for a 30″ projection, for example.
Manufacturers of LED projectors offer to evaluate the brightness taking into account the influence of color saturation on their perception (Helmholtz-Kohlrausch effect). They indicate the brightness in LED Lm.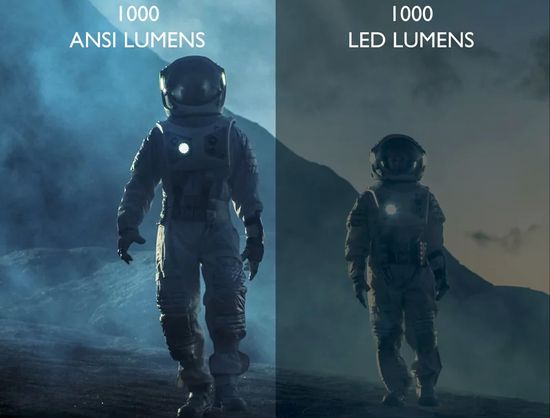 A few years ago some companies started using ISO lumens. In fact, ISO 21118 (International Organization for Standardization) defines the manufacturing standard and measurement technique. It takes into account the light source power and effect of noise on brightness.
List of brightness units:
– ANSI Lumens (American National Standards Institute) – measures the luminous flux at nine points on the screen;
– Lux – illumination of one square meter of the screen;
– ISO Lumens (1 ANSI Lumen ~ 0.8 ISO Lumens);
– LED Lumens (1,000 LED Lumens ~ 417 ANSI Lumens).
CVIA Lumen
In October 2022, the China Electronics Video Industry Association (CVIA) released the results of selective testing for projector brightness. Based on their analysis, CVIA noted a high level of confusion, and suggested разработать a group standard. The list of its developers included leading brands, platform vendors, and survey agencies, including, for example, Hisense, JmGO, Dangbei, Harqu, etc. Today it's called the CVIA lumens brightness standard.
Unlike other methods, CVIA standard takes into account, for example, test color temperature and color coordinate value. In addition, CVIA requires that the CVIA brightness must not be lower than the product 80% of the nominal light output value.
Of course, harmonization of conversion factors for different standards will take time. But JmGO provides information for some of its models. In particular:
– N1 Ultra (ANSI Lumens/ CVIA Lumens) – 4,000 / 2200;
– N1 Pro – 3,200 / 1,500;
– O1 Pro – 1,500 / 600;
– O1 S – 1,200 / 450;
– J10S / SE – 2,400 / 1,200.
As follows from the given data, the coefficient varies from 1,8 to 2,5. Adding a new standard is unlikely to lessen the current chaos, but free market competition demands sacrifice.
However, not wanting to risk their reputation due to accusations of incorrect specs, some large companies prefer not to specify the projector brightness.
Of course, the 4,000 ANSI Lumens brightness of the flagship N1 Ultra is impressive. It's quite sufficient for acceptable image quality even in diffuse daylight without additional dimming. By comparison, the brightness of most ~$ 3,000 modern laser projectors ranges from 2,000 to 3,000 ANSI Lumems.
MALC
The equipment and features of the N1 are premium.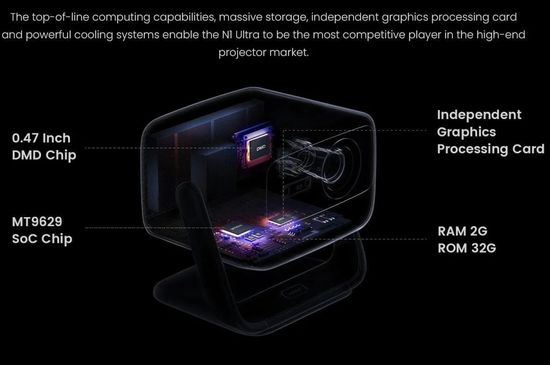 This list includes MALC (LSR or Speckle Reduser technology), Multi Adaptive system, Android TV 11, etc.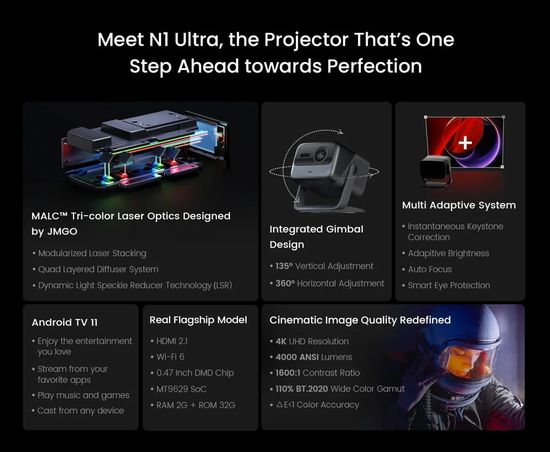 The ALPD (Advanced Laser Phosphor Display) 4.0-based light engine with color gamut ~110% BT.1020 color space is one of the main bonuses. Unfortunately, all laser projectors form images with picture speckle. This is caused by interference, which, in turn, arises from structural micro inhomogeneities.
Of course, companies solve this problem. For example, last year's Formovie Theater, which is a joint venture between Xiaomi and Appotronics, has new ALPD 4.0 RGB+ light source with industrial-grade, long-lasting laser diodes. Its use significantly reduced the picture speckle.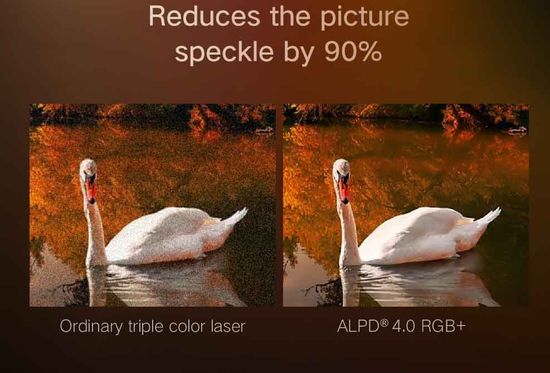 JmGO solves a similar problem with dinamic Light Speckle Reduser (LSR) technology, which is a component of innovative MALC (Microstructure Adaptive Laser Control) technology.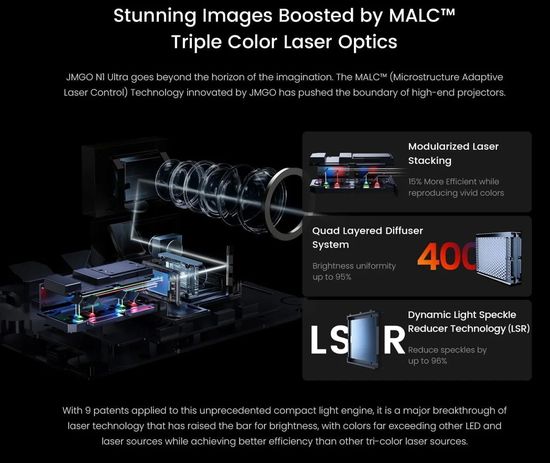 To be fair, LSR doesn't completely eliminate this artifact, but from a distance of 10 feet (3 meters) or more, picture speckle barely shows up.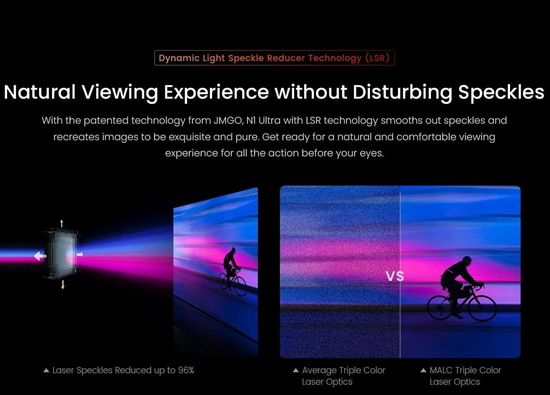 According to the company, its performance reaches 96%, claiming the highest efficiency in the industry.
In addition, MALC Triple Color Laser Optics provides an unparalleled ΔE <1 color accuracy.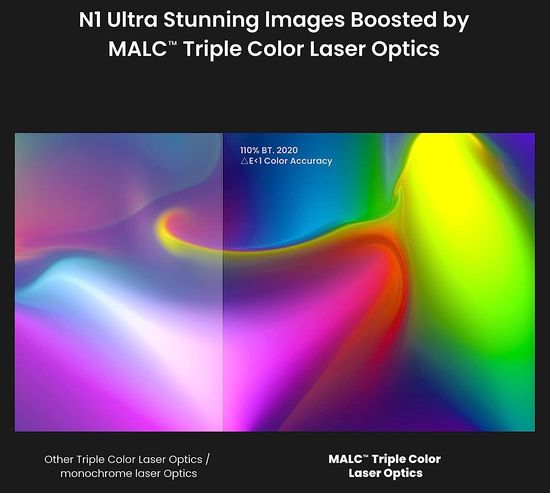 In comparison, ΔE ≤ 3 is considered a good value.
Key features
However, the list of bonuses is much wider. In particular, the developers have significantly improved the mounting system and settings. As a result, the model's usability has come close to ultra short throw (UST) projectors. As known, they form a 100″ or more image from only a few inches away. In turn, placing them against a wall does not create the problem of wires on the floor, which can only be solved with a ceiling mount. This aspect has become a major factor in the ultra popularity of UST projectors that are positioned as an alternative to TV in the living room.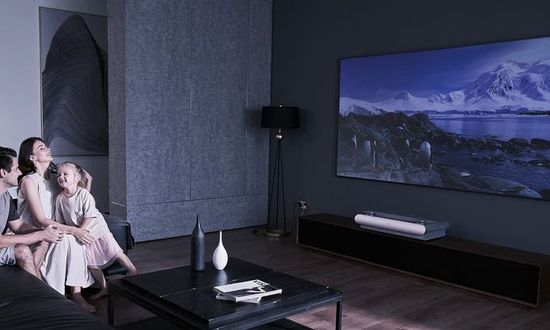 The gimbal expands the location choice.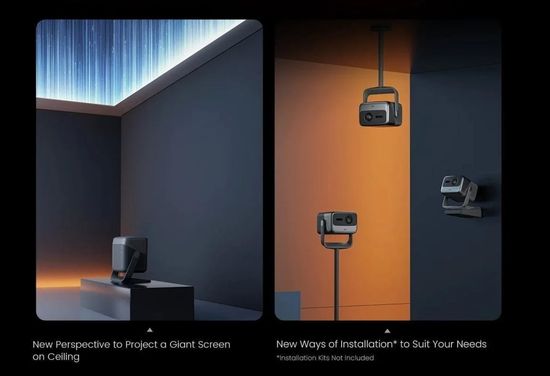 The swivel capability in two planes (135° vertically and 360° horizontally) also simplifies the projector installation.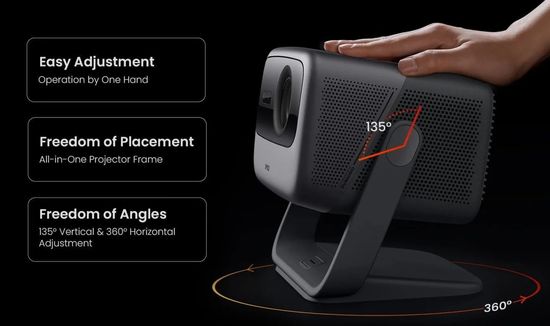 Finally, Multi Adaptive System of new series includes a full range of popular smart options.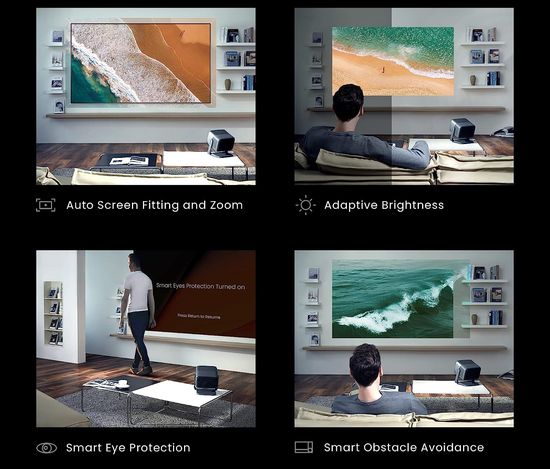 Also, the projector offers auto keystone correction and auto focus. In general, this set quite compensate for the lack of optical zoom or lens shift.
Of course, the brightness in most accurate color/color temperature modes is well below 4,000 Lumens and slightly over 1,600 Lumens. Nevertheless, today it's one of the best indicators in this segment. The contrast in specs reaches 1,600:1.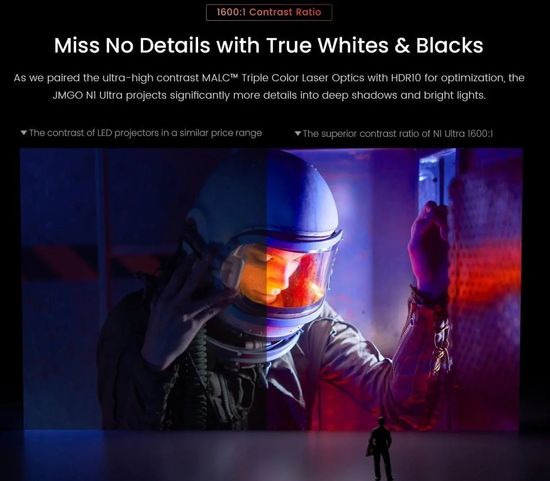 But the average measured contrast ratio is ~1,300:1. However, it's double vs Nebula Cosmos, which is its closest competitor.
N1 vs N1 Pro vs N1 Ultra
Launch price of N1 models traditionally varies in a wide range:
– N1 Ultra – $ 2,300 or ~$ 2,000 (AUD $ 3,000) in Australia;
– Ultra – £ 1,886.22, Pro – £ 1,393.95 and N1 – £ 819.63 in UK (brand's website);
– Ultra – € 2,189.27, Pro – € 1,617.91, N1 – € 951.32 in Europe.
In addition to price, brightness and resolution, the list of differences between the models includes:
– Pro and Ultra have identical size, weight and 2x 10W speakers.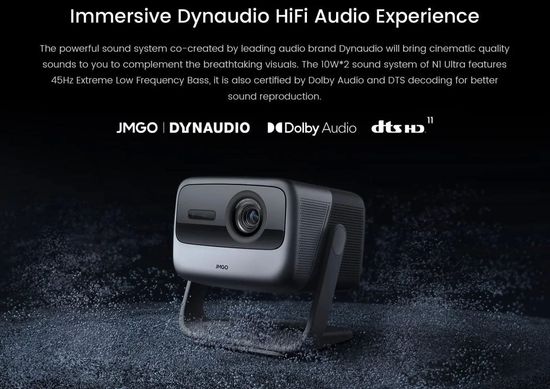 Moreover, Dolby Audio uses tuning co-created with Dynaudio. With the exception of music lovers, many can save money on a soundbar;
– Pro and Ultra support Pan (360° horizontally) and Tilt (135° vertically) vs 127° vertical adjustment in N1;
– the N1 is significantly smaller (16 x 19 x 19 cm) vs (8″ x 9.5″ x 9.3″ or 20 x 24 x 24 cm) and lighter (2.0 vs 4.5 kg).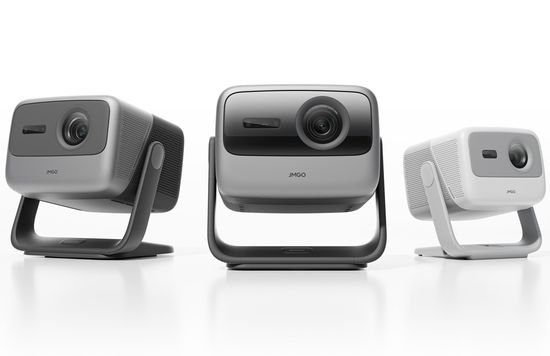 In addition, it uses integrated 5W speakers.
Pros (all models)
– very bright;
– high contrast;
– ultra wide color gamut (110% BT.2020);
– Android TV 11.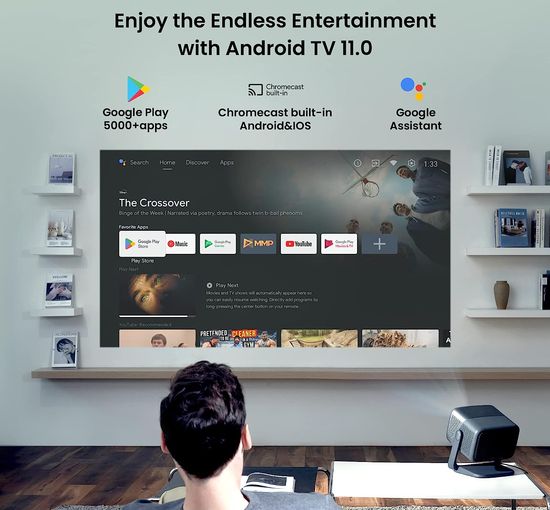 – Dynaudio speakers;
– MALC technology (Microstructure Adaptive Laser Control);
– gimbal design and Multi Adaptive System for easy installation and settings.
Cons
launch price is slightly higher vs competitors;
– no zoom or lens shift;
– remote without backlight.
Conclusion
In general, the N1 series has superb marketing prospects among mid-focal projectors. It covers the entire price segment from $ 1,000 to $ 2,000. This series uses a wide range of innovations, including ALPD 4.0-based triple-laser RGB light engine with ultra wide color gamut of 110% BT.1020, MALC, Multi Adaptive System, gimbal design, etc. What's more, the projectors deliver up to 4,000 ANSI Lumens peak brightness and a 1,600:1 contrast ratio, which are superb for this class.
Of course, these factors increase their prices. But after the traditional correction of launch prices, it may become even lower vs competitors. In any case, Android TV 11, 3D support, Dynaudio speakers, 110% BT.2020 color gamut, MALC, LSR technology and Multi Adaptive System are unprecedented for a ~$ 1,000 projector. Considering the price, JmGO N1 offers superb value for money, claiming a place among the best sellers of 2023. But it will have to compete with superb Optoma ML1080. Brighter Optoma HZ40HDR, GT2000HDR and GT2100HDR will compete with N1 Pro.
Of course, the 1080p resolution of the N1 and N1 Pro limits their claim to premium status. But the N1 Ultra could very well be one of the best 4K mid-focal projectors this year.
This video introduces JmGO N1 Ultra 4K laser gimbal projector.