Price, functionality and technical values are the main criteria for choosing any household appliance and waffle maker is no exception.
Functionality
Temperature control
This function is realized with the help of thermostat and is present in virtually all commercial waffle makers and many household models of the average and upper price segment.
The thermostat is designed for choosing an optimal cooking temperature and provides semi-automatic cooking mode.
The operating temperature range varies from 180 to 250 degrees. Cooking temperature directly affects the texture and color of finished waffles. Thermostat adjusting allows the user to cook, for example, waffles with a crunchy crust and a soft average layer.
Working temperature in models without the thermostat is controlled by turning on and off the device. Of course, it`s not very effective and convenient way.
Texture modifier
This function is used to select the cooking mode that provide cooking the soft waffles or waffles with a crunchy crust.
Timer and indication
Many models have a timer for programming a cooking time.
Heating indicator lights up when temperature of the frying surface reaches predetermined temperature and the device is ready for use.
Indication of the cooking end is present in all modern models. Beep or luminous signal indicates the end of the cooking cycle. More expensive models are switched off after this signal with the help of Auto Off function.
Device flip function
This feature is present only in expensive models and provides a uniform distribution of batter into recesses inside a working surface. The function is performed by flipping the device through 180 degrees.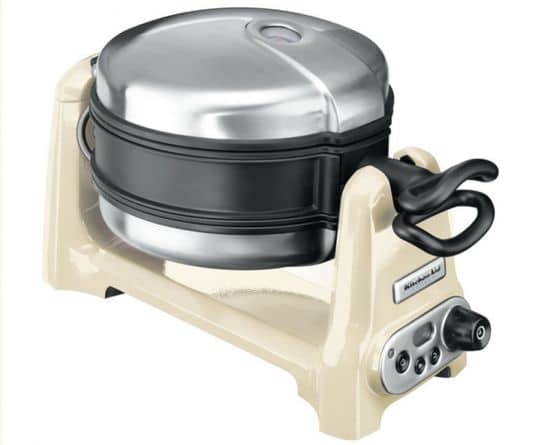 Of course, the device flips only when the lid is tightly closed. Uniform filling provides a constant thickness, texture and color for all finished waffles. But this function increases the model cost very significantly.
Additional roasting
Some companies call this feature A Bit More. It`s designed to short-term heating of the device for additional roasting.
Multifunctionality
Multifunctionality is a popular trend for modern household appliances. Waffle maker is no exception. Some models can cook the hot sandwiches and burgers, i.e. they can used as a grill or toaster. Such devices are additionally equipped with removable frying surfaces, the number of which usually does not exceed three.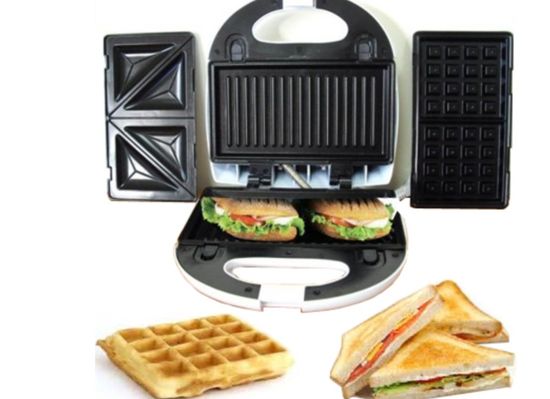 Multifunction models with replaceable working surfaces also provide a change of waffles form. The video at the end demonstrates the advantages of such models.
The standard surface is usually intended for cooking the waffle of rectangular or round shape. Waffle molds allow the user to cook waffles in the shape of hearts, bears, triangles, etc.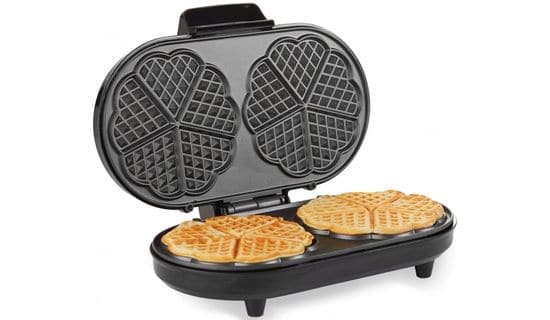 This function is very convenient during cooking the waffles for children or celebration. Today the market offers a wide range of different waffle molds.
Usability
Waffle makers usually have a steel body that very heats during operation. Handles of a material with low thermal conductivity eliminate the risk of burns.
Storage compartment for the power cord prevents a cable against damage due to kinking and provides convenient storage.
Some models are equipped with additional attachments for making waffle cone.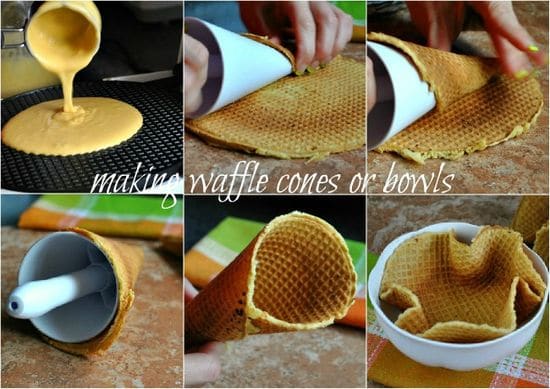 Waffle type
Modern models allow user to cook the large, small, thick, thin, round or square waffles of different consistency. This depends on the waffle maker model and attachments kit.
Today, the companies offer models for cooking the American or Belgian waffles.
American waffles are thinner and have rectangular or square shape, and the batter for them contains baking powder.
Models with thickened frying surfaces called the Belgian waffle makers.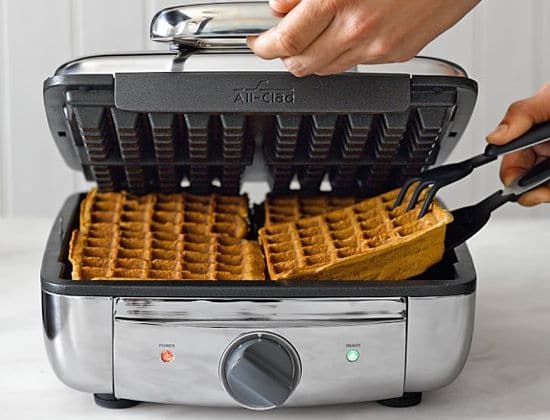 These models are designed for cooking lush waffles of round shape. They cook a few waffles per cycle.
Belgian models have the deeper recesses for batter and provide the formation of a crunchy crust. The consistency inside dessert remains soft in this case.
Belgian soft waffles are cooked from batter on the egg-yeast basis with addition of butter. They are thick, have golden color and delicate taste. Such waffles are very popular with addition of strawberry, banana, chocolate or whipped cream.
Recipe for Liege waffles includes adding sugar in the batter that acquires the properties of sugar candy during caramelization process. Therefore, these waffles are more crunchy.
Main technical values
Housing material
Device housing is made of metal or plastic. Metal waffle makers are more durable and reliable, but they are significantly more expensive compared to plastic models. Metal has usually a matte or glossy surface.
Powerful commercial models for simultaneous cooking a large number of waffles have only metal housing.
The non-stick coating quality is one of the main model characteristics. It significantly affects the uniformity of toasting waffles. The surface with high quality non-stick coating has no bubbles or other defects.
The coating material is also important. Today, the ceramic coating is considered the most durable and environmentally friendly.
Power
Cooking time almost always depends on power of kitchen electrical device. Waffle makers are no exception. Optimum power of household models is from 800 to 1000 W.
This video demonstrates the capabilities of a modern model with a set of removable non-stick plates.