History of waffles begins with ancient Greece. In those days they were baked from the usual dough on hot stones.
August 24, 1869 Cornelius Swarthout from New York patented a pan for baking waffles. Since then, August 24 is celebrated in America as a waffle day. On this day, many Americans order waffles in pastry shops or bake them at home.
Today waffles are a popular treat in many countries. The list of the most popular recipes is headed by four types.
Viennese waffles are soft and large in size. Viennese waffles with cream are the basis of a very popular cake recipe.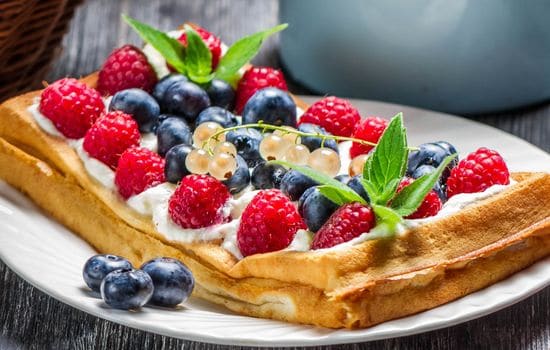 American waffles are thicker and denser than Viennese wafers and necessarily contain baking powder.
Belgian waffles are prepared using a large amount of whipped protein and yeast. They are often called Brussels waffles. Whipped protein give the waffles lightness and delicate taste. They are served hot with berries and often with chocolate syrup. Many people like to eat them along with a vanilla ice cream.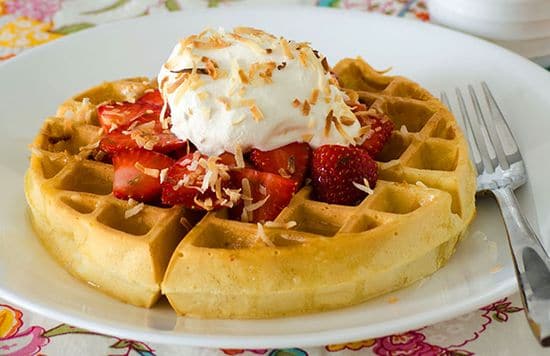 English waffles are prepared with unusual ingredients such as potato flakes or vegetables. These waffles are often used to make sandwiches.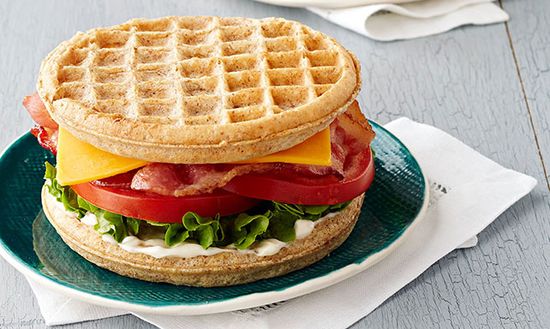 Modern waffle makers can be classified as models for making American or Belgian waffles.
Universal models are rare and expensive due to the design features. In particular, these two types of models have different depth of recesses for batter. Accordingly, the thickness of the working surfaces for frying also is different. However, these models are available in the market. Bork G700 is one such device.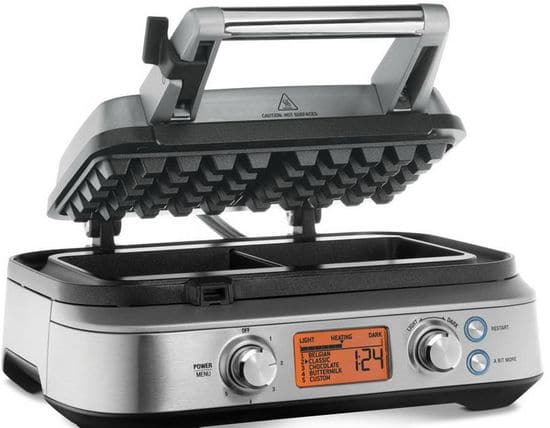 Generally, the waffle maker choice depends on the model features, which are optimal for making a specific type of waffle.
Most popular waffles
American waffles
These waffle makers have a rectangular or circular shape and are designed for cooking the wafers with standard thickness.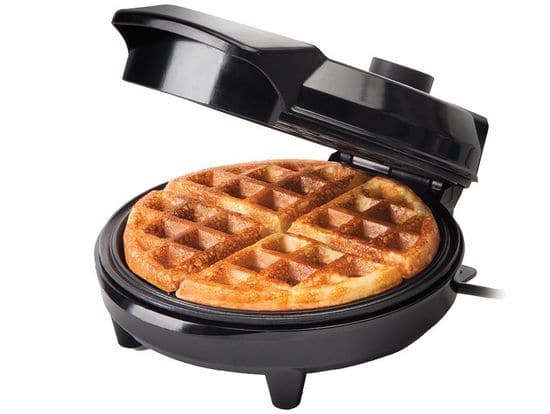 Thin waffle is more conveniently curled up into a tube and is fills with cream, fruit, ice cream, etc.
Waffle makers square shape is usually designed for the simultaneous cooking the four waffles and are well suited for large families.
Belgian waffles
The consistency of the Belgian waffles is more lush compared to the American waffles. The voluminosity is achieved by increasing the depth of cell for the batter. These models are usually designed for the simultaneous preparation of several waffles.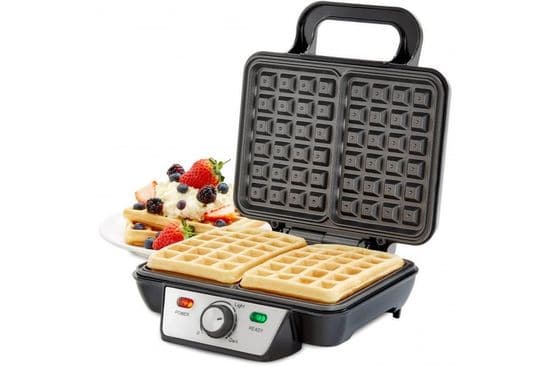 Liege and Brussels waffles have become popular after International Exhibition in Brussels in 1958. Their popularity is remained high for over 30 years. But, of course, the range of these recipes is constantly expanding at the expense of culinary creativity.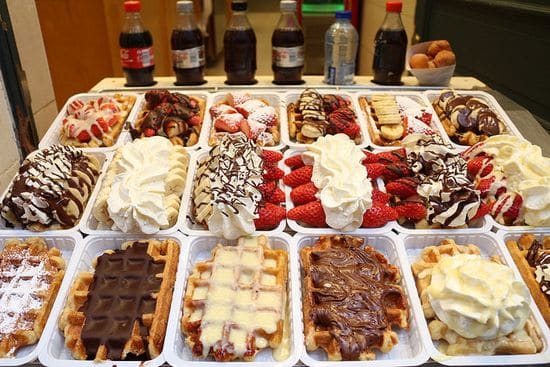 A recipe of Liege waffles includes adding sugar in the batter. They have oval or round shape. Sugar acquires the properties of sugar candies in the caramelization process. Therefore, these waffles are more crispy.
Brussels waffles are cooked of a batter on egg-yeast base with addition of butter. They are thick, have golden color and mild taste. These waffles usually are rectangular.
Ready-made waffles are often sprinkled with confectionary powder, which is a mixture of powdered sugar with whipped cream, ice cream, strawberries, etc.
Design
Virtually all waffle makers run on electricity. Models for cooking on an open fire are now almost not produced.
These devices consist of two metal surfaces of a certain form and size with electric heating elements. Frying surfaces are usually made from food-grade aluminum with non-stick coating.
The heating elements usually have the form of tubes. Surfaces are connected together by hinges and have recesses for batter. Round and rectangular shapes are considered standard. The frying surface of some models is made in the form of hearts, teddy bears or triangle.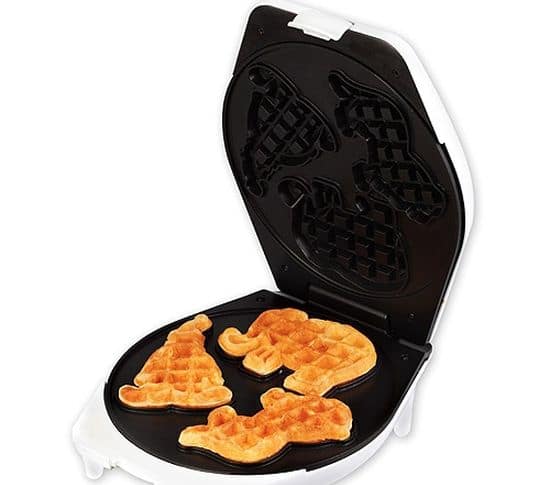 These waffles are very popular with children.
Some waffle makers can be used as a grill or toaster. This function is realized with the help of special removable frying surfaces.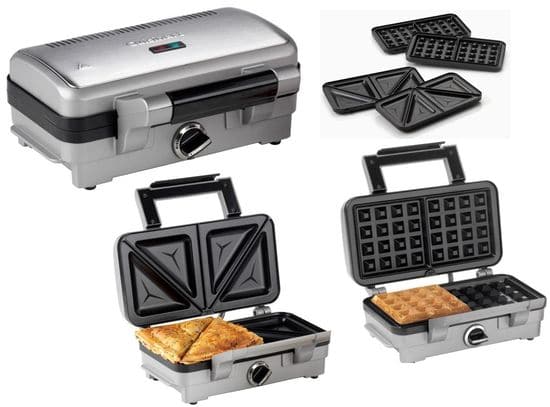 Such models are often called sandwich maker.
Frying surface is heated and lubricated with oil. The cooking process begins after filling the all recesses by a batter and closing the lid. Waffles are fried simultaneously from two sides. Cooking time depends on the batter consistency, recipe and power of model and varies from a few seconds to a few minutes for a preheated device.
Today, household models with power from 800 to 1000 Wt are the most popular. Power of commercial models with high performance reaches 4 kW and higher.
All models have a non-stick coating. Therefore, the use of abrasive cleaners or stiff brush for cleaning could damage it.
The culinary nonstick spray effectively prevents sticking the waffles during cooking, eliminating the oiling need between cooking cycles.
High competition stimulates companies to constantly improve their models through innovative technologies. This video demonstrates the capabilities of the innovative Chefman Perfect Pour Volcano Waffle Maker that is recognized by the IHA as 2017s global innovation in home and kitchen appliances.