Ceiling models are the very popular. They belong to axial fans and provide the air mixing in the premises. These models are especially effective in large rooms, for example, in shopping centers, halls, in sports facilities, in hangars, offices, etc.
Design
Usually, ceiling fans have the very broad blades and use electric motor for their rotation.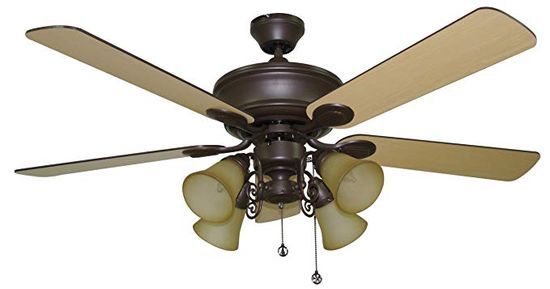 Engine is located inside the plastic or metal housing.
Ceiling fans most often have 3 or 6 blades. Today, companies use different materials for their manufacture, including the plastic, wood or metal. Most modern models additionally provide a decorative function with the help of different colors or images on the blades.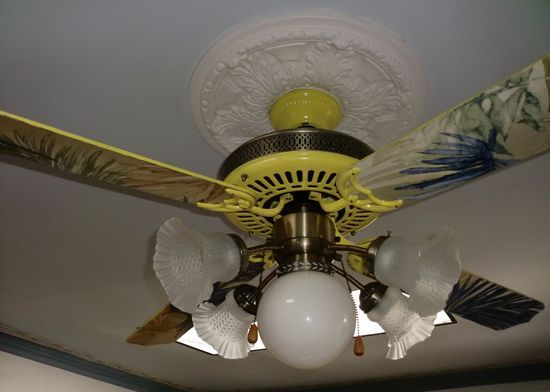 These models use lower rotation speed compared to other types of fans.
Ceiling fans can have from two to fifteen blades.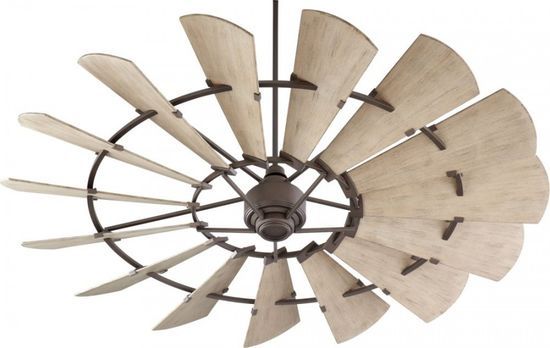 Unfortunately, they do not provide optimal aerodynamics. Their optimal amount varies from three to five.
Fan installation
A special metal bracket provides fixing the fan blades to the engine dynamic part. Special hook provides fixing to the ceiling. The design of this element has several options. In many models, the hook is fixed on a plate on the ceiling. This installation provides a reverse mode, due to the possibility of rotating the J-pin in both directions. But threaded hook is also widely used. It's twisted with the help of dowels or directly to a ceiling surface.
Special barbell with adjustable length from 0.8 up to 5 ft provides a distance adjustment between the blades and the ceiling. The minimum distance between the floor and the blades must exceed 7.5 ft.
Typically, the fan contains top and bottom caps. The top cap protects the fastening system. The lower cap protects wires, boxes with terminals and capacitors. Small decorative caps hide fastening screws and brackets of rotating blades.
Correct ceiling fan installation requires additional balancing the blades. This adjustment prevents fluctuations during their rotation. Today, companies offer special kits for this purpose. The video at the end shows their use.
Controls
The reversible fans have a special regulator for the air flow direction up or down.
The fans often have special cords-switches for adjustment of the blades speed, direction of rotation, lighting control, etc.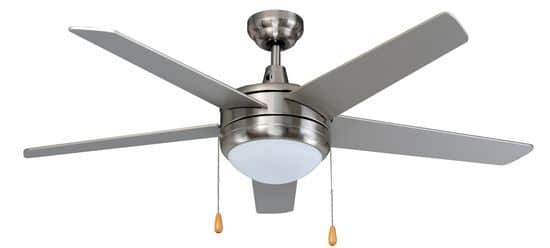 Modern fans envisage the work in three-speed or five-speed modes. Modes are controlled by the cord-switch or remote control.
Today market offers ceiling fans with lights in a very wide range.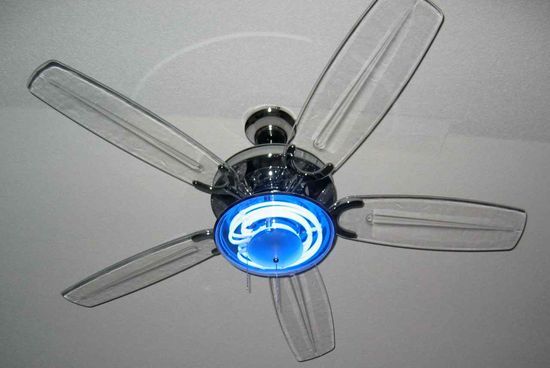 For this purpose, the companies use the standard incandescent, halogen lamps, LED or fluorescent lamps. Remote control provides their on / off and adjust their brightness.
Manufacturers recommend using a ceiling fan in the living rooms without conditioner. But user can alternate the operation of these devices.
False ceiling require built-in models.
Ceiling fans are very common in office buildings, hospitals and schools. Laws of some countries require the mandatory installation of fans in rooms with lots of people at air temperature above 25 degrees.