Of course, KitchenAid is one of the leaders in the segment of planetary mixers for home and professional cooking. Initially, the company developed these stylish, reliable and high-performance mixers, first of all, for restaurants as a professional technique. But their wide functionality and reliability provided unprecedented popularity among consumers around the world. Of course, the use of the principle of planetary rotation provides the high efficiency of these models. As known, this operation principle uses rotation of the working part of the head and the whisk in different directions, ensuring thorough mixing throughout the bowl volume.
Today company offers three types of planetary mixers, depending on the bowl fixing and its volume. Compact models have a tilting head and a bowl in volume of 3.5 or 5 quart. Large models use 7.3-quart bowl and a lifting mechanism for its installation in the working position.
Planetary KitchenAid mixers
Of course, the 5KSM7580 with large bowl occupies a lot of space on the worktop.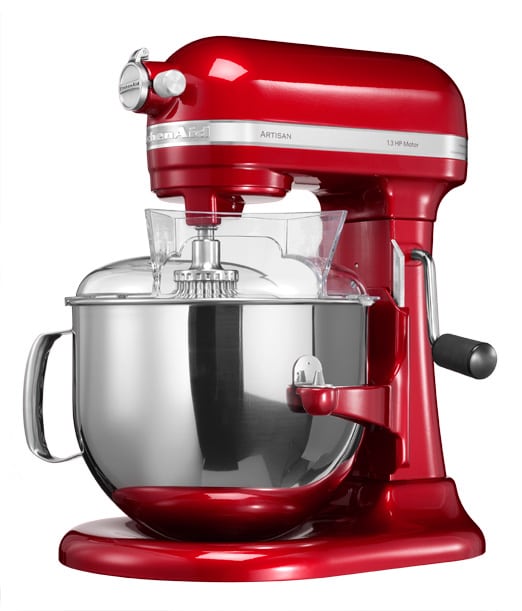 Its dimensions reach 16.1 x 14.7 x 11 inches, and the weight exceeds 28 lbs. But the performance of this model is consistent with the professional level.
The size of the more popular KitchenAid Artisan with a 5 quart bowl has been reduced to 14.7 x 13.4 x 8.7 inches, and the weight does not exceed 24 lbs.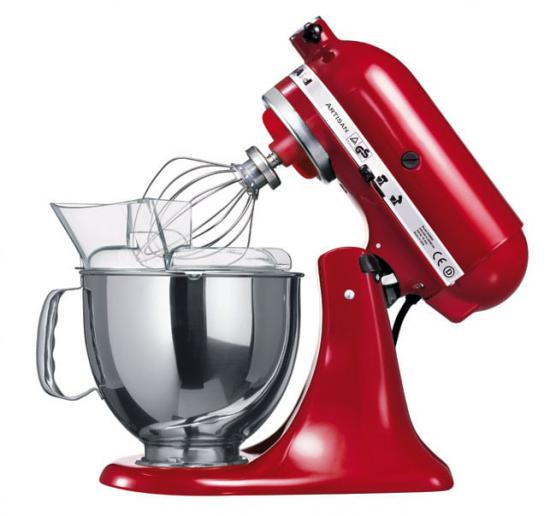 Accordingly, this model is approximately 30% cheaper compared to model by 6.3 quart.
MINI mixer is a novelty of 2017.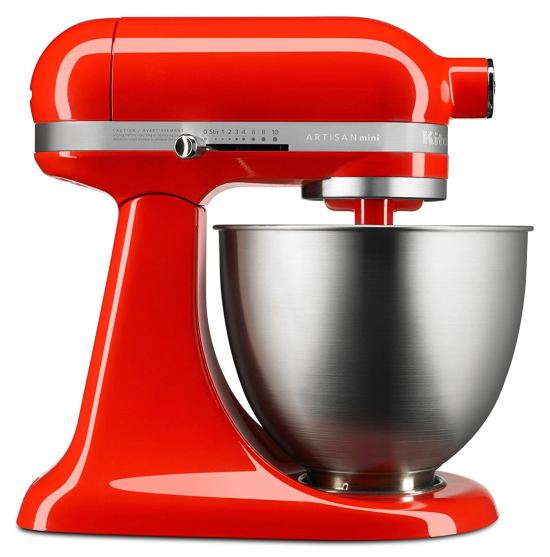 It completely corresponds to its name. Model has dimensions only 12 x 12.2 x 7.5 inches, and the weight slightly exceeds 13 lbs. But, the capacity of its bowl is only 3.5 quart. Its features can be seen in the video at the end of the article.
Of course, all these models have the same basic functionality. For example, they all have 10 speed modes, a socket for connecting additional attachments, a metal bowl and three main accessories, including corolla, hook for dough and a paddle for mixing.
Moreover, additional attachments, including a meat grinder, a juicer, a vegetable cutter, etc., have universal fastening and can work with all these models.
KitchenAid Artisan 5KSM125EER and 5KSM175PSECA
The technical characteristics of the new mixers 125 and 175 series are absolutely identical to the previous 5KSM150PSE model that is withdrawn from production. The kit and color palette are the only difference. These models are equipped with a 5 Qt bowl, a tilting head for easy replacement of the attachments and are available in several colors.
The mixer motor is located in the tilting part. The massive base provides steadiness during operation. The mixer bowl is fixed with a latch.
Models differ from each other only with a set of attachments. 5KSM175PSE has an additional blade with a silicone rib and a second bowl with splash protection.
KitchenAid Artisan 5KSM7580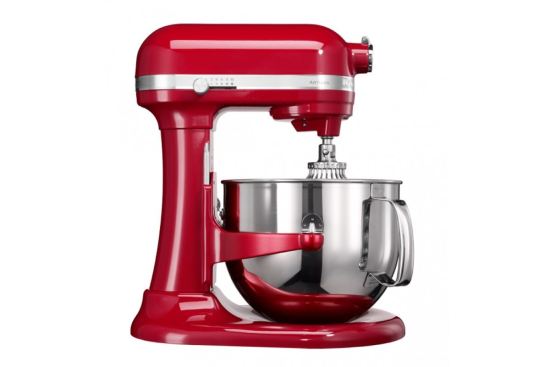 A bowl of XL format with a volume of 7.3 quart, an improved powerful drive and a professional fixation of bowl are the key features of this model.
This model is designed for cooking large volumes. It easily copes with kneading dough from 4.5 lbs of flour.
The dough hook and corolla have an improved shape for increasing the productivity of cooking a large amount of dough, including a dense dough for pasta and dumplings.
KitchenAid Artisan MINI 5KSM3311XHT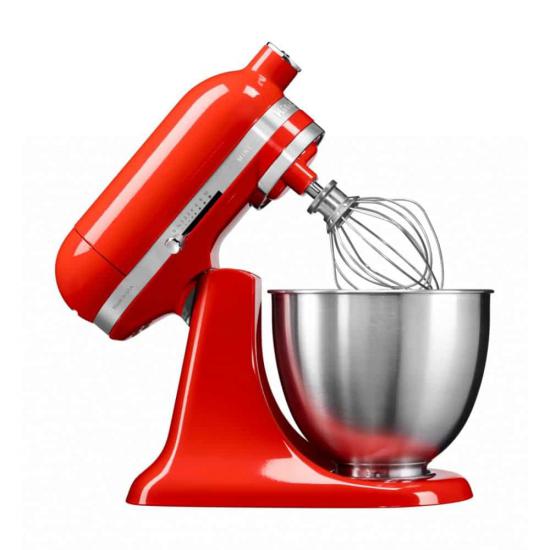 Compactness and low weight are the main advantages of this model. It's 25% lighter and 20% smaller compared to traditional Artisan mixers. But its power is also 20% lower and is 250 W.
This model easily copes with a kneading dough from 1.5 lbs of flour.
Conclusion
KitchenAid Artisan MINI is ideal for cooking in a small kitchen for a family of 2-4 people. But model with a bowl volume of 5 Qt is convenient for baking and families of 4-6 people. Of course, mixer with a bowl volume of 7.3 Qt is designed for regular cooking for a large family of 6-12 people.