Fierce competition characterizes the modern consumer market. As a result, competition encourages manufacturers to constantly upgrade their models, increasing their competitiveness. Of course, this factor mainly depends on the price, functionality and technical values of the device. Today, companies solve this problem with the help of innovative technologies that expand their capabilities. As a result, many modern kitchen appliances provide very high versatility due to their multifunctionality. In fact, most modern convection oven belong to this type. However, many sellers often use such names as air fryer or air grills for these devices. But, probably, convection oven name can be considered the most traditional.
Design and operation principle
Typilcally, its exterior design is similar to a large pot with lid and controls.

More expensive models have several heating elements in the lid, bottom or side walls. Of course, they provide more options, including some functions of the slow cooker, fryer, etc. Such a model can partially replace the hob, oven, microwave, slow cooker, steamer and even a toaster. Additionally, cooking with the help of aerogrill requires a minimum of oil. Of course, this aspect perfectly matches the trend of healthy dietary nutrition.
As known, the convection oven uses hot air flows or convection for heat treatment. Initially, the heating element in the center of the cover generates heat. Then, hot air passes through a metal perforated disk into the working chamber with products. Finally, the fan distributes it throughout the volume, providing a uniform intensity of heat treatment of the entire food surface.
Additionally, most models have very stable stand for a bowl of very thick heat-resistant glass.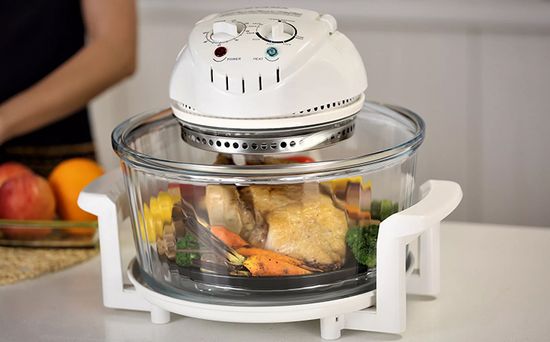 Moreover, the convection oven can have a set of accessories for cooking, including grates, skewers, a flat metal tray, tongs for hot dishes, additional rings to increase the useful bowl volume, etc.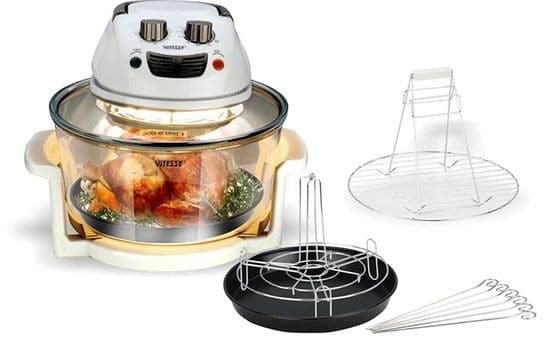 For example, a grill stand divides the working volume of the bowl for the simultaneous preparation of several dishes. Of course, it is necessary to take into account the factor of mixing odors from different dishes. For example, the smells of sweet dessert are not well combined with the aroma of meat dishes. On the contrary, the simultaneous preparation of meat and vegetable garnish on two levels will enrich their flavor.
Power, heating elements, lid and controls
The power of modern models varies from 1000 W to 1700 W. Of course, it directly affects the cooking time and energy consumption. On the one hand, a very powerful model consume a lot of energy and can overdry food. But, low-power model will not be able to provide fast cooking. Therefore, the optimal choice depends on individual preferences.
Modern models use metal heating elements or halogen lamps. Of course, devices with heating elements have a significantly higher price. But its service life reaches eight years and more. Low-cost halogen models are simple and convenient, but service life of their lamps usually does not exceed several years.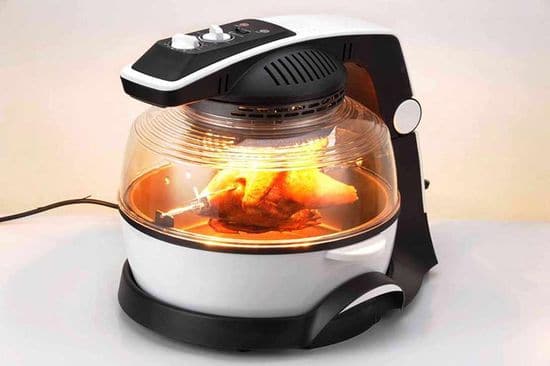 In addition, a spray of fat can significantly shorten this period. But, halogen lamps are not oxidized and quickly heat up.
Modern convection ovens use mechanical dial or electronic and touch buttons. Of course, simple mechanical models have high reliability, but they do not support programming. Usually, such models have temperature and convection regulators.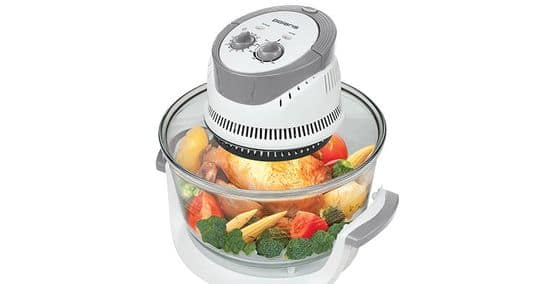 Of course, electronics provides excellent functionality, including pre-installed modes, user programs, advanced options, such as automatic shutdown when removing the bowl, etc.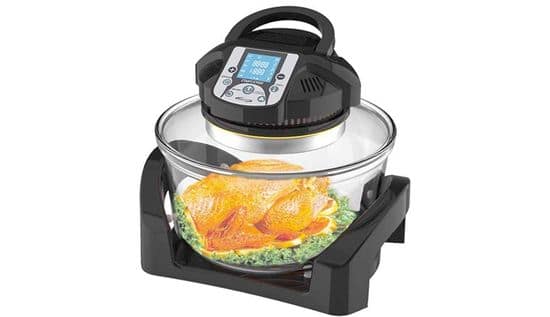 Unfortunately, these models have a higher price.
Typically, a lid with heating elements and controls is quite heavy. In addition, it is heated during cooking. Therefore, its design affects usability. Today, companies offer models with a fully removable or hinged lid. Of course, devices with a removable lid are easier to clean, but it can interfere during cooking.
Functionality, pros and cons
– Temperature adjustment
Of course, all models have this mandatory feature. Usually, the temperature range varies from 60 ° C to 260 ° C.
– Delayed start timer
– Convection intensity
Many models support adjusting the intensity of blowing by hot air. Usually, devices with electronic controls have three modes of convector operation. The slowest provides baking, drying herbs or spicy herbs. The medium mode is designed for stewing and roasting meat, fish and vegetable dishes, drying sliced vegetables and fruits. Maximum convection speed ensures deep roasting, grilling, sterilization of cookware for baby food or preservation.
– Cooking programs for cooking in automatic mode
– Warming up the finished dish
– Pre-heating
Roasting and baking after such heating takes less time, and the meat gets an appetizing crispy crust.
Pros:
– simplicity, compactness and versatility;
– cooking with the minimum use of oil saves taste and useful vitamins.
Cons:
– relatively high energy consumption;
– heavy and fragile glass bowl complicates cleaning after cooking;
– models with one heating element require mixing while cooking some dishes.
This video shows operation of popular VonShef Halogen Oven.