Toasters are very popular for many decades. Manufacturers respond adequately to demand and offer a wide range of diverse models. Today the market is replete with offers of various of devices with this function. For example, the roaster functionality is almost the same as the toaster. Traditional toaster is intended for toasting bread upright. This function is also present in the roaster. But, it roasts bread in a horizontal position. Therefore, roaster additionally provides cooking the hot sandwiches, fried sausage and meat, etc.
Classification of such devices can help to choose the optimal model depending on the requirements to its functionality that significantly depends on its technical characteristics . The cost of modern models varies from a few tens to a few hundred dollars.
Heating element
Operation principle of models with contact heating is similar to a traditional frying pan. Heat exchange is carried out between the surfaces of the heating element and bread.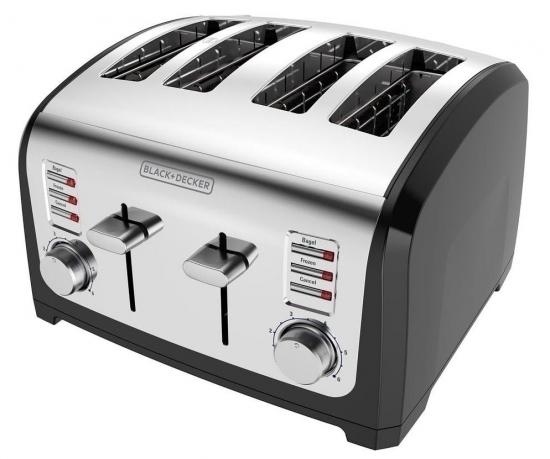 These models are most common and well suited for toasting the hamburgers and buns for hot dogs.
Toasters with thermal radiation use an open spiral or quartz tube as electric heater.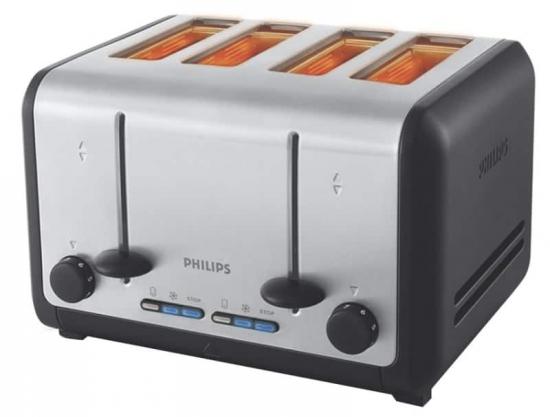 These models are often designed for roasting only the top surface of bread. This process usually lasts no more than 5 minutes. Such toaster is convenient for cooking the sandwiches.
Toaster with spiral heats bread using infrared radiation of the heated spiral. This heating method provides slow drying and grilling the bread surface. Most modern models use a wire of nichrome (alloy of nickel and chromium). It has a very high electrical resistance and does not oxidize at high temperatures (i.e., does not rust). Such model is very easily and cheap repaired at failure of spiral due to its overheat.
Ceramic heaters are considered the best due to lack of a metal odor during cooking.
Quartz heaters are more modern. Toasters with quartz heater provide more quick and uniform broiling bread, they are more reliable and durable, consume less power, but are much more expensive. Therefore, the quartz heater is often used in premium models with a housing the stainless steel or aluminum.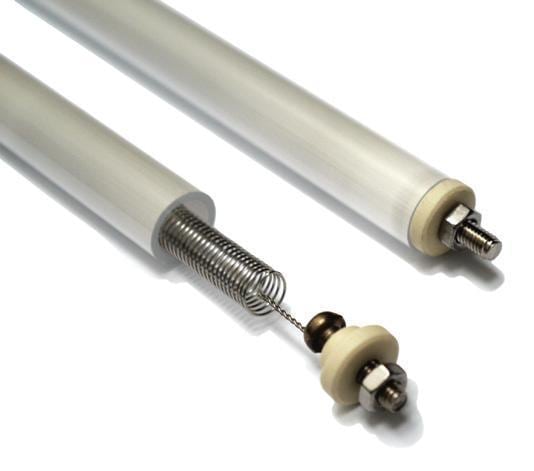 The high cost of such models is partially offset by energy savings.
Main types
Toasters are divided into hand-held, semiautomatic and automatic models.
Hand-held toasters
The cooking process is fully controlled by the user. These models are the cheapest and most reliable.
Semi-automatic toasters
These models have a thermostatic switch. It uses information from temperature sensors on the bread surface.
Automatic toasters
Automatic models additionally have a timing mechanism that provides automatic control of the toasting process. Toasts in such models are automatically pushed up after cooking.
The model performance and the toast size depend on the number of slots and their sizes.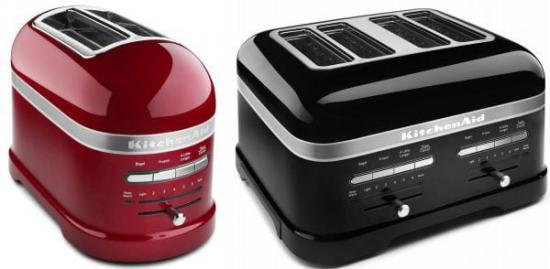 Modern models have the following set of slots:
– one slot for two toasts (long and narrow toasters);
– two slots, each is designed on two toast (large toasters);
– two slots, each is designed on one toast (compact model);
– four slots, each is designed on one toast.
Combined and other models
Toaster with grill
Toaster-grill provides baking the rolls or cakes with fillings.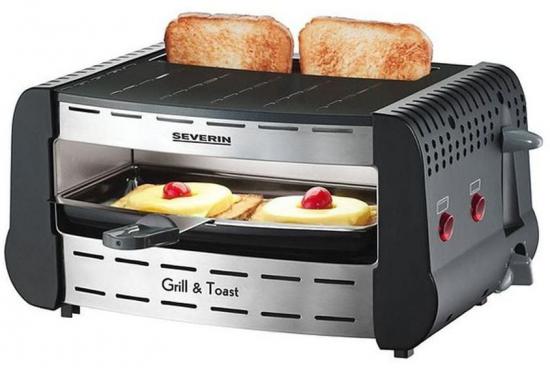 The convection heating have a significant reduces the cooking time.
Toaster in the microwave oven.
Slots of these models are usually located in right side on the front or top panel of microwave oven.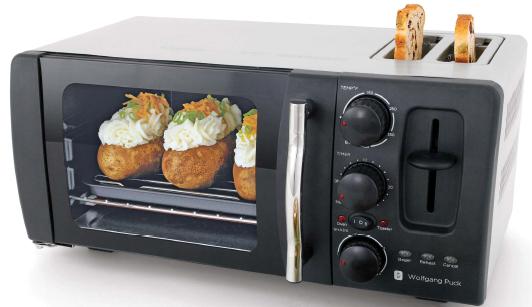 Glass Line Toaster
These models have a very original design and provide visual control of the toasting degree.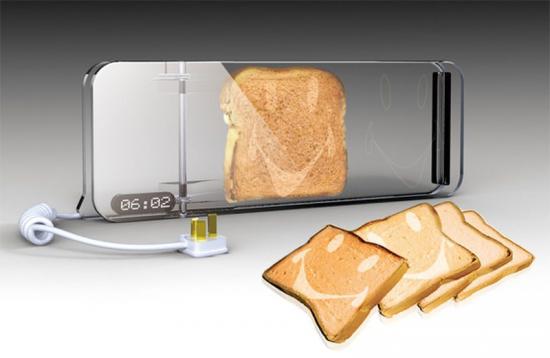 Toasting with such a model can be viewed on a video at the end.
Toast with a pattern
Model provides drawing on toast with the help of a template of heat-resistant material and relevant program. Such toasters are well suited for families with children.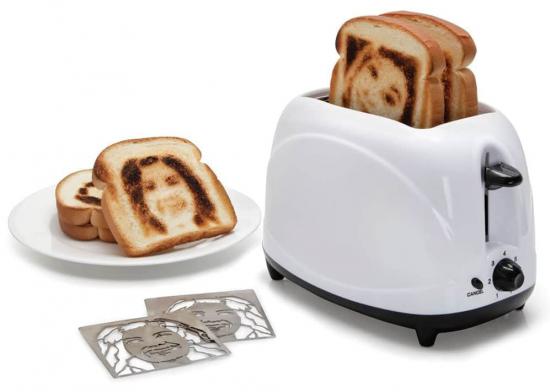 Toasters with additional surface for frying
Such models allow the user to further fry eggs or the cutlets.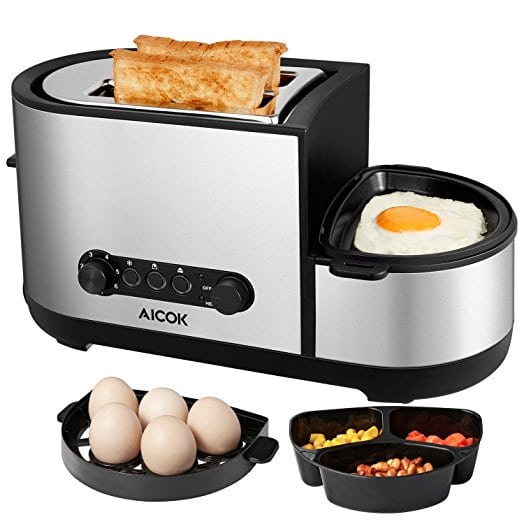 Control and operation features
Mechanical control is realized by rotary timer for set the duration of toaster operation. This control type is commonly used in simple models without additional functions.
Electronic system automatically controls temperature and toasting duration. Device beeps and turns off automatically after end of the cooking cycle. Some models of the upper price segment are equipped with a touch panel.
Operation features
1. Toaster does not provide toasting foods in the glaze, covered with fat or oil.
2. Placing the toaster near flammable things (for example, curtains or towels) is undesirable.
3. Toaster is cleared only after cooling and disabling from the power supply.
4. The water should not fall on toaster.
Today Tefal, Bosch, Philips, Electrolux, Binatone, Scarlett, Vitek, Rowenta, Moulinex, Kenwood, Braun, Siemens, VES, Sitronics, Polaris brands are most popular in this market segment. Toasters of premium-class (e.g., Siemens Porsche Design) have digital display.