For several decades, a healthy lifestyle is one of the most popular trends in modern life. Of course, it essentially depends on nutrition. According to almost all modern nutritionists, optimally balanced nutrition directly affects the well-being of a person. Of course, fresh juices help solve this problem.
As a result, the popularity of juicers, vacuum blenders for making smoothies, smart weights for self control, etc is constantly growing among fans of a healthy lifestyle. The market responds adequately to high demand, offering many different devices in this segment. But juicers traditionally occupy one of the leading positions in this list.
Relatively recently, centrifugal juicers dominated because of their simplicity and low price. But this operation principle has a significant drawback. According to most experts, the high temperature due to the high rotation speed during juicing significantly reduces its beneficial properties, destroying vitamins and enzymes in the finished drink. Of course, juicing at low speed completely solves this problem. As a result, the popularity of low-speed masticating juicers has grown rapidly in recent years.
The design of the juicer is much easier compared to, for example, TVs or coffee machines, which have wide possibilities of using digital technology. However, engineers are finding opportunities to improve even such relatively simple equipment by expanding their functionality and increasing efficiency. Of course, these factors directly affect the choice of the optimal juicer.
Hurom H-AI self-feeding slow juicer
HUROM brand needs no introduction. This South Korean company was founded in 1974 under the name Dong Ah Industry and has been specializing in the development and production of juicers for almost 40 years. As a result, today it is one of the leaders in this segment. For example, HUROM developed and patented the revolutionary Low Speed Technology System with a slower auger rotation. Currently, this technology is patented in the USA, Hong Kong, Japan, China, etc. Of course, the company continues to improve its models, developing new technologies. 2018 is no exception. HUROM proposed the innovative Hurom H-AI self-feeding slow juicer.
Of course, Hurom H-AI is one of the most popular models in 2018. Its stylish design will decorate the interior of any kitchen.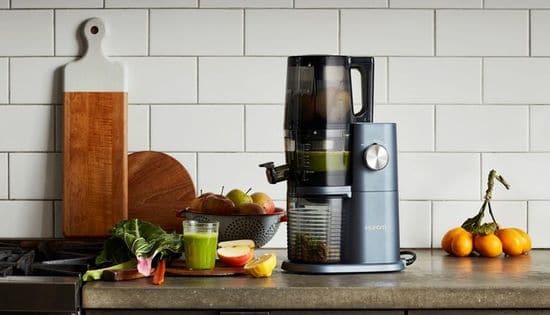 Its capacity reaches 500ml or 16.9 fl oz. All its parts are made 100% BPA-free. The model uses a very quiet engine with a rotational speed in the range from 43 to 60 rpm and with 10-year warranty. Today it's one of the best values for this segment. Furthermore, the juicer requires little space due to the vertical layout and a small base area (only 6.3 x 11.7 inches).
The company offers Hurom H-AI in Silver, Rose Gold or Slate Blue color. But for the European market this model is also available in red.

Innovations
The model uses several new engineering solutions. Of course, Self-Feeding smart hopper is its main innovation.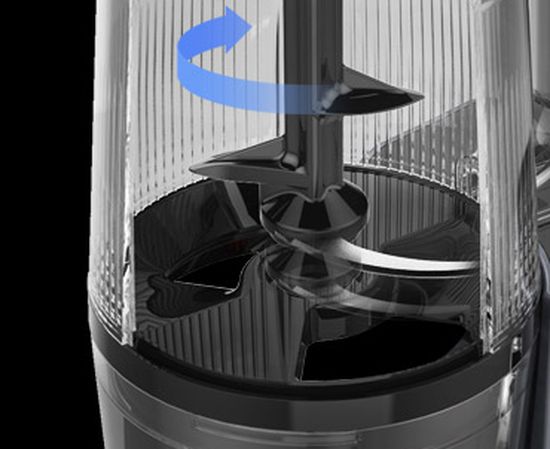 The spinning blade of complex construction inside the self-feeding smart hopper crushes and automatically moves ingredients down into the double-winged auger. Actually, juicing requires only filling the hopper with vegetables and fruits. In addition, the large diameter makes it unnecessary to pre-cut.
Moreover, the model uses the technology of two-speed counter-rotating mode, which is based on the rotation in the opposite directions of the auger and basket with strainer. For example, the auger rotates clockwise at a speed of 60 rpm, and the basket rotates counterclockwise at a speed of 23 rpm. It further increases the juicing efficiency.
But Hurom H-AI also has a dual hopper for adding ingredients in manual mode.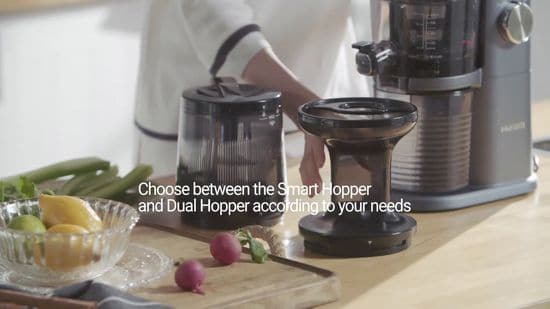 Its lateral feed hole easily passes large vegetables and fruits, and the vertical opening with a small diameter is convenient for long fruits, for example, carrots, cucumbers or greens.
Tilted chamber with juice outlet is also very successful engineering solution.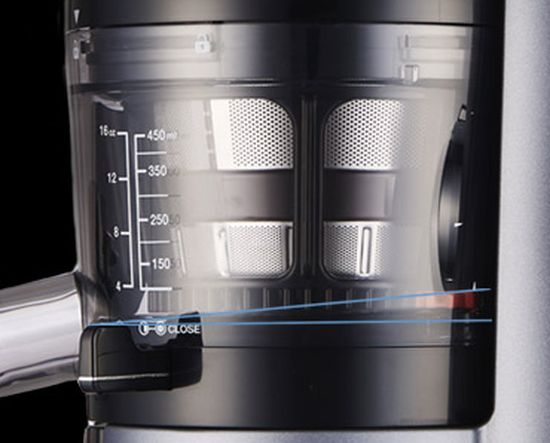 This tilt of 3 degree significantly increases the efficiency of juice draining, simplifying further cleaning.
Vertical pulp outlet is another good solution.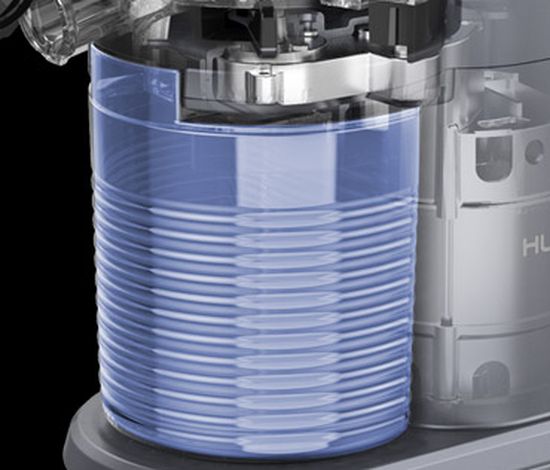 Previous Hurom juicers pushed out pulp out through a side vent, which could lead to clogs. The vertical option eliminates this risk, provides greater compactness and simplifies cleaning.
Model has fine and coarse strainer.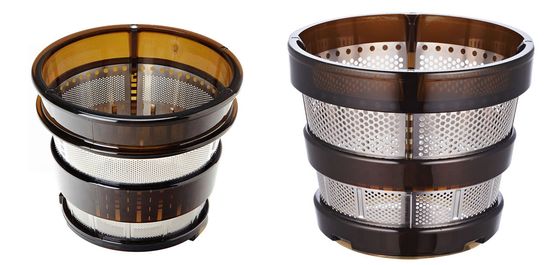 Making pulp free juice uses fine strainer. A coarse strainer provides perfectly pulpy juice.
Conclusion
Of course, Hurom H-AI self-feeding slow juicer is one of the most innovative models in 2018. Self-feeding smart hopper, 3 degree tilt and vertical pulp outlet set a new standard for usability in modern juicers. Unfortunately, the very high price that reaches $ 700 is its only, but serious drawback. This video demonstrates great features of Hurom H-AI One Stop.