Growing competition between the leaders of the household appliances segment dominants for several decades. As a result, companies are forced to constantly improve their products, ensuring a high level of its competitiveness. Of course, price and quality remain the main criteria when choosing. But the quality of modern models of the upper price segment has already reached the maximum level. As a rule, its further improvement is costly and, accordingly, adversely affects the price. Therefore, today this direction has practically exhausted its resource.
In this regard, many companies solve this problem by extending functionality. In fact, today it most effectively provides a high level of competitiveness of any modern device. But this direction requires active use of innovations, first of all, digital technologies. Innovative Miele dialog oven, LG OLED TV 65E8 and Samsung QuickDrive washer perfectly illustrate this trend.
Of course, smart home technology leads the list. Probably, many many people know LG AI DeepThinQ technology that company presented at CES 2017. This smart platform integrates LG household appliances. A year later, at CES 2018 in Las Vegas, the company introduced a new line of LG ThinQ products. As a result, the European Expert Imaging and Sound Association (EISA) awarded LG OLED Tvs with AI ThinQ support.
SmartThings app
Of course, Samsung does not lag behind competitors. Since 2014, the company has been actively developing them, especially after the acquisition of the SmartThings company. However, SmartThings and Samsung used their own platforms and apps. For example, Samsung has created Smart Home, Smart View and Samsung Connect to control home appliances and electronics. But in the spring of 2018, the company combined all the devices for a smart home in one platform with SmartThings app.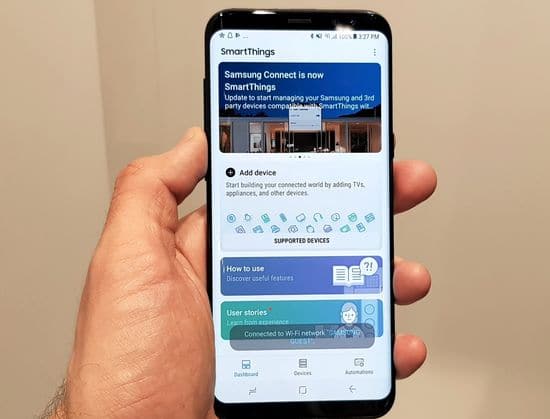 The new platform supports connecting Samsung devices and other manufacturers. Today all models marked «Works with SmartThings» support this technology. In fact, it's an improved version of the Samsung Connect app with enhanced functionality. It contains the main screen with basic information, a list of devices and automation.
Today the company offers Samsung Connected VR9300K robot vacuum cleaner and 4D FDR Samsung Family Hub Refrigerator with SmartThings support.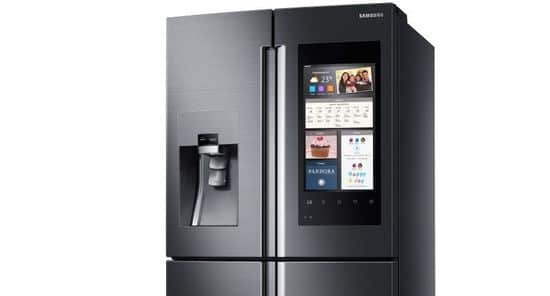 Samsung has revealed its new Dual Cook Flex smart oven with SmartThings support at the EuroCucina 2018 kitchen trade fair in Milan. But SmartThings is not the only and not the main innovation of this model.
Innovations
Dual-cook system provides the use of the upper and lower compartments as separate ovens.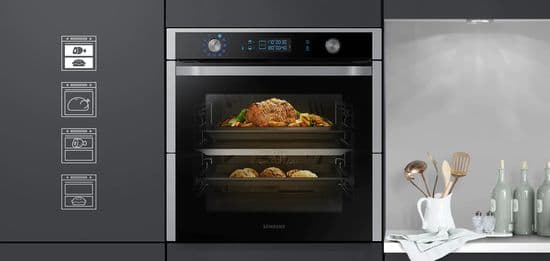 Accordingly, the cook can simultaneously prepare two different dishes at different temperatures for different periods of time. In addition, the hinged Flexible Door provides access to the upper compartment without cooling the lower chamber. Moreover, the removal of the divider creates a single bigger chamber for the preparation of large-sized dishes.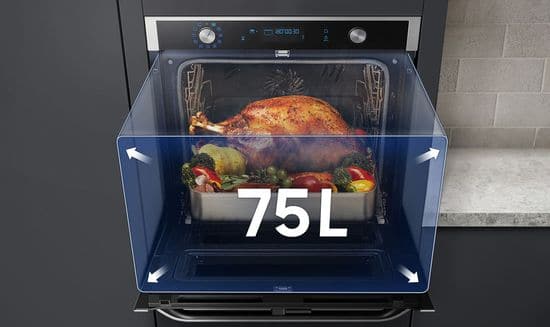 According to Samsung, using only the upper compartment reduces the preheating time to four minutes, and energy consumption by 20%.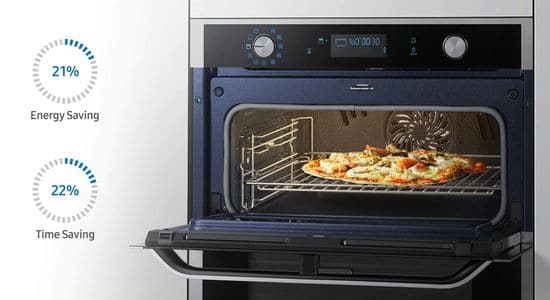 SmartThings app provides oven preheating, remote control of the cooking process and changes to its settings, and 40 pre-programmed cooking settings.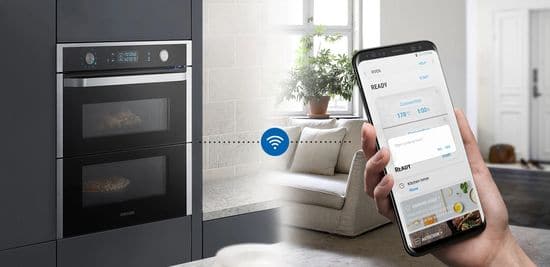 Unfortunately or fortunately, a person still has to independently put and take food from the oven, and eat it.
Cooking Guide recommends the optimal cooking mode for a dish for simultaneous cooking in the top and bottom half of the oven. My Recipe creates new recipes, and Scrapbook saves them.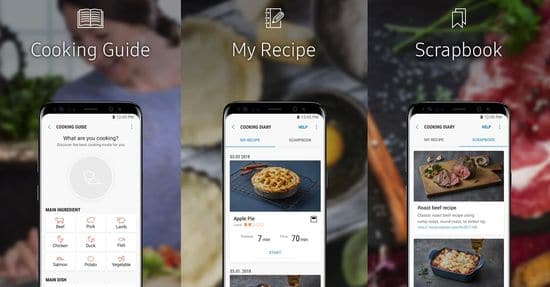 Telescopic rail slides greatly simplifies loading / unloading even large and heavy frying pans.
Pyrolytic Cleaning system heats the cavity to burn off any grease and residue left from cooking. Of course, today pyrolytic cleaning is considered the most progressive, but, unfortunately, this mode consumes a lot of energy.
Pro-Roasting mode heats to 220°C for initial surface roasting then automatically adjusts to the slow cook temperature, providing ideal texture inside and outside the dish.
Conclusion
PROS
– Duel Cook Flex Oven supports cooking the two dishes with different temperatures at the same time;
– large bright display;
– very accurate thermostat when using as a single and dual oven;
– SmartThings support, including Cooking Guide, My Recipe and Scrapbook;
– temperature setting in increments of 5°C;
– internal volume reaches 75 l;
– Pyrolytic Cleaning.
CONS
– strong heating of the oven door during cooking;
– the temperature difference between the upper and lower chambers when using a divider is limited to only 55°C.
Built-in Samsung Dual Cook Flex Oven with SmartThings is an intelligent and intuitive device with many useful features. This model is perfectly for grill, bake, and roast dough. Of course, it will be able to successfully compete with such traditional competitors in this segment as Siemens, Beko, Neff, Kaiser, etc. The video convincingly illustrates its excellent features.