Of course, quarantine has significantly influenced the trends in the consumer market. For example, many coffee lovers have been forced to give up the habit of leisurely sipping a cup of their favorite drink in a cafe. As a result, the demand for coffee machines has grown rapidly over the past year. Quarantine in schools and universities has provoked an increase in the popularity of learning services. But, of course, medical smart gadgets are the most in demand.
Razer Project Hazel
Renowned gaming accessories manufacturer Razer Inc was one of the first to respond to changing market conditions by introducing surgical masks in 2020. At the online CES 2021 (Consumer Electronic Show), the company presented the concept of the next generation.
The innovative Project Hazel smart mask is made from transparent, waterproof, recycled plastic that is scratch resistant.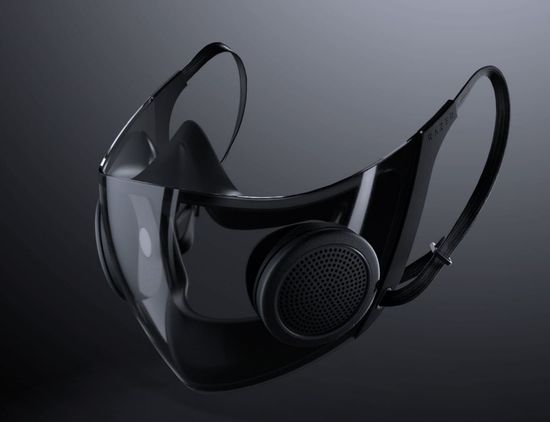 It has embodied many innovative solutions of modern smart gadgets, including a transparent screen with built-in filters, Razer Chroma RGB lighting technology, VoiceAmp technology with built-in microphone and amplifier, two valves with active ventilation, etc. According to the company, Project Hazel meets the American N95 standard, providing high bacterial filtration efficiency (BFE). In particular, it filters out at least 95% of airborne viruses and reliably protects against droplets in the air.
The fan provides fresh air circulation, heat dissipation from breathing, and and prevents the build-up of carbon dioxide. The integrated UV light effectively kills bacteria and viruses while charging. Two valves with active ventilation for inhalation and exhalation prevent fogging. The transparent design does not interfere with the visual perception of the interlocutor's facial expressions.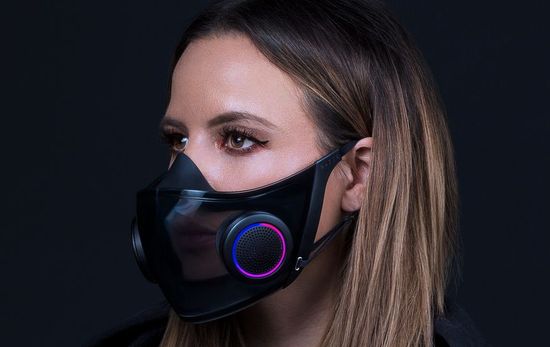 In addition, the colorful backlight is automatically activated in the dark, allowing people to see each other. The mask supports two customizable lighting zones using the Razer Chroma RGB lighting technology with 16.8 million colors.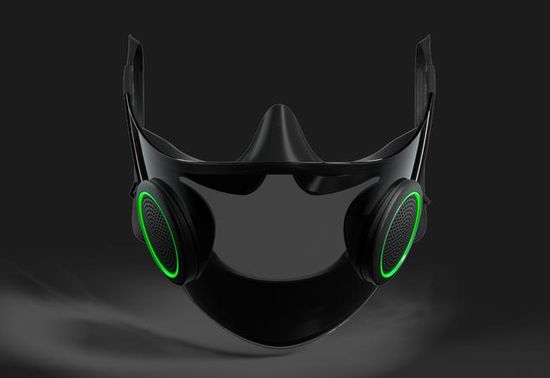 Probably, many gamers are familiar with this technology in Razer keyboards, etc.
The patent-pending VoiceAmp technology preserves distortion-free speech with a built-in mic and amplifier combo.
The model uses replaceable filters and rechargeable fans, ensuring stable gadget operation for a long time. What's more, wireless charging case with UV sterilizer makes this task even easier.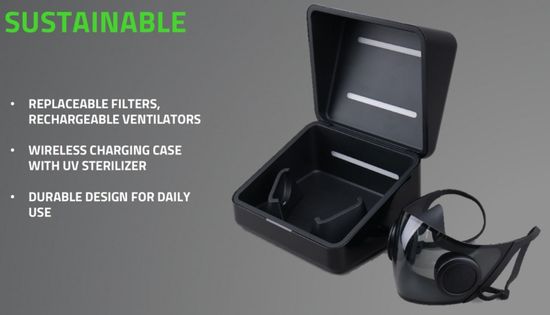 The model is currently undergoing certification.
xRapid xHale
The xHale mask from the French xRapid Group was another interesting novelty from last year. This an actively-ventilated gadget uses two integrated fans to suck in fresh air when you inhale and expel carbon dioxide when you exhale. The fans are activated by an air pressure sensor, maintaining maximum comfort between inhale and exhale cycles. Probably, synchronization and switching time between fans is a rather complex technical problem. Apparently, the developers solved it successfully.
According to the Kickstarter page, the mask is scheduled to enter production in January and ship in March 2021 with prices start at $ 99. The company plans to manufacture the mask in four colors and three sizes (S, M and L).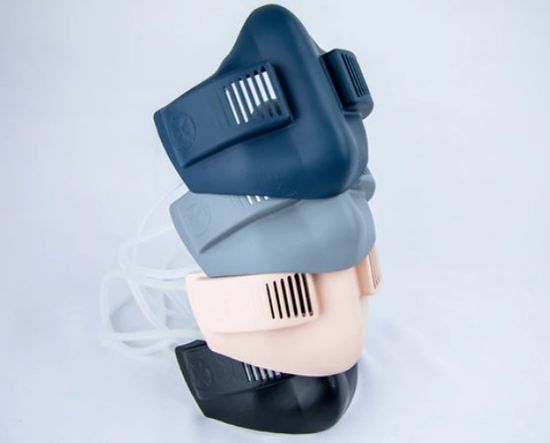 The mask uses FFP2 / FFP3 filters (Filtering Face Piece). As known, the FFP2 standard provides aerosol filtration not less than 94% at maximum 8% internal leak rate. For the FFP3 standard, these indicators are not less than 99% and not more than 2%, respectively.
According to the company, the operating time on a single charge reaches 8 hours. Charging uses USB-C.
In addition, the gadget can work with an app via iOS and Android smartphones.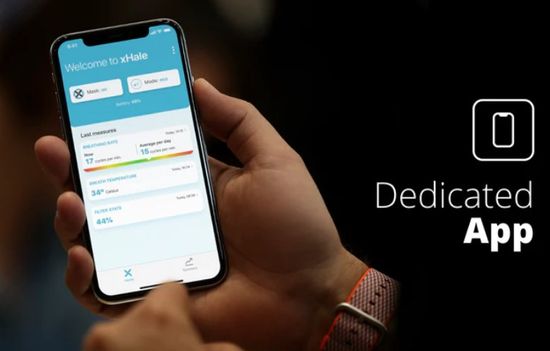 App constantly monitors the respiratory rate and compares it with previous indicators, providing live respiratory data.
What's more, xRapid offers the oxygen and pollution sensors to the mask.
LG PuriCare face mask
Today the active-breathing mask concept is one of the most popular. In particular, at the IFA 2020 Berlin tradeshow LG offered a face mask with a battery-powered air purification system.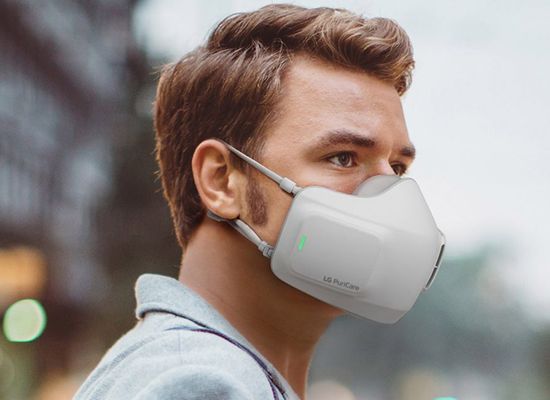 This model with two fans is the continuation of LG's PuriCare air purifiers. The company used high-performance H13 HEPA filters that capture up to 99.95% airborne particulates with a size up to 0.1 µ (micron). As known, the diameter of the new virus is approximately 0.125 µ.
The mask uses a patented respiratory sensor, which detects the speed and breathing volume, automatically choosing one of three fan speeds. Wherein, the fan to speed up when inhaling and slow down when exhaling.
A 820 mAh battery provides up to 2 hours of operation at max fan speed, and up to 8 hours at min setting. Additionally, the model has integrated UV lights to kill germs.
BioButton
Of course, masks do not exhaust the range of new medical smart gadgets. For example, BioIntelliSense, Inc introduced the latest BioButton system last spring.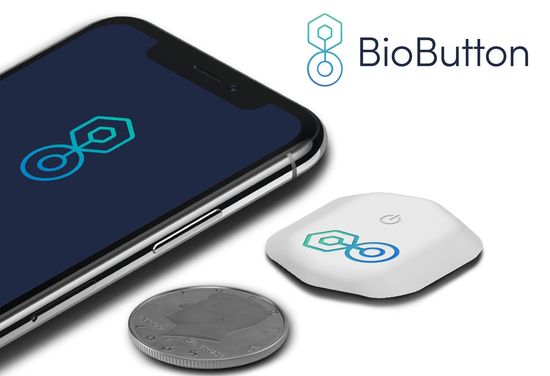 In accordance with FDA (Food and Drug Administration) guidelines, the miniature coin-sized device provides vital sign monitoring for up to 90 days, including temperature, respiratory rate and heart rate at rest measurements.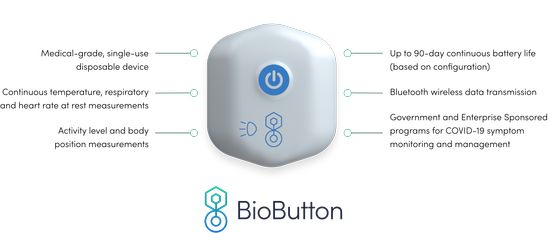 Moreover, the BioButton wearable medical-grade monitoring and BioMobile daily screening surveys establish virus risk status with 'Cleared' and 'Not Cleared' notifications.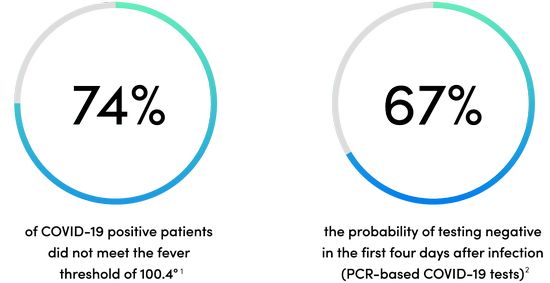 In fact, sharing the BioButton device and the BioMobile app provides an integrated medical grade solution.
Conclusion
According to xRapid, xHale will be available this spring. Razer promises to provide Project Hazel after its improvement. Of course, this prototype is the most innovative today.
Overall, the vigorous efforts of the companies are encouraging. Of course, solving this problem will significantly reduce today's discomfort from the use of not very comfortable traditional masks. Moreover, innovations may well turn it into a stylish and convenient gadget with additional smart options.
These videos introduce Project Hazel, xRapid xHale and BioButton.