As known, the SMEG Company was founded in Italy by the Bertazzoni family in 1948. Its name is an acronym for Smalterie Metallurgiche Emiliane Guastalla ("Emilian metallurgical enamel works of Guastalla").
SMEG is best known for its FAB range of 1950s-style, retro refrigerators that have curved corners. In addition, the company also manufactures dishwashers, washers, ovens, microwaves, and small domestic appliances, including coffee makers.
A few years ago, the Smeg developed the retro-style DCF01 drip coffee maker.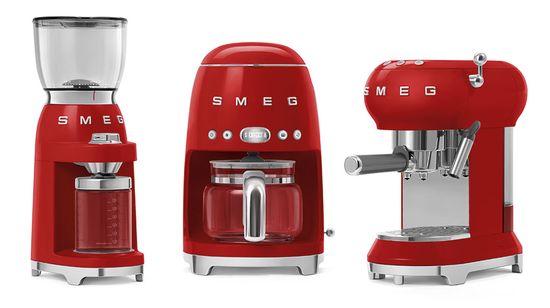 Last year, Smeg presented its improved DCF02 version. The huge variety of colors is one of its key features, radically simplifying the model choice in accordance with the interior.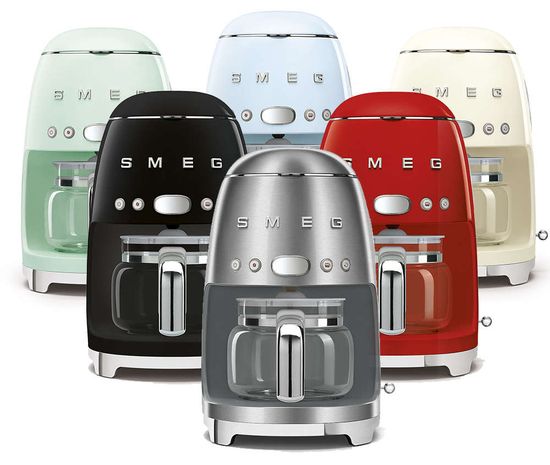 But, of course, stylish design isn't its only advantage. Good specs, wide functionality, relatively low price and excellent coffee made it highly popular among lovers of this invigorating drink. As a result, today it's often included in different top lists.
Key features
Capacity for 4 to 10 cups of coffee is one of the advantages of the model. For example, 10-cup capacity glass carafe is great for even a small party.
The list of main features includes:
– auto-start function (delayed start);
– keep-warm function;
– water hardness setting;
– 1950's retro style design;
– full-metal housing;
– anti-slip feet;
– anti-drip system;
– optional alarm sound after brewing.
– Aroma Intensity – coffee strength setting from intense to delicate by adjusting the extraction time;
– permanent filters included in the box.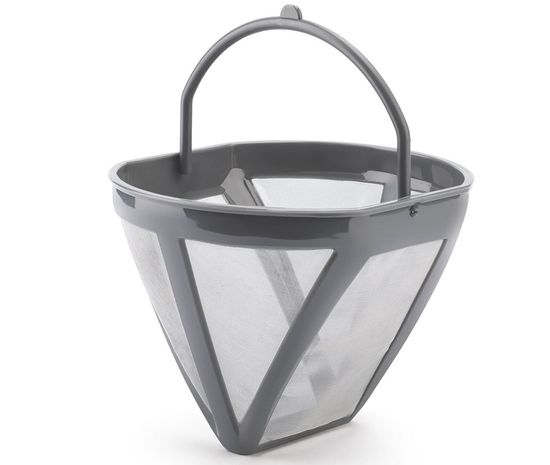 However, the coffee maker can also use paper filters.
The intuitive control panel with several buttons is designed to adjust the coffee strength and select the number of cups. In addition, a lever on the side provides setting the time, water hardness (hard, medium and soft) and beep sounds.
Unfortunately, all settings are reset when disconnected from the mains.
Despite its compactness, the model requires free space on the countertop without cabinets at the top due to steam during operation and topping up water. Of course, this doesn't pose a problem on a large countertop, but it can sometimes be inconvenient in a small kitchen.
The permanent filter and filter holder are dishwasher safe, making cleaning much easier. Unfortunately, the glass jug requires a hand wash. But it does not pose a problem because of the wide enough opening. Coffee maker also warns of the need for descaling needs. Of course, its frequency depends on the water hardness setting.
In terms of price and taste coffee, DCF02 competes with Melitta AromaFresh Grind and Brew with built-in coffee grinder.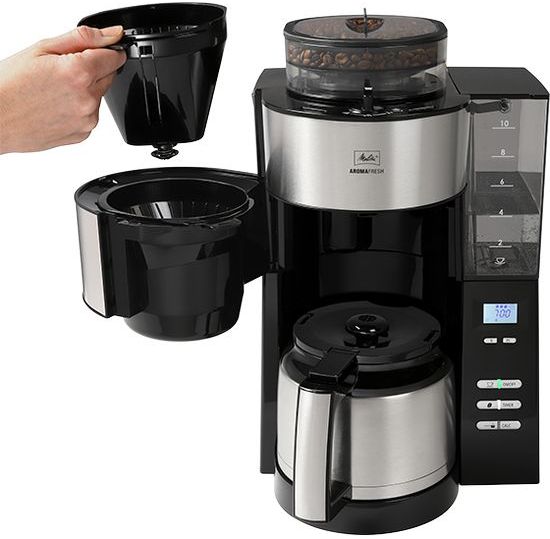 But, of course, the choice between a stylish design and a built-in coffee grinder depends on individual preferences.
Conclusion
Pros
– high organoleptic properties of coffee;
– very stylish design and many colors;
– auto-start mode;
– 4 cup brew mode;
– 10-cup capacity glass carafe;
– aroma intensity function;
– adjustable water hardness;
– keep warm mode;
– user friendly controls;
– permanent filter.
CONS
– lid interferes with filling water tank;
– keep warm function effective for too short time due to rapid cooling;
– too loud beep;
– reset of settings when disconnected from the mains;
– noise when turning on or off.
Overall, the $ 200 Smeg DCF02 drip coffee maker is an excellent choice in terms of design. 1950's retro style design and a wide selection of colors ensure its harmony with any interior. But value for money model is inferior to some competitors, for example, the Melitta AromaFresh Grind with a built-in coffee grinder, Chefman Froth & Brew coffee maker RJ14-SFB or De'Longhi 3-in-1 Specialty Coffee Brewer ICM17270. This video from Smeg demonstrates the DCF coffee maker.