Braun K650 Multiquick
K650 Multiquick provides power of 600W, has electronic control of speed and sealed bowl. This versatile and powerful Food Processor with 14 speeds operates very quietly and is washed in the dishwasher. It's also ideal for kneading dough. The rubberized bottom prevents slipping during operation. The models of this series are made of heat-resistant plastic in white that fits well in any interior.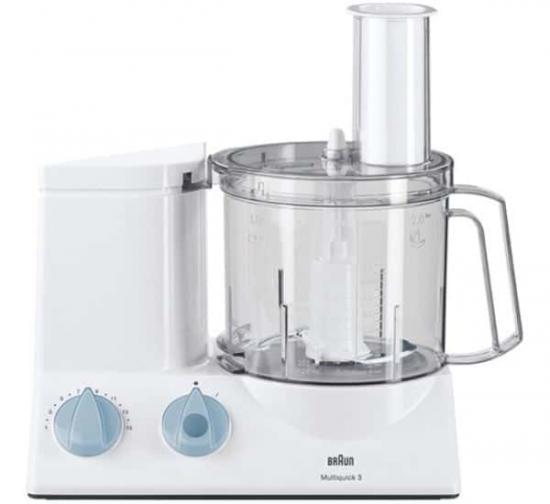 Unfortunately, a sufficiently large gap between the blade edge and the bowl walls reduces the mixing quality of the ingredients near the walls. Strong vibration at high speeds is another problem of this model.
Braun Multisystem 3-in-1 K 3000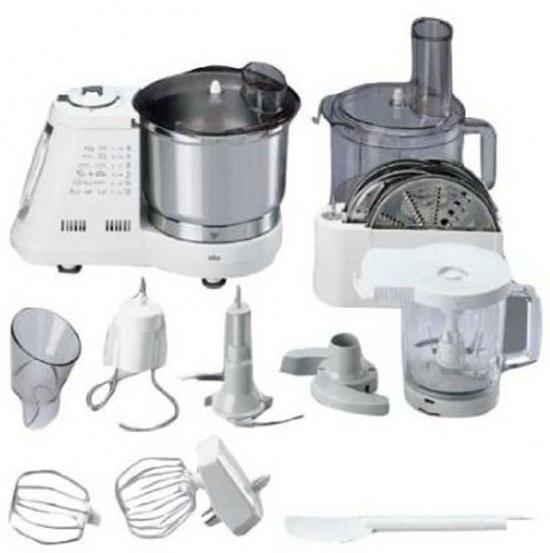 The cost of this powerful model is quite high. K3000 is equipped with a traditional set of functions and has an excellent set of accessories. Additional bowls for different products is a significant advantage of this model. Kit includes a plastic universal bowl for 2 liters, a glass bowl for grinding for 1 liter and a bowl of stainless steel for dough kneading for 4 liters. All bowls can be washed in the dishwasher. The variety of nozzles provides extensive functionality, including cooking the juliennes or the ice crushing for drinks. Model provides electronic speed control with electronic overload protection that is very important for a powerful engine. It operates almost noiselessly and is cooled by a separate fan. Unfortunately, the model is designed for Europe / Asia and requires a step-up adapter for power supply AC 100 ~ 120V.
Braun Combimax
Braun Combimax series includes the K600 and K700 models.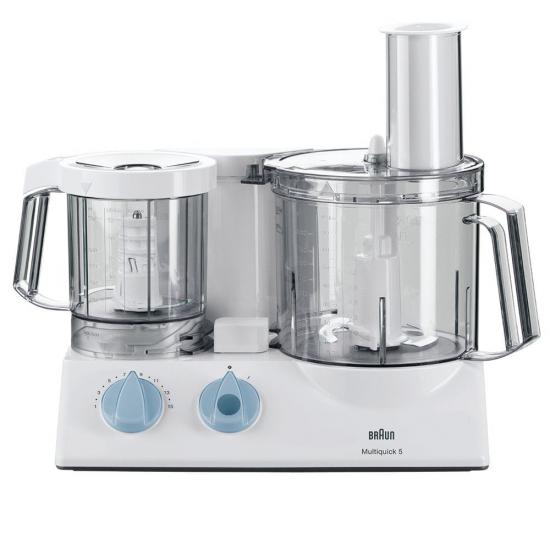 Extending the functionality is the priority of this series. A unique system of large and small cups is the main difference between K700 and K600. This engineering solution is very convenient. It provides cooking in several stages. For example, it's often convenient to grind a small amount of foods in a small bowl by 0.75 liters and transfer them to a large bowl. Accordingly, there is no need to wash the small bowl after this stage.
Both models have many different attachments. Kit includes nozzles for kneading dough, cutting, chopping, potato-cutting nozzle, nozzle with mini-grinder, juicers for citrus, fruit and vegetables. But the last two nozzles and a container for their storage are only supplied for the Combimax K700.
Braun Combimax have a smooth adjustment of the engine speed. The speed for the small bowl varies from 1200 to 10,000 rpm. Low speed is optimal for grinding some vegetables; high speed is required for sauces and mashed potatoes. The speed of nozzle rotation in a large bowl varies from 300 to 2000 rpm. Both models have a pulse mode.
Bowls, knives and other nozzles can be washed in a dishwasher. The power of both devices is 600 W. The motors have overload protection and double safety lock. Both models are equipped with a storage compartment for the cord.
The enhanced features of the new Braun Tribute Collection can be viewed on this video.