The idea of using blenders in everyday life belongs to Carl Sontheimer. Food Processors have become popular since the mid 70s of the last century. KitchenAid models are very popular in this segment. Ideal laconic forms, the use of steel and glass favorably distinguish the design of these models. KitchenAid Model K is recognized by the San Francisco Museum of Modern Art as one of the best examples of American design.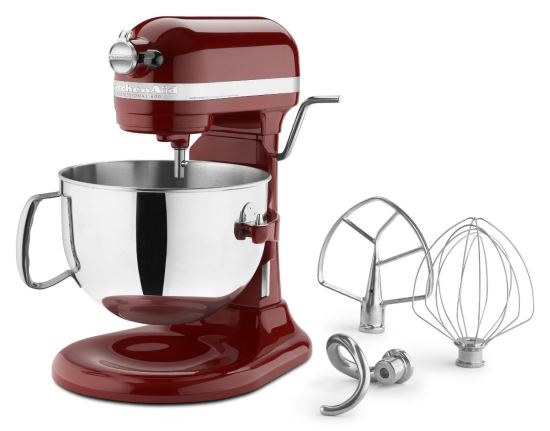 Wide functionality and innovative technologies are their main advantages. This list includes:
– high accuracy of cutting;
– manual or automatic adjustment of slice thickness;
– horizontal or vertical cutting;
– high power with a large number of speed modes depending on the consistency of the ingredients;
– reliable silicone seals.
KitchenAid KFP0711ER Food Processor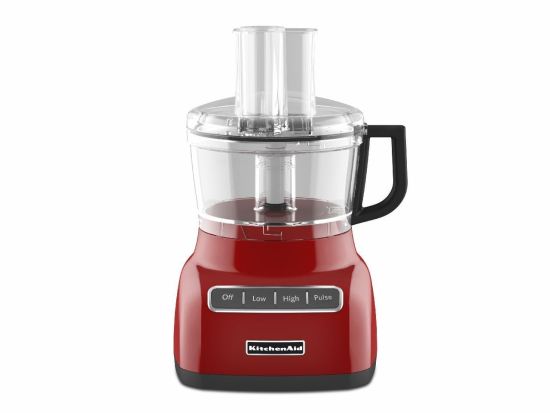 The capacity of its bowl is 7 cup bowl. The model power is about 336 W. Low, High, and Pulse modes provide selection of optimal speed.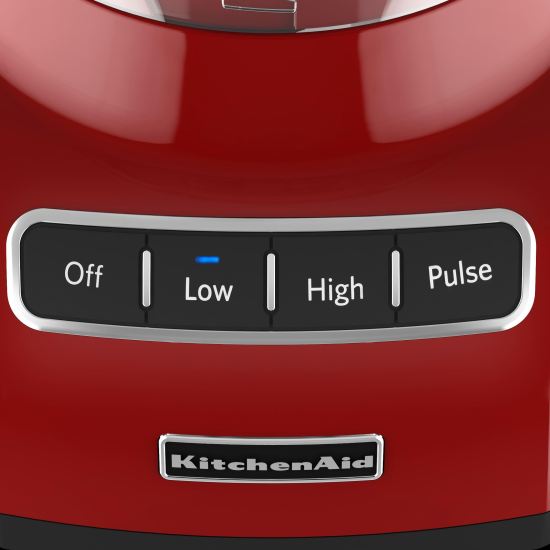 The KFP0711ER is compact and lightweight. Its dimensions are 15 x 10 x 10 inches. The weight is only 7 pounds. The 2-in-1 Feed Tube has a large and narrower opening for ingredients with different sizes.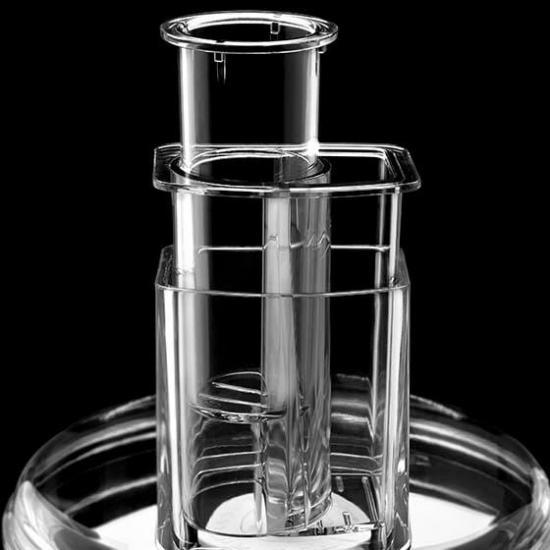 A leak-resistant ring reliably prevents splashing the ingredients during processing.
Pros:
– stylish design;
– compactness and light weight;
– low noise level;
– reliable sealing;
– selection of the optimal diameter of Feed Tube;
– three speed modes.
Cons:
– high price;
– locking mechanism is uncomfortable;
– buttons at the front are not very convenient to switch during operation;
– non-uniform cutting the some vegetables and hard cheese;
– warranty is only 1 year.
KitchenAid 5KFP1642 Food Processor
This model is available in six colors.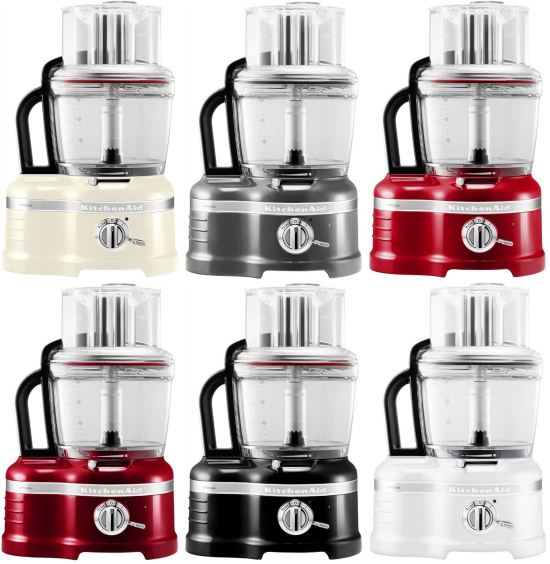 Model power reaches 650 W, and capacity of bowl is 16 cups. Patented Exact Slice System is very convenient for adjusting the cutting thickness.
Kit includes an attachment for mixing dough, a multi-functional stainless steel blade, a paddle, an egg whisk, a dice-cutting set, a removable cutting disc with adjustable cutting thickness, a two-sided shredded disc, a disc for cutting parmesan and ice, a disk for French fries and a disk adapter. Of course, such a set significantly expands the functionality of this model. Video demonstrates their use.
Testing was carried out for shredding, cutting, grinding, mixing, mashing, kneading dough, cutting by slices and cubes, whipping the proteins, citrus juice and chopping meat. KitchenAid 5KFP1642 coped with all tasks very quickly and efficiently.
Pros:
– stylish design;
– low noise level;
– high quality of assembly and materials;
– good steadiness on the table surface;
– magnificent set of accessories;
– wide functionality;
– wide color palette;
– large capacity of the working bowl;
– high engine power.
Cons:
– high price;
– insufficiently wide diameter of Feed Tube.