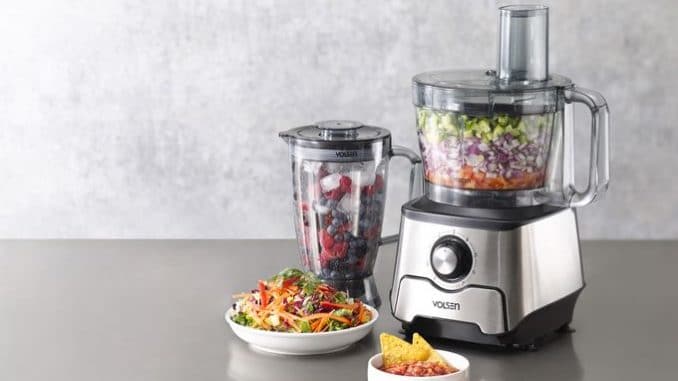 Hand grinder, mixers and other kitchen appliances have been used for over a century. In 1919, Troy Metal Products, the company tried to combine these functions in one device. But the first model of this class was cumbersome, inconvenient and expensive. Its cost reached $ 200 that was very expensive. It was not able to compete successfully with separate devices and this direction has not received further development.
Only in the mid-60s Pierre Verdun, the inventor and founder of the company's Robot Coupe, developed the first successful universal device that became the prototype of modern food processors.
Today they have become a familiar attribute of most modern kitchens.
The high popularity of food processors stimulates the efforts of companies in this segment. Therefore, the market offers a huge range of different devices that are equipped with specific features and can be classified as a food processor. The abundance of proposals sometimes makes it difficult to choose the optimal food processor. Of course, this depends primarily on the price and the main characteristics of food processor. Therefore, their classification can simplify this task.
A modern food processor can combine functions of blender, mixer, meat grinder, juicer, etc. Strictly speaking, any of these devices can be classified as a food processor with limited functions. The combination of different functions in one device has its advantages and disadvantages. Of course, the features of food processors, blenders, mixers and choppers best meet their primary purpose. Usually, a separate specialized device is more efficient and has higher performance. But every function in a food processor is cheaper. In addition, such a device requires significantly less space in the kitchen.
Device functionality depends on the model class and its accessories (bowls, filters, lids, etc.).
The list of basic and additional functions.
Mixing.
This function provides intensive mixing the ingredients and foaming the different liquid mixtures (e.g., cooking mayonnaise or dough for pancakes, mixing sauces, whipping a cream and egg protein, etc.).
This process is carried out with the help of special wire whisk that is fastened to the central rod of working bowl.
Companies are constantly experimenting with the whisk form to improve its efficiency. Double Balloon Whisk is one of the successful examples.
The lid of bowl prevents splashing during operation in this mode. Therefore, mixers and blenders without a lid require neat work.
This function is absent in the chopper.
Dough kneading.
The function is intended for kneading dough for pies, cakes and pancakes. Kneading is performed with the help of special wide blades or by hook.
Plastic blade additionally provides displacement of dough from walls to center of bowl, increasing dough uniformity.
Mixing liquid mixtures, shaker.
This function is intended for cooking the cocktails, mousses, etc. with the help of various specialized attachments.
Grinding.
Function provides grinding the various foods up to finely chopped or pasty consistency with the help of any knife. All devices have this function.
Grinding with auger is used for cooking a minced meat. The devices use traditional attachments, for example, feed augers, knives or separator. The power and efficiency is similar to traditional screw meat grinder. Modern market offers a wide range of additional knives, gratings with perforation and of various attachments to extend the functionality.
Virtually all kitchen combines are equipped with a nozzle for cooking minced meat. This accessory is quite expensive and rarely found in other devices.
Grater and shredder.
Cylindrical or flat nozzle with holes is used for cheese, vegetables, fruit and other products. The holes have a sharp edge for increasing efficiency. The kit may include several graters with holes of different shape and diameter. This option is present in the food processors and blenders with a specific nozzle.
The hole shape is the main difference between grater and shredder. The grater function is carried out with the help of round holes, and shredding uses slits.
The use of various discs is perfectly illustrated in the video at the end.
Cut shredder is intended for cutting vegetables with the help of closed bowl and nozzle with two blades.
Juicer.
Juicer is designed for cooking the fruit or vegetable juice with the help of nozzle and filter – mesh for juice separation from the pulp, peel and seeds.
Modern food processors are equipped with universal or citrus juicer. More expensive models have both types of juicer.
Citrus juicer has average performance from 0.8 to 1 liter per minute. The operation principle is identical to the traditional citrus juicer. Half of the fruit is pressed to ribbed surface of rotating nozzle.
Universal centrifugal juicer is well suitable for cooking juice from different fruits, berries and vegetables. The juice volume depends on the bowl capacity, and the time – on the power, consistency of products and other factors. Generally, operation duration complies with ordinary juicer. The relatively low efficiency is its main drawback. Usually, its does not exceed 50%. For comparison, a separate universal juicer provides up to 85% juice.
A nozzle for berries and boiled vegetables.
It's designed for cooking mashed potatoes and jelly of soft vegetables with the help of a special system.
Chopping.
Function provides grinding the solid products (coffee beans, nuts, spices, black pepper, etc.) to a powder with the help of a miniature closed bowl with a sharp two-bladed knife at the bottom. This option is present in a food processor and blender with corresponding nozzle.
Crushed ice.
This function is used for the preparation of fine crushed ice from ice cubes using blades with increased durability. Practically all modern devices have this function.
Cutting into cubes.
Function provides uniform cutting the vegetables and fruits with the help of knife and nozzle – mesh. This function is designed for cooking vegetable and fruit salads and is present in all devices.
Universal knife.
Two-bladed knife of stainless steel with curved blades is basic for bowl. It's very sharp and usually has a plastic cover for blade.
Pulse mode.
Turbo mode provides a sharp increase of rotation speed. It's typically used for fast and high-quality completion of operation. The pulse mode also is used for milling solid products (nuts, ice and so on).
Overload protection.
The fuse protects the electric motor from overheating and damage due to overload (e.g., at hit of bone into meat grinder).
Blocking is the most common way for motor protection. These models use the fuse from plastic. It interrupts the electrical circuit in case of increase the motor temperature above the permissible value.
Some models use a circuit breaker. It consists of two metal plates that are in contact during normal operation. Excessive current interrupts the electrical circuit between the plates due to their various thermal expansion. Circuit breaker automatically resets after switching off the device.
Scapula.
Plastic scapula significantly simplifies removal of recycled products from the working container.
Heating and cooking.
This function is quite rare and is only present in a food processor. It's intended for heating and steaming puree from vegetable and fruit. This function can also used for cooking the soups and baby food.
Emulsion nozzle.
This nozzle is intended for cooking the various dense homogeneous mixtures (sauces, creams, etc).
Rapid and uniform mixing is provided by nozzle with the guides on bottom.
French fries.
The disc with perforated insert provides cutting the potato fries. This dish was invented about 150 years ago and requires a special technology of frying and cutting. The disc cuts potatoes into long strips of a certain thickness.
Such nozzle also is used for cutting vegetables or fruit. It can be double-sided. The kit may include up to 3 discs for strips with different sizes.
Disk with a narrow longitudinal slit is intended for slicing, the thickness of which depends on the slit height. Modern models are equipped often with two-way nozzle with slits of varying heights or several different nozzles or a nozzle with adjustable height.