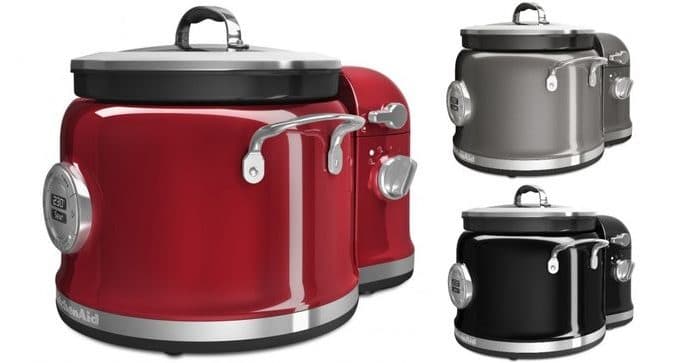 KitchenAid brand of household appliances belongs to Whirlpool Corporation that was created in 1919. Traditionally, high quality of assembly and materials, reliability and a large number of innovations have provided high popularity of this brand among consumers. Today company offers a wide range of KitchenAid models practically in all segments of kitchen appliances.
The shape of KitchenAid KMC4244CA Multi Cooker is similar to a soup pot.
The models of red color are the most popular. But this Multi Cooker is also available in cream, black or stainless steel colors.
Transparent insert of lid is made of heat-resistant glass with special drain holes. It's very convenient for visual control of the cooking process.
Control panel is equipped with a digital screen that displays time, temperature, name of programs and prompts.
Additionally, this display provides language selection and switching from degrees Fahrenheit to degrees Celsius.
Of course, Stir Tower is the main improvement of this model. The additional stirring device includes 2 blades that ensure uniform mixing and turning over of the foods.
Video at the end of the article demonstrates the work of this innovation.
Edges of the metal blades are covered with flexible silicone to prevent the cutting the food during the mixing process. Stir Tower is very easy attached to the base with a special latch.
The KMC4244CA is equipped with Even-Heat technology that ensures an even heat distribution. Its combination with constant mixing ensures uniform cooking throughout the volume of the pot.
This model supports two pulse modes with three speeds of rotation. The cooking temperature varies up 74 to 232 degrees С in steps of 2.77 degrees increments (or up 165 to 450 degrees F in steps of 5 degrees F). The pot capacity is 4 quarts that is quite enough for cooking for a family of 3-4 people. The pot surface is coated with Ceramic Shield coating that has a high resistance to mechanical stress. It's additionally equipped with a special spout for draining the water that opens when the lid is turned.
Design greatly simplifies the cooking process, eliminating the risk of burns during draining hot water, for example, after pasta cooking.
A metal basket for steaming and a grill for frying are combined in one accessory, reducing their number.
KitchenAid KMC4244CA provides almost all cooking methods. This list includes the following modes.
1. Roasting at 230 degrees. This mode is convenient, for example, for quick frying vegetables for soup or meat for braising. The temperature varies from 220 to 230 degrees.
2. Roasting at a temperature of 175 degrees. It's designed for cooking the omelet, scrambled eggs or traditional frying. The temperature varies from 160 to 190 degrees.
3. Baking at a temperature of 175 degrees. This mode is well suited for cooking baked pudding, pies, meat rolls, vegetables and fruits. The temperature varies from 165 to 190 degrees.
4. Steaming at a temperature of 100 degrees. This mode is intended for cooking dietary dishes, cereals and puddings, and for warming up dishes with a delicate texture. The temperature varies from 90 to 110 degrees.
5. Cooking at a temperature of 95 degrees. The mode is intended for cooking the soups and stews. The temperature varies from 85 to 100 degrees.
6. Cooking at low temperature in Slow Cook mode. The temperature in this mode is not adjustable.
7. Keep Warm. This mode turns on automatically and lasts up to 24 hours.
This model also supports six cooking modes with manual control, each of which provides cooking in several stages with step-by-step instructions. The order of the stages is adjustable. The list of programs includes Rice, Soup, Risotto, Pilaf, Porridge and Yogurt.
These programs actually provide traditional cooking on a gas or electric stove. Temperature modes vary in the following range:
– high temperature: 213-230 degrees;
– low 1 temperature: 74-90 degrees;
– low 2 temperature: 93-120 degrees;
– average-low temperature: 121-160 degrees;
– average temperature: 163-190 degrees;
– average-high temperature: 213-230 degrees.
The device timer can be used as a traditional kitchen timer. This model can also store in memory the temporary and temperature settings of cooking recipes.
Cons:
– impressive design;
– wide range of cooking temperature;
– stainless steel casing;
– high-quality durable coating of pot;
– convenient pot design with a spout for water draining;
– uniform heat distribution;
– constant mixing with Stir Tower;
– precise temperature control in the range from 74 to 232 degrees;
– Keep Warm up to 24 hours;
– simple control.
Cons:
– high price;
– delayed start option is unavailable;
– minimum cooking temperature is 74 degrees that is not suitable for some recipes;
– Stir Tower operation is accompanied by a rather high noise level.