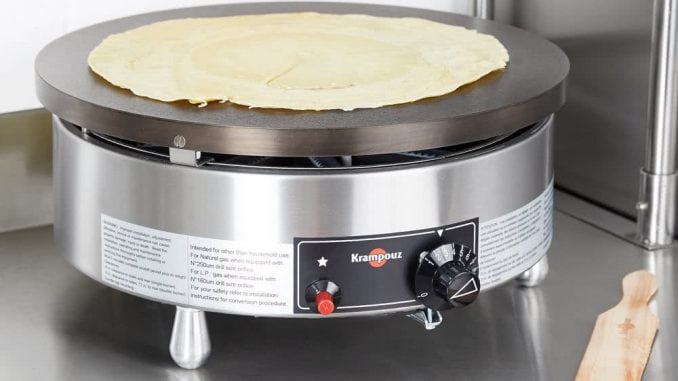 Krampouz Company is a manufacturing company that is based in Brittany and France. It develops and manufactures a wide range of commercial and household cooking equipment, including crepe makers, waffle makers, panini grill and etc. Assembly factories are located mainly in France. The good reputation of this company's products is due to its high quality. Unfortunately, the price is also quite high.
1. Krampouz CB104 Electric Crepe Maker CEBIV4JO
This model has power of 3 kW and provides an ideally even heat distribution throughout the work surface. The model weighs 35 lbs. Its height and diameter is 5 and 13 inches, respectively.
Model has wooden spatula and spreader. The gap between cast iron griddle and appliance is protected from splashes with the help of stainless steel band. The working surface temperature varies in the range 50-300 degrees. CB104 provides 4 hour continuous operation time. Effective thermal insulation of elements reduces heat loss.
The cooking process with the help of this model can be viewed in the video in the article`s end.
2. Krampouz Diabolo series
These models are designed to prepare pancakes with a diameter of 13 inches. The working surfaces of all models have non-stick coating. Patented Batter Spreader is the main advantage of this series.
It has a triangular shape and is intended for uniform distribution of the dough on the working surface. Batter Spreader is fixed to the body of the device. Its rotation in a circle distributes the dough evenly. This technology is very simple and convenient.
The series includes CEBPB2VO, CEBPB2AO and CEBPB2SO models. Krampouz Diabolo has a stylish design and is available in several colors.
CEBPB2VO is made in black. CEBPB2AO has purple color, and CEBPB2SO has a light green color.
All models are equipped with sliding thermostats for temperature control.
Kit includes a Batter Spreader, a container for its cleaning, a dough ladle, a wooden spatula beech, an additional traditional spreader for the dough and a recipe book. The device power is 1250 W.
3. Krampouz CEFIA2AO Passion
Krampouz also produces models for the simultaneous preparation of four pancakes.
Krampouz CEFIA2AO Passion prepares pancakes, potato pancakes, rolls and much more with a diameter of 5.5 inches. The device has a stainless steel case and working surface with a non-stick coating. The control is carried out by means of a rotary thermostat and a light indication of the heating mode. Kit includes a book of recipes, two containers and six accessories for pancakes. The device power is 1600 watts.
4. Krampouz CECIG3
This model is an electric professional Crepe Maker with two heating elements. They are much wider compared to similar models of this class. The device bakes pancakes quickly and accurately even at low temperatures. This technology provides low energy consumption due to a lower cooking temperature.
Each heating element has a power of 3.6 kW and a diameter of 15.7 inches. The operating temperature varies from 50 to 300 В° C.
A special thermostat provides an accurate heating temperature. Indicator lights up when the pancake is ready. The case of this model is made of stainless steel AISI304 grade.