Of course, today market offers Bosch mixers in a wide range. As known, the German company produces hand and stand mixers. Of course, the stand model has a base. But practically all modern models have removable design and can work in both modes. Popular ErgoMixx series includes several models .
Bosch ErgoMixx MFQ36460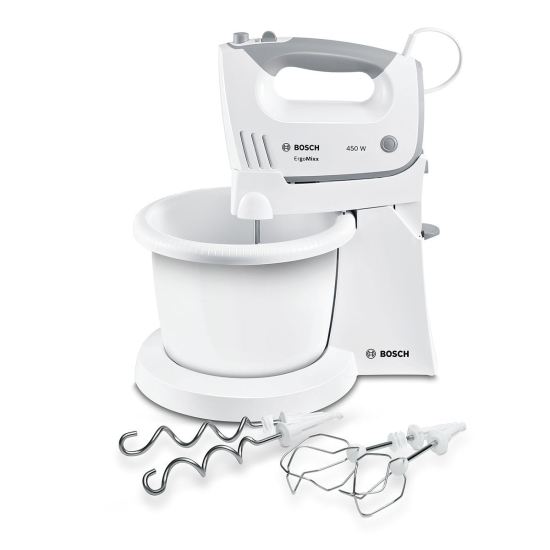 This model has power of 450W. Moreover, it provides five speeds and turbo mode.
MFQ36460 has four nozzles, two of which provide dough kneading. The mixer has a low noise level. Additionally, the working bowl rotates during operation, improving the mixing quality. Unfortunately, plastic bowl has only white or gray color. Of course, all removable parts can washed in the dishwasher.
Bosch ErgoMixx MFQ36480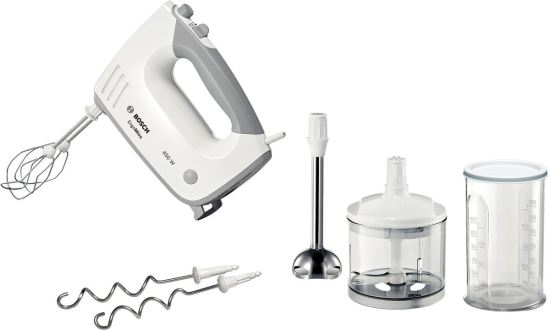 This model also has power of 450 watts, five speeds and a turbo mode. Button on the case provides simple and convenient replacement of nozzles.
Of course, this mixer has traditional set of accessories that contains whisk for mixing and whipping, hooks for kneading dough and a blender with a steel leg. But additional measuring cup and plastic container-chopper with a metal knife-impeller expand the mixer functionality, providing its multifunctionality.
Traditionally, the handle has excellent ergromica. An ideally balanced gravity center and an Soft Touch coating to prevent slipping ensure its convenient and safe use.
Bosch ErgoMixx MFQ36440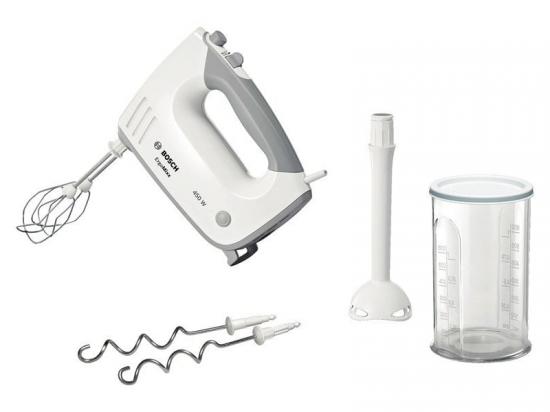 The Bosch ErgoMixx MFQ36440 is also equipped with an electric motor 450W and provides a choice of one of five speeds or turbo mode. The handle has a soft touch coating to prevent slipping. This mixer has two containers for whipping and mixing, two hooks for dough kneading with different consistency, a plastic measuring cup and a blender with a metal knife. But the blender leg is made of durable plastic. Unfortunately, it can partially change the color due to the impact of the juice of some foods. This model does not support the grinding mode.
TURMIX mixer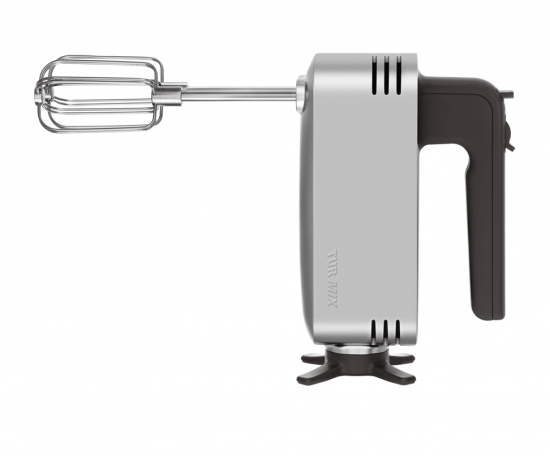 DKB Household Switzerland AG is well known in the market. This company specializes in the development and manufacture of kitchen appliances for over 80 years. Products under this brand are traditionally distinguished by high quality and, unfortunately, quite high price.
This model also belongs to the premium class. TURMIX mixer is made of metal and high-quality black plastic.
The controls are located on the handle. This model is multifunctional and can be used as a hand blender, stick blender and dough-kneading machine. The mixer is equipped with two mixing bars, two hooks for kneading dough and a blender with a metal foot and a knife-chopper.
Mixing bar is a distinguishing feature of the model. It has eight loops instead of the traditional four. This design significantly increases the productivity and mixing quality.
The maximum power of the submersible mixer is 250 W. This model has three speeds and turbo mode. Replacement nozzles are carried out using the button on the body. Automatic winding the electric wire is an additional advantage of the model.
The video demonstrates the work of this popular model.