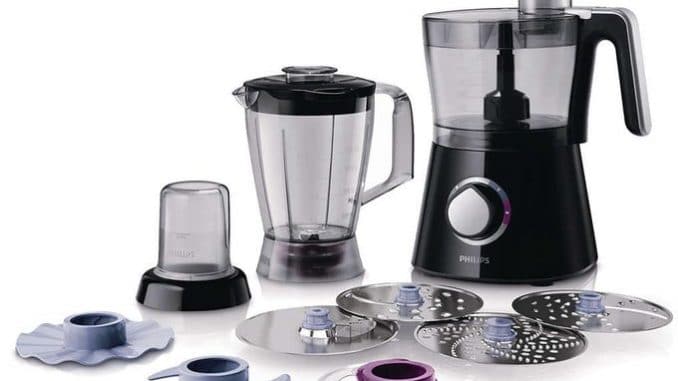 1. Philips HR7761 Viva Collection.
The power of this model is 750 W. It uses PowerChop technology, supports two-speed mode of operation, 28 functions and is equipped with an excellent set that includes eight different accessories. They provide cutting, grinding, kneading dough, etc. Emulsifying disc is intended for making whipped cream and mayonnaise. PowerChop technology is based on the optimum combination of blade shape, cutting angle and geometry of inner bowl with capacity of 2.1 liters. Virtually all removable parts are washed in a dishwasher.
PROS:
– sensitive pulse adjustment;
– washing in the dishwasher;
– high efficiency of grinding;
– the versatility of the blade for the mini chopper and blender;
– marking the accessories and modes is very convenient for choosing the optimal speed;
– mini-chopper is very convenient for additional fine grinding;
– easy assembly/disassembly.
CONS:
– too much clearance between the disc and the lid is not very convenient;
– not very effective granulating disc;
– tightness of the blender is reduced at maximum power;
– consistency of bread dough is uneven;
– poor rise of cakes;
– there is no compartment for accessories;
– average quality of whipped cream.
2. Philips HR7774.
Philips HR7774 is one of the main models of the company.
HR7774 is a compact food processor. High power (1000 W), pulsed setting of the grinding degree, 7 accessories, adjustment of the cutting degree from 1 to 7 mm, very simple assembly / disassembly and large diameter of feed tube are the main advantages of this model.
The increased power and 7 nozzles significantly expand functionality. This model provides execution of thirty-one technological operations.
The stainless steel blade is intended for making minced meat or dough, providing the function of an integrated meat grinder that is not available in this model. Adjustable disc is designed for cutting slices, thickness from one to seven millimeters. The cooking emulsions and mixing is carried out with the help of a spherical nozzle. Blender is very convenient for mixing, grinding and preparing a thick puree. This model is also equipped with a traditional citrus juicer. The large diameter of the feed tube ensures the supply fruits and vegetables without pre-cutting.
3. Philips HR1647 / 03 Avance Collection Hand Blender.
This model is a novelty. Unfortunately, it's designed for Europe / Asia, has a plug with two round pins and requires 220V ~ 240V. Therefore, the use of a power supply AC 100 ~ 120V requires a Step up voltage transformer.
The power of the model reaches 700 W. Blender uses ProMix blending technology and SpeedTouch button for intuitive control of power.
The possibilities of kitchen appliances from Philips can be seen on this video.