Foods intensively emit the fat during heat treatment. Cleaning the working chamber is time-consuming and requires physical effort. Therefore, companies pay much attention to this aspect, constantly improving cleaning methods. The cleaning technology significantly affects the cost and usability of the model, which is important when choosing a range stove. Modern models use three most effective technologies that are based on catalysis, pyrolysis and hydrolysis.
Catalytic cleaning
The inner walls of these models are covered by special porous enamel that contains oxide of cerium, manganese or copper.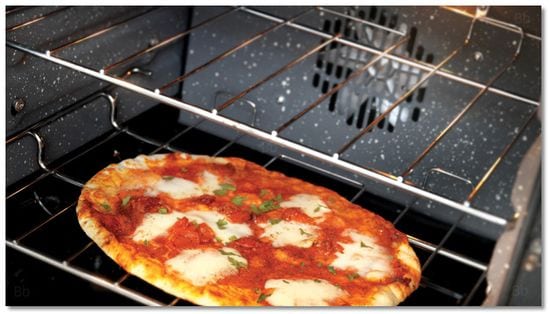 The pores in enamel layer contain the catalyst particles that accelerates the splitting process. The fat particles are decomposed into water, carbon and organic residues. Catalytic purification is performed at a sufficiently low temperature, because the oxidation temperature is only from 140 to 200 degrees. It can be performed during cooking. After its cooling, the inner surface is wiped with a damp cloth.
Some manufacturers offer additionally to use a special fat filter.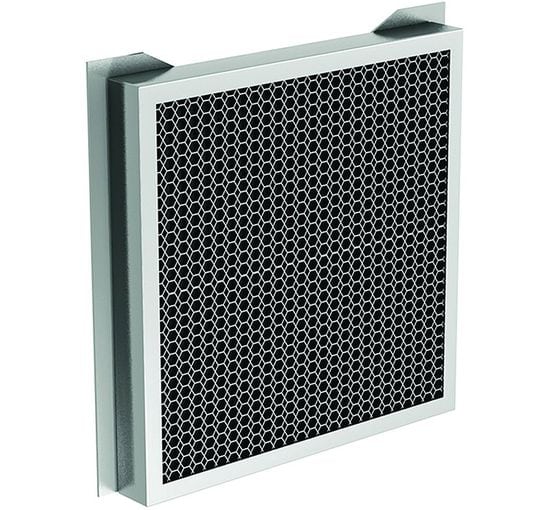 Pros:
– catalysis can be used in electric and gas models;
– self-cleaning is performed during cooking and requires only of control.
Cons:
– service life of catalytic panel is approximately 300 hours. Then it must be replaced with a new one;
– the material quality significantly affects the model cost;
– porous enamel usually covers only the chamber walls. Models with coating the entire surface are more expensive;
– the oven door is cleaned manually.
Pyrolytic cleaning
This technology is the most aggressive and effective. Pyrolysis provides burning the food residue before the ash status. This method provides the most complete self-cleaning. The fat remnants of food are burned when exposed of very high temperature which reaches 500 degrees.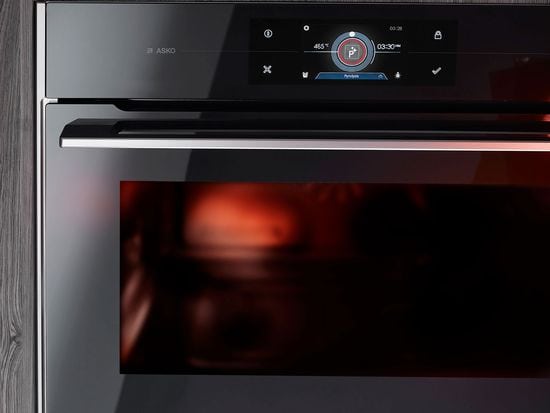 The oven door is blocked during pyrolysis for safety purposes.
Pyrolysis is accompanied by a high electricity consumption. Therefore, these models often require the purchase of additional power cable that is calculated on 6 kW and more.
Today ovens with pyrolysis function are quite popular. Bosch and Gaggenau Companies offer the models with multi-level pyrolytic cleaning that saves energy, because the greater part of food residue are burned at a temperature of 250-300 degrees.
Pros:
– self-cleaning is performed together with trays and grills in the working chamber;
– today pyrolysis is the most effective way of self-cleaning;
– high quality of coating the camera surface.
Cons:
– high cost of these models;
– negative influence of high temperature on furniture. Side walls of the oven are very heated during pyrolysis. Standard furniture usually can withstand temperatures up to 70 degrees;
– absence of telescopic guides in models with pyrolysis.
Hydrolysis or steam cleaning
Hydrolysis cleans the oven with the help of steam at relatively low temperature. Water and cleaning agent is poured into baking tray.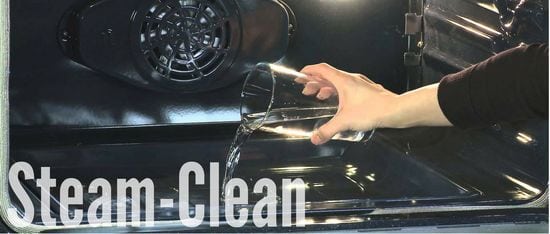 Then the water is heated and turns into steam. Cleaning time is about an hour at a temperature from 50 to 90 degrees. Steam with cleaning agent partially dissolves the dirt. The pollution remnants are cleaned manually. Therefore, hydrolysis provides self-cleaning only partially. This method is effective before the fat will harden.
Pros:
– low price;
– low power consumption compared to pyrolysis and catalysis.
Cons:
– partially manual cleaning;
– cleaning immediately after the oven cooling before the fat will harden.
Conclusions
– catalysis and hydrolysis are effective at a rare use, for example, once a week or less;
– pyrolysis is well suited at frequent and intensive oven use.
The self-clean with steam option is demonstrated on this video.