Range stove is one of the main devices in the kitchen and has been in constant demand in the market since the beginning of the last century. Of course, the competition between manufacturers is very high in this segment. As a result, the market today abounds in a wide range of different types. But this variety often complicates the choice of the optimal model. Therefore, the classification can simplify this task.
Usually, any classification of technically complex devices is ambiguous because of fuzzy criteria. For example, the traditional subdivision into gas and electric models is partly meaningless due to the large number of combined models that simultaneously use gas and electric burners. Therefore, the use of a simplified classification on the basis of spontaneously formed terminology seems quite justified.
According to it, freestanding models are classified as cooktop or hob. Gas models with a wall oven are often called range stoves or ranges. Freestanding oven is positioned as a wall oven. Each device is characterized by its own functionality and a set of technical characteristics.
Cooktops and wall oven have their own control panel that greatly simplifies their placement in the kitchen. Of course, such models are compact and cheaper than the full-size range stove, but they are significantly inferior in functionality.
Modern electric models provide the cooking temperature in the range from 35 to 300 degrees with an accuracy of 5 degrees. Unfortunately, these models consume a large amount of electricity.
Convection oven cooking
Many electric models support convection function that provides blowing the foods surface by hot air. Of course, the blowing from all sides significantly reduces cooking time and ensures uniform cooking. Usually, these models use a turbine or fan on the rear wall for intense convection of hot air throughout perimeter.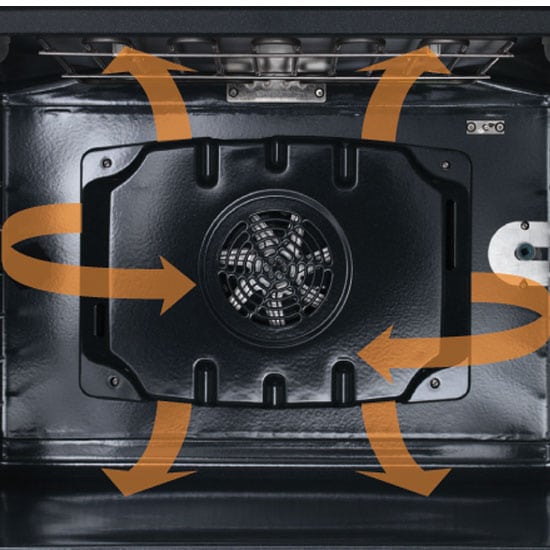 Typically, convection models provide a large number of various modes and have several heating elements, the number of which varies from 2 to 4. The features of this mode are perfectly demonstrated on the video at the end.
Heating elements are usually placed on top and bottom. However, manufacturers also place them in the side walls. Additionally, models can use any combination of them depending on the selected mode. For example, some models use heating element in the form of ring on the rear panel.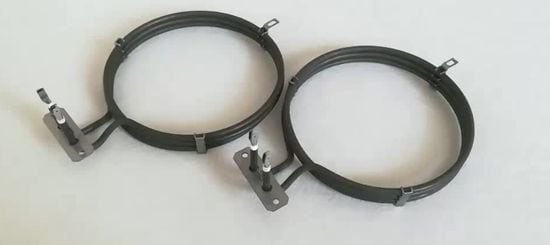 This design provides a maximally even distribution of hot air throughout the volume.
Gas convection models are more economical due to energy prices. The devices functionality is identical. These models are often equipped with an upper or lower heating element. Fan, usually, is absent. But more expensive models often have the function of forced air circulation to more uniform heat treatment during cooking.
Dimensions and material for inner covering
Almost all modern models have standard dimensions with a width of about 23,5 in and depth from 19,5 to 23,5 in. Width of some full-size models varies from 27,5 to 43 in.
Coating for for internal surfaces is characterized by reliability, durability and cleaning ease. GranitEmail coating with a non-stick is one of the most popular.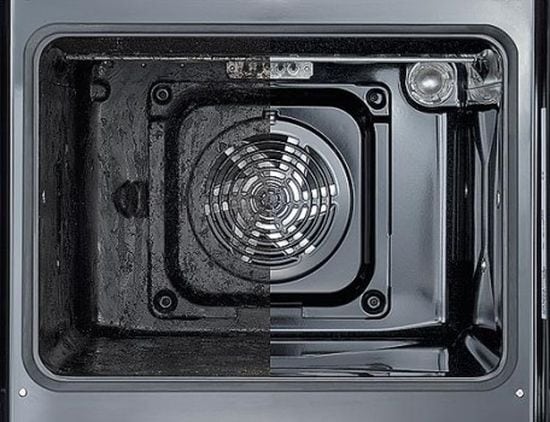 Thermal processing in the cooking process is accompanied by a plentiful exudation of fat and juice. Cleaning the inner surface takes a long time. Therefore, companies pay much attention to this problem. Modern models use catalytic, pyrolytic or steam methods.
Catalytic cleaning is based on a special coating that accelerates the decomposition process fat molecules. The lifetime of such coatings is an average of 5 years.
The pyrolytic cleaning is based on the pyrolysis. Fat is burned using a high temperature, which reaches 500 degrees. Then ash is cleaned with the help of cloth. These models are the most expensive.
Hydrolytic method is used in the models with heat-resistant enamel. Water is poured into baking tray and is placed inside oven. The inner surface is cleaned with the help of hot steam.
Functionality
Modern models are equipped with a large number of different functions that significantly affects the model cost.
Quick Defrost is designed for quick defrosting the food with the help of simultaneous operation of all heating elements. Mode automatically turns off after reaching the set temperature.
Grill function provides formation of a crispy crust on the surface of the dish.
Cold air blowing is designed for cooling the hot cookware. Cold air enters through the holes in the side walls.