Equipment for cooking is an indispensable attribute in any kitchen. Therefore, the demand for it is consistently high. Today the market offers various solutions, including traditional cooktops, kitchen ranges, wall ovens, microwaves, etc, and more modern multi-cookers, etc. Additionally, high competition stimulates companies to actively use various innovative solutions in terms of heat treatment technologies. Therefore, the choice of the optimal device depends on many factors, including its price, functionality and design.
Cooktops are one of the most common devices. Reliability, compactness, simplicity and relatively low price provide them with high competitiveness compared to other devices. Today, the market offers a huge number of different models in this segment. Of course, their key features significantly affects the choice of the optimal model. Therefore, classification of this segment can be useful.
The list of basic criteria includes the type of burners and heating elements, design and material.
Types
Modern cooktops use gas and electric burners.
Gas models use gas burners whose power varies from 100 to 3500 W.
Today electric models use the spiral, halogen, ribbon (Hi-Light) or induction electric heating elements. Of course, induction heating elements are the most modern, but they are used only in expensive models.
Combined models combine gas and electric burners. The most common ratio between them is 3/1 or 2/2. These models can use gas and electricity.
Gas models are the most traditional and familiar. They have long established themselves as simple and reliable devices. Gas models are adapted to the classic interior of the kitchen. The range of models is very diverse. Therefore, the user can easily select the appropriate model.
Almost all modern models can easily be connected to the oven using a special gas supply hose.
The cost of the standard model is significantly lower compared to the built-in models.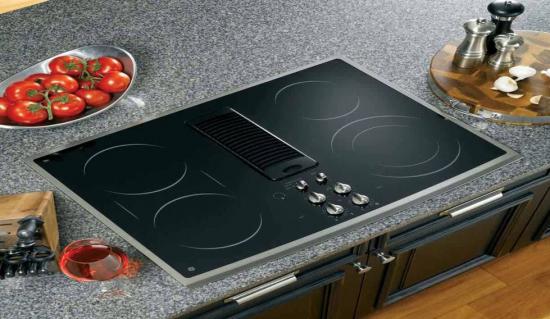 The electric model has a flat housing with a thickness of about 1.2-2.4 in that is placed in the countertop. But it must be located on distance no closer 1.6 in from the wall or furniture. Electric cooktops have usually rectangular or hexagonal shape. Depth of rectangular panels is about 23.6 in. The width varies from 10 to 35 in. Narrow model with two burners is often called a domino. They are ideal for forming the optimal configuration, including the possibility of combining different types of heating elements.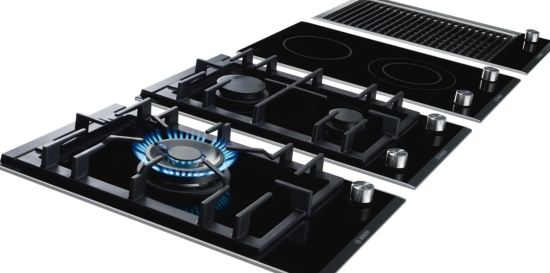 Pros:
– safety.
Lack of an open fire eliminates the risk of burns. The possibility of gas leakage is also excluded. Electric models not consume the oxygen due to flame absence.
– care.
Electrical surface, especially glass-ceramics, is very easy cleared due to the smooth and flat surface and the lattices absence.
Cons:
– cookware.
Electric panels require the dishes with a flat bottom. Also, the size of it bottom must match with the cooking zone diameter.
– cooking time.
Electric burners require some time for heating, except of induction hotplates.
Combined panel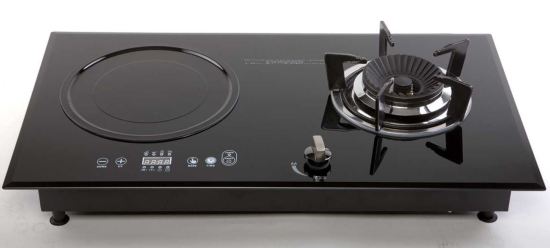 These models combine the electric and gas burners in varying proportions. Therefore, these models combine the features of gas and electric hobs. Today the range of combined models is much smaller compared to mono-models. The possibility of using various energy sources is a major advantage of such panels.
Material
Modern cooktops are made from enamel, aluminum, steel or glass-ceramic.
Enameled surfaces are inexpensive and have a wide color range. But cleaning the enamel requires some effort. Enamel is sensitive to mechanical actions, and over time, is covered with cracks. Of course, they worsen the appearance and make it difficult to clean. White, black or brown colors are the most common.
Aluminum surface looks unusual, but it's convenient and practical. These models are inexpensive. Aluminum is resistant to mechanical and thermal effects. But it's sensitive to scratches. Therefore, the use of abrasive powders is not recommended. This surface also retains moisture and fingerprints.
Stainless steel surfaces have a polished or matt surface. This surface is easier to clean than enamel. However, maintaining a constant gloss requires the user to perform some work with using the special cleaning agents.
Glass-ceramic models are most expensive and popular. Stylish appearance provides them a great advantage compared to other coating types.

Domino
The number of burners varies from 2 to 6. But models with 4 or 5 cooking zones are more common.
Narrow panels with one or two burners are often called a domino. Domino is a separate line of built-in surfaces for cooking. They are made in a unified design style and look like a single architectural ensemble. These narrow modules can be combined into a single modular system. For example, electrical and gas modules can be combined into one cooktop.
This design is ideal for forming the optimal configuration by providing the addition of grill , deep fryers, concave WOK burners for cooking oriental dishes, table hoods, built-in food processor, stand for hot dishes, scales, etc.

Domino elements are placed separately or together. Special connection cables provide the installation of modules with each other. The Dominoes series is specially designed for small kitchens.
The advantages of this solution are convincingly demonstrated in the video at the end.
Burner
Many modern models are equipped with dual circuit burner with variable heating zone that includes two concentric circles with different diameters.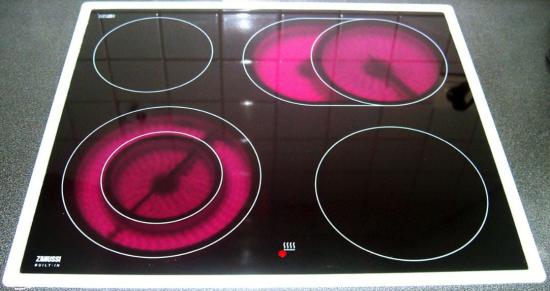 This function is designed for selection the cooking zone diameter in accordance with the size of the cookware. Selection is carried out by lightly pressing the touch button or by simply turning the knob. Some electric models are equipped with a special sensor that automatically controls the cookware size and selects the optimal diameter. Dual circuit burner provides energy savings by choosing the optimal heating zone.
Oval heating zone is very convenient for cookware with an oval bottom (pallet for fish, etc.). Oval is transformed from a circular shape with the help of an additional heating segment.
The glass-ceramic burner provides high power and almost instantly heats up to the set temperature. The cooking temperature is constant during cooking. Adjustment of the set temperature is also carried out instantly.
Design
Cooktops also are divided into built-in and freestanding models. Built-in models only work together with an oven and do not have a separate control panel. This design is familiar and comfortable enough. But ovens and cooktops from different manufacturers are incompatible with each other. Companies do not always guarantee the compatibility of their panels, even with their own ovens. Many companies give a special table of compatibility for their models.
Freestanding model has its own control panel and is not related with oven. Modern models use conventional knobs or touch panel.