Drip coffee machines are traditionally one of the most popular. Today they successfully compete with compression (carob) espresso coffee machines and steam coffee machines.
As known, this device was invented by Paris Archbishop Jean-Baptiste de Bellua in 1800. It was consisted of a vessel for hot water, fabric filter and container for coffee. Of course, further their design was continuously improved. Of course, today they have a stylish modern design and are presented in the market in a wide range practically in all price segments.
Operating principle
These models use percolation method for coffee making. Therefore, this coffee maker has the separate containers for cold water and for finished coffee.
Initially, the water passes through a special heating circuit in form of thin tube and is transformed into steam. Then, the vapor rises up and condenses. Usually, Temperature of condensate reaches 87-98 degrees. It slowly percolates through a filter with ground coffee, providing extraction of the flavoring and aromatic coffee components.
Then, a ready beverage drips into coffee pot on a special heated stand that keeps a high temperature of coffee during from one to three hours.
The Drop Stop system blocks a coffee supply when removed coffee pot, reacting to changing the weight on the stand. Usually, this shutter is designed for 5 minutes. Of course, refund of a coffee pot on stand automatically releases the lock.
The video at the end perfectly illustrates its operation principle.
Power
Device power is important for models without adjusting the coffee strength. The relatively low power of 750-800 watts ensures the making strong coffee due to slowed-down extraction that is a feature of the filtering method. Accordingly, the beverage longer absorbs the flavor and taste from coffee powder. The container volume for coffee in models with a low power is usually designed for 0.75 liters (5-6 cups).
Of course, a larger amount of ground coffee requires more power.
Filtration
Today manufacturers offer three types of filters for the drip coffee machine.
Disposable removable filter of paper is mounted in a special holder.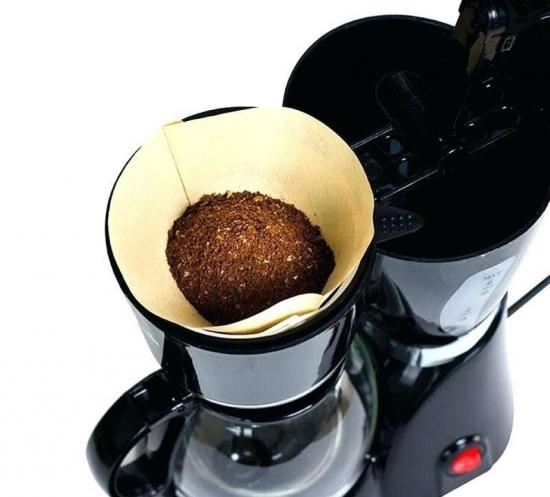 It's easy replaced and provides a more homogeneous beverage.
Servis life of reusable nylon filter reaches approximately of 60 cycles. But this filter with a titanium nitride coating (gold filter) has longer servis life.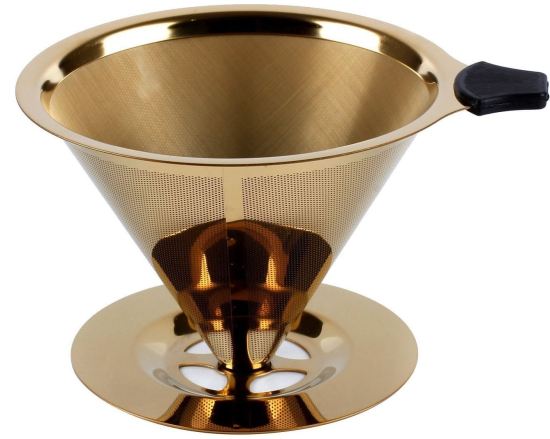 Unfortunately, it's more expensive.
Features of drip coffee machines
Coffee pots.
Coffee pots are made of glass or plastic. There are also coffee pots – thermoses with good thermal insulation.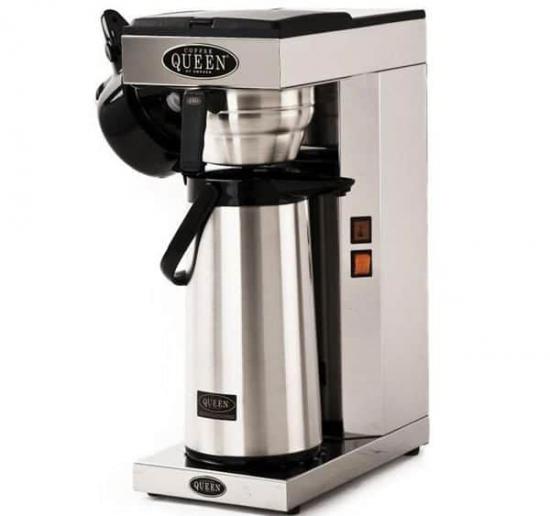 Coffee pots of heat-resistant material can use in a microwave oven.
Aroma protection.
Aroma protection system uses narrow neck of coffee pots and unique design of the spout and lid to preserve the coffee aroma.
Coffee pot warmer.
It keeps the optimal beverage temperature during one to three hours and heats coffee pot because coffee is recommended to pour out into hot coffee pot.
Some models have backlight for switch, stainless steel heater, water filters with three degrees of purification (chlorine, nitrates, scum) and other popular features of modern coffee machines.
Easy to use, compactness, large amount of the coffee per one cycle, the long heating up and low cost are the main advantages of these models.
The deterioration in taste due to heating, impossibility of making coffee with whipped milk or cream, expenses for purchasing the filters and the ability to use only ground coffee due to lack of built-in coffee grinders are the main drawbacks.
Of course, these aspects must be taken into account when choosing the optimum coffee machine.