As known, the first washing machine with a manual drive and a rotating drum was invented by James King in 1797.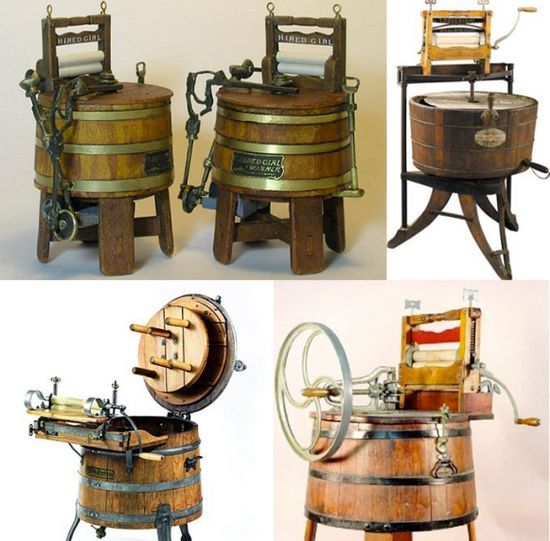 Since then, this device has been continuously improved for more than 200 years, and today little resemblance to its prototype.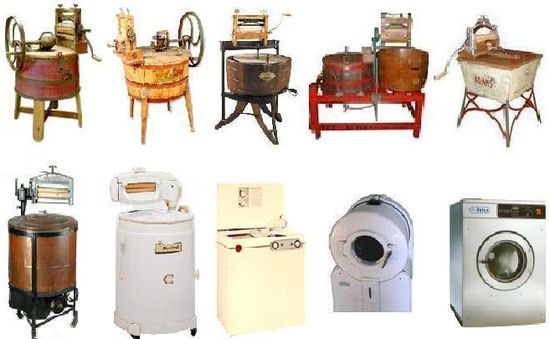 Conventionally, modern washers are subdivided into automatic, semi-automatic and ultrasonic models. Today, automatic washing machines are the most common.
Moreover, washers are divided into models with top or front load depending on the location of the door. Respectively, the door for laundry load is located from above or on the front panel.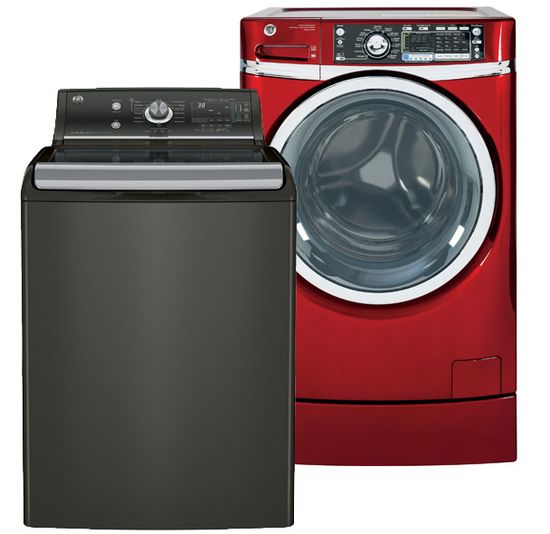 Front models
PROS:
– relatively low price.
These models are cheaper compared to top load models. p>
– large variety of different brands and models;
– visualization of washing and spinning processes;
– large drum capacity;
– convenient placement. p>
Such models are may be located under the tabletop or sink. The upper surface of these models can be used as an additional shelf. p>
CONS:
– user forced to bend when loading laundry;
– opening hatch requires of free space. p>
Top loading models
Pros: p>
– small width is convenient for placing in a small bathroom, hallway or kitchen;
– loading through the top cover is more convenient;
– such model provides adding and removing laundry during the washing process.
CONS:
– these models are more expensive;
– top surface can not be used as an additional shelf.
Of course, all these features affect the choice when buying a washing machine.
Main washing technologies
It should be borne in mind that companies often give different names to similar technologies because of marketing considerations.
Traditional
The water fills the drum. The drum rotation is carried out inside the tank. Linen is cleaned with the help of detergent at the drum bottom.
3D AquaSpar Wash System
Asymmetric grippers on the drum provide more intensive circulation of water upwards for additional rinsing the laundry. Water is supplied through two upper holes and through the rear wall of the drum. As a result, the laundry uniformly is washed from three sides. This technology is used in Bosch models.
3D AquaTronic
This Siemens technology is similar to AquaSpar.
Activa
Water is supplied into the drum a powerful jet. Primary treatment of laundry occurs in an accelerated mode. This mode lasts only about one minute that reduces the wash duration.
Wobble technology
This technology from Samsung is ideal to protect delicate fabrics during the spin cycle.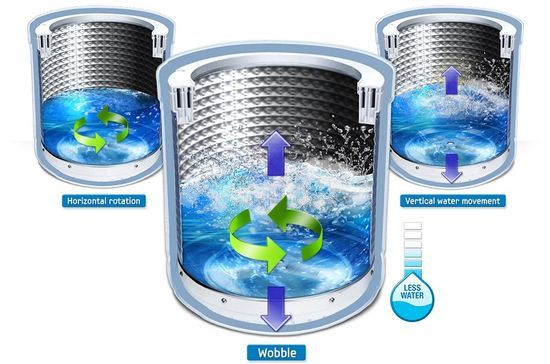 Modern models use a shower, combiWash or bubble washing systems. Shower system provides washing using water jets from above and side walls. CombiWash combines full immersion and the delicate washing with the help of water jets. Bubble system uses bubbles in water jets that pass through the drum holes, between the fabric fibers and removed the dirt. It`s called EcoBubble technology and is used, for example, in Samsung AddWash models. Its operation principle is perfectly demonstrated on the video.