Of course, the Philips brand needs no introduction. Household appliances from this company consistently lead in many segments, including Philips food frocessors, Philips air fryers, Philips meat grinders, Philips breadmakers, Philips Saeco coffee machines, etc. Vacuum cleaners are no exception. This year, the company offered another innovative Philips SpeedPro Max Cordless FC6823 model.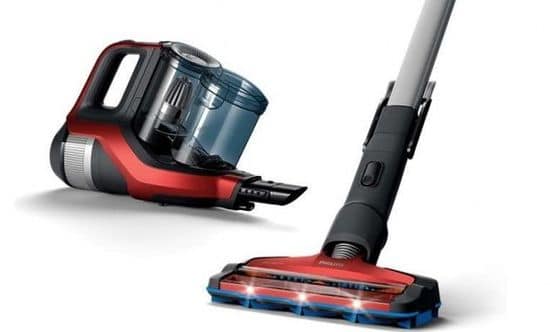 Today, it competes successfully with a novelty from another well-known company – Dyson Cyclone V10. Of course, some technical aspects of the Philips SpeedPro are inferior to the competitor, but the price advantage reaches 20%, which, of course, is a significant argument in its favor. In addition, this novelty uses many engineering solutions that provide it with a place among innovative leaders.
360° suction nozzle or Edge-to-Edge Cleaning
Of course, the new electrobrush is one of the main innovations of the model.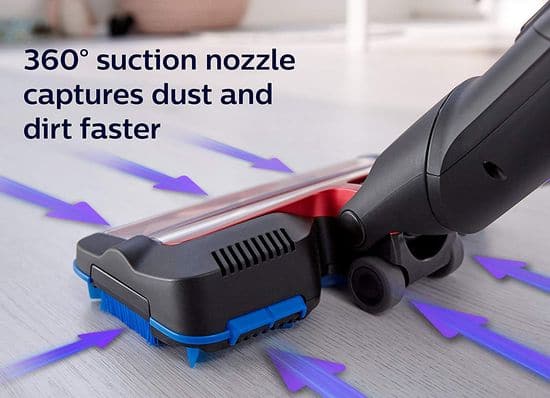 Unfortunately, it has a fairly large size and weight, which reach 20.2 x 5.5 x 2.4 inches and 1.84 lbs. But its functionality fully compensates for these inconveniences.
The hinge provides a tilt of 90 ° vertically and a rotation of ± 45 ° along the axis. Of course, such a combination of deflection and turning angles ensures a comfortable cleaning, even under low-clearance furniture. Traditionally, the brush has 3 LEDs to illuminate the surface being cleaned.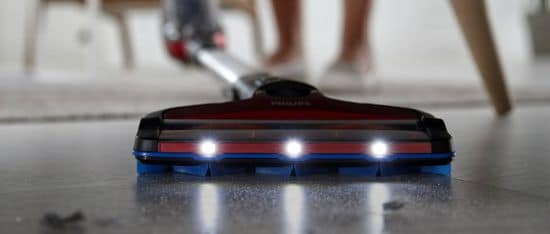 A brush with four spiral rows of tufts of bristles with different stiffness actively affect the surface. But, hard blue tufts of bristles are located at a distance from each other, and soft orange bristles are placed along the entire surface.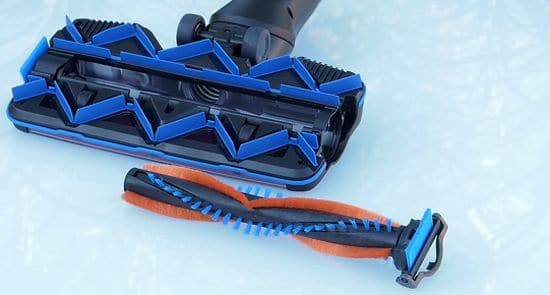 In fact, they complement each other by optimizing cleaning. In addition, the transparent case provides convenient visual control of the rotation and its filling level.
A complex system of flexible plastic dividers and two brushes on the sides provide surface cleaning on all sides of the nozzle.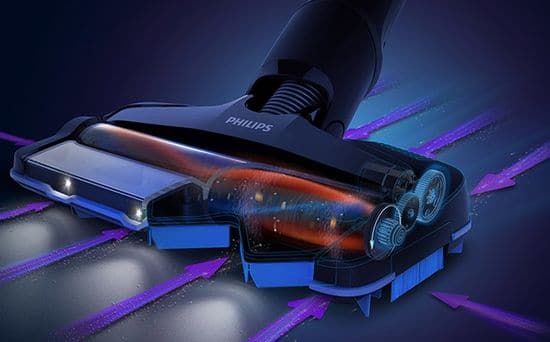 Additionally, the brush has four wheels made of soft plastic and a strip of hard rubber to protect the furniture.
Other key features
Of course, the other components also correspond to a very high level. For example, the PowerBlade digital motor provides airflow of more than 1000 l / min.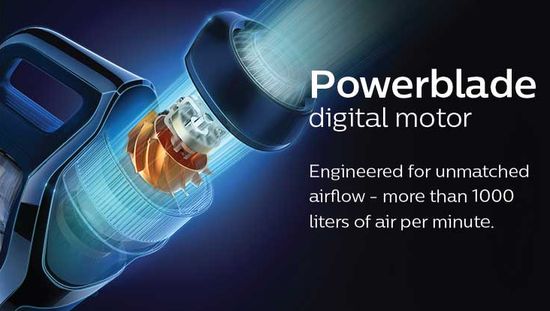 p>
Smart digital display indicates the speed, battery consumption and the need to clean the filter.
According to the company, 25.2 V lithium ion batteries provide up to 65 minutes Eco runtime, 30 min in normal mode and 21 min in Turbo mode.
The end of the wand extension has an integrated fixed brush.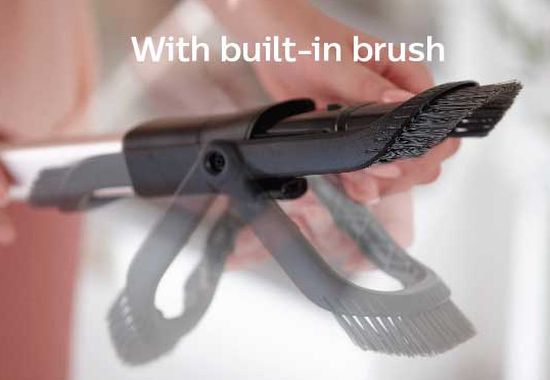 Latch ensures its switching between active / inactive modes. Of course, it significantly expands the possibilities of a vacuum, for example, when cleaning the ceiling from cobwebs.
Moreover, the model uses an improved PowerCyclone 8 filter.
Improved triple-filtration system provides high quality air cleaning.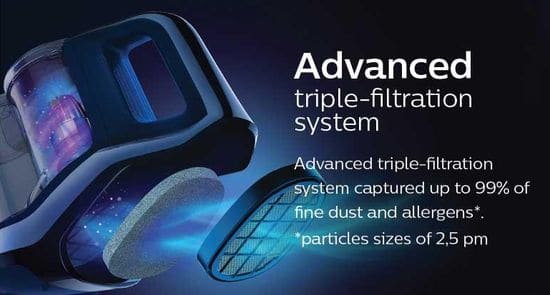 In addition, the model supports three power levels.
The non-removable battery at the bottom is connected to the charger through a magnetic contact.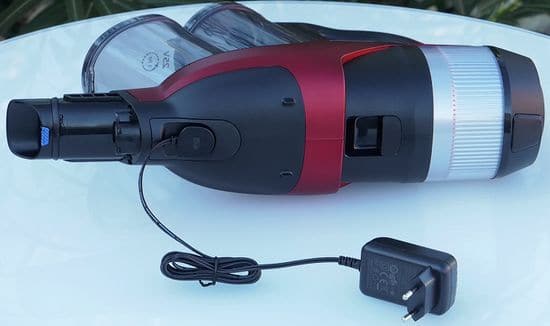 Magnetic charging plug is convenient, but, unfortunately, a not very powerful magnet can be easily disconnected by accidental mechanical action.
Of course, the combination of all these solutions provides the model with a worthy place among the innovative leaders of this segment.
Testing
Testing has fully confirmed the high performance of 360 ° suction nozzle. It perfectly cleans the surface in a single pass. In addition, the side brushes effectively clean the surface on the sides, significantly reducing the total cleaning duration and expanding its area from a single charge.
The cyclone filter also works fine, collecting almost all the garbage and dust in the dust collector. As a result, the other filters remained virtually clean.
In fact, the capacity of the dust collector provides cleaning of 645 sq ft.
The battery provided 34 minutes 5 seconds of cleaning with a narrow electric brush on medium power and 24 minutes 42 seconds with an extension tube and main electric brush in turbo mode. Its full charge lasts 5 hours and 12 minutes.
The noise level varies from 69 dBA without a nozzle at low power to 82 dBA with a small electric brush at high power. Unfortunately, this noise level corresponds only to the average level. But very quick cleaning partially compensates for this disadvantage.
The maximum suction power for each of the modes was 14, 36 and 48 air watt, respectively. Unfortunately, these values also correspond only to the average level for modern upright models.
PROS
– highly effective 360 ° suction nozzle reduces cleaning time;
– long runtime;
– simple and convenient design;
– high efficiency cyclone filter.
CONS
– relatively high noise level;
– lack of a slit nozzle;
– average suction power;
– fixed wand extension design eliminates the possibility of using alternative nozzles.
This video demonstrates the great features of Philips SpeedPro Max.