As known, the healthy eating is one of the popular trends of modern life. Of course, the use of fresh juices occupy a worthy place in this list. Therefore, juicers are very popular among fans of a healthy lifestyle. Therefore, today the market offers an abundance of different juicers. Relatively recently, centrifugal juicers dominated because of its simplicity and low prices. But they have a significant drawback. According to most experts, oxidation and high temperature due to the high rotation speed during juicing significantly reduce its beneficial properties, destroying the vitamins in the finished drink. Of course, low-speed masticating models do not have this significant drawback. As a result, their popularity has grown rapidly in recent years.
The South Korean Tribest company is one of the leaders in this segment, regularly offering new models. 2018 is no exception. The company offered an innovative Tribest GreenStar Pro GS-P502 juicer.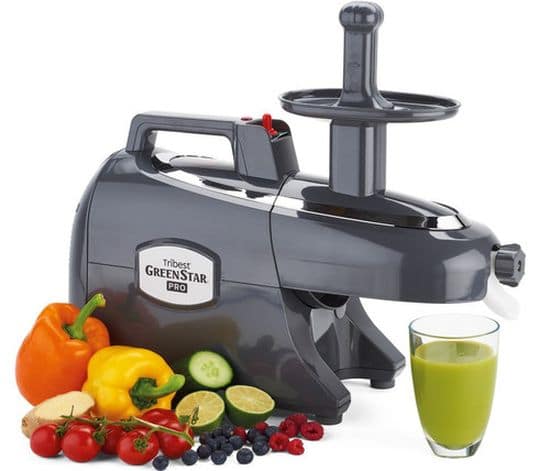 Of course, the design of the juicer is much easier compared to, for example, TVs or coffee machines, which have wide possibilities of using digital technologies or other innovative solutions. Nevertheless, engineers find opportunities to improve even such relatively simple equipment. The list of these trends includes the device quality, its functionality, efficiency and usability. Of course, these factors directly affect the choice of the optimal model.
Twin gears
Of course, they directly affect the efficiency and reliability of any juicer. Therefore, the company pays a lot of attention to improving this element. As a consequence, GS-P502 uses innovative stainless steel twin gears.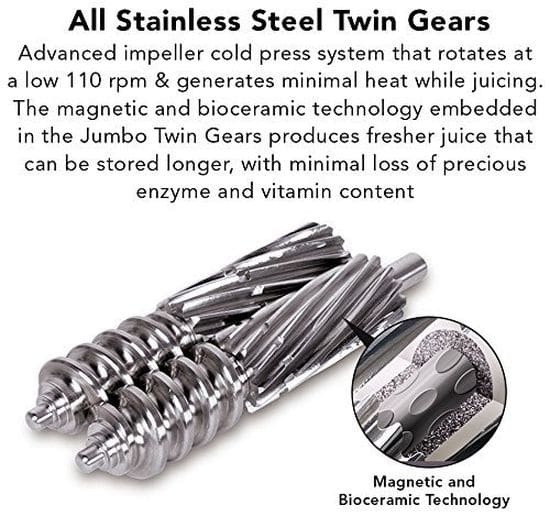 Advanced heavy duty twin gears extend the juicing process from two to three stages, including crushing, mixing and pressing. This algorithm increases the juicing efficiency.
Powerful 165W motor provides slow 110 rpm cold press juice extraction for minimal oxidation.
Additionally, the model supports innovative bioceramic and magnetic technology for preserving living enzymes and vitamins, preventing nutrient degradation and extending shelf-life.
This technology uses special neodymium magnets of natural origin, which are embedded into gears. According to the company, magnets increase the extraction degree of useful minerals from fruits and vegetables during juicing.
Magnets are sealed using a unique bioceramic material with a powdery consistency. In the future, the magnetic field around them stabilize the drink. The magnets face each other with opposite poles to create active ions during gears rotation. Charged particles improve the preservation of enzymes, vitamins, macro- and microelements, and also remove from fruit and vegetables up to 90% of chemicals and heavy metals. All these factors lengthen the shelf-life of the finished juice in the refrigerator.
Probably, some consumers may interpret these statements as a marketing ploy. Unfortunately, today there is no refutation or confirmation of these statements from independent experts.
Of course, the remaining aspects of the new items also correspond to the highest level. Model has excellent versatility due to a wide range of various accessories, simple and convenient control, and supports reverse.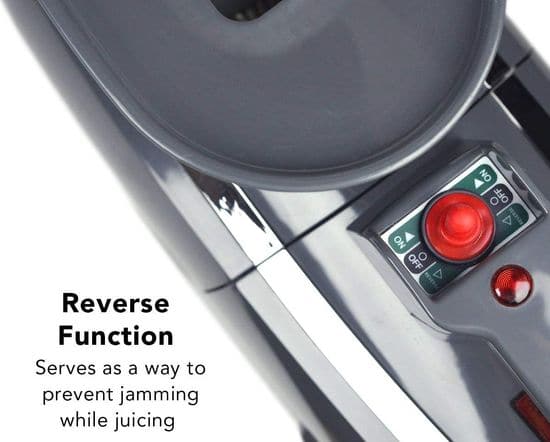 Testing
Of course, the power consumption depends on the products and varies in the range from 130 to 170 W. The noise level is much lower compared to the work of traditional centrifugal juicers. The maximum time for continuous operation was 30 minutes.
The test results showed the following results:
– carrot – 140-170 W, absolutely dry cake, juice with a rich taste and color, 559 grams of juice from 1 kg in 5 min and 28 sec.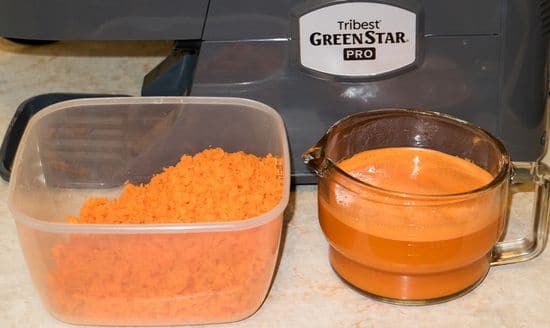 – Granny Smith apples – 125-135 W, clear juice with a rich taste, 798 grams of juice from 1 kg in 4 min and 27 sec.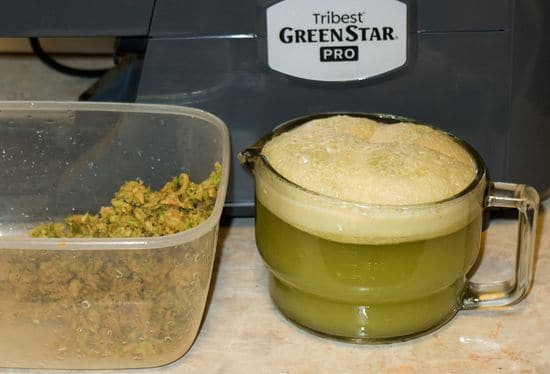 – soft pink grapefruits with finely meshed mesh – complex juicing using reverse, 770 grams of juice from 1 kg in 8 min and 15 sec;
– soft pink grapefruits with a filter with large holes – quick simple juicing, 800 grams of juice from 1 kg in 3 min and 5 sec;
– cabbage – absolutely dry cake, clean juice without pulp, but a lot of foam, 782 grams of juice in 12 min and 15 sec.
These great results exceed the performance of last year's leader, the Panasonic MJ-L500. Test results with other products, including beets, greens, nuts and beans, are also very high.
Conclusion
PROS
– very high efficiency of juice extraction even from greens and solid ingredients;
– great warranty.
The 15-year warranty for household use and 3-year warranty for commercial use strongly confirms the company's confidence in the quality of its products.
– simple assembly;
– express cleaning;
– additional functions, including grinding, preparation of sorbet, breadsticks, noodles and mochi.
CONS
– very high cost, which ranges from $ 750 to $ 800;
– time-consuming cleaning when juice falls on the gears.
This video demonstrates simple and convenient filter cleaning with scraper attachment.