A healthy lifestyle has long become a popular trend. Of course, it directly depends on a healthy diet. As a result, the demand for kitchen appliances for this segment is also growing steadily. People actively buy various juicers, blenders, etc. This trend even provoked the emergence of a separate market segment that offers various devices for molecular cuisine, including food dehydrators or other sous vide mashines, for example, Gourmia GSV130 Digital Sous Vide Cooker, etc. As known, molecular cuisine studies chemical and physical processes during cooking. It was founded by Physicist Nicolas Kurti from Oxford and the French chemist Herve This from INRA in 1988.
But at the same time, manufacturers continue to improve traditional devices in this direction. For example, the popular masticating juicers provide juicing at low temperature due to low rotation speed, because high temperature destroys the beneficial vitamins and enzymes. Vacuum blenders for making smoothies with maximum preservation of vitamins also perfectly illustrate this trend.
Scales are no exception. Companies have been offering smart models for several years with the option of on-line monitoring of certain body parameters that helps maintain a healthy lifestyle. Probably, many have heard about smartphones and robot vacuums from the Chinese Xiaomi Corporation. In 2017, this famous manufacturer also offered the YUNMAI Smart Scale series. These models provide complete information about the physical form of a person, including graphs for each family member. The series contains YUNMAI Mini Smart Scale, YUNMAI Color Smart Scale and YUNMAI Premium Smart Scale models. Video at the end shows operation of YUNMAI Premium Smart Scale.
Features
Compact YUNMAI Mini Smart Scale is fully consistent with the Mini name. It has size of just over 10 x 10 inches and body of durable plastic in four available colors.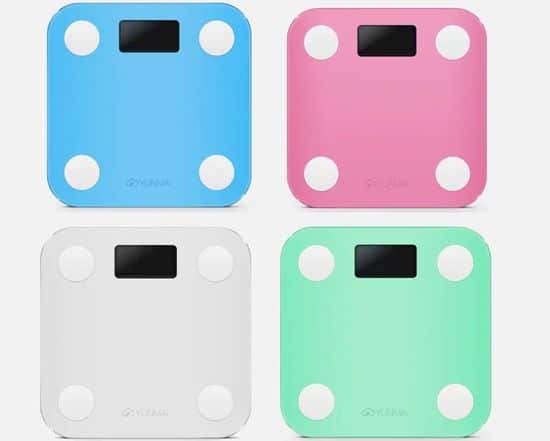 The device also uses sensors, a display on the upper surface, and rubber feet at the bottom. The range of colors YUNMAI Color Smart Scale is increased to five, and sizes – up to 12.9 x 12.9 inches.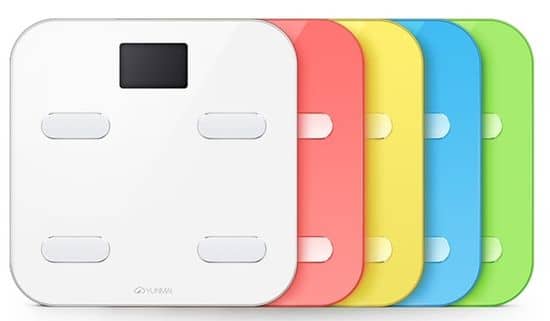 But the surface of its body is made of 6mm durable tempered glass, which corresponds to this class. Additionally, this model has rectangular-shaped sensors and a larger LCD display, that provides improved readability.
YUNMAI Premium Smart Scale is available in black and white colors, has surface of 6mm durable tempered glass and a large LCD screen.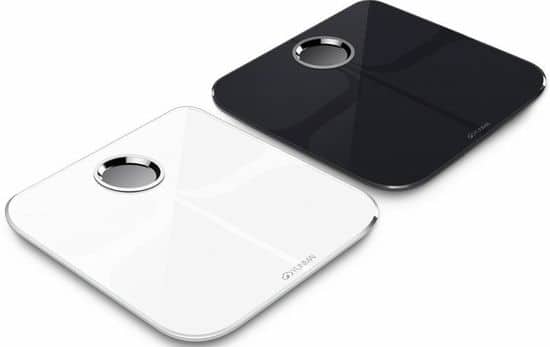 In addition, a stainless steel ring frames the screen. Moreover, indium-tin oxide sensors in the shape of curved lines form a stylish translucent pattern on the surface. As a result, the design of the model is fully consistent with the premium status of this model.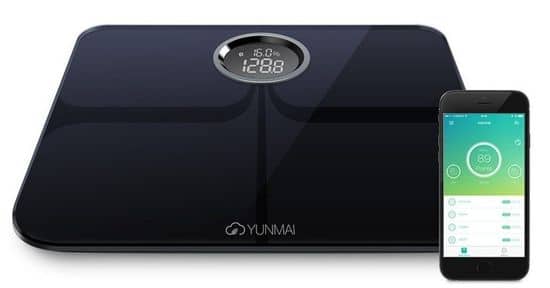 Special caps for 4 legs protect carpets in case of using Smart Scale on their surface. Model also has a size of 12.9 x 12.9 inches.
Traditionally, the weighing accuracy depends on the surface, which should be flat and firm.
Operation principle
The mobile YUNMAI 2.0 app calculates body values based on sensors data. Sensors and human legs create a closed loop for an electrical impulse, forming information for the calculation algorithms. But, this technology requires weighing without shoes.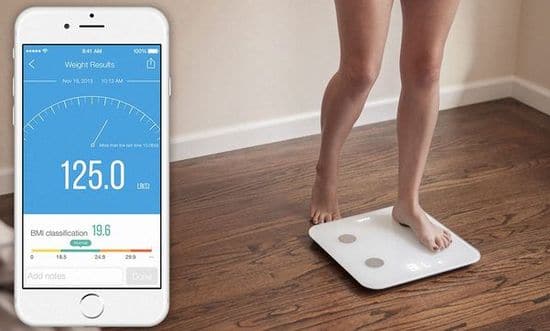 Of course, the electric current is very small and absolutely safe. However, the company recommends medical consultation in case of a pacemaker, an electrocardiograph, and / or other medical devices.
Device uses BIA (bio-electrical impedance analysis), high-sensitivity sensors, TEXAS instruments Bluetooth low energy 4.0, and aluminum alloy electrode plate sensor techniques.
The calculation algorithms use the dependence of electrical resistance on the constituent components of the body, including body fat, muscle, water, etc. In fact, the program calculates their percentage ratio. Of course, it's more informative compared to traditional weighing, because it displays progress / regression from diet or exercise. For example, the redistribution between fat and muscle mass has very little effect on overall body weight.
Smart features
The device analyzes 10 different body values, including body weight, body fat, body water, BMI (body mass index), bone mass, lean mass, protein, fitness age, visceral fat and BMR (Basal Metabolic Rate). Each of them has a corresponding icon.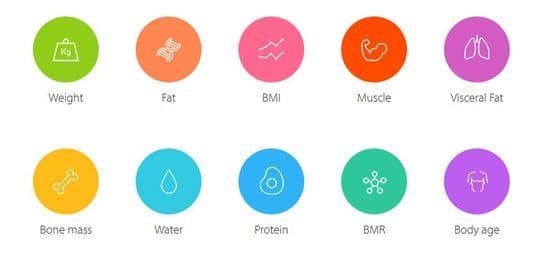 YUNMAI 2. 0 app sync the scale to Android 4.3 and higher or iOS devices. The QR code on the back side ensures its downloading via Bluetooth.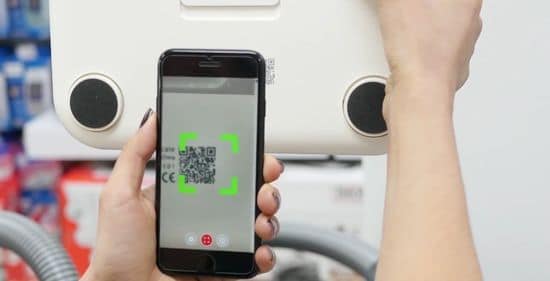 Intelligent Bluetooth provides storage on cloud storage and support of MyFitnessPal, Apple Health, FitBit and Google Fit Step. But, navigating the app and finding these charts is a little difficult. Unfortunately, the app doesn't track food or calorie intake.
The app displays the relative standard for each value, taking into account gender and weight and provides the creation of up to 16 profiles for different users. Additionally, the model supports the creation of guest access.