In recent decades, the popularity of a healthy lifestyle is constantly increasing. Of course, a healthy food significantly affects this aspect of life, and its popularity forms the demand for kitchen devices for preparing such dishes. This trend has even formed a separate segment in the home appliance market, including various Sous Vide machines. This list includes, for example, Vorwerk Thermomix TM5, L'EQUIP IR D5 Food Dehydrator, L'EQUIP 528 Food Dehydrator, Anova Precision Cooker, etc.
All these devices belong to the trophology section of molecular gastronomy. It was founded by the physicist Nicholas Kurti from Oxford and the French chemist Herve from INRA in 1988 to study the physicochemical processes in cooking.
However, besides the development and creation of fundamentally new models, companies are actively improving traditional devices. For example, companies offer screw juicers with a low rotational speed, which eliminates the juice heating, preserving its useful properties or vacuum blenders, which also perfectly solve this problem. Vacuum sealer machines also belong to this segment.
As known, vacuuming prolongs the shelf life of food, eliminates the problem of mixing odors, saves space in the freezer and is very convenient for picnics. In addition, such foods can be cooked in the microwave.
Most modern models use a plastic case, but the market also offers more expensive models with a metal case.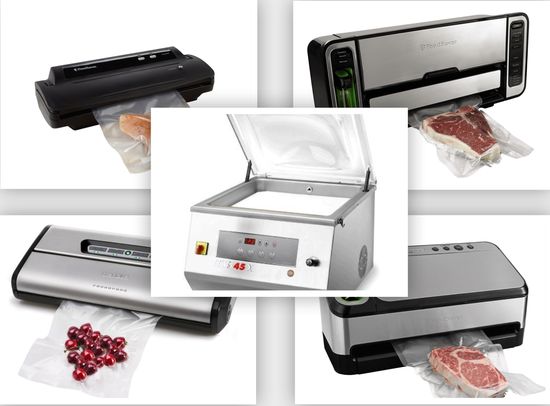 The size and weight of household models usually do not exceed 12 x 6 x 4 inches and 3.3 lbs.
As known, this device sucks most of the air from the food bag and seals the seam using a special heating element.
Design
Today, companies offer several types of vacuum sealer machines. Typically, cheaper portable models do not have a separate chamber and pump oxygen directly from the bag.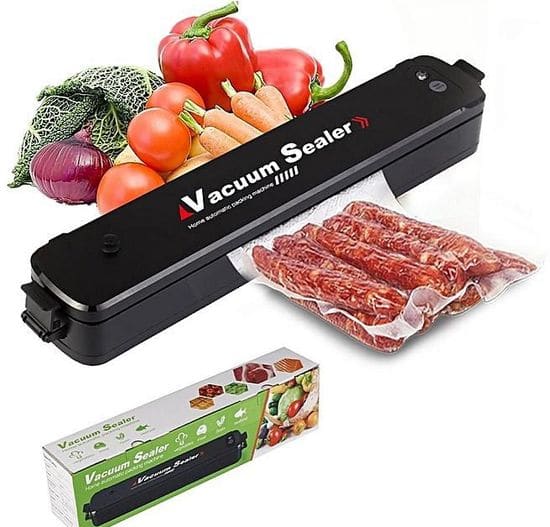 In addition, they can pack clothes and small items. Therefore, low price and versatility are their main advantages. But the size of the packaged products or clothes significantly limit their capabilities due to the low pump power and inefficient air pumping technology. Usually, they provide a vacuum level of up to 90%, leaving about 10% of air in the bag. For comparison, the effectiveness of commercial models reaches 99%.
Models with a chamber use a special compartment to suck the air out of the grocery bag.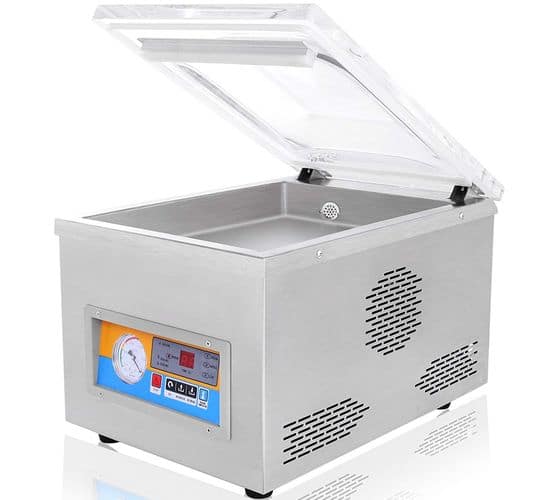 Of course, the dimensions of the chamber directly limit the size of the products, and the cost significantly exceeds the price of portable models. But these commercial devices already provide a high level of vacuuming and productivity, and partial automation of the process.
Some models can additionally fill the package with special gas to preserve the natural look and taste of products for a long time. Commercial devices sometimes use two separate chambers to increase performance.
Features
The list of basic functions includes:
– vacuuming protects the food surface from contact with bacteria in the air, preventing decomposition;
– packaging provides a convenient distribution of ingredients, for example, for storage or preparation of a particular dish;
– vacuuming perfectly preserves aromatic substances, which is very convenient for long-term storage of tea, coffee or spices. Additionally, it preserves the color and flavor of frozen foods.
More expensive models support delicate sealing modes, wet / dry packaging and marinating.
The list of basic technical values includes the power, which usually does not exceed 150-170 W, and the speed of air suction, which reaches 20-25 l / min in household models. These values provide an average packing cycle time for about 20 seconds.
Caso GourmetVac 480
Of course, this is not the most difficult technique. Nevertheless, engineers are constantly improving these devices, finding the possibility of using innovative solutions in new models. German Caso company is one of the leaders in this segment. In 2018, it proposed the innovative Caso GourmetVac 480.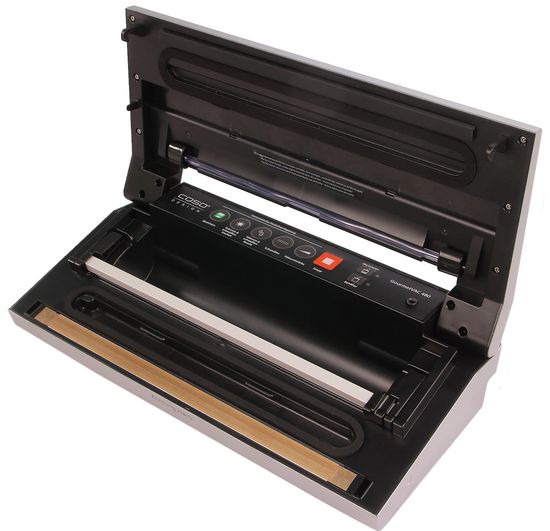 This model uses eight LED backlit membrane buttons to control.

Unfortunately, the explanatory inscriptions use the German language. However, the pictures on the icons compensate for this inconvenience.
Controls provide:
– automatic vacuuming the dry products (sun);
– automatic vacuuming the wet products (drops);
– sealing the bag without pumping out air (two parallel dash lines);
– manual mode of pumping air when the button is pressed (this figure is similar to the designation of the volume control);
– stop work.
In addition, two small buttons on the right side provide a choice of marinating and vacuuming modes. They are used when working with vacuum container and a hose.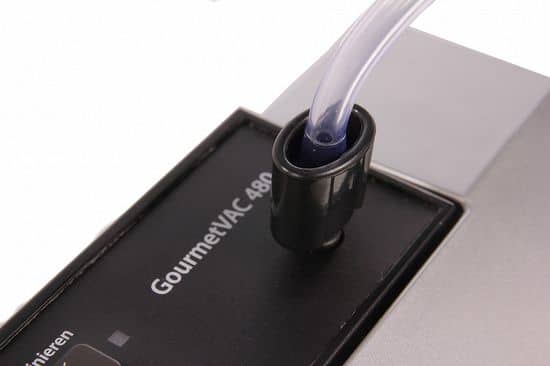 A save button with an image of a 3.5-inch floppy disk activates the V-Memory save function for last operation. Of course, this mode is intended primarily for packaging a large number of identical portions in identical packages, for example, portions for sale.
Practical tests demonstrated very high quality. For example, vacuumized chicken sausages are perfectly preserved in the refrigerator for a week.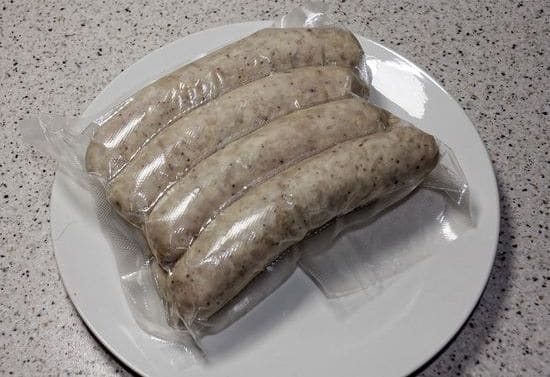 The model also supports wireless connectivity and control through the Caso food manager app.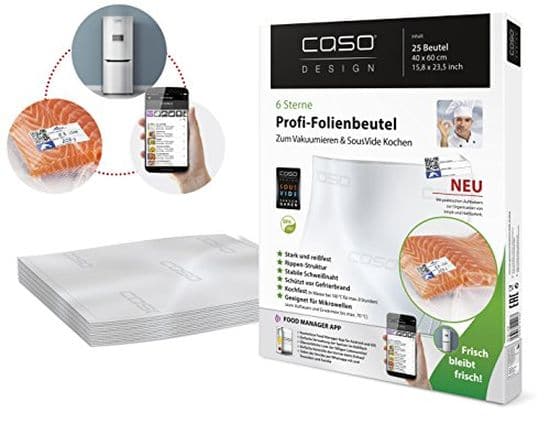 Conclusion
PROS
– double seam when soldering significantly increases reliability;
– flat design;
– removable vacuum chamber;
– adjustable, infinitely variable vacuum is ideal for sensitive foods;
– V-Memory function expands the possibilities of commercial use;
– automatic lock during the vacuuming;
– adjustable sealing time;
– simple control and care.
CONS
– relatively high price;
– relatively large weight (6.4 lbs) and dimensions (16 x 4 x 8 inches).
The video demonstrates convenient control of food storage with the Caso food manager app.