Portable models are especially popular in Europe. Today they compete quite successfully with American window air conditioners and with Japanese split-systems in this market. For example, the market share of portable air conditioners in Germany is 10 %. They include only one block and are often called by monoblocks.
Usually these models are made in the form of small parallelepiped with wheels and do not require mounting that is their main advantage.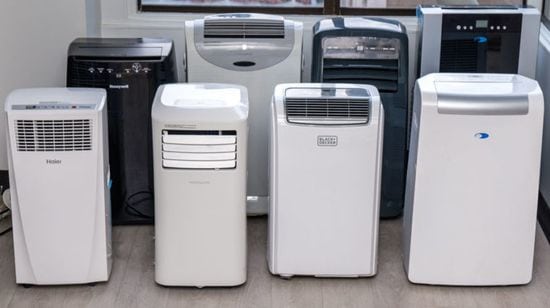 Portable mobile air conditioner cools air in the room and removes hot air with the help of flexible plastic tube.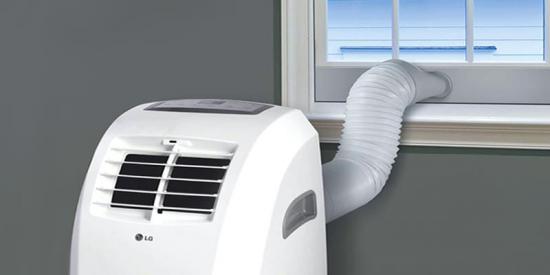 Some models have special kit that provide a tight fit of the hose to the window for maximum air-tightness of premises.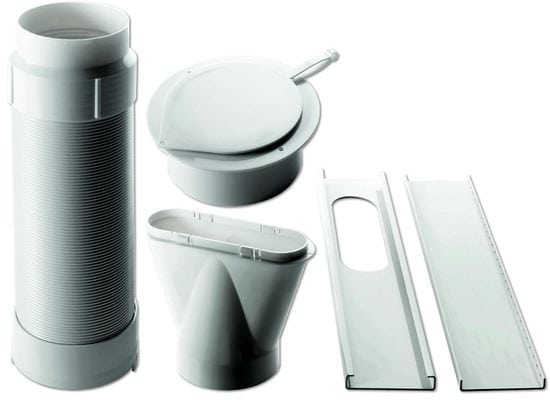 Main technical values
Portable air conditioner is compact enough and easily moves inside the apartment. Dimensions of portable monoblocks are on the average 15 x 30 x 15 in with a weight of 45 to 110 lb. p>
Manufacturers recommend using device at room temperature 17-30°C. But sometimes, the boundaries of working range are wider and reach 16-35°C.
Portable models can operate at large negative temperatures outside, because increased load is not dangerous for compressor unlike a split system that is an added advantage.
Built-in electric heaters are more effective compared to split systems. However, heating with the help of heating elements, of course, is accompanied by high power consumption. Heaters are normally made in the form of a spiral or steel heaters. They are very reliable and durable. For example, 51AKS108 model (Carrier, USA) provides air heating up to 29°C. The models of Digital Mobile series (AEG, Germany) are equipped with ceramic heating elements that provide a quick and comfortable heating without reducing the level of relative humidity in the room. AC-9000RH (General Climate, UK) and PAC 360 E (Bekar, Finland) generate heated air in the heat pump mode. This heating method is very economical. The range of the room temperature in heating mode varies from 5 to 21°C. But the use of air-conditioners for heating requires the using of window seal.
High noise level is a major drawback of portable conditioners. Even the quietest models have noise level not lower than 36 dB.
Design features
Choosing the conditioner location is limited by the hose length. Typically, it ranges from 3.3 to 6.5 ft.
The condensate is collected in the special tray that is located at the bottom part of the air conditioner. It's filled for 3-5 hours when working at maximum power and at high temperature. Almost all models have the automatic shut-off when its filling.
The design of the indoor unit in portable split-systems is similar to a conventional monoblock. Condenser is located outside. This solution eliminates the noise, but complicates the installation. Mounting the outdoor unit takes several hours.
Models with inverter control have a smooth power adjustment.
The cost of portable air conditioners is commensurate with price of a split system.
Mobility and the absence of expensive mounting are the main advantages of such models.
Of course, all these key features must be taken into account when choosing the optimum air conditioner.
This video demonstrates the innovative Noria slim profile air conditioner, which can be classified as a portable window model.