The history of mechanical devices for air cooling begins in 1735. The first mechanical fan with a steam engine was installed in the English parliament building.
Modern air conditioners provide cooling and circulating air flow inside the room. In general, the air conditioner includes a compressor, a condenser, an evaporator and a fan. Almost all modern models have functions of cooling, heating, dehumidification and air filtration, i.e. provide climate control. Many air conditioners have an inverter for automatic power adjustment depending on the temperature. This saves the device resource and power consumption.that saves the device resource and power consumption.
On average, 1 kW of air conditioner power effective cools 10 square meters or 107 square feet of the room, regardless of the air conditioner type.
The list of most popular innovations in modern air conditioners includes WI-FI connection, noise reduction, use of motion sensor and environmentally friendly R32 refrigerant.
Power and design
The field of application is the main criterion of classification by purpose. Household models with small and medium power up to 7 kW provide efficient cooling the small rooms with the area from 15 to 80 square meters or from 161 to 860 square feet.
Powerful industrial air conditioners can easily cool a large area of 100 square meters or more, including entire buildings.
But a large class of air conditioners occupies an intermediate position. They have a power from 7 to 25 kW. Such semi-industrial models provide air cooling in cottages, multi-room apartments or in office premises, shops, enterprises, etc.
Their design may have one housing, for example, for mobile or window air conditioners or a split-system of two or more units, for example, for wall, channel or cassette models.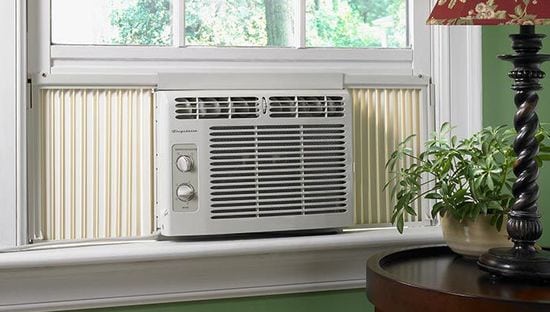 These air conditioners were most popular in the late 20th century. A monoblock is usually installed in a window opening or a thin wall. Today, almost all manufacturers offer window models with a power from 1.5 to 6 kW. Budget air conditioners only cool the air. More expensive models have a heating mode. The monoblock is less convenient compared to the split-system due to the high noise level, limited choice of mounting location and deterioration of room lighting. But their have such pros, as low price, reliability and ease of installation. Today, they take second place after the split systems by popularity.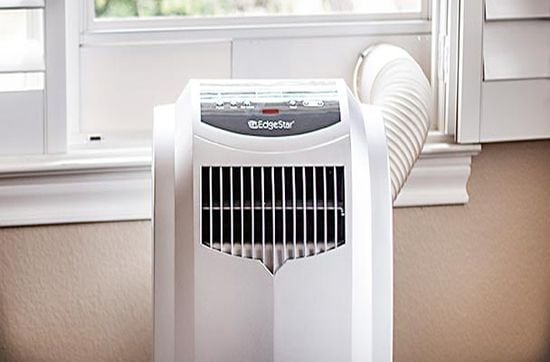 These devices can also be executed as monoblocks or a split-system.
Portable monoblocks have a corrugated hose with a diameter of about 6 inches and a length of 3.3 to 6.5 feet that is output through a door, window or window to the street.
The indoor and outdoor units of the portable split system are connected by a flexible hose that contains freon pipelines and electrical communications. The operation of such an air conditioner is practically the same as an ordinary split system.
Portable split-systems with detachable latches are quite rare and do not require special installation.
Modern models have often a protection system, self-diagnosis, fault indication and automatic operation modes.
Unfortunately, they have a high price and high noise due to the location of the compressor in the indoor unit.
Split-system
The split-system consists of two units.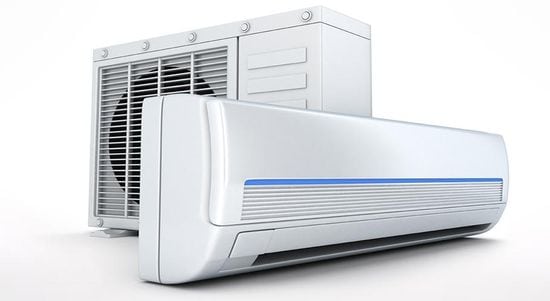 An electric cable and copper pipes connect the indoor unit with the outdoor unit on the street and ensure refrigerant circulation. Of course, this design provides a wider choice of placement of the indoor unit, because it's does not depend from window location. Compressor noise practically does not get into the room from the street. But, of course, a large selection of indoor blocks is the main advantage of split systems. Today companies offer ceiling, wall, floor and column models. In its turn, ceiling built-in models are divided into cassette or channel air conditioners.
Apartments and small offices usually use wall split systems with a power of up to 7 kW. Other types of split systems have usually more power.
Of course, the choice of the optimal system depends on the specific conditions. For example, premises of complex shape often use cassette or channel systems, and rooms with glass partitions – ceiling systems. But restaurants and large halls more often have floor standing models. Most these split-systems provide fresh air from the street.
Usually modern split systems have remote control for selecting the mode and temperature in the room, a timer for automatic on / off, adjusting the air flow direction, etc. In addition, the indoor blocks uses fine and coarse filters for air cleaning from dust, tobacco smoke, plant pollen, etc.
Multi split-system
A multi split-system is a split-system that contains from 2 to 5 indoor units.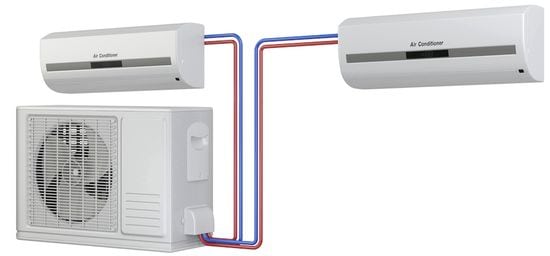 They can use different types of indoor units and several control consoles. Their power, typically varies from 2 to 5 kW. But outdoor unit has only one fan. Each indoor device uses its own refrigerant pipes and provides desired temperature in each room. All indoor units can operate in heating or cooling mode.
This design solution saves space on the outer wall of the building. These systems often cool the air in the several neighboring rooms.
But total cost of multi-split system approximately equal to several split systems due to complex communications. More expensive installation (about 1.5-2 times) compensates the decrease in the number of outdoor units. In addition, the reliability of several separate split systems is higher, because the failure of the external block leads to the failure of the entire system.
Multi-zone VRF or VRV systems have 6 or more indoor units. Sometimes, the number of indoor units reaches 30. Such VRF systems effectively cool entire buildings or several floors. Central air conditioning was first introduced in 1982. They use a single control system with the help of a PC and a general layout of refrigerant pipelines. Maximum distance between indoor units reaches 300 feet that is equivalent to the height of the 17 storey building. The height difference sometimes reaches 160 feet. The outdoor unit of such a system is installed on the roof or in the courtyard. But the indoor units can be of any type. Typically, these systems use freon as a coolant. Modern VRF systems have a high degree of automation, durability and low operating costs.
Types of indoor units.

Wall mounted air conditioner
Wall-mounted air conditioning (split-wall-type system) is the most common and are most often used in apartments.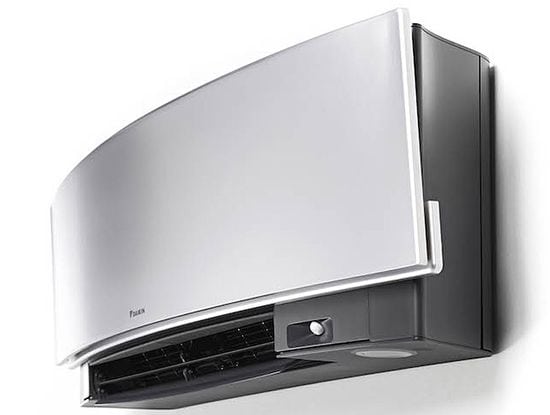 These models provide effective air cooling in the any room with a small area, for example, small office, apartment, store, etc. Their power varies from 2 to 7 kW that is sufficient for rooms with an area 15 – 70 sq meters or 160 -750 sq ft. The indoor unit of wall-mounted air conditioners is usually located at the top of the wall, near the window. The outdoor unit is most often attached under the window. This arrangement provides a minimum distance between blocks. The length of inter-unit communications usually does not exceed 16 – 23 feet. The mounting kit provides a simple and quick installation. Video at the end demonstrates this process.
Channel air conditioner
In most cases, a channel air conditioner is discreetly located behind a suspended ceiling.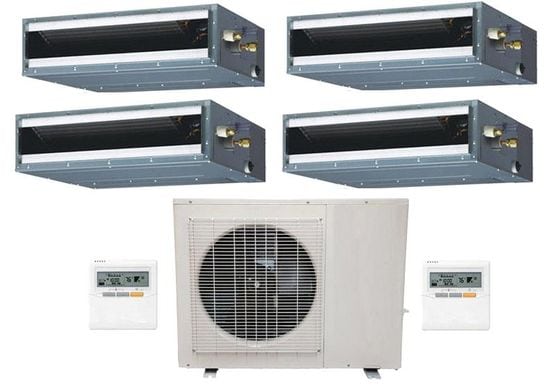 System of insulated ducts distributs chilled air. They are also usually located in the interstitial space. This design provides the air cooling simultaneously in several rooms. Typically, power of air conditioners varies from 12 to 25 kW that provids air coolling in a small office or 4 – 5 room apartment.
These systems provide supplying fresh air unlike other systems. In fact, they they ventilate room. Of course, the choice of such a model depends on the required air exchange and cooling capacity. Additionally, the heater should heat the cold air in winter.
Cassette air conditioner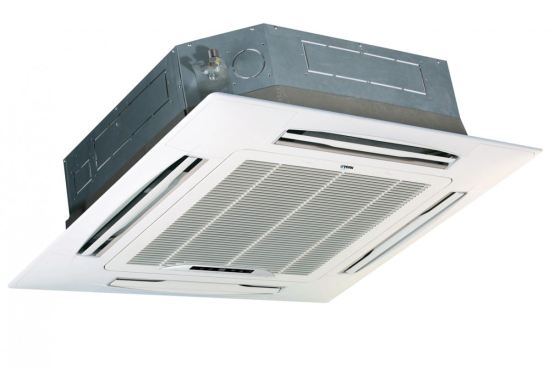 The cassette air conditioner is also designed for rooms with a suspended ceiling. It differs from a channel model by only air outlet located in the bottom. Therefore, its lower part has the size of a standard ceiling tile and is 600 x 600 mm or 1200 x 600 mm. Typically, decorative grille with distributive blinds closes air outlet. Thus, a person sees only a decorative grid.
These models also evenly distribute air flow in four directions, ensuring even cooling of large rooms with a single cassette air conditioner. For comparison, wall split system provide a similar effect with the help of 2 – 3 air conditioners of lower power.
Ceiling air conditioner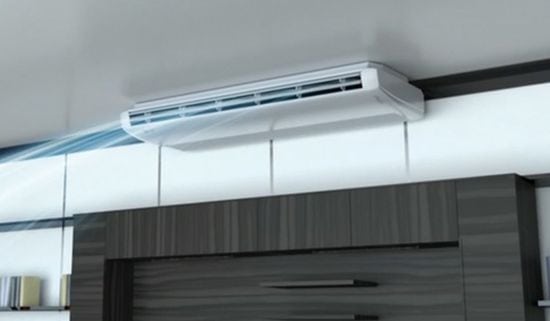 p>Ceiling air conditioner is an alternative to a cassette air conditioner in rooms without a suspended ceiling. These air conditioners have a shallow depth fom 7 to 10 inches. The air flow moves horizontally along the ceiling. This design also ensures a uniform distribution of the cooled air throughout the room. Additionally, some models provide intensity control of chilled air in each of the four directions. Such conditioners are very convenient for cooling the premises of complex nonrectangular shape.
Column or floor-standing air conditioners
These models are used when there are no strict requirements to the room design. They have large weight and dimensions and require a relatively large area. But such models provide a powerful stream of cooled air.
However, today the market also offers floor-standing models relatively low power with a stylish design.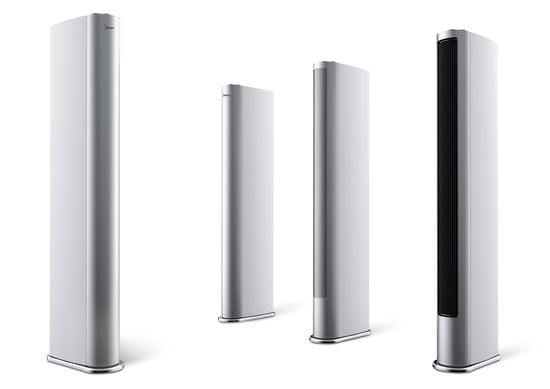 Precision air conditioners refer to floor-standing air conditioners. The computer rooms, automatic telephone exchanges, in stations of cellular communication systems, high-precision manufactures and other places with expensive electronics often use these models. Such air conditioners have very high reliability. They maintain the set temperature with high accuracy ± 1 ° C and provide the specified humidity ± 2% for a long time. Additionally, they have a wide range of permissible outdoor temperature.
Other types of air conditioners
Rooftops, fan coils and chillers are separate types of air conditioning systems.
Rooftop is a monoblock for installation on the roof or next to the cooled room. It cools well the large rooms, for example, gyms, supermarkets, cafes, stations or airports.
The fan coil is very similar to the indoor unit of the split system in appearance and in its design. The fan coil uses a water cooling unit (chiller) as an external unit. This is its main difference. Accordingly, the fan coil uses water instead of freon. The fan coil is often used for heating with the help of boiler.
The chiller is a water-cooling vapor compression refrigeration machine. It's a main component of central air conditioning systems. One such unit effectively cools large office buildings.