The popularity of these kitchen appliances has been growing steadily for several decades. The use of digital technologies significantly simplifies this process. Modern multi-cookers are equipped with a large number of cooking programs and provide cooking process automation.
Cooking with the help of multi-cooker physically is similar to the traditional cooking on the hob in pan with a tight-fitting lid. Modern models provide frying, baking, stewing, steaming, etc.
Versatility is their main advantage. Temperature cooking range is also very broad and ranges from 30 to 180 degrees.
The modern market offers in abundance various types of such devices.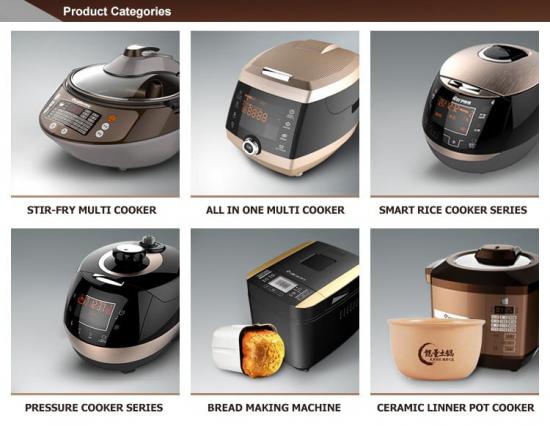 Modern multi-cookers are usually equipped with housing, the heating elements or induction coil, a bowl, the lid with valve for steam, a control panel, a microprocessor, a timer and the temperature sensors.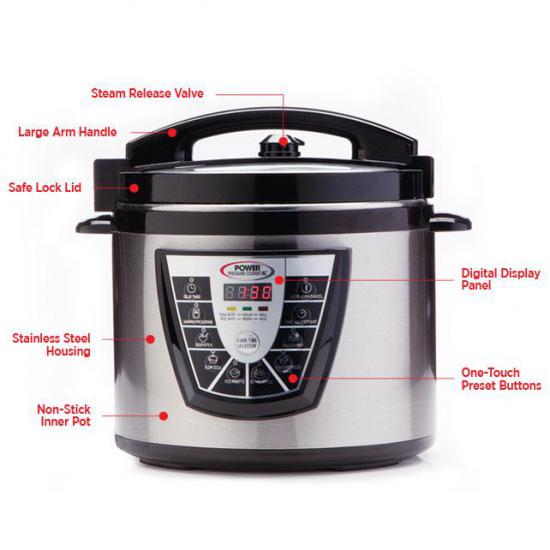 More expensive models often have a trip relay for protection overheating.
The housing is made of plastic or stainless steel. The heating elements are built into the device bottom or in the side walls. Removable bowl is usually covered with a non-stick coating (teflon, ceramics, etc.). The controls are usually located on the front panel and include display and buttons. The device is hermetically closed by lid with steam release valve.
Operation modes
Set of supported cooking modes is the main difference between the models. Modern models support the following modes:
– slow cooking;
– pressure cooker mode;
– rice cookers mode.
1. A slow cooking is carried out at a temperature up to 90 degrees. Such models often have a ceramic coating and thick walls. This mode provides a very uniform slow heating that is necessary for cooking the many dishes. Such way cooking is very useful due to maximum preservation of useful elements. But it requires a lot of time. The advantages of automation are maximum in this case, providing cooking in the absence of a person.
2. The pressure cookers mode is provided by cooking at high pressure. Such models have an automatic blockage of lid during cooking for safety at operation with high pressure. Therefore, the ingredient addition in the cooking process is not possible. The design envisages a special valve and a sealing ring on the lid. They are designed to pressure relieving. The valve opens when exceeding the permissible operating pressure in the chamber, providing a consistent required pressure. The cooking rate in this mode is considerably increased. For example, the cooking soup with meat lasts normally about two hours. Pressure cookers mode reduces this time to 30-40 minutes.
Boiling temperature under high pressure is about 120 ° C and is ideal for cooking a beans, peas, corn, etc.
Models with this mode slightly more expensive, but they consume much less electricity due to short cooking time.
3. The rice cookers mode provides cooking at normal pressure. Accordingly, the blocking lid is not required in this case and the user can add and mix the ingredients during cooking.
Bread maker mode
Some models support breadmaker function. But this mode is appeared relatively recently. These models have additional thermoelectric heater. Such devices often have limited features compared to traditional multi-cooker or bread machine. But more expensive models provide both modes in full.
Of course, the set of preset cooking programs significantly affects the functionality of the model.
Heater type
Multi-cookers are also divided according to the type of heater. Manufacturers use traditional thermoelectric heaters or induction coil.
Induction models are equipped with an induction coil. Bowl is made of a special alloy that is heated with the help of electromagnetic field and is used as heating element. Induction heating provides high uniformity of heating across the surface. These models reduce cooking time approximately on 30%. Saving electricity consumption due to shortening the cooking time partially offsets the high cost of induction models. For example, Panasonic SR-AFG186 refers to this type.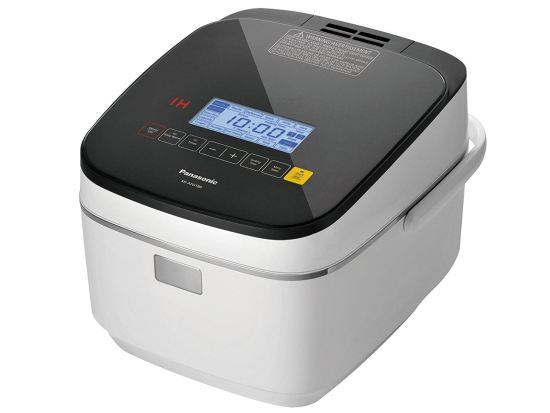 Features of this model are demonstrated in the video at the end of the article.
Heating the bowl with foods is constantly controlled with the help of temperature sensor that transmits this value to the microprocessor for operation of automatic cooking programs.
Advantages and disadvantages
Pros:
– multi-cooker partially combines the functions of many kitchen devices and significantly reduces the cooking time in the pressure cooker mode;
– sealed lid provides the absolute safety during cooking preventing burns due to emissions of hot steam and effectively blocks the spread of odors during cooking;
– cooking in conditions of tightness preserves taste and flavor of ingredients, the maximum amount of vitamins and requires a minimum amount of oil;
– main automatic programs (modes of the cooking for buckwheat, rice and dairy porridges etc.) and semi-automatic programs (modes for a baking, stewing, steaming etc.) provide cooking a most common daily dishes. Modern models have several dozen of such programs.
Cons:
– the sensitivity of non-stick coating on the inner bowl surface to mechanical impact. Use of a metal spoon for stirring, stiff sponge or abrasive cleaners for cleaning can easily damage coating;
– low mechanical strength of non-stick coating;
– sticking foods to bowl bottom in case of its damage. Additionally, nickel in the composition of metal bowls can cause allergies and to give a metallic after-taste in cooked dishes;
– long enough time of cooking in the rice cooker mode;
– storage of cooked food in the bowl negatively affects the coating;
– warming-up function is inconvenient due to need of storing food in a separate bowl;
– stirring food is impossible during cooking in pressure cooker mode.
Of course, all these multi-cookers features affect the choice of the optimal multi-cooker.