SharkNinja Operating LLC is an American marketer and distributor of home devices and appliances based in Needham, Massachusetts. In fact, it combined the Shark and Ninja brands. Today SharkNinja has offices in many countries and holds over 550 patents.
As known, Ninja focuses on kitchen appliances, including blenders, multicookers, air fryers, coffee makers, etc. Shark has long and successfully produces vacuum cleaners, being one of the leaders in this segment.
Robot vacuums are one of the most successful activities of the company. For example, Shark RV1001AE IQ model has been a bestseller for several years now, with almost 25,000 positive reviews on Amazon. Today it costs just over $ 400, offering self-empty base, IQ navigation, mapping, self-cleaning brushroll, Wi-Fi and voice control with Alexa. Of course, such specs provide great value for money, ensuring the brand's marketing success.
Most Shark robots have body from matte-finish hard plastic. The latest Shark AI models, including AV2501S AE, AV2501AE and AV2511AE, use laser and Matrix Clean navigation, LIDAR mapping, self-emptying base, sonic mopping, support Wi-Fi connection (SharkClean app), voice control, etc. They are different colors.
In fact, AI series is an improved IQ version. New AI Laser Vision module is the main difference. It improves navigation performance by helping the robot detect and overcome obstacles.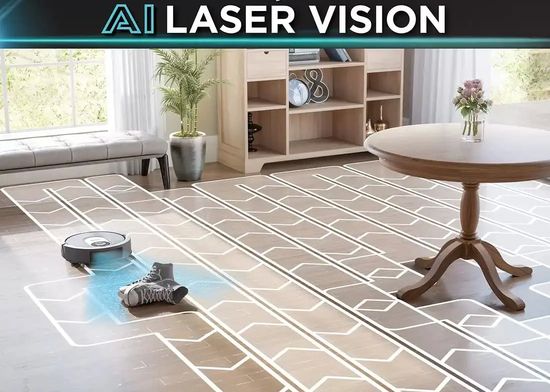 What's more, it supports popular and very comfortable virtual 'no-go zones' which are created via the app. Moreover, new AI robots still recognize the physical BotBoundary strip.
Unfortunately, IQ models only work with the physical boundary strip.
Cleaning in the dark with LiDAR navigation is an added bonus of the new technology.
Key features
Components:
– Self-Emptying Dustbin has a small observation window to control its filling.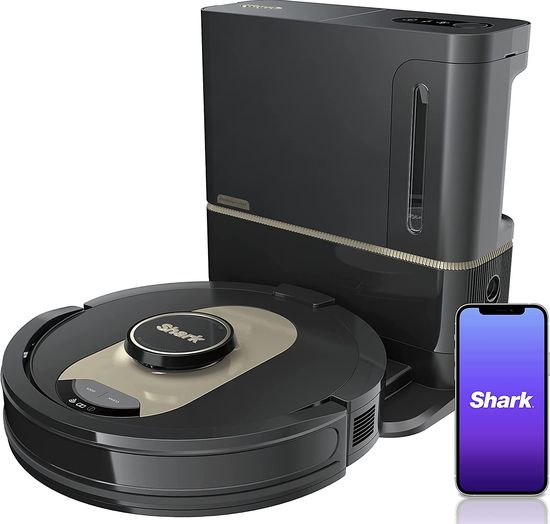 Depending on the model, it has 30/60 days capicity.
The station has foam pre-motor filter under the top cover and post-motor HEPA filter on the right side. The pre-motor filter is cleaned once a month, while the HEPA filter needs rinsing once a year;
– brushroll – the company positions it as 'self-cleaning', but long hair can get tangled around the brushroll or around its bearings.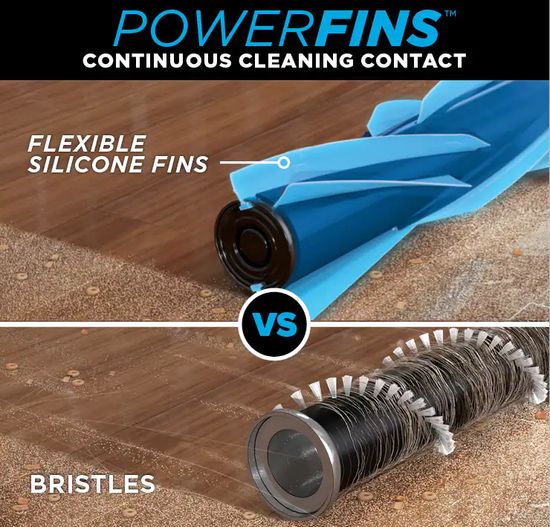 – side brushes are cleaned as needed by hand or with a damp cloth;
– drive wheels and front wheel need frequent periodic cleaning;
– sensors and charging pads are cleaned with a dry cloth.
The model offers high-power 'Max', default 'Normal' and energy-saving 'Eco' suction power modes. 'Eco' or 'Max' are set manually. Perhaps some will consider this a disadvantage. But on the other hand, selecting 'Eco' or 'Max' manually excludes the robot from working with settings from the previous cleaning, which may not be optimal in the current situation.
Traditionally for most robotic vacuum cleaners, its real suction performance is not very high due to the large gap between the surface and the suction inlet. According to testing, it's less than RoboVac G20, whose specs indicate peak suction power up to 2500 Pa.
The great battery performance of Shark AV2501S provides runtime up to 90 minutes even at 'Max' suction power. Energy-efficient 'Eco' mode increases runtime to three hours. Unfortunately, fully recharge lasts almost 4 hours, which is quite a long time.
The noise level does not exceed 60 dB, which corresponds to a conversation.
Cleaning performance and SharkClean app
Cleaning performance in 'Normal' mode:
– almost 90% for large debris and 100% for small debris on bare floor (hardwood, laminate, tiles);
– 50% for large debris and over 30% for small debris on low-pile carpet;
– almost 70% for large debris and almost 50% for small debris on high-pile carpet;
– almost 100% for pet hair on bare floor and almost 80% on any carpet.
With the exception of low-pile carpets, Shark AV2501S perfectly cleans any surface from large / small debris and pet hair. But a thorough cleaning of the low-pile carpet may require a second pass.
SharkClean app connection requires 2.4 GHz network. Compared to other brands, it can be positioned as mediocre.
The SharkClean app provides:
– deep clean in specific rooms, areas, or spots;
– scrubs hard floors 100 times per minute to remove stuck-on stains (sonic mopping in Vacmop models with mopping);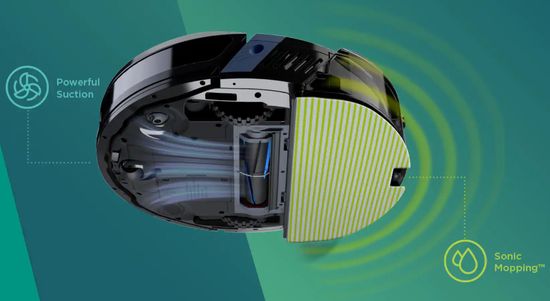 – cleaning schedules;
– iOS and Android compatibility;
– virtual borders ('No-Go-Zones').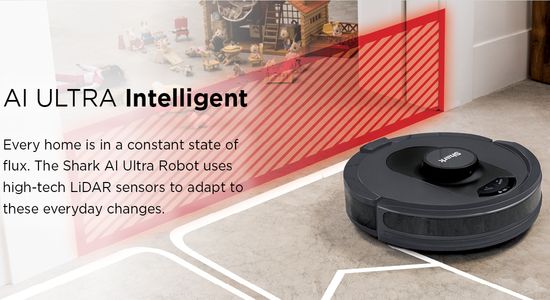 – scheduled start;
– cycle control;
– battery life control;
– cleaning reports and recommendations.
The list of its cons includes:
– relatively slow;
– program failures;
– incorrect status information.
However, they are quite rare.
Conclusions
Overall, the new AI series has successfully expanded Shark robot vacuum range.
At $ 450 / $ 400 / $ 600, the AV2501S, AV2501AE and AV2511AE support many premium smart options including LiDAR navigation and mapping. In addition, they come with self-empty XL HEPA base with great filtration system and AACS (Anti-Allergen Complete Seal) technology. Finally, the new models feature self-cleaning brushroll, UltraClean mode, and Shark's other innovative technologies. Virtual 'No-Go-Zones', low noise level, voice control, runtime up to 90 minutes and low profile for cleaning under low profile furniture are their added bonuses. In fact, their functionality and specs are close to the premium segment at an average price level.
Considering the traditionally attractive Shark's discount system, the AI series can have great value for money, which will provide it with excellent marketing prospects.
This video shows the new Shark AI series with self-empty XL base and LIDAR navigation.