Shark vacuums have long been on the list of the most popular. As known, this brand belongs to SharkNinja Operating LLC, Needham, Massachusetts, which actually combined two popular brands. Today it has offices in many countries and holds over 550 patents.
Of course, the company responded adequately to the rapid development of the robot vacuum cleaners. As a result, today it offers a wide range of popular models in almost all price segments.
Shark robots lineup
Traditionally for industry leaders, SharkNinja offers a wide range of model lines and series. Of course, it expands the consumer choice, but it has a typical problem. For example, a huge number of DeLonghi coffee machines, Samsung / LG / Xiaomi phones and TVs, etc often create confusion with names. Moreover, different names for the same model in different regions further exacerbate the situation. Of course, some companies, including Sony, TCL, Bosch-Siemens, pay great attention to the classifying problem their products. Unfortunately, the Shark robot vacuums naming system is not very convenient. Therefore, even a simplified attempt to classify them can be useful.
Codes in titles
– 'IQ' and 'AI' in the title – first and second generation with advanced smart options (mapping, navigation, etc);
– 'RV' – the first generation of Shark robot vacuums;
– 'AV' – the second upgraded generation with improved navigation, mapping, and connectivity. However, the specs and functionality of specific RV and AV models are often nearly identical;
– models with 'AE' at the end come with self-emptying base;
– the numbers (for example, 1002, 1001, 1010) are store codes.
For example, IQ AV993 and AV753 come without self-empty base. Shark IQ RV1001AE / AV1002AE / AV1010AE are first smart models 1 and 2 generations with self-emptying base.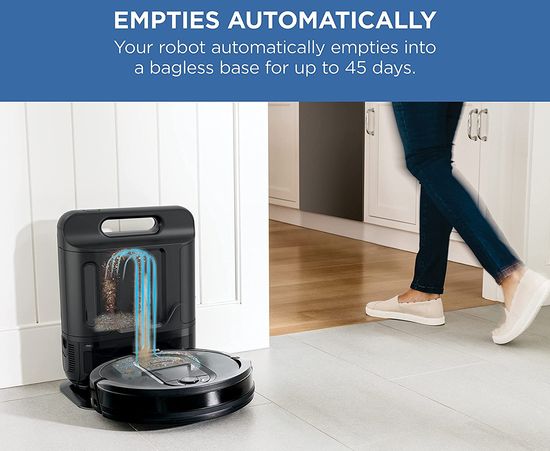 For reference, the RV1001AE was Shark's first model with the auto-dirt emptying function.
Except for brush (no-bristle or regular style), AV1002 and AV1010 are identical. Unfortunately, the brushes in these models aren't interchangeable. Accordingly, the model with no-bristle brush is ideal for cleaning in the home with long-haired pets.
Last year's popular Shark AV911S EZ (self-empty base with 30 days capicity, row-by-row cleaning, Alexa and Wi-Fi, support) doesn't have LIDAR mapping and costs less than $ 400.
Shark cleaning technologies
1. Shark filtration system is considered to be one of the most efficient. It includes:
– pre- and post-motor filters;
– in accordance with ASTM F1977 standard (standard test method), filtration system of XL HEPA Self-Empty Base captures up to 99.97% dust and allergens down to .3 microns;
– AACS (Anti-Allergen Complete Seal) technology provides a complete seal, reliably preventing dust and debris from returning back into the room.
2. AI laser navigation with LiDAR (light detection and ranging) sensors and AI Ultra 360° vision provide efficient navigation, allowing the robot to overcome obstacles even in the dark.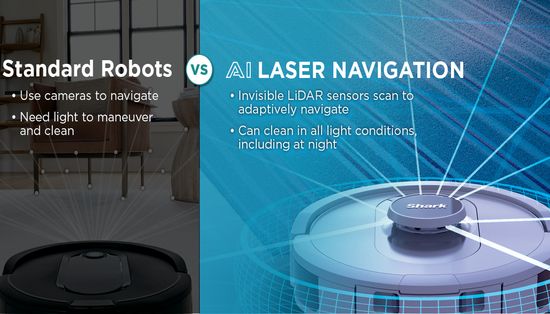 As known, LiDAR provides a high-resolution 3D scan.
3. In fact, PowerFins is an innovative brush-roll with flexible cleaning fins. Optimally placed silicone flexible fins in a chevron pattern provide continuous cleaning contact with carpets and floors. The absence of bristles eliminates the uncleaned areas that remain after the standard brush-roll.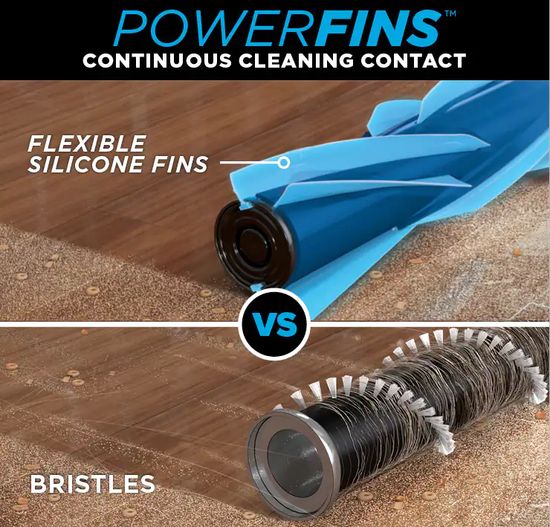 Additionally, this design provides an anti-hair wrap, which is a significant problem of bristle brush-roll. In new models, the company calls it the 'Self-Cleaning Brushroll'.
4. CleanEdge technology directs airflow into corners and edges, blowing out debris and increasing their cleaning efficiency.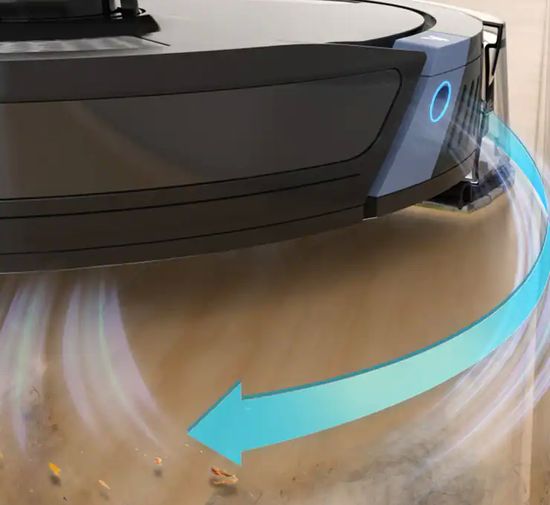 According to the company, the improvement is up to 50% vs RV2610WD without CleanEdge.
5. SharkClean app offres UltraClean mode for extra deep cleaning with no cleaning gaps.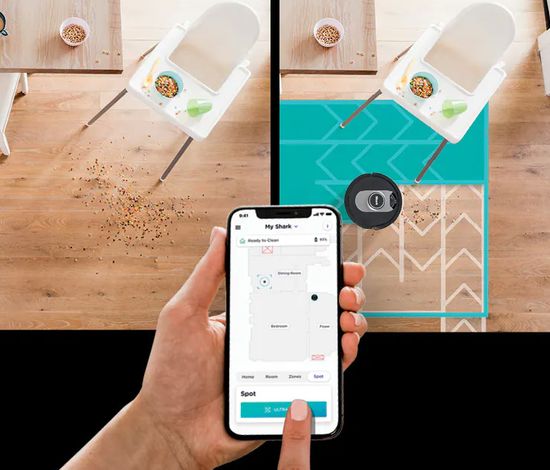 In this mode, the robot makes two complete cleaning passes back and forth, then side to side.
6. Vacmop version with mopping (RV2610WD or AI Ultra 2-in-1), uses Sonic Mopping technology that scrubs 100 times per minute. In addition, the robot uses Matrix Clean Navigation with multi-pass.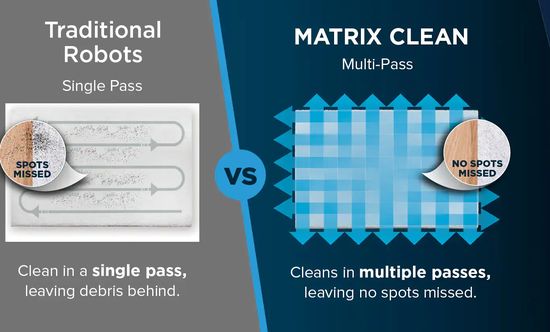 SHARK ION vs IQ
The ION series, including RV 720, R75, RV761, R85 & R871, uses Auto-Sense navigation vs optic camera and floor tracking system in the IQ models. Accordingly, they overcome obstacles worse and may get lost, get stuck, miss cleaning the room, etc.
The IQ AV1002AE or IQ AV1010AE (bristle-free self-cleaning brushroll or regular style brush) can be positioned as the best IQ model.
At $ 440 / $ 400, it comes with XL Self-Empty Base, supports recharging, floors mapping, cleaning room selection, voice control, settings via app, etc.
This model flawlessly cleans any hard floors (stone, marble, laminate, linoleum, hardwood) from dust, dirt, fur, allergens, crumbs, etc. It also cleans medium-pile carpets fairly well. A climbing height of up to 2″ ensures its sure passage through thresholds and tall rugs. What's more, a height of only 3.5″ ensures cleaning even under low profile furniture, freeing the wearer from having to crawl on all fours.
But, of course, its navigation and mapping is significantly inferior to the laser-guided models. For example, it may get confused even with a full map after moving items.
Shark IQ vs AI robots
AI series is an improved version of Shark IQ robots.
Similarities
– self-cleaning brushroll and two side brushes;
– mapping;
– SharkClean app;
– voice control is compatible with Amazon Alexa and Google Assistant;
– auto recharging;
– identical cliff sensors.
Differences
1. AI Laser Vision.
The Shark AI robot has advanced AI Laser Vision module. It improves navigation performance by helping the robot detect and overcome obstacles.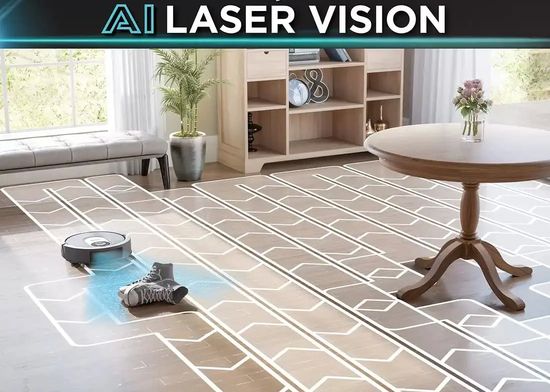 In addition, it supports virtual 'no-go zones' which are created via the app. But AI robots can still recognize the physical BotBoundary strip.
Unfortunately, IQ models does not support virtual boundary and only work with the physical boundary strip.
Additionally, laser scanning allows AI robots to work in low light conditions.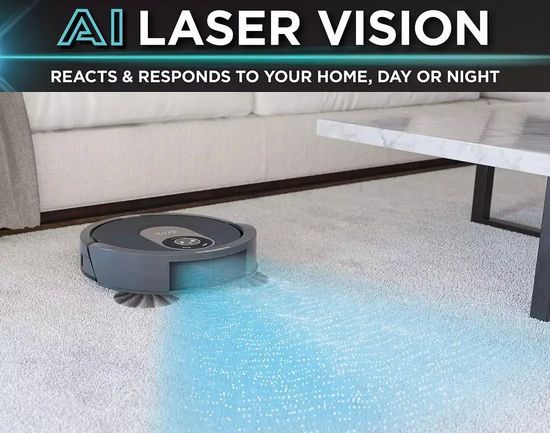 IQ robots cannot move in a row by row in the dark.
To be fair, AI robot only avoids objects taller than 2.8 inches. But some companies are already tackling this problem. For example, Xiaomi Roborock S7 MaxV recognizes even flat objects using ReactiveAI 2.0 system and RGB front camera.
2. Sonic Mopping.
Vacmop version of AI series (Vacmop RV2000WD and Vacmop Pro RV2001WD) uses sonic mopping that scrubs 100 times per minute.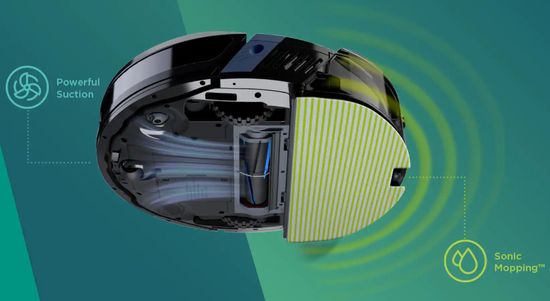 Mopping module provides vacuuming and mopping hard floors at the same time. They cost about $ 100 more (RV2610WA – $ 700 vs RV2502AE – $ 600). To be fair, the innovative Roborock S7 MaxV Ultra provides vacuuming and mopping in one cycle even on carpets. It solves this problem with the help of the VibraRise module, which lifts the wipe above the carpet.
Conclusions
This year the company confirmed its status as one of the industry leaders. Its latest Shark AI series, including AV2501S AE, AV2501AE and AV2511AE, have a good chance of taking their rightful place among the bestsellers. At $ 450 / $ 400 / $ 600, the new models offer all major smart options, long battery life, quiet operation and many innovative technologies, including LIDAR mapping, self-emptying base, sonic mopping (for Vacmop versions) and voice control.
To be fair, they are significantly inferior to Xiaomi Roborock S7 MaxV Ultra with amazing innovative technologies. For example, their Empty Wash Fill dock washes wipes and fills the onboard container with water, providing almost complete automation of mopping mode. But the difference of almost $ 1,000 ($ 400-$ 600 vs $ 1,400) significantly offsets this advantage.
Eufy RoboVac G20 priced at $ 280 without self-emptying base is better for comparisons. But compared to it, Shark offers more functionality.
In addition, Shark traditionally uses an effective and very attractive discount system, which often exceeds 20-30%. Given this factor, the new series has excellent marketing prospects.
This video demonstrates the setups before starting the new Shark AI robot vacuums with self-empty XL base and LIDAR navigation.