Anker Innovations Co., Ltd is a Chinese electronics manufacturer based in Changsha, Hunan, China. It was founded in 2011 by Steven Yang to design and manufacture power banks, charging cables, and USB charging hubs.
The popularity of these products opened up opportunities for the rapid development of the company. Today it has subsidiaries in the United States, Japan, Germany, UK, etc.
You may be familiar with their products, including compact Anker Nebula projectors, Soundcore bluetooth earphones, or ROAV car accessories. Eufy RoboVac robot vacuums deservedly occupy a place in the list of the company's most successful areas.
Much of the brand's popularity was due to the phenomenal success of ultra slim RoboVac 11S, which became the 'Best Robot Vacuum of 2018' by the authoritative Digital Trends. For more than 4 years, the model has been a bestseller. Today it costs $ 170 and already has about 60,000 positive reviews on Amazon.
Unprecedented success was due to an objective factor. Most buyers of robotic vacuums quite rightly hope to get rid of very troublesome cleaning in hard-to-reach places with its help. But cleaning under low-profile furniture drastically limits the robot height. In turn, compact design limits the size and, accordingly, the suction power of its motor. The developers of Eufy RoboVac 11S have found the perfect compromise by creating a model with a height of only 2.85 inches and with a suction power of 1300 Pa, which is enough to clean, for example, hardwood floors.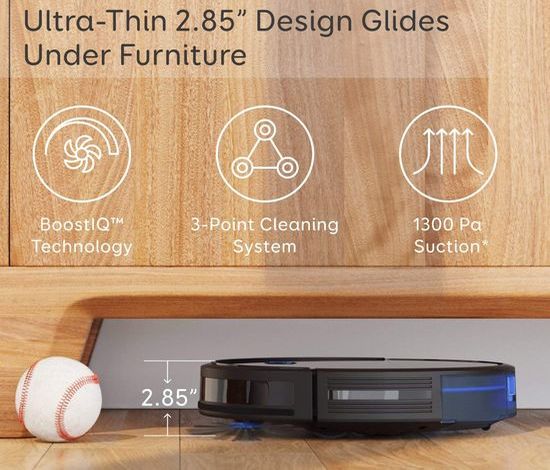 Of course, the company's management adequately responded to consumer excitement. As a result, the company created a line of ultra-slim models, which today includes 11S /11S Max, 12, 15C, 30C/30C Max, G30 /G30 hybrid, 35C, etc. The new G20 has expanded this list.
RoboVac G20 vs G30
The Eufy RoboVac G20 with increased peak suction power up to 2500 Pa can be positioned as a better version of the G30 Edge. The company positions them as 'ideal for hard floors and pet hair'.
New more powerful model demonstrates superior performance on bare floors and high-pile carpet, and has longer maximum battery life. Unfortunately, the option to save of a permanent map is not available. The model also does not support virtual boundary lines and cleaning schedule for specific rooms.
Like the G30, the new model is available in a hybrid version with mopping mode. Of course, versions without it have very low stain-clearing performance.
Price
– G20 (T2257 model)- $ 280;
– G20 Hybrid (T2258) – $ 300;
– G30 (T2250) – $ 200;
– G30 Hybrid (T2253) – $ 220.
Both models provide:
– noise level – 55dB – 68dB;
– height – 2.85 inches;
– dust collector 0.60L (0.45L for hybrid version);
– modes – Auto, Spot;
– WiFi – 2.4GHz only;
– voice control – eufyHome app, Alexa, Google Assistant.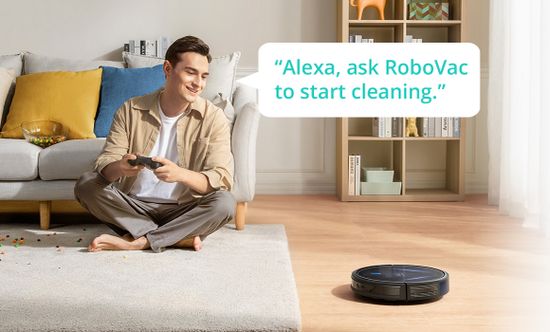 Differences (G20 vs G30):
– Max suction power – 2500 Pa vs 2000 Pa;
– Max runtime – 90 min vs 100 min;
– boundary strip – all except G30, but not included for G20;
– Dynamic Navigation 1.0 vs Smart Dynamic Navigation 2.0.
Unlike the 1.0 version, Smart Dynamic Navigation 2.0 provides:
– cleaning report on EufyHome app (cleaned areas and cleaning time);
– more efficient navigation with a high-precision dual-gyroscope.
Path Tracking Sensor better navigates on low-pile carpets, and identifies cleaned areas, reducing repetition or missed spots.
Design & runtime
The G20 design is almost similar to the Eufy RoboVac G30 Edge. Its glass top cover adds a premium charm to the model but seems fragile.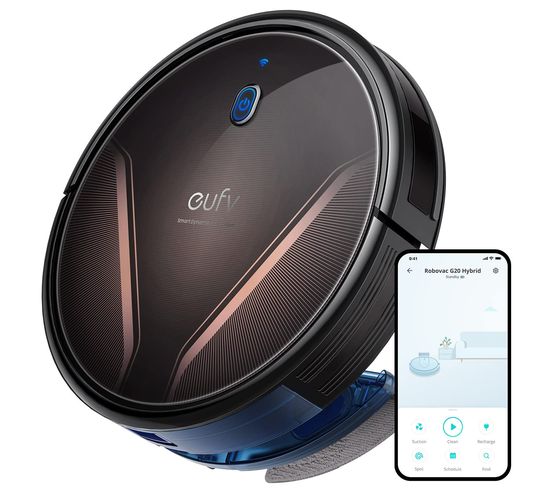 Like the G30, its ultra-slim design is ideal for cleaning under low profile furniture.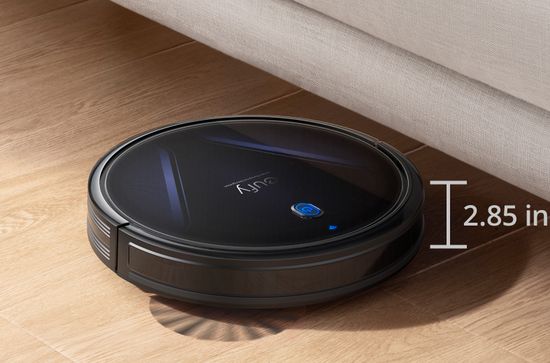 Components care:
– dustbin is emptied after each cleaning cycle;
– brush guard – stuck-on debris from the brushguard is removed approximately once a month;
– brushroll is periodically cleaned of wound threads and pet hair to maintain high performance;
– filter is washed under cold water or cleaned with the included cleaning tool;
– side brush is cleaned once a month by a damp cloth;
– swivel wheel can be easily removed from its socket for cleaning, which increases robot cross-country ability;
– motorized wheel is periodically cleaned with a damp cloth;
– sensors/charging pins are cleaned of any stuck-on dust or dirt with a clean cloth.
Runtime
A few years ago, battery life directly affected the cleaning automation level. Autocharging and start from the point of cleaning interruption drastically reduced the importance of this factor. But out of habit, the cleaning duration on a full charge is positioned as one of the main specs. Of course, it depends on the battery capacity and power consumption, which in turn depends on the set power level or cleaning mode. For mid-budget segment, the G20 shows impressive results:
– min battery life ~ 50 min ('Max' suction mode);
– max battery life ~ 140 min ('Quiet' suction power mode);
– recharge time ~ 280 min.
When the battery level is critical, the indicator light changes color from blue to orange. The side brush can block the dock's charging pin while charging. In this case, the battery status information will be incorrect.
Cleaning performance
Of course, the real suction power of robotic vacuums is significantly inferior to the most conventional manually-operated vacuums. This is due to their design. Too much gap between suction inlet and cleaned surface prevents the tightness of the contact zone. At the same time, reducing the gap increases the risk of the robot getting stuck, for example, due to pile resistance on the carpet.
The model has several suction power settings, including:
– energy-efficient 'Quiet' mode;
– 'Standard' by default;
– 'Turbo';
– 'Max' for high-pile carpets.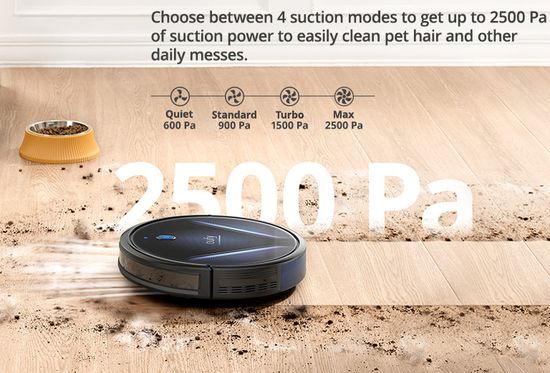 'Spot Cleaning' mode is designed for intensely vacuuming a small area.
'Boost IQ' function automatically boosts power on carpets.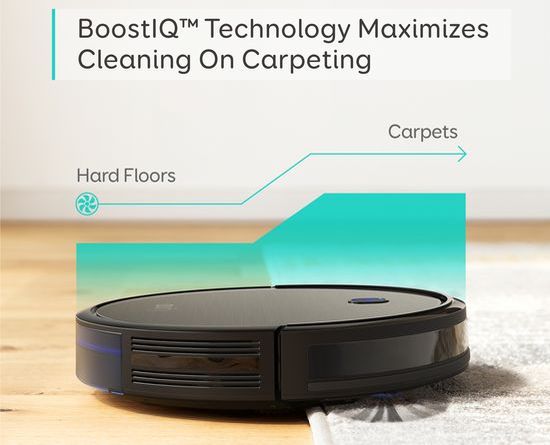 The high peak suction power up to 2500 Pa ensures great cleaning performance for bare floor, including hardwood, laminate or tiles. With "Standard" setting it exceeds 95% for large debris and almost 100% for small debris. But for low-pile / high-pile carpets, it drops to 50% (large debris) and 25%-30% (small debris). Pet hair cleaning performance varies from 80% for bare floors to 60% for carpets. Unfortunately, most pet hair gets stuck on the brushroll, requiring cleaning.
These results may not be very impressive for the industry, but they are great for mid-budget models under $ 300.
Smart features correspond to the price segment:
– eufyHome app.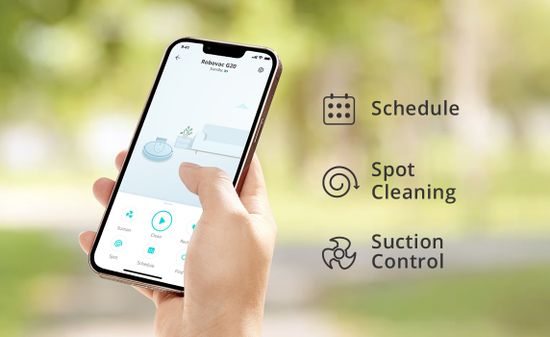 – creating the cleaning route;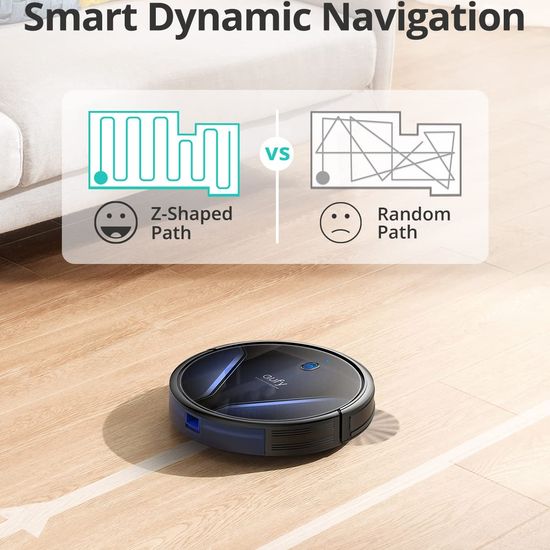 – changing suction power mode depending on the floor type.
Conclusions
Pros
– low price;
– suction power up to 2500 Pa;
– high build quality;
– superior performance on bare floorson bare floors;
– low noise level.
Cons
– imperfect overcoming of obstacles;
– small dustbin capacity;
– need for frequent cleaning of parts;
– side brush can block the dock's charging pin while charging.
Of course, comparing RoboVac G20 with premium models is incorrect. But, the innovative Xiaomi Roborock S7 MaxV Ultra monster with peak power suction up to 5000 Pa costs $ 1,400. Its Empty Wash Fill dock empties the onboard dust container, fills the onboard container with water and washes the wipe. Moreover, the Reactive AI 2.0 navigation system, together with the frontal RGB camera, identifies and successfully goes even around small flat objects on the floor, and the LED spotlight ensures cleaning in the dark. Finally, the innovative VibraRise module allows the robot to clean the carpet and mop the floor in one cycle by automatically lifting the wipe above the carpet. But a difference of more than $ 1,000 partly offsets these innovative bonuses.
For just $ 280, the ultra-slim RoboVac G20 frees the owner from hunting for debris under furniture on all fours. High peak suction power up to 2500 Pa providing great bare floor cleaning quality. For an extra $ 20, the G20 Hybrid version wipes the floor with a damp fiber. In general, the G20 is ideal for a small apartment without long-pile carpets and will take its rightful place in the mid-budget segment.
This video presents the new Eufy RoboVac G20 robot vacuum.