Chinese giant Xiaomi hardly needs an introduction to most consumers. Today, the Xiaomi ecosystem includes several hundred subsidiaries. They manufacture and sell products under over 30 popular brands. Vacuum cleaners are one of its most successful areas. Roidmi cordless vacuum cleaners, Xiaomi Mi and Roborock robot vacuums have long occupied the first lines in various top lists. Moreover, Xiaomi Roborock quite successfully claims to be an innovative leader in the segment.
Traditionally for industry leaders, the company annually expands its lineup, and 2022 was no exception. This year, the company introduced several new series, including the Q5 and the flagship S7MaxV.
Roborock lineup 2022
Taking into account the new series, the list of current Roborock robot vacuums includes (models with '+' comes with self-emptying dock):
– Q5 / Q5 Plus – $ 430 / $ 700, 2700 Pa;
– Q7 Plus / Q7 Max Plus – $ 800 / $ 870, 2700 Pa / 4200 Pa;
– S7 / S7 Plus – $ 650 / $ 950, 2500 Pa;
– S7MaxV / MaxV Plus – $ 860 / $ 1,160, 5100 Pa;
– S7MaxV Ultra (with Empty Wash Fill dock) – $ 1,400, 5100 Pa.
In fact, the Roborock range covers price segments from $ 430 to $ 1,400. All models use lidar navigation+SLAM, but S7MaxV (Plus and Ultra) have lidar navigation and RGB camera. With the exception of S7+ with only real-time mapping, all robot vacuums have real-time mapping and 3D mapping. Except Q5, all series support vacuuming & mopping. What's more, S7 uses Sonic Mopping tecnology with wipe vibration. All models support 'No-Go Zones' & 'Invisible Walls'. 'No-Mop Zones' feature is offered in all mopping models except Q7.
The S7MaxV Ultra could be positioned as the most innovative model on the market. In particular, its Empty Wash Fill dock provides for the first time full mopping automation, including auto-refilling the onboard water tank and cleaning an wipe.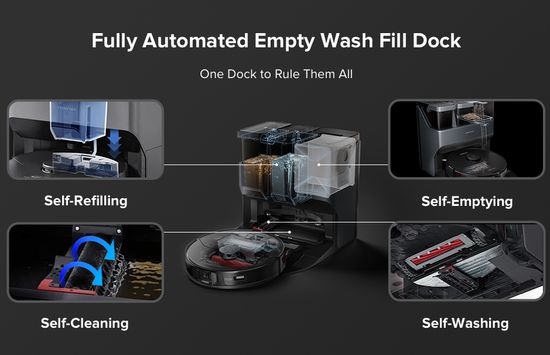 Reactive AI 2.0, VibraRise mop, multi-directional floating brush, front RGB camera and LED spotlight complete this list.
Interest in the Q5 is primarily due to its great value for money. In fact, this series became a cheaper version of the S7MaxV without the mopping and with less engine power. Its peak suction power is 2700Pa vs 5100Pa of S7MaxV. But at almost identical functionality, Q5 is half the price ($ 600 – $ 700 with self-emptying dock vs $ 1,400).
Roborock Q5/Q5+
The choice between Q5 and Q5+ is not fundamental. The price difference is $ 270 ($ 700 vs $ 430). But the Auto-Empty Dock Pure is sold separately for $ 280. Its 2.5L dust bag holds up to 7 weeks of dirt.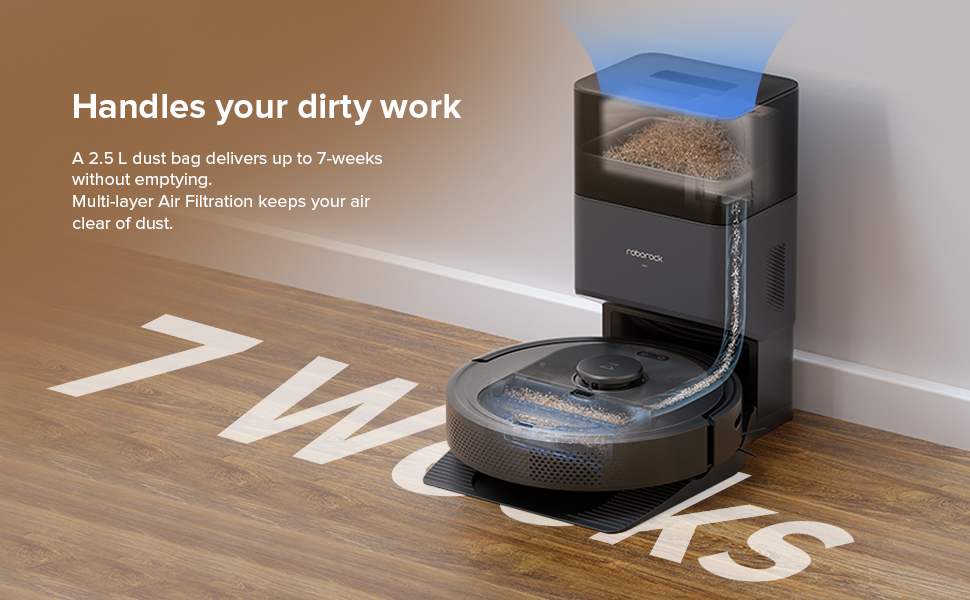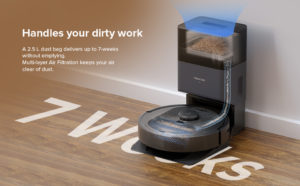 Uncertainty in accurately calculating the cleaning performance creates a temptation to use this all-important parameter for marketing purposes. But not wanting to risk reputation, many industry leaders often specifycite the suction power of vacuums as compared to previous models. Some companies list airflow in CFM (Cubic Feet per Minute). Indeed, the actual performance of any vacuum system depends on airflow and suction power.
In fact, the operation principle of a vacuum engine is similar to a jet engine. By spinning at tremendous speed (thousands of RPM or revolutions per minute), the turbine propellers create airflow. In turn, it creates a vacuum, due to which the debris is sucked into the inlet along with air flows. In fact, airflow characterizes the amount of air being pumped, which depends on its speed. In turn, it depends on the flow diameter.
Suction power actually characterizes the suction force. Like the water pressure in the pipe, it's inversely proportional to its diameter. Simply put, a 2-inch orifice provides the greatest airflow at min suction, while a 0.1-inch diameter, on the contrary, increases suction to max at min airflow. Of course, the vacuum cleaner will not be able to work effectively under these conditions. Therefore, developers choose the optimal compromise for each model.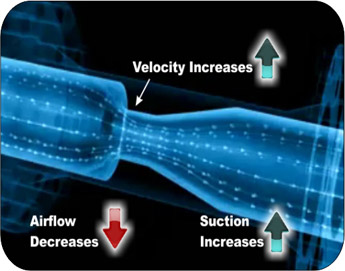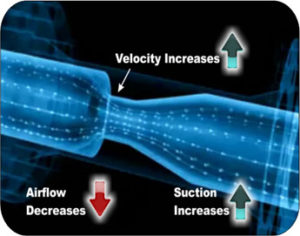 Depending on the combination chosen, some models are more effective, for example, for cleaning small debris on the carpet, but less effective on the bare floor. Other vacuums are more versatile.
Key features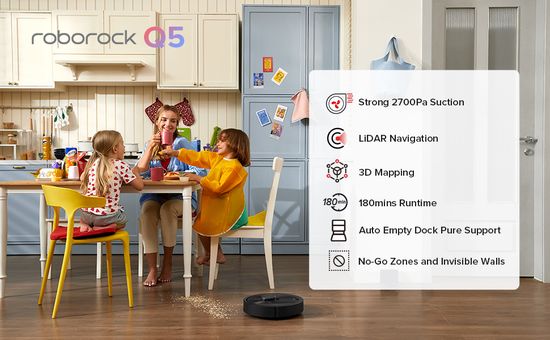 PreciSense LiDAR navigation (3D mapping) creates accurate maps and tracks routes for effective cleaning in any light.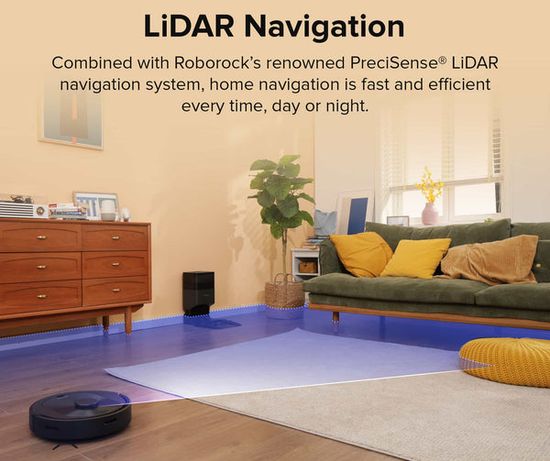 3D mapping supports its editing, for example, when moving or adding furniture.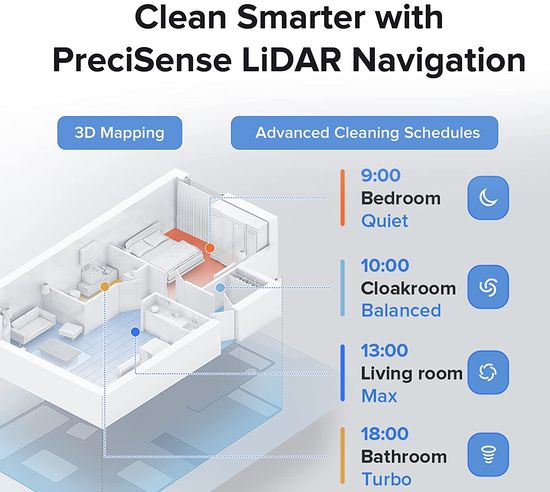 Q5 comes with multi-plane floating main brush. It ensures maximum fit over the entire area, even on uneven surfaces.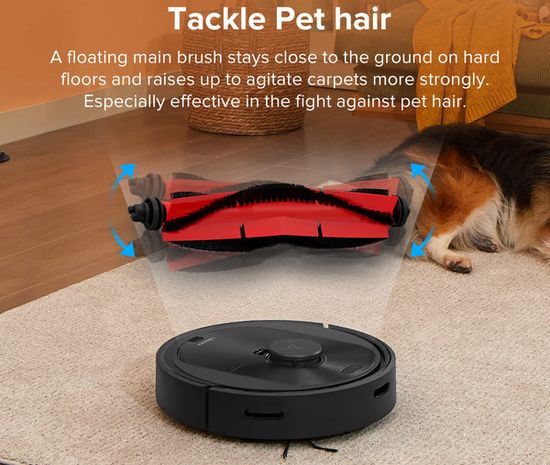 To solve a similar problem, s7 models with mopping mode use a special mechanism that increases the contact pressure of the wipe by ~580 grams.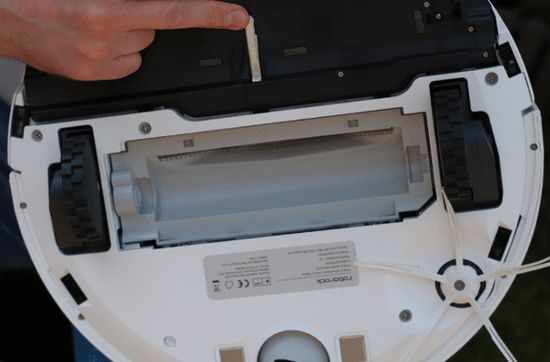 According to the company, the design of the Q5 brushroll provides protection against tangles. But to be fair, it's radically inferior to the upgraded all-rubber brushroll in S7 MaxV.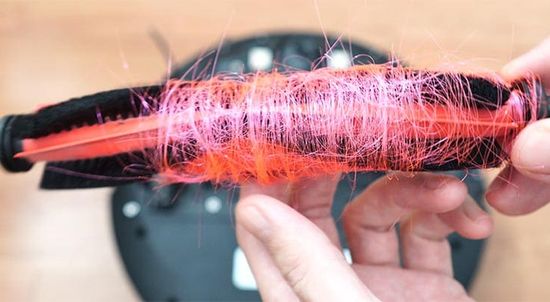 But the Q5 is compatible with the all-rubber version, which is sold separately (for just over $ 20).
470 ml onboard dustbin and 180 mins runtime provide cleaning the 3230 sqft per charge.
Advanced app control supports viewing the vacuuming route, setting schedule, adjusting the suction power, etc.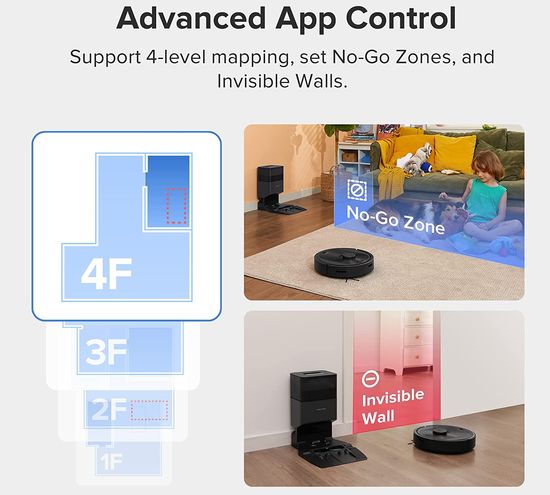 Moreover, the model supports up to 10 No-Go Zones and 10 Virtual Walls for each level.
Voice control is compatible with Amazon Alexa, Google Home, and Siri Shortcuts.
Component care, battery and cleaning performance
Components:
– onboard dirt compartment is washed after removing the filter and dried for 24 hours. Auto-Empty Dock Pure has disposable 2.5L dust bag for about 7 weeks;
– HEPA filter is washed every two weeks;
– brushroll requires cleaning once or twice a week because its densely-packed bristles collect a lot of hair and pet hair;
– side brush and omni-directional wheel are cleaned about once a month.
In general, all components are easily accessible to maintain.
Runtime:
– minimum ('Max' setting) – 80 min;
– max ('Quiet') – 220 min;
– recharge time – 260 min.
The Roborock Q5 has excellent energy efficiency. Its 5200 mAh battery provides over 220 minutes in 'Quiet' mode with min power suction.
Traditionally for many robot vacuum cleaners, Q5 cleans any bare floors flawlessly, but is not very effective for small debris on carpets. Testing its cleaning performance showed ~ 100% for pet hair, large and small debris on bare floor (hardwood, laminate, tiles). Of course, performance on carpets is significantly lower and amounts to:
– 65% for large debris and 70-80% for pet hair;
– only 25% for small debris.
Conclusions
Pros
– great performance on any bare floors;
– long battery life;
– 470 ml onboard dustbin capacity;
– high airflow;
– advanced app control.
Cons
– no mopping;
– LiDAR sensor reduces tightness;
– roller brush with bristle.
In fact, Roborock Q5 models can be positioned as a cheaper version of the S series. They use a similar LiDAR mapping sensor, a powerful engine with peak suction power up to 2700 Pa, and a great 5200 mAh battery.
Comparison of price, specs and functionality Q5 vs Q7, S7 and S7MaxV Plus / Ultra demonstrates superb value for money. Of course, the lack of a mopping function can be positioned as a significant drawback. But many perfectionists are skeptical about the mopping quality with robots, preferring to do this work manually.
However, S7MaxV Ultra with innovative Empty Wash Fill dock has significantly upgraded this option due to cleaning an wipe in dock and Sonic Vibration technology. In addition, auto-filling of the onboard tank with water at the dock and VibraRise module provided almost complete automation of the mopping mode.
Indeed, by detecting a carpet with Ultrasonic Carpet Detection, the VibraRise module lifts the wipe and vacuums the carpet. In fact, these technologies support vacuuming and mopping in one cycle.
But the Q5+ is half the price ($ 600-$ 700 vs $ 1,400), which significantly compensates for the lack of mopping. Otherwise, the Q5+ offers almost the same functionality, smart options and cleaning performance. Therefore, the marketing prospects of the Q5 series are quite cloudless.
This video shows the new Roborock Q5+ robot vacuum.