Some experts are positioning the Galaxy Z Fold 3 as the Note 21 Ultra replacement, but with S Pen support. Given the increased durability, IPX8 waterproof, excellent Qualcomm 5G modem, good audio, and finally, a very tempting discount system, the new product really claims to finally break the prejudice of the consumer market against folding phones.
Price Fold 3 reaches $ 1,800 (£ 1,600 / AU $ 2,500), but the company offers discount by up to $ 800 in exchange for the old Samsung tablets, phones, etc. A similar discount in the UK can go up to £ 250. This offer will be especially interesting for people who have a habit of keeping old gadgets in lockers.
In comparison, in 2020 Fold 2 started at $ 2,000 / £1,800 / AU$ 3,000.
All these prices are valid for a model with 256GB of storage. But increasing the capacity to 512GB increases the price by $ 200. Today Fold 3 are already available in the US, UK, and in Australia.
Key specs
– 5nm 64-bit octa-core Snapdragon 888 (2.84Ghz + 2.4GHz + 1.8GHz);
– RAM / Storage: 12GB & 256/512GB storage;
– MicroSD card slot: None;
– Main display: 7.6-inch 120Hz Dynamic AMOLED Infinity with 2,208 x 1,768 resolution at 22.5:18 aspect ratio;
– External display: 6.2-inch 120Hz Dynamic AMOLED with 2,268 x 832 resolution at 24.5:9 aspect ratio;
– Rear triple cameras: 12MP f/1.8 wideangle camera with OIS and 83° FOV, 12MP f/2.2 ultrawide camera (123° FOV), 12MP f/2.4 telephoto camera with OIS and 45° FOV;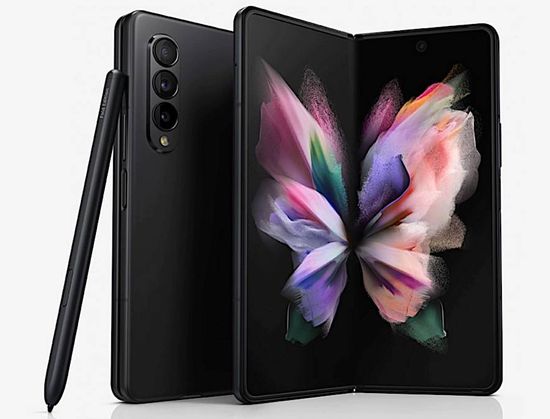 – Front camera: 10MP f/2.2 camera (80° FOV);
– Inside (under-display) camera: 4MP f/1.8 camera (80° FOV);
– OS: Android 11 with One UI;
– Battery: 4,400mAh;
– Charging: USB-C with fast wired charging at 25W (QC2.0 and AFC), fast wireless charging at 10W (WPC and PMA), and reverse wireless charging at 4.5W (WPC Qi);
– Fingerprint sensor: Yes (on power button);
– Waterproofing: IPX8 (immersion depth up to 1 m);
– NFC: Yes;
– Headphone jack: No.
Company offers two configurations, including 256GB with 12GB of RAM and 512GB with 12GB of RAM. The price difference is approximately $ 100.
Model does not have a microSD card slot. However, the huge capicity is useful mainly for 4K and 8K video recording, which is not very relevant yet.
Fold 3 uses 4,400mAh battery vs 4,500mAh in Fold 2 and comes without charger.
Design
The book-like design and functionality of the Galaxy Z Fold 3 is fully consistent with the concept of the previous two models.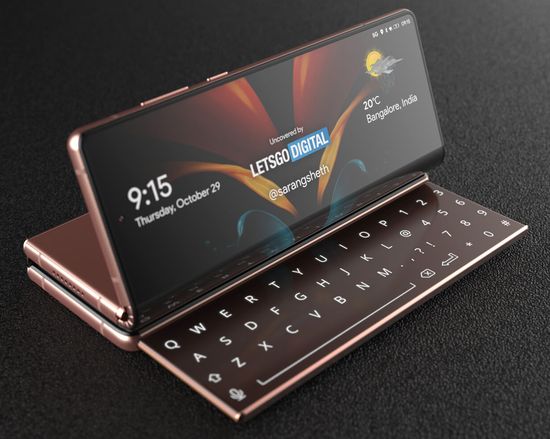 But when closed, the Fold 3 is 0.8mm thinner vs Fold 2.
The smartphone has a fairly large 6.2-inch Cover Display, which is used when using a hybrid as a phone, and a large 7.6-inch internal display.
The device is transformed using a hinge mechanism. According to the company, its strength is increased by about 80% vs Fold 2 due to the stronger aluminum in the Fold's frame, new glass and improved construction. Interestingly, the tougher Ultra Thin Glass feels softer to the touch.
In fact, the new model can be considered completely waterproof. The company has upgraded this protection to an unprecedented IPX8 rating, which corresponds to the safe 'immersion in water more than 1 m deep'. Moreover, some curious users have already checked this statement of the company and confirm the safety of phone immersing in the pool.
Unfortunately, the level of dust protection has not changed. Therefore, a phone case will be quite appropriate, for example, on the beach. Moreover, the reliable and long-lasting operation of the very precision hinge mechanism requires the use of this attribute even under normal conditions. Perhaps this problem will be radically solved in the next generation.
The Galaxy Z Fold 3 comes in Phantom Black, Phantom Green and Phantom Silver.
Display
Of course, internal 7.6-inch Dynamic AMOLED Infinity Flex display with a 120Hz refresh rate, QXGA+ (2,208 x 1,768) resolution at 374 ppi with wide 24.5:9 aspect ratio remains a source of pride for developers. As known, this aspect ratio is ideal to read ebooks and surf the web.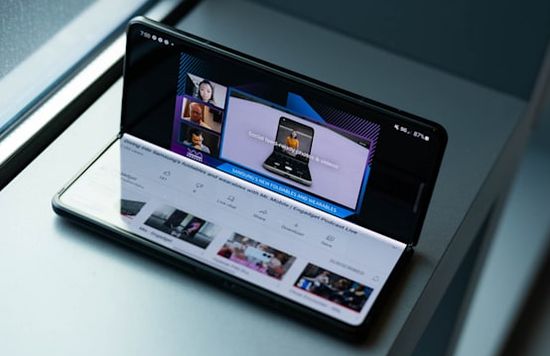 Unfortunately, the model has retained a still-noticeable middle crease.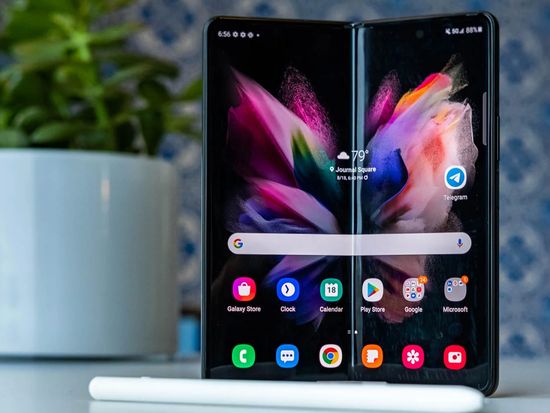 The 6.2-inch Dynamic AMOLED Cover Display with HD+ (2268 x 832) resolution at 387 ppi retained its size, but its adaptive refresh increased to 120Hz.
Unfortunately, the brightness of the main display averaged just above 420 nits that nearly half vs Galaxy S21 Ultra (820 nits) or in the iPhone 12 Pro Max (650 nits). But it gets up to 30% brighter in daylight, which partially solves the problem.
S Pen
Of course, S Pen support is a significant step forward.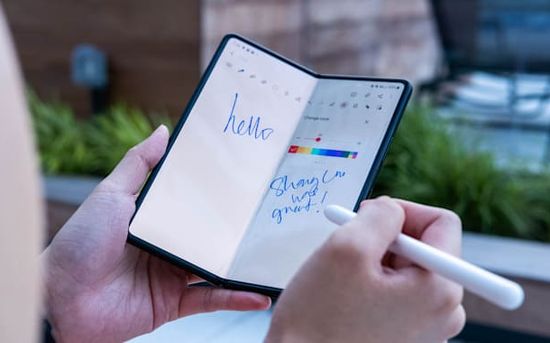 The S Pen for Note series was toothpick-sized and took place within the phone body. Unfortunately, the Fold 3 doesn't have an S Pen slot, which poses an additional problem.
The company developed and sales the S Pen Fold Edition ($ 50), and the larger S Pen Pro ($ 100) with Bluetooth for Air Actions, USB-C charging, and with a case.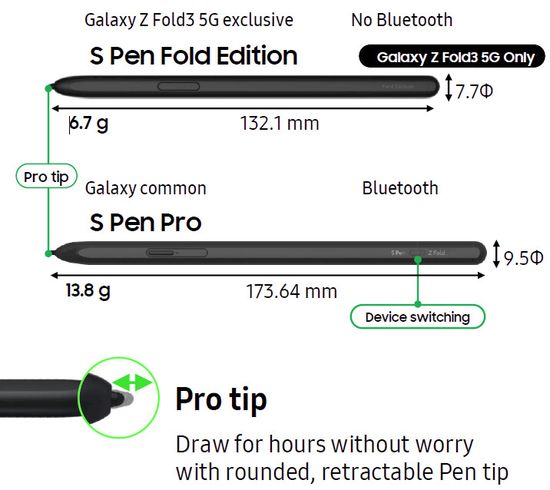 Importantly, to protect the delicate screen of the Z Fold 3, the company has developed a special tip that retracts when pressed too hard. This technical solution really keeps the screen safe even when using the S Pen during driving.
S Pen is handy for drawing on Samsung Notes and has 'S Pen to text' setting for more easily editing. Samsung's system provides a high level of recognizing, which is especially important for people with illegible handwriting.
S Pen-based features:
– Screen Write – a markup feature;
– Smart Select – extracting text and pictures out of other apps;
– Translate – the meaning of words in different languages;
– Live Message — capture an image and adding text or doodles;
– AR Doodle – superimposing your drawings over real-world objects.
Unfortunately, the S Pen is not supported by Cover Display.
Cameras
The Fold 3 is not a cameraphone, and the developers quite rightly equipped it with good cameras without much specs.
The module includes:
– main camera-12MP, f/1.8;
-ultrawide camera-12MP, f/2.2;
– telephoto camera (2x optical zoom)-12MP, f/2.4;
– 4MP & 10MP front-cameras of internal screen and Cover Display;
– optical image stabilization in the telephoto and ultrawide cameras.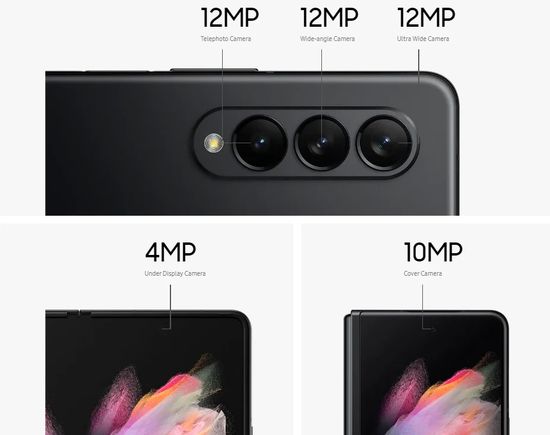 Some features from the Galaxy S21 Ultra:
– Single Take (Dynamic Video);
– Director's View (for using the front and back cameras at once);
– Rear camera selfie;
– Capture View Mode (viewing photos and live preview at once).
The sharp and bright photos have rich colors, but their detail is poorer compared to the main cameras of S21 Ultra or iPhone 12 Pro Max.
The Fold 3 only has a standard 2x optical zoom, which is pointless compared to the excellent 100x Space Zoom (digital) in the S21 Ultra or Note 20 Ultra. On the other hand, it's indispensable for professional photo, for example, for a private detective, but hardly relevant for amateur shooting. However, 10x or 30x would be a good compromise.
The punch-hole with UDC technology of front-cameras on the 7.6-inch main display is hidden by a patch of pixels.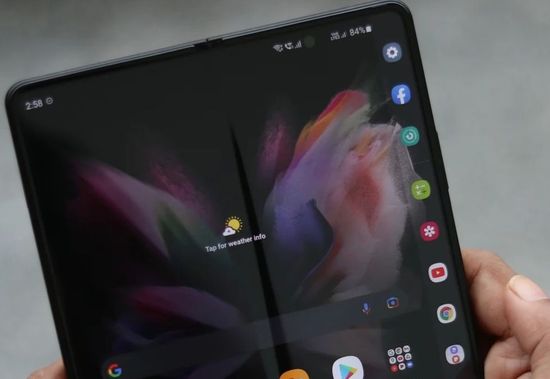 Of course, innovative Under-Display Camera (UDC) technology enhances the screen aesthetics, but unfortunately it brings down the camera's resolution to 4MP. Perhaps this quality will be sufficient for video conferencing. In any case, the model has a 10MP front-camera on Cover Display.
Snapdragon 888 5G Mobile Platform
For this model company does not use proprietary Exynos SoC. All Fold 3 have powerful Qualcomm Snapdragon 888 chipset that handles multitasking with ease.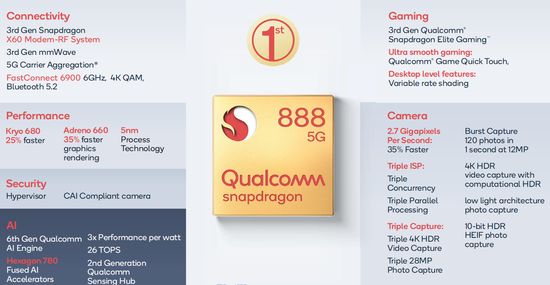 As known, 5nm 64-bit octa-core Snapdragon 888 5G Mobile Platform for phones was introduced in 2020 and is manufactured at Samsung. SoC integrates 'Prime Core' (ARM Cortex-X1 up to 2.84 GHz), three performance cores (ARM Cortex-A78 up to 2.42 GHz) and four energy saving cores (ARM Cortex-A55 up to 1.8 GHz). The WiFi 6e modem, a Hexagon 780 DSP (up to 26 TOPS of AI performance) and a Spectra 580 ISP complete the list of its components. The integrated memory controller supports faster LPDDR5 memory with up to 3,200 MHz. 5G is integrated in the chip with the Snapdragon X60 modem.
Its performance around 15% better vs Snapdragon 865+. The Adreon 660 GPU performance was also up by about 35% compared to SD 865.
Tests
Geekbench 5 (overall performance) – 3.418 (multi-cor) / 1.107 (single core). For comparison, Galaxy S21 Ultra – 3,400 / 1,123, iPhone 12 Pro Max – 4,100 / 1,600.
3DMark Wild Life (graphics test) – 33 fps vs 39 fps on the iPhone.
Considering app pairing (two apps at the same time) in Fold 3, choosing a powerful SoC seems absolutely reasonable. In fact, the phone comes close to the laptop for the first time. The Multi-Active Window feature allows you to run two apps side-by-side by dragging content between them, or run up to three apps at once. Activating the new Taskbar feature for switching between apps 'on the fly' requires Samsung Labs, which in turn is available via the Settings menu. In addition, the new App Pair feature has improved the creation of shortcuts for apps.
Conclusion
Pros
– responsive flexible screen;
– very tempting system of discounts up to $ 800 in exchange for old Samsung devices, including phones, tablets, etc;
– Spotify, Gmail, Chrome, TikTok and some other apps are alrady optimized for the Fold 3;
– S Pen support;
– excellent Qualcomm 5G modem;
– good audio;
– large bright 7.6-inch screen with a 120Hz refresh rate;
– 120Hz Cover Display;
– very stylish design;
– improved multitasking features;
– more durable design (stronger Armor Aluminum body, Gorilla Glass Victus display and new protective PET film) and IPX8 waterproof (full immersion in water more than 1 m deep up to 30 minutes).
Cons
– the price without discount is still high;
– no S Pen and charger included;
– too narrow external display;
– cameras only mid-level;
– only 2x optical zoom;
– dust protection has not improved;
– in web surfing test 4,400mAh battery provides only 8 hours (60Hz display mode) vs 10 hours for other flagships;
– Cover Display does not support S Pen.
Perhaps, Google Pixel 6 и 6 Pro with innovative Google Tenzor Soc and the long-awaited 5th beta of Android 12 can claim the status of the most innovative series among traditional phones this year. But Samsung Galaxy Z Fold 3 and Flip 3 can be positioned as the main and only new items of the year in the segment of folding phones.
A huge number of pros with insignificant cons, and a tempting system of discounts can finally break the prejudice of the consumer market against folding phones.
This video offers a trailer with Galaxy Z Flip 3 & Fold 3.