As known, to date, Google has already released three Android 12 previews, two beta builds, and the third Android 12 beta for Pixel. In fact, the final build will be the last one. Of course, the new functionality is well-founded interest of consumers and experts.
Wallpaper-based Theming System
Google uses the codename 'Monet' for this system. In fact, it adapts the interface depending on your wallpapers and can be positioned as part of the Material You design.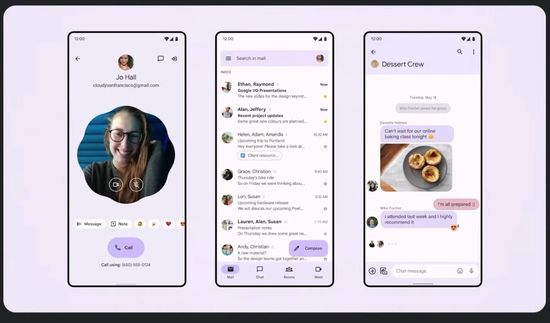 This feature first appeared in the second beta and quite successfully selects the dominant color depending on from the wallpaper and theme the device.
Privacy Dashboard and Privacy Indicators
The new version greatly simplifies tracking apps with accessed permissions, including camera, microphone, and more. New 'Privacy Dashboard' shows all such apps with timestamps.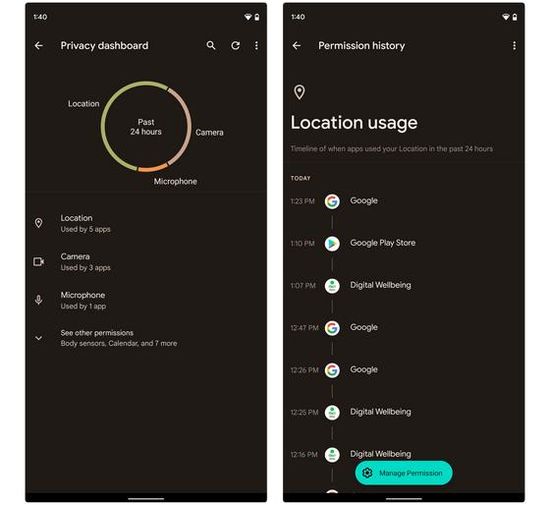 In fact, this function displays information about the time of use of a camera, microphone, etc. Additionally, the function offers two new QS toggles for removing app access to sensors.
Improved Notification Shade
It has appeared since the second beta version. First of all, this feature improves the notification shade and quick settings panel, optimizing the visualization.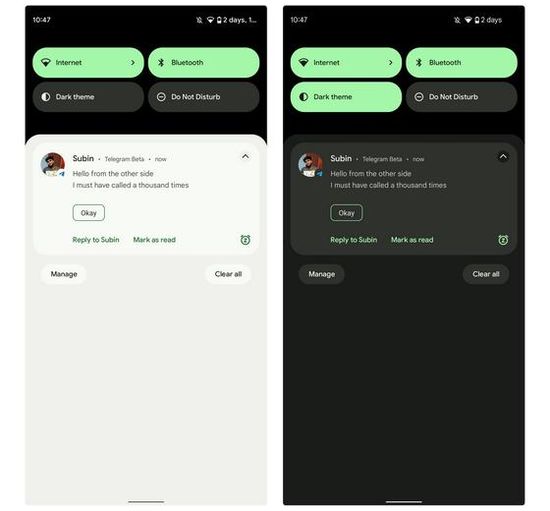 Also, Google merges 'Wi-Fi' and 'Mobile data' switches into single 'Internet' toggle.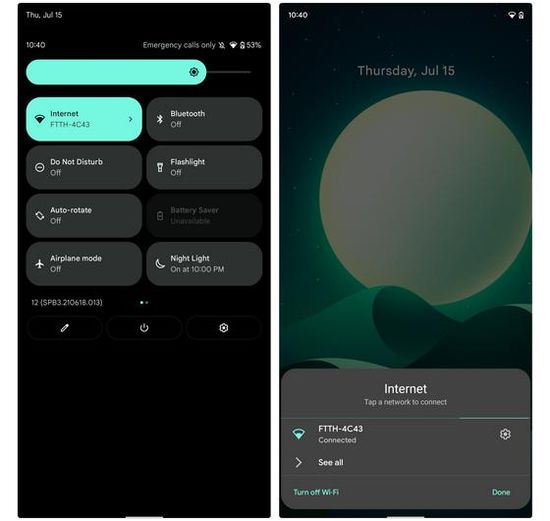 This solution allows the user to change Wi-Fi networks and manage mobile data without 'Settings' app. Unfortunately, turning off Wi-Fi requires two taps and a swipe gesture. But since beta 3, Google has added a 'Turn off Wi-Fi' button in the 'Internet QS' toggle.
But returning Wi-Fi Toggle in Quick Settings is done with Tasker app. In turn, the setting this powerful automation app requires the Tasker Settings app. However, they are available in the Play Store.
The latest version uses an opaque notification shade background, and each notification has delayed signal option (15/30 minutes or 2 hours), which is often very convenient.
Redesigned Quick Settings
The developer has radically redesigned this panel, increasing the number of chunky toggles with text on one page, which replace traditional compact QS toggle.
In addition, the color of the toggles in a passive state state is now harmonized with the overall background. For example, for blue, inactive QS tiles will have a pale blue color.
What's more, Android 12 offers the additional 'Extra dim' QS toggle to quickly reduce the brightness and QS toggles to disable the microphone and camera.
Media Player Revamp
In the persistent media player, the developer has significantly increased the overall size of media controls. Its color is also harmonized with the system color, and the shape has rounded corners.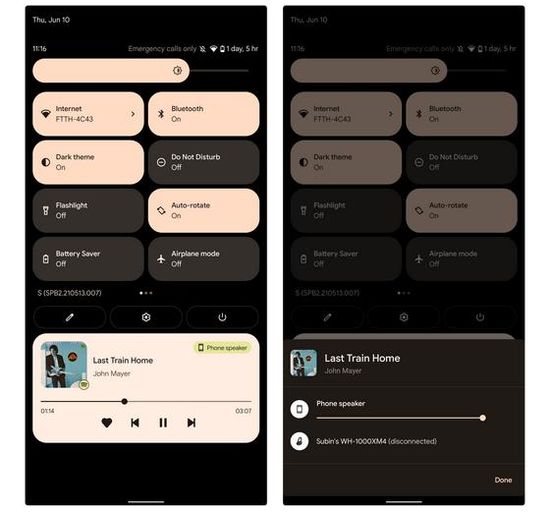 Additionally, it offers activity-based media recommendations via 'Settings – Sound and vibration – Media'.
One-Handed Mode
This feature is similar to Apple iOS 14's reachability and is designed to display content only on the bottom half of phone screen. Режим включается с помощью 'Settings – System – Gestures – One-handed mode'.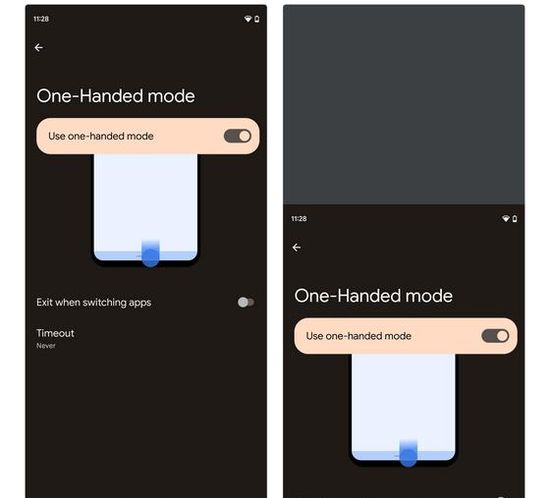 It can be disabled when switching between apps. The mode settings offer four timeout options, including never, or 4/8/12 seconds.
Scrolling Screenshots
This feature has been working since the third beta version.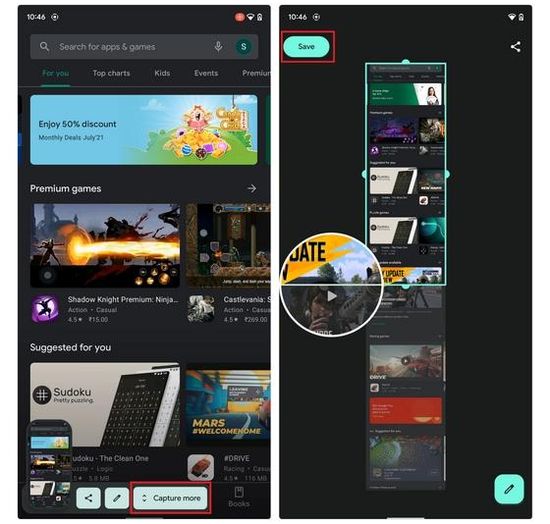 The function algorithm contains several steps, including Screenshot – 'Capture more' button to extend the screenshot – select a screen fragment – 'Save'.
Redesigned Power Menu
New basic power menu contains Emergency button, Power off button, and Restart button.
Also Google has added a new QS tile to access smart home controls. It's accessible through the 'Device controls' toggle, which was previously in the power menu.
Redesigned Lock Screen
This function displays a huge clock alongside a tiny date indicator when there are no pending notifications. But with an active notification, its compact option is placed to the top-left screen corner.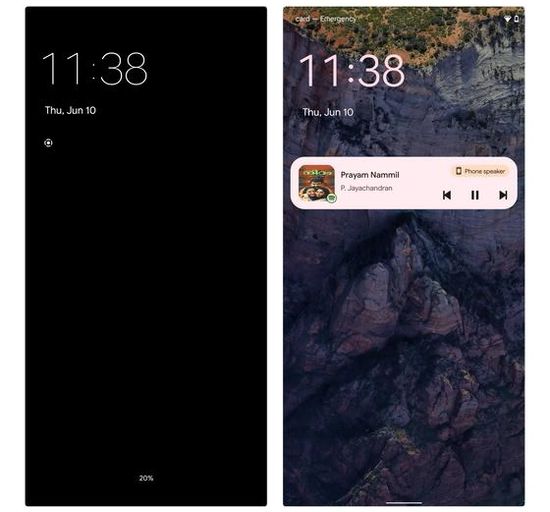 Revamped Settings App
In Android 12 Google uses the OneUI-esque design, which is more convenient for one-hand usage.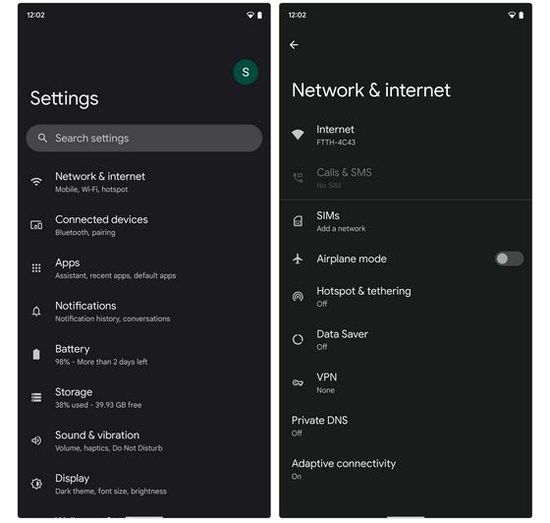 Clipboard Access Alerts
The developer has added a toast notification when the phone uses clipboard.
Improved Widgets Page
Android 12 offers an UI widget for the first time.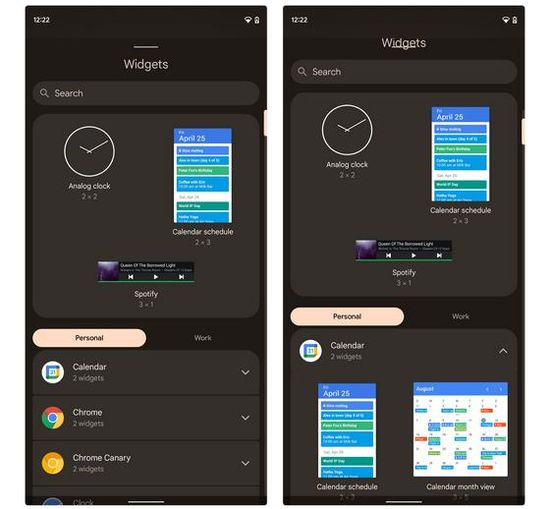 If app makers are adapting their widgets to fit the new design, Material You Widgets are well positioned to be one of the best features in Android 12.
Conversations Widget
The conversation / people space widget is for track recent messages, missed calls, and activity statuses for selected contacts.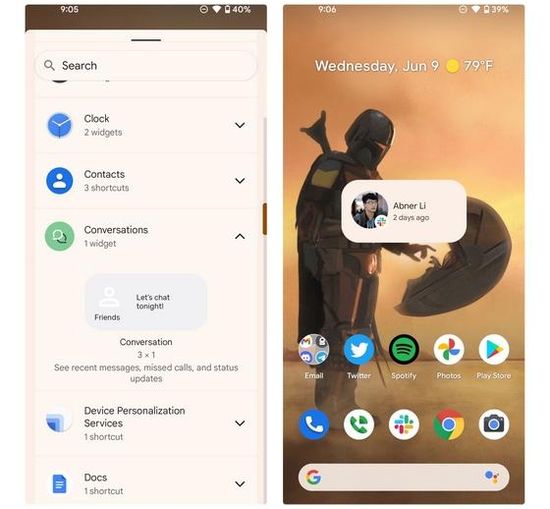 New Sparkly Ripple Animation
This is a sparkly ripple effect animation при нажатии different menus and toggles.
Share Wi-Fi Passwords with Nearby Share
The developers have expanded and simplified the ability to share Wi-Fi passwords with other Android devices. This option is on the QR code generation page, которая отображается через 'Share' button of a Wi-Fi connection in 'Settings'.
Hold for Assistant
New toggle activates the Assistant with the power button.
Live Preview in Recent Apps
This function, for example, plays a YouTube video while user is on the recent apps page.
Face-based Auto-rotation
The front phone camera detects the user face and adjusts the screen orientation accordingly.
Share Links from Recent Apps Switcher
This very comfortable feature copies and share links directly from the apps switcher.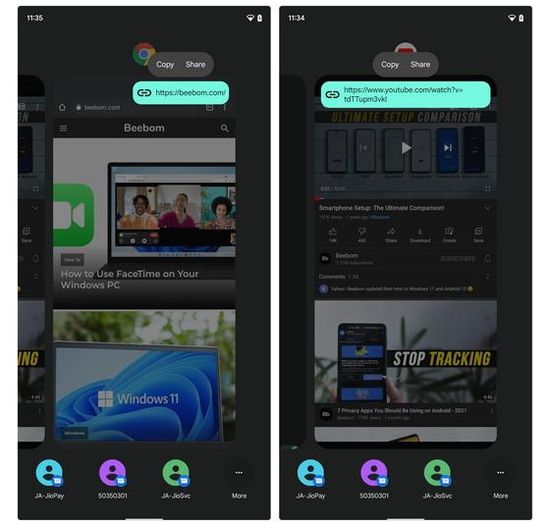 It works stably with Chromium browsers, including Google Chrome, Edge and YouTube apps, but does not support Firefox, for example.
Digital car key
It's designed to unlock of any compatible car. Digital Car Key with ultra-wideband provides unlocking car even with phone in your pocket. Moreover, the developers have provided backup through NFC for phones without ultra-wideband support.
Of course, this feature requires cooperation with carmakers, but BMW has already confirmed its desire to participate in supporting this direction.
Conclusion
Of course, the developers have done a great job and Android 12 may well be positioned as a big leap in improving the phone's OS. Improving the previous ones and adding new functions promises to significantly expand the smartphones functionality, which is the main trend in this segment.
As known, Android 12 will first appear in Pixel 6 and Pixel 6 Pro with an innovative Google Tensor SoC. Of course, this factor further increases the competitiveness of the new Google flagships.
Generally, the competition between iOS and Android continues, which is always pleasing for the consumer market.
This video showcases new features of Android 12 Beta 5.