A very wide range of these devices on the market complicates the choice of the optimal model. Knowing their key features simplifies this task. This list includes the following factors.
Features of modern models
Of course, quality of anti-stick coating directly affects their durability. Popular Teflon is the cheapest and easy to clean. But it has a low mechanical strength and requires careful handling.
A more expensive ceramic coating contains natural clay and is more durable. Ceramics are often coated with additional polymeric materials to increase its strength.
Marble coating is easy to clean due to the high surface smoothness of this mineral. But its hardness varies from 3 to 4 on the Mohs scale. This value is lower even compared to glass.
Of course, power must match to the pot capacity. The power of modern models varies from 200 to 2000 W. This value affects the stewing, roasting and baking duration. Power of about 700 W is sufficient for comfortable cooking for 3 people. Fast cooking mode requires power from 1500 W and above.
Usually, modern models of the upper price segment support up to 8 modes, including the yogurt cooking and up to 14 automatic cooking programs.
The list of the most popular additional functions includes:
– delayed start;
– heating of the ready-made dish with the possibility of switching off;
– multi chef (manual setting of cooking parameters);
– detachable cord;
– 3D heating mode.
COSORI Mini Cooker 7-in-1
Today COSORI Mini Cooker 7-in-1 is one of the most popular models.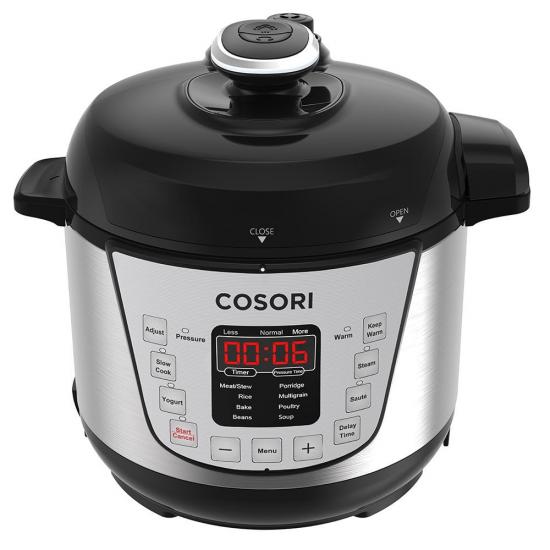 Cosori Mini is very convenient for cooking a family of 2-3 people. This model is very simple and convenient to use. Its functionality combines functions of 7 devices.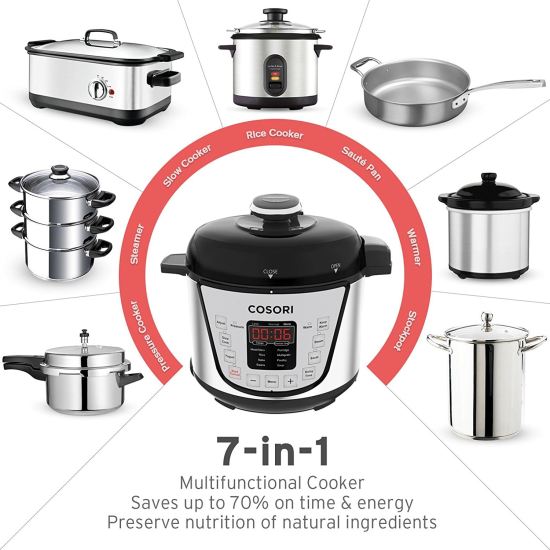 This model has thirteen automatic programs that are controlled by a microprocessor.
The inner surface of the aluminum pot has a 3-layer coating of stainless steel that improves its thermal conductivity. Detachable glass lid, inner pot and steam rack are washed in the dishwasher.
Safety
Model has 9 special mechanisms that ensure complete safety. This set includes:
– Lid Lock locks the lid opening at high pressure in the chamber;
– Anti Clog Protection protects the pressure release valve from small particles;
– Pressure Limiter;
– Temperature Control for evenly cooking without burning;
– Excessive Temperature Control limits maximum temperature;
– Excessive Pressure Control opens the valve at too high a pressure;
– Pressure Auto Control;
– Electrical Current Control automatically limits maximum current;
– Lid Position Control blocks operation if the cover is not correctly positioned.
Thermolytic Bottom dissipates heat very effectively, increasing the lifetime.
Large Control Panel has a bright display with an intuitive menu.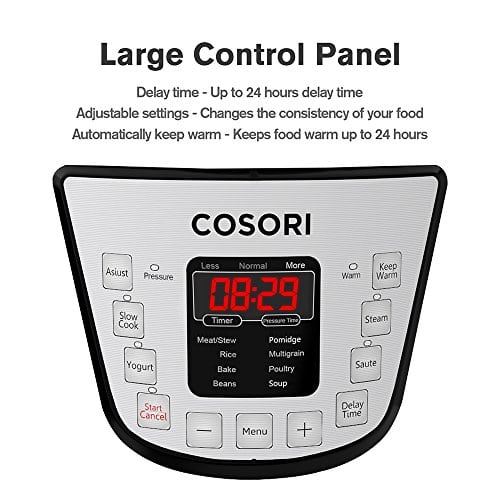 Large comfortable buttons on the upper surface regulate pressure.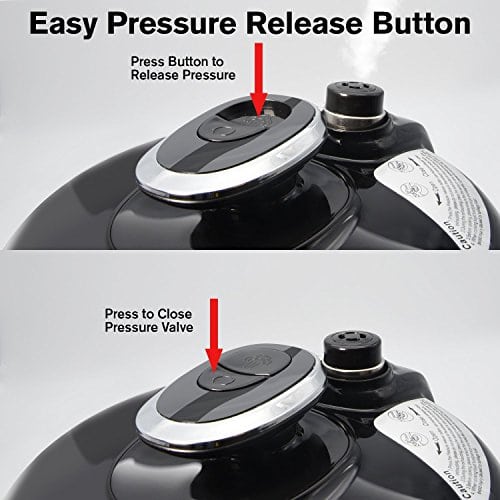 COSORI Mini Cooker 7-in-1 has a wide range of different accessories.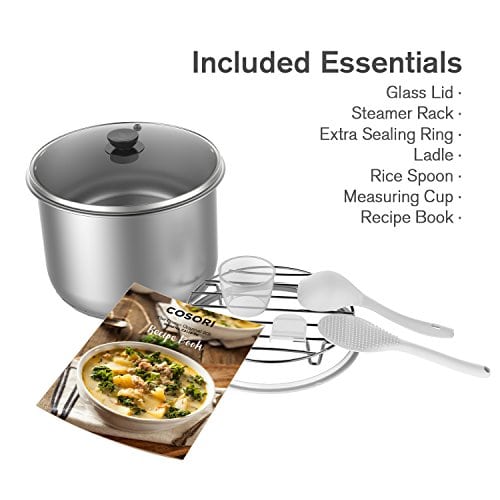 Users note the most often the following advantages and disadvantages.
Pros:
– compactness;
– intuitive menu;
– low price;
– high quality of assembly and materials;
– high quality of coating inner pot;
– removable cover;
– large pressure control buttons.
Cons:
– small capacity;
– cord is too short;
– lack of instructions for the pressure cooker mode;
– limited assortment in the book of recipes.
The cooking process using these devices can be viewed on video.