In fact, south Korean Cuckoo Electronics Co.Ltd. almost 40 years has been developing and producing household appliances. Therefore, not by chance its models are leading among multi-cookers with technology of cooking under pressure. Moreover, this company uses 54 patented technologies, including those developed by Cuckoo Sungkwang Chemical Co. LTD. Of course, Cuckoo models have high cost, but their quality and functionality also correspond to the highest level. Cuckoo Rice Cooker CRP-CHSS1009FN is one of the best models.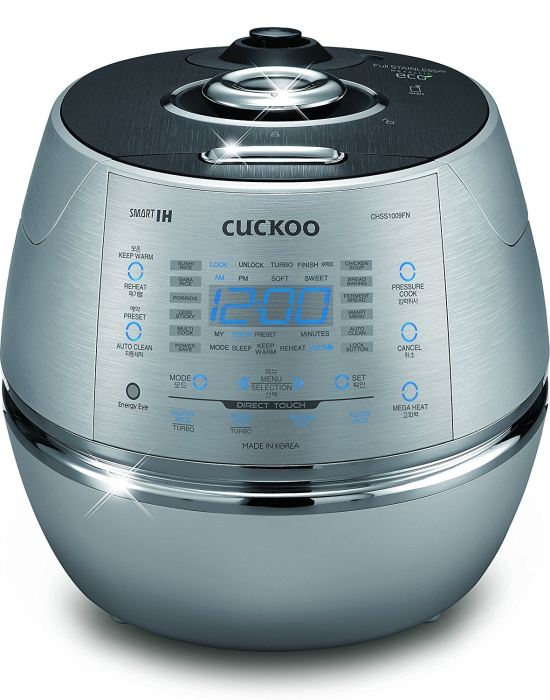 Design
Its stylish design perfectly harmonizes with any interior. Additionally, this model is available in several colors. Moreover, Cuckoo CRP-CHSS1009FN supports almost all modern innovative technologies.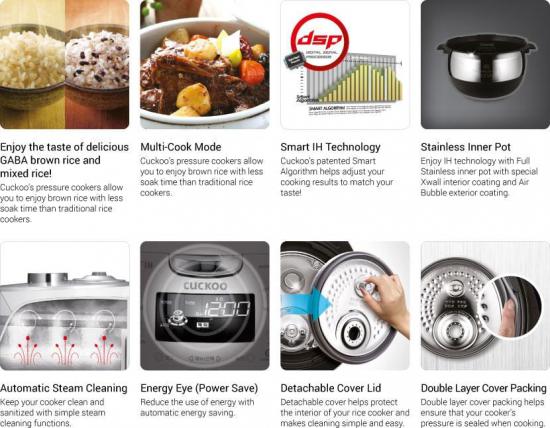 The outer side of the lid contains a closing indicator, a pressure regulator, a steam outlet, a vapor absorber and a handle. A heating element, a temperature sensor, a pressure regulator unit and a powerful removable inner lid with a sealing ring are located on the inside.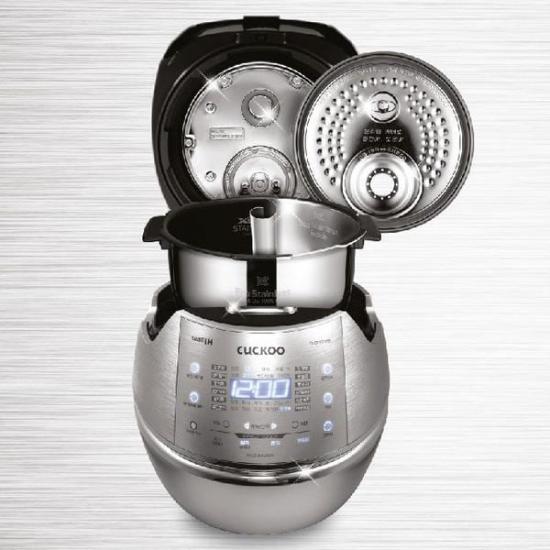 Inverter induction heater at the bottom of the device provides heating. The back panel contains a container for collecting condensate.
The touch control panel contains a digital display, control sensors and indicators. The control system uses Fuzzy Logic & Intelligent Cooking Algorithm from Cuckoo Company that offers new interesting options. For example, Smart Algorithm DSP technology provides selection of the optimum heating and temperature for different types of grain.
The inner surface of the steel bowl has a patented Xwall non-stick coating. Additionally, bowl has handles of heat-resistant material.
Moreover, it has capacity of 10 Cups or 5 Liters or 5.3 Quarts. The model provides power of 1455 W.
This device uses an induction inverter heater to quickly and evenly heat the bowl from all sides, and several traditional heaters in the lid and side walls for 3D heating.
Moreover, the high pressure cooking mode provides up to 88.2 kPa. Of course, this mode substantially shortens cooking time. But it also provides the cooking yoghurt and cheese.
Features
Additionally, this model has 19 preset automatic programs and a multi-chef mode with custom settings. Moreover, a separate mode provides saving in memory up to three frequently used cooking programs.
Turbo mode is designed for accelerated cooking of rice or other cereals. The delayed start timer provides up to 13 hours.
Cuckoo CHSS1009FN has an improved warming up function that provides temperature adjustment and can be turned off. A separate function is used to warm up cooled dishes.
Pros:
– stylish design;
– high quality of assembly and materials;
– 3D heating;
– induction heating;
– large number of innovative technologies, including a self-cleaning by steam and Smart Algorithm;
– complete set of traditional functions (multi-chef, delayed start, auto warming up, etc.);
Cons:
– very high price;
– limited set of accessories.
Today, the model successfully competes with its competitors. The video demonstrates the 2019 comparison.