The popularity of household SMART appliances with control through a smartphone has steadily increased in recent years. Kitchen appliances are no exception. Crock-Pot Wifi Slow Cooker is another novelty in this list. It supports WeMo SMART technology from Belkin that provides remote control of home appliances. The WeMo App shows step by step screens of setting.
Chrome housing with black insets provides a stylish design that perfectly combined with any interior of the kitchen.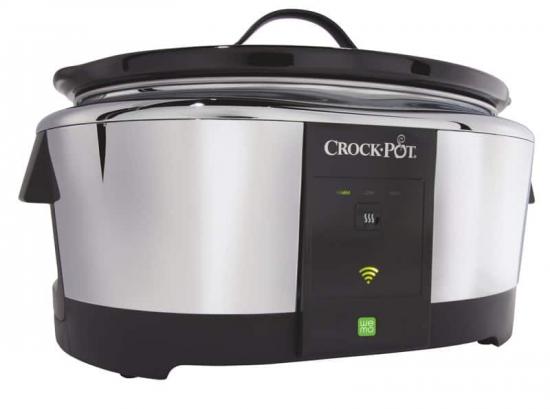 The inner ceramic pot is very easily removed for cleaning. The glass lid provides visual control over the cooking process.
The button on the front panel is used to select the heating intensity that corresponds to Warm, Low or High. The Wi-Fi indicator under this button displays the connection to the network.
This model is quite cumbersome for a small kitchen. Its dimensions reach 17 x 14 x 9 inches.
Wi-Fi connection
Crock-Pot Wi-Fi Slow Cooker requires preloading a special app for working with WeMo devices that is available for Android and iOS. Wi-Fi signal Crock-Pot is displayed in the settings. Then, Crock-Pot connects to the home network. The duration of the whole process does not exceed several minutes. Crock-Pot uses a single app to control all devices with WeMo support.
The start screen displays all connected devices. "More" button in the lower right corner is used to go to the service page to change the settings, adding new devices and informational support. The app for Crock-Pot provides a choice of heating intensity (Warm, Low or High) and setting the timer.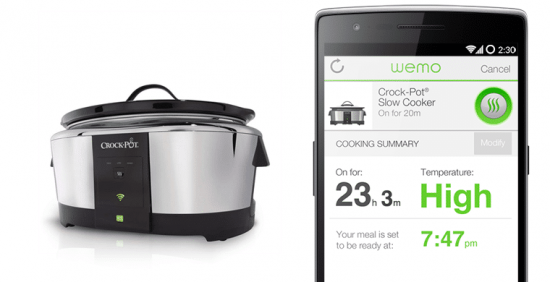 Support IFTTT ensures the coordination of device programming with the TV program.
The capacity of the inner pot is 6 quart that is quite enough for about 4.5 lb of meat.
Unfortunately, the first start of the device is accompanied by a strong smell of hot plastic. This problem is typical for many devices in this class. It disappears after several cooking cycles. Using water with lemon is the most effective way to eliminate foreign smells.
Of course, the control function through the smartphone affects the model cost and its practicability can cause reasonable doubt. It can be useful, for example, in the event of an unexpected delay in returning home to reduce the heating intensity. In addition, such models fit perfectly into the infrastructure of the Smart House.
Main advantages and disadvantages
Pros:
– stylish design;
– simple connection to the home network;
– large capacity of ceramic inner pot;
– simple and convenient care;
– easy removing the inner pot;
– simple control;
– glass lid is convenient for visual control;
– control via smartphone or tablet.
Cons:
– higher price compared to analogs without Wi-Fi;
– relatively large dimensions are inconvenient for a small kitchen;
– strong smell of hot plastic when first turned on.
The video perfectly demonstrates the new features of this innovative novelty with WeMo support.