The model is compact and perfectly suited for a small kitchen. Its width is only 6 inches. But, unfortunately, its steadiness on the surface is low enough because of the narrow base.
DeLonghi EC 680 espresso coffee maker has a very stylish attractive design. A sleek, narrow body, combination of a bright color and metal parts create a very impressive appearance.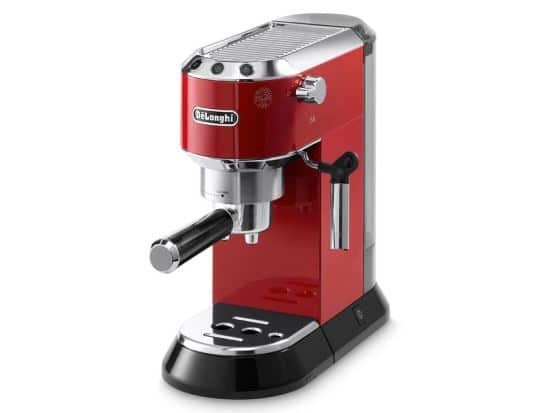 DeLonghi EC 680 is available in three colors. The model name contains information about its color. Accordingly, the model is labeled as EC 680R, EC 680BK or EC 680M. The red model is the most popular.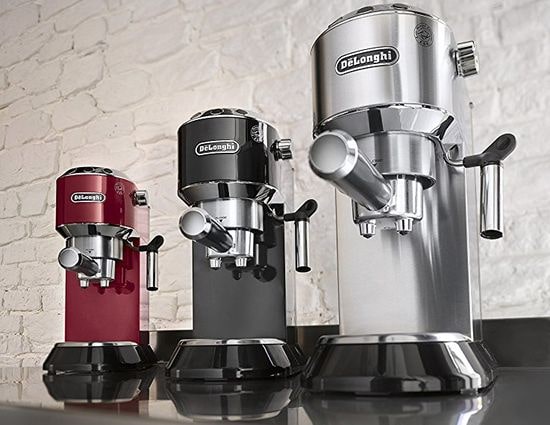 DeLonghi EC 680 has Manual Cappuccino System, uses Thermo Block Technology and provides a pressure of 15 bars.
Of course, the model has good functionality for this segment. For example, this list includes the preparation of one or two servings of coffee, milk frothing with a cappuccinatore and adjusting the amount of water per cup. But cappuccino mode is not automated.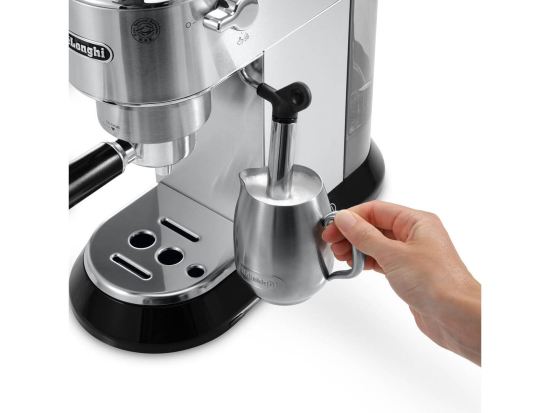 DeLonghi EC 680 also has two programmable functions for setting coffee temperature and water hardness.
The control system includes a descaling indicator and current operation indicators.
Moreover, DeLonghi EC 680 has a good set of accessories, including Cialda filters.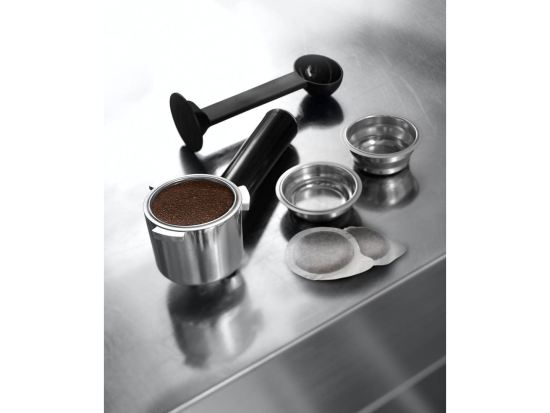 Use of coffee pods
Today, the market offers a wide selection of various pods that are a pressed tablet of ground coffee. Traditional pod contains 7 grams of ground coffee.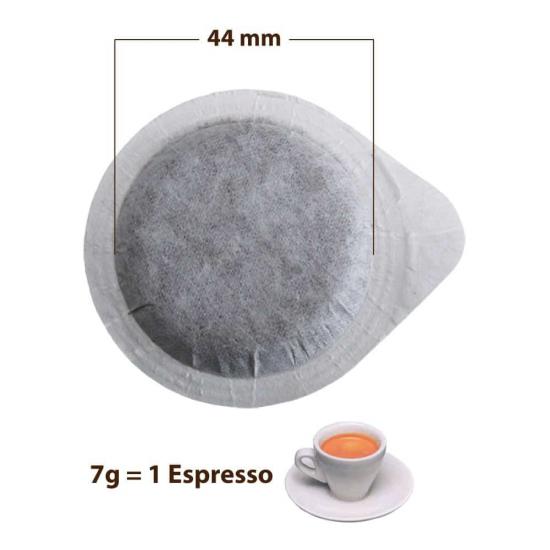 A mixture of several varieties of Arabica dark roast is the most popular for filling pods. Espresso from tablets with a mixture of Arabica varieties has a less pronounced flavor compared to drinks from other mixtures of coffee beans. Such drink is softer and less saturated. Perhaps this is due to the choice of Arabica.
Originally, this technology appeared in large enterprises to reduce the coffee preparation time. The relatively high cost and narrow range significantly limited the spread of this technology. However, today their cost has decreased; they are easily accessible and offered in a wide range. Accordingly, the popularity of their use has grown significantly in recent years. Of course, making coffee with their use is much easier and faster. But, this method excludes the possibility of experimenting with the recipe for making coffee. Therefore, many coffee fans prefer traditional technologies.
Spectacular design, the possibility of using pods, the presence of percolators for one or two drinks and the convenient filling with water without removing the container provide a high popularity of this model.
Low steadiness on the surface, the absence of a water level indicator and prints on a glossy housing are its drawbacks.
Main advantages and disadvantages
PROS:
– compact;
– stylish attractive design;
– easy filling with water;
– simultaneous preparation of two cups of espresso;
– delicious espresso and cappuccino;
– excellent set of accessories;
– model can use ground coffee or pods;
– excellent frothing.
CONS:
– glossy surface retains fingerprints too well;
– low steadiness on the surface;
– lack of a water level indicator;
– use of a cappuccinatore requires skill;
– filter is quickly clogged when used finely ground coffee;
– quite complex programming.
This video convincingly demonstrates a simple, fast and convenient descaling in this model.