DeLonghi ECAM 45.760W combines functionality and stylish design. Dimensions of the model are only 18 x 10 x 14 inches. Such compactness is very convenient for a small kitchen. This device weighs 25 pounds and is available in white or mirror colors.
The power of the model is 1450 W that is quite a lot for a compact model. The built-in coffee grinder provides thirteen degrees of grinding. This model can also use already ground coffee.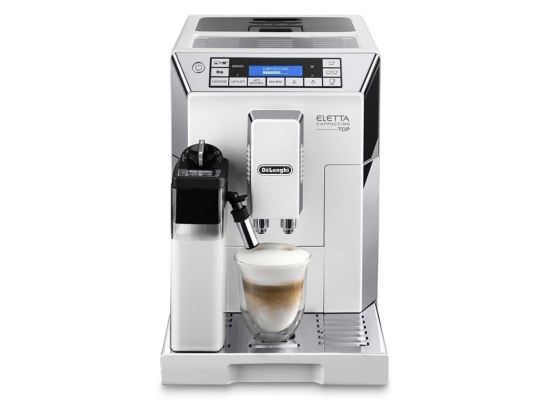 The water container is very capacious. Its volume reaches two liters that is commensurate with professional models. The capacity of the container for coffee beans also is large and reaches 400 grams of coffee beans.
The dispenser height varies from 90 to 142 mm that is convenient when using cups of different heights.
The coffee maker provides heating the cups.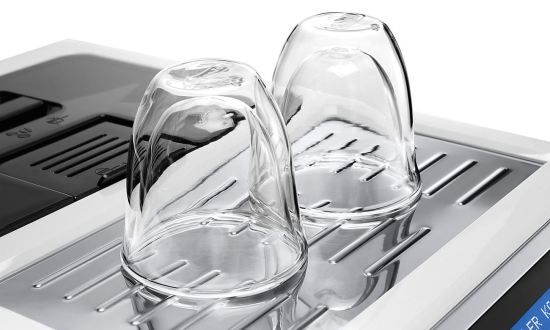 This model has a built-in water filtration system.
DeLonghi ECAM 45.760W has modern touch panel.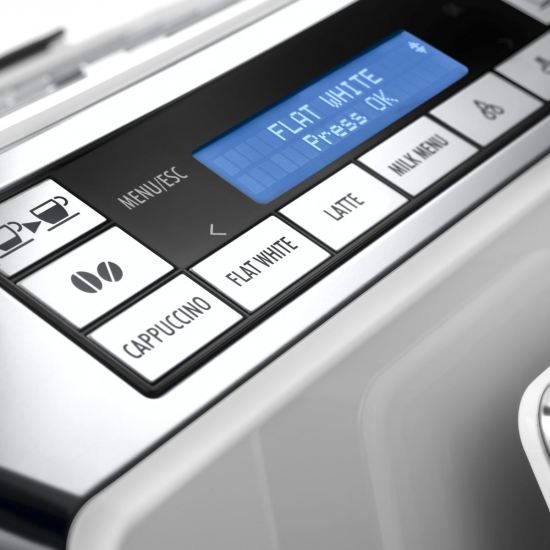 Two lines on the display show the name of the drink and its parameters. Moreover, the model supports sixteen different languages.
Additionally, DeLonghi ECAM 45.760W supports very high level of programing. For example, device provides the creation of recipes for the preparation of beverages, choice of serving volume, and setting the temperature and strength of the drink.
Features
Innovative LatteCrema System for Cappuccino provides automatic making the lush milky foam. Wherein, a special regulator on a milk container provides regulates its density and consistency.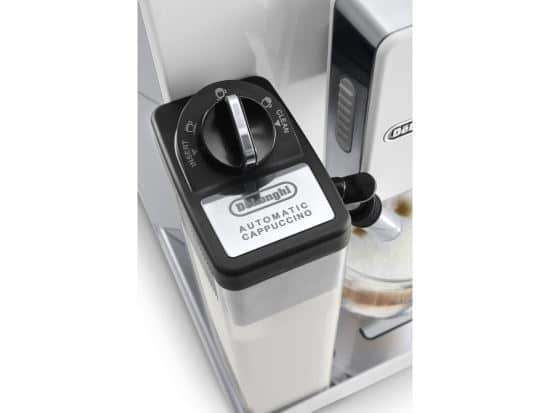 This container holds 0,6 liters. The menu for milk drinks contains a selection of hot milk, Makita espresso, etc. Moreover, a special option provides creating recipes of milk drinks.
An additional nozzle for steam and hot water can be used for manual frothing of milk foam or tea brewing.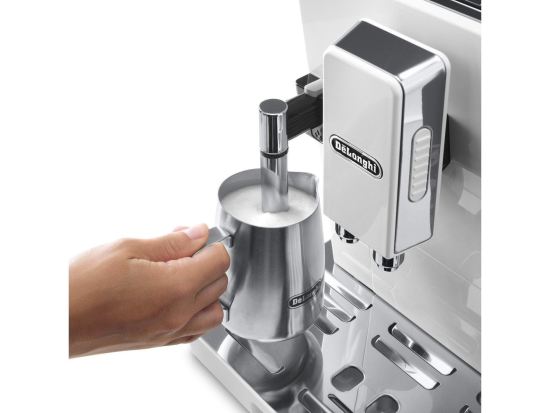 Additionally, model has automatic self-cleaning system for cappuccinatore.
The removable design of the brewing block simplifies the care. This model also has an automatic on / off function and automatic self cleaning.
PROS:
– simple control;
– high-quality coffee;
– low noise during self-cleaning;
– programmable;
– LatteCrema System;
– excellent range of milk drinks;
– very high quality of assembly and components.
CONS:
– high price;
– relatively slow operation.
This video demonstrates the correct use your De'Longhi Eletta Cappuccino ECAM 45.760 for the first time.