Of course, Italian De'Longhi and Philips Saeco brands are well known and popular all over the world. Today companies offer a wide range of coffee machines in all price segments.
De'Longhi ECAM 23.450S
De'Longhi ECAM 23.450S refers to an average price segment among high-quality coffee machines.
It has a stylish stainless steel body in a traditional style. Of course, this universal design fits well in almost any interior.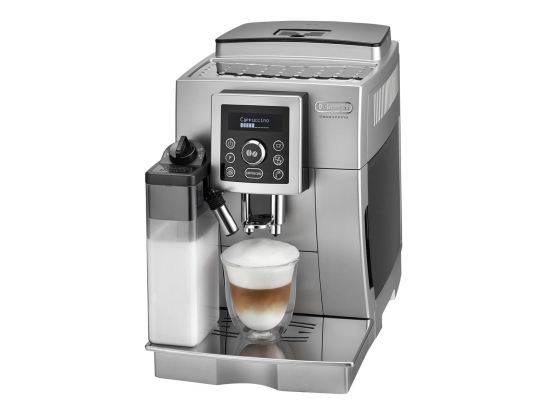 Fully automatic ECAM 23.450S prepares a wide range of coffee beverages, including espresso, cappuccino, latte and latte macchiato.
As known, the recipes of latte and latte macchiato differ in the mixing procedure. For example, the latte recipe provides for the addition milk to coffee. But latte macchiato uses adding coffee to milk. Despite this, ECAM 23.450S supports both modes.
De'Longhi ECAM 23.450 S has a patented Tubeless system. The block of this system rises to the coffee grinder and takes freshly ground coffee. Accordingly, device does not use tubes for feeding the coffee powder that increases the efficiency of this stage and simplifies care.
In addition, the grinder has fourteen levels of grinding adjustment, and the coffee bean container holds 150 grams.
As known, the pre-wetting system enhances the flavor and aroma of the finished coffee. Of course, the model supports this option. It also has electronic-mechanical controls.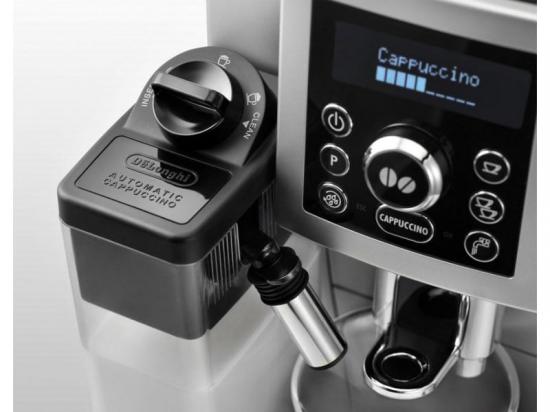 Moreover, the timer provides setting the On time, and the height of adjustable dispenser varies from 3,4 to 5,6 inches or from 86 to 142 mm.
Additionally, the model can cook two cups of coffee at a time, and removable water container holds 1.8 liters.
As known, all coffee makers require care after each cycle. Therefore, сompanies pay great attention to this aspect. Of course, removable design of the infuser in De'Longhi ECAM 23.450S greatly simplifies this task due to simple cleaning under running water. The video in the article's end shows this process.
Philips Saeco HD 8943
Various household appliances are produced under Philips brands for many years. However, coffee machines and coffee grinders were not available until 2010. The Italian Saeco Company has long been specialized in developing and manufacturing this equipment. As a result, Philips bought Saeco in 2009 and appeared Philips Saeco coffee machines. Philips Saeco HD 8943 belongs to the Xelsis line.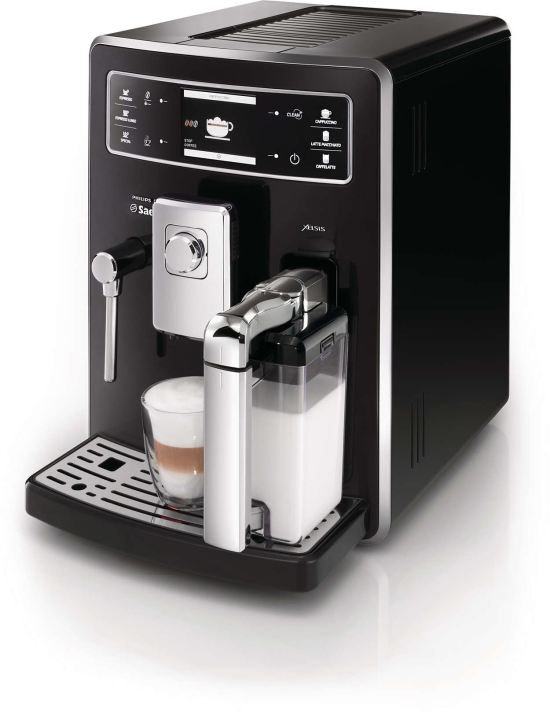 This model has nine coffee making programs and supports up to six separate user profiles. Of course, this opportunity is very convenient for an office or a large family.
Philips Saeco HD 8943 prepares espresso, cappuccino, latte and latte macchiato in fully automatic mode.
This model uses pre-wetting the ground coffee, adjusts level of milk foam in the cup, the strength coffee, temperature and amount of water in the cup, can simultaneously cook two cups and use ground coffee. Thus, the HD 8943 has almost all modern functions, except for heating and lighting cups.
The built-in coffee grinder with adjustable grinding degree is equipped with silent ceramic millstones.
Capacity of a container for coffee grains reaches 350 grams which is very much. For comparison, this value rarely exceeds 250 grams. The airtight and lightproof container lid reliably protects the coffee beans from oxidation with oxygen. The container capacity for milk is 0.5 liters. Removable water container holds 1.6 liters. The dispenser height is adjustable. The large display has a convenient interface with large icons.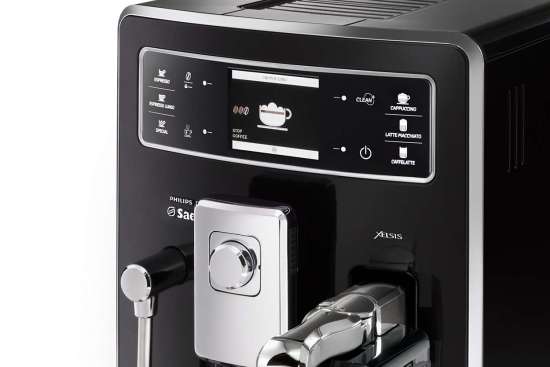 Removable design of the preparing group is very convenient for maintenance. Cleaning the coffee and milk supply systems is automatic.